College students organize vigils to mark massacre
Hundreds of college students assembled in Taipei last night to mark the 22nd anniversary of China's Tiananmen Square Massacre, joining the candlelit vigils held in Hong Kong and Macau to honor the victims of the bloody crackdown and call for a spotlight on Chinese rights abuses.
Speaking at the event at Liberty Square, Wang Dan (王丹), a student leader of the 1989 pro-democracy movement, said the problems facing China today, including corruption, high unemployment, unequal distribution of wealth and moral failings, were a result of the crackdown on the movement.
"The crackdown snuffed out an opportunity" for China to peacefully transform into a democracy, he said.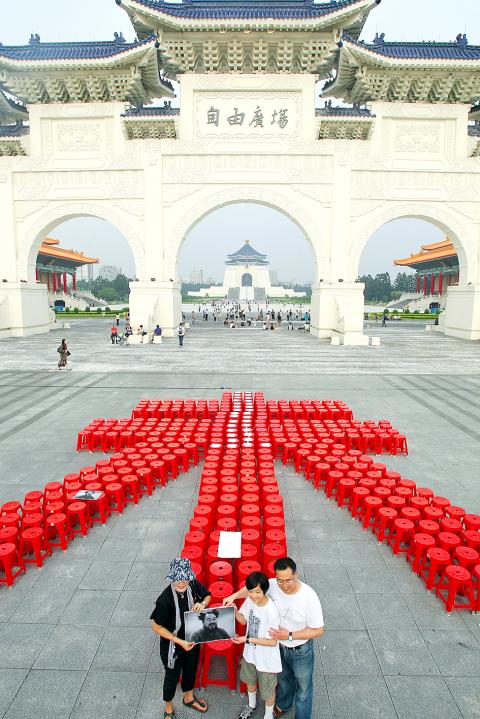 Hundreds of red plastic chairs are arranged to form one of Chinese characters of Chinese artist and activist Ai Weiwei's name to support him on the Liberty Square in Taipei yesterday.
Photo: Wang Wen-lin, Taipei Times
What the students appealed for would have been proven right had the crackdown not happened, as they had pointed out that China needed not only economic reform but also political reform, Wang said.
"Today, we are here to commemorate victims, to condemn killers and to boost survivors. The way to democracy is bumpy and it's a very long way. It is because the sky is dark that we need to head toward the light. It is because the road is long that we must continue to move ahead," he said.
The event was mainly initiated by two National Taiwan University (NTU) students from Hong Kong, along with Taiwanese students from National Tsing Hua University (NTHU), National Chengchi University (NCCU) and Soochow University, who formed a task force of Taiwanese students to promote democracy in China.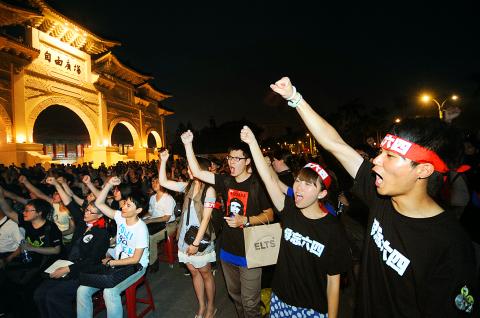 People chant slogans at a rememberance ceremony marking the 22nd anniversary of China's Tiananmen Square Massacre organized by student organizations at Liberty Square in Taipei yesterday.
Photo: Fang Pin-chao, Taipei Times
"Candlelit vigils have been staged in Victoria Park in Hong Kong every year for the past 22 years, but it is rarely seen in Taiwan. We hope that friends in Taiwan do not forget the history," said Fan Tsun-long (樊俊朗), an NTU student from Hong Kong.
China today poses a bigger threat than it did 22 years ago and its growing economic clout could negatively influence democratic development in Taiwan as it has already done in Hong Kong, he said.
Seaman Wong (黃俊傑), also an NTU student from Hong Kong, said the reason Taiwan must pay attention to the issue was simple — to pursue democracy, freedom and human rights, all universal values.
"Young Taiwanese do not always bear in mind high ideals and lofty aims, but 22 years ago, there were young people who sacrificed their lives fighting for those values in China," Wong said.
Wong, who has been studying history at NTU since 2009, said the relentless efforts made by the late democracy activist Szeto Wah (司徒華) to rehabilitate the 1989 pro-democracy movement was the major reason why Hong Kongers showed a higher level of concern for the incident.
Lin Chia-hsing (林家興), an NCCU student, said that he wished the vigil would be the start of the grouping of students in Taiwan, Hong Kong and Macau, not only on June 4, but also afterwards, to encourage students in China not to give up on pursuing democracy, freedom and human rights.
Wang, currently a visiting academic at NTHU, said he was happy to see Taiwanese students attending the vigil.
"With the deepening of democracy in Taiwan, the younger generation can understand that economic exchanges with China is not all they want. They also care about political reform in China," he said.
Earlier yesterday at Liberty Square, Bei Ling (貝嶺), an exiled Chinese poet, staged an installation art, in which 1,001 empty chairs were placed to form the characters of detained Chinese artist Ai Weiwei's (艾未未) name to urge Beijing to release him.
"The chairs are waiting for Ai Weiwei. The installation was to let the Chinese authorities know that Ai Weiwei has not been forgotten even though he has been arrested. We are waiting for his return," Bei said.
Comments will be moderated. Keep comments relevant to the article. Remarks containing abusive and obscene language, personal attacks of any kind or promotion will be removed and the user banned. Final decision will be at the discretion of the Taipei Times.