Yang Shu-chun receives hero's welcome
SHOW OF SUPPORT: Several other Asian Games athletes arrived back home with Yang, including some medal winners, but the focus of the media and the crowd was on her
Taekwondo sensation Yang Shu-chun (楊淑君), who was controversially disqualified last week at the Asian Games in Guangzhou, China, received a hero's welcome yesterday at Taiwan Taoyuan International Airport, where she was greeted by Vice Premier Sean Chen (陳冲) and hundreds of supporters.
About half an hour before Yang's 6:55pm arrival, about 200 students from Taoyuan Kainan University arrived at the airport's Second Terminal to show their support.
Waving national flags, they shouted: "Go, Shu-chun!" and "ROC, you are great." Some also brought white lilies to give to Yang. They were soon joined by more supporters and arriving passengers who decided to wait to see Yang.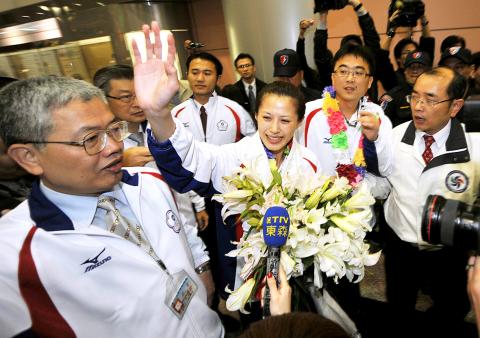 Taiwanese taekwondo athlete Yang Shu-chun, center, waves to fans as she receives a warm welcome at the Taiwan Taoyuan International Airport yesterday evening upon her return from China.
PHOTO: LIU HSIN-DE, TAIPEI TIMES
Russian Mike Kuristsyn, a transportation senior at the university, said that reading the news about Yang as well as the game made him feel "uncomfortable."
"It was not fair to Yang, and it was unfair to Taiwan," said Kuristsyn, who practices judo. "Taiwan should be treated as a real country."
Sean Hsieh (謝上衡), a graduate student at National Chung Hsing University, who used Facebook to support Yang, presented her with a "Gold Medal of Justice."
"I was angry about the incident," Hsieh said. "Yang has the ability to win the gold medal. They were doing this to her because they were afraid to compete against her."
"We went to a store that makes trophies and medals for athletes," Hsieh said. "We told the owner that this was for Yang Shu-chun. The owner dropped what he was doing and finished making the gold medal in four hours. They only charged us NT$100. It's not real gold, but it shows what's in our heart."
Sixty-three-year-old retiree Lu Kai-hsing (鹿凱星) and his wife came from Hsinchu to support Yang.
"Our children cannot concede like that," Lu said.
To encourage Yang, the couple also printed a copy of Psalms 27:1 on a laminated paper and gave it to her upon her arrival.
A civil servant surnamed Lee (李) came with a group of nine graduate school classmates National Taipei University of Education. He said the anti-South Korean sentiment was inevitable, given that that Taiwanese were unfairly treated at an international competition.
"I hope the incident will not affect innocent people," Lee said. "And we can turn the energy into a power that supports her."
Yang's former boyfriend Chu Mu-yen (朱木炎), who won a gold medal in taekwondo at the 2004 Olympics in Athens, showed up with students from National Taiwan Sports University.
"She has the potential [to win gold]," he said. "I hope she still has the chance to compete [in the 2012 Olympics].
Meanwhile, Chinese Nationalist Party (KMT) Legislator Huang Chih-hsiung (黃志雄), who won the silver medal in taekwondo in the 2004 Olympics, said he hoped Yang's disqualification would be handled strictly as a sports affair.
"We want justice, not a reputation of disqualification," Huang said. "Any political spin on will only cause us to lose the chance to prove that we are innocent."
While there were other Asian Games athletes on the same flight — some with gold medals — Yang was the focus of media attention.
"Thank you all, sincere thanks," a visibly moved Yang said.
Yang and her delegation were taken from the airport straight to the Executive Yuan to meet Premier Wu Den-yih (吳敦義).
"I was really touched by the support from the people and the government. [At the airport] there were some people coming from Tibet. Another person gave me a golden medal they had made, calling it a 'justice golden medal,'" Yang said.
Asked about the current anti-South Korea sentiment in the country, Yang said people shouldn't blame South Koreans for the disqualification.
"It might be because the presidents of the ATU [Asian -Taekwondo Union] and the WTF [World Taekwondo Federation] are South Koreans, but the two organizations are both international organizations," Yang said.
Yang said one of Taiwan's coaches is South Korean and "taught us a lot."
In related news, the legal firm hired by the Executive Yuan to handle the nation's case over Yang's disqualification said that instead of taking the case to the -Switzerland-based Court of Arbitration for Sport, Taipei should file a defamation and forgery lawsuit against WFT secretary-general Yang Jin-suk in Guangzhou.
Lawyers from the firm Lee and Li (理律法律事務所) said international arbitration was slow and that filing directly in Guangzhou would expedite the process and avoid undermining the chances of Taiwanese taekwondo athletes participating in the 2012 Olympics.
Over the weekend the government decided to take legal action after a Korean Games official disqualified Yang for allegedly wearing illegal sensors on her socks. Video footage of the match revealed that the sensors were not attached to her socks during the bout against a Vietnamese opponent.
Yang's disqualification triggered a wave of anti-Korean sentiment, with calls for a boycott of South Korean products and the egging of a Korean school in Taipei on Saturday. Two of the principal individuals involved in the disqualification were Korean or of Korean descent.
Minister of Foreign Affairs Timothy Yang (楊進添) said the ministry had instructed its representative office in Seoul to remind Taiwanese expatriates to keep a lowprofile when speaking about the disqualification in the wake of reports of Taiwanese being treated unkindly in South Korean.
Meanwhile, police confirmed that a 53-year-old man was arrested yesterday morning for allegedly throwing eggs at the Korean Elementary School in Taipei City's Wanhua District (萬華). The man, surnamed Chien (簡), was detained as he was throwing eggs through the school gate police said. He reportedly told officers at the Wanhua Police Department that he was irate at South Korea over the disqualification.
Chien said he was not aiming the eggs at the school's pupils and had never thought of hurting them. He also reportedly admitted throwing eggs at the Taipei Korean School on Saturday. He could face defamation charges if the school sues him.
In other developments, a Netizen posted an article on his Web site that questioned whether the Web site of the South Korea-based ATU was blocking access from Taiwan through a firewall.
Access to the ATU Web site from Taiwan has been failing since a hacker allegedly from Taiwan targeted the Web site a day after Yang's disqualification, showing a digitally created picture with a middle finger pointing upward between the national flags of the People's Republic of China and South Korea.
The Netizen, who identified himself as Gordon, said he tested connections to the ATU Web site through Web site monitoring services and found that only from Taiwan failed while connections made from other 14 sources were successful.
He said he later tested his theory by using a Web proxy to hide his Taiwanese IP and was able to access the Web site.
ADDITIONAL REPORTING BY CNA AND AFP
Comments will be moderated. Keep comments relevant to the article. Remarks containing abusive and obscene language, personal attacks of any kind or promotion will be removed and the user banned. Final decision will be at the discretion of the Taipei Times.