Huge hillside collapses, covers Formosa Freeway
RESCUE MISSION? While more than 300m of the busy freeway has been covered with earth, rescue workers are unsure if any vehicles are trapped under the debris
A huge landslide buried more than 300m of Freeway No. 3 near Maling Keng (瑪陵坑) in Keelung yesterday afternoon, about 3km from the northern end of the 429km long Formosa Freeway.
As of press time, rescue teams were still digging and it was unclear whether there were cars buried under the rock and mud.
All six northbound and southbound lanes of the highway were buried under an enormous pile of rock and soil stretching 600m to 700m in length. The Dapu overpass crumbled under the weight of the landslide and lay among the debris in the middle of the freeway.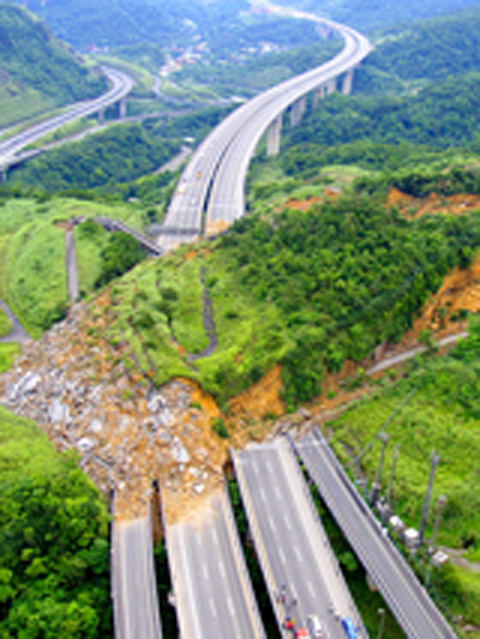 A landslide covers Freeway No. 3 close to Keelung yesterday.
PHOTO: REUTERS
The road is completely 虹naccessible to motorists and was blocked off by authorities.
The National Freeway Bureau yesterday set up an emergency task force to deal with the landslide. Authorities from the military and fire department arrived at the scene later and began digging with dozens of excavators and other heavy machinery. They also used metal detectors to aid their search for any cars that may have been buried.
One mother who hurried to the scene said she suspected her child, who commutes to work along the freeway, was buried under the landslide because she had been told that her child hadn't arrived at work.
Television actress Chen Mei-fong (陳美鳳), who was driving on that section of the highway at the time of the incident and witnessed the hill collapse onto the road, said there were two or three cars ahead of her when the landslide occurred.
"It happened too fast for me to see whether any cars were buried. I was in a panic, and slammed on my brakes in a hurry," Chen said on the television news.
The actress said she was not driving fast at the time and was terrified by the "sheer force of nature."
Premier Wu Den-yih (吳敦義) told reporters that he dispatched Vice Premier Eric Chu (朱立倫) and Minister of the Interior Jiang Yi-huah (江宜樺) to the scene after receiving reports from the National Freeway Bureau at about 2:35pm.
The bureau said it could take up to two weeks to clear the debris. Motorists traveling to the Keelung area are advised to take alternative routes such as the Sun Yat-sen Freeway, bureau officials said.
ADDITIONAL REPORTING BY CNA
Comments will be moderated. Keep comments relevant to the article. Remarks containing abusive and obscene language, personal attacks of any kind or promotion will be removed and the user banned. Final decision will be at the discretion of the Taipei Times.