Vegetable seller joins 'Forbes' list of most altruistic
A Taiwanese vegetable seller and the mother of media mogul Rupert Murdoch are among the most generous souls in the Asia-Pacific region, based on Forbes Asia's latest list of philanthropist "heroes" in the region.
The list, compiled by the magazine and in its third year, features 48 of the region's most prominent altruists.
Four were chosen from 12 markets in the region — Australia, China, Hong Kong, India, Indonesia, Japan, Malaysia, the Philippines, Singapore, South Korea, Taiwan and Thailand.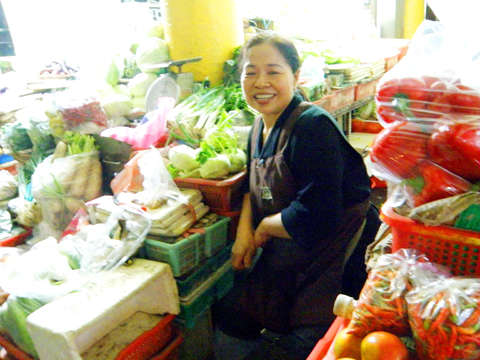 Chen Shu-chu smiles for the camera on Dec. 11. Chen, who has been selling vegetables in Taitung's central market since 1963, said her goals in selling vegetables are twofold: to save money and then donate it.
PHOTO: HUANG MING-TANG, TAIPEI TIMES
"These aren't always the biggest givers," said John Koppisch, associate editor of the magazine.
"Instead we aim to highlight a varied group of generous people, some holdovers from last year but mostly new names who deserve recognition. By calling attention to these 48 we hope to encourage more giving," he said in a statement.
Forbes said the past year was a good one for philanthropy as tycoons and more modest donors continued to fund charitable projects. The causes supported ranged from disaster recovery, education and health to culture and science, with education being the popular choice among featured philanthropists this year.
Among the most striking honorees is Taiwanese Chen Shu-chu (陳樹菊), a 59-year-old who the magazine said has been selling vegetables in Taitung's central market since 1963. She dropped out of school to support her seven-member family after her mother died.
Chen's donations include US$32,000 for a children's fund in 2004 and US$144,000 to help build a library at the school she once attended. She gave US$31,000 in 2006 to the city's Kids Alive International orphanage and has spent US$11,000 to support three orphans there. She also plans to set up a US$313,000 fund this year to help the poor with education and healthcare, the magazine said.
Three other Taiwanese made it onto the list: Thomas Lin (林宏裕), a professor at National Taipei University of Technology and chairman of Sunlight Electronics Laboratory; Pan Shi Yuen (潘思源), chairman of the San Francisco-based developer Pan Pacific Ocean; and Tsai Hong-tu (蔡宏圖), chairman of Cathay Financial Holding Co.
Lin donated his first US$50 in the mid-1970s, the magazine said. The recovery of his five-year old daughter from a mysterious illness led him to give away US$15,000 and since then his donations have totaled US$8 million, the magazine said. He reportedly plans to give away US$1.9 million a year
Pan gave US$3 million to his alma mater, National Chengchi University, the largest donation the university has ever received, to fund journalism and Chinese literature lectures in the name of his mother, Forbes said. He has also promised the school US$6 million to help it build a mass communications building and said he would make US$300 million in charitable contributions over his lifetime.
Tsai was honored for donating US$3 million to post Typhoon Morakot-relief efforts and for giving US$7.8 million to National Taiwan University's College of Law in 2003 to construct two energy-efficient buildings containing a library and classrooms.
Australian Elisabeth Murdoch, the 101-year-old mother of News Corp's chief Rupert Murdoch, was honored for supporting cultural, social, medical and children's causes for more than 75 years.
Chinese basketball star Yao Ming (姚明) was honored for backing efforts to stop people from eating shark's fin soup and for setting up the Yao Ming Fund, which helped Sichuan earthquake victims.
For the full list, check www.forbes.com/altruists.
ADDITIONAL REPORTING BY STAFF WRITER
Comments will be moderated. Keep comments relevant to the article. Remarks containing abusive and obscene language, personal attacks of any kind or promotion will be removed and the user banned. Final decision will be at the discretion of the Taipei Times.