Su Chi resigns as chief of NSC
IN WITH THE HU Hu Wei-jen, a career diplomat and son of a general, will take over as NSC secretary-general after Su Chi resigned suddenly, citing health and family reasons
National Security Council (NSC) Secretary-General Su Chi (蘇起) unexpectedly resigned yesterday, citing health and family reasons. He declined to confirm whether he stepped down to take responsibility for the controversy surrounding US beef imports.
In a press conference at the Presidential Office, Su said he had completed his "phase mission" of promoting more cross-strait exchanges while maintaining national dignity.
"The two sides of the Taiwan Strait are far from war. Both sides are benefiting economically and politically through frequent cross-strait exchanges and negotiations, while flexible diplomacy is successfully bringing more space and dignity to Taiwan," Su said.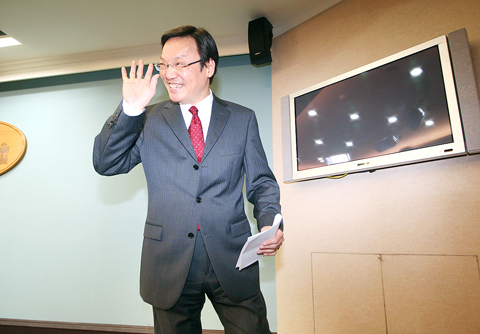 Outgoing National Security Council Secretary-General Su Chi smiles during a press ­conference at the Presidential Office in Taipei yesterday in which he announced his resignation.
PHOTO: CNA
Su said he had devoted his efforts to building mutual trust between Taiwan and China, and expressed his expectation that such cross-strait ­relations would not be damaged by "internal grudges and resentment" in Taiwan.
He thanked President Ma Ying-jeou (馬英九) for trusting him with the position, and said he would spend more time with his family.
Ma appointed Su as NSC ­secretary-general before formally assuming the presidency in May 2008. Su's appointment came as no surprise, as he was a long-time friend and top aide of Ma's.
The opposition camp has urged Su to resign to shoulder responsibility for fallout over a US beef protocol because he proposed signing it without public support.
Su yesterday did not comment on whether he resigned to take responsibility for the beef debacle, and did not take any questions from the press.
Presidential Office Spokesman Wang Yu-chi (王郁琦) later denied that the US beef policy was the reason for Su's resignation, and said Su resigned because of personal reasons.
Wang said Ma respected Su's decision and approved his ­resignation after failing to convince him to stay in the job. Ma considered Su his "best aide" and most trusted adviser on matters of foreign relations and national security, and expected him to continue to offer advice, Wang said.
Hu Wei-jen (胡為真), former representative to Singapore, will formally take over as NSC ­secretary-general on Feb. 23, Wang said.
Currently an associate professor at National Chengchi University's Department of Diplomacy, Hu is the son of former general Hu Tsung-nan (胡宗南), who won the affection of former dictator Chiang Kai-shek (蔣介石) because of his anti-­Japanese efforts.
Hu Wei-jen, a 62-year-old career diplomat, received his bachelor's degree in diplomacy from National Chengchi University, a master's in foreign service from Georgetown University and later earned his doctorate in international politics at the University of Pretoria.
During the previous Chinese Nationalist Party (KMT) government, Hu Wei-jen was the deputy chief of the National Security Bureau and later National Security Council deputy secretary-general under the Democratic Progressive Party (DPP) administration.
He was also appointed as the country's top envoy to Germany and Singapore under the DPP ­government. In 2007, Hu resigned his post in Singapore and publicly criticized the DPP for its anti-­Chiang policies.
KMT caucus deputy secretary-­general Lin Hung-chih (林鴻池) yesterday said the caucus respected Su's decision.
KMT Legislator Lu Hsueh-chang (呂學樟) added that Su leaving demonstrated he was taking responsibility for the negative publicity he had brought to the KMT over the beef protocol.
Meanwhile, KMT Legislator Lin Yu-fang (林郁方) said he could not think of anyone else better than Hu Wei-jen to succeed Su.
The DPP was unimpressed however, saying Su's resignation had come too late and that the ability of his replacement remained questionable.
"Su should have resigned much earlier because his inept handling of the US beef import protocol has cost our country dearly," said Liu Chien-hsin (劉建忻), deputy head of the DPP's policy research and coordination department.
DPP Legislator Tsai Huang-­liang (蔡煌瑯), member of the legislative Foreign and National Defense Committee, said the reshuffle showed that Ma's confidant KMT Secretary-General King Pu-tsung (金溥聰) was flexing his muscles to get rid of people he does not get along with.
"Su's sudden resignation has King's fingerprints all over it. It reflects the instability of the party and the fact that King is calling the shots from behind closed doors," Tsai said.
Tsai said Hu's strength is in diplomacy, but he lacks sufficient experience in dealing with military and cross-strait affairs — the two major tasks of the National Security Council.
"Hu's strength will be completely overlooked because Ma has already declared a diplomatic truce. It is obvious that Hu is merely a filler," Tsai said.
DPP Legislator Kuan Bi-ling (管碧玲) said Hu's lack of experience in military and cross-strait affairs made him under-qualified to be a major policy maker, but he was most likely chosen because of his "unwavering obedience" to Ma's instructions.
Soochow University professor Luo Chih-cheng (羅致政) shared Kuan's view, saying that Hu was just another "yes-man" and was unlikely to have any political sway in the Ma administration's overall direction.
In December, Su had said that his agency had recommended lifting a previous ban on the import of US bone-in beef, beef organs and ground beef. The shift in policy triggered widespread criticism and public health concerns about mad cow disease.
The Legislative Yuan later ignored an agreement the government signed with the US lifting the ban and amended the Act Governing Food Sanitation (食品衛生管理法) to continue the ban on beef organs and ground beef, a move that caused dismay in Washington.
ADDITIONAL REPORTING BY CNA AND STAFF WRITER
Comments will be moderated. Keep comments relevant to the article. Remarks containing abusive and obscene language, personal attacks of any kind or promotion will be removed and the user banned. Final decision will be at the discretion of the Taipei Times.