Pan-blues greet President Ma in San Francisco
SILENT TREATMENT Pan-green supporters said they did not stage a protest as it would only bring attention to Ma, whose popularity has dipped to 23 percent
President Ma Ying-jeou (馬英九) arrived in San Francisco on Monday evening for a stopover en route to Honduras for an official visit.
Pan-blue supporters mobilized hundreds of Chinese Nationalist Party (KMT) members in the US to welcome Ma. As it was raining, Ma met the group inside the hotel where he was staying.
The president shook hands with members of the group, but did not make any comment.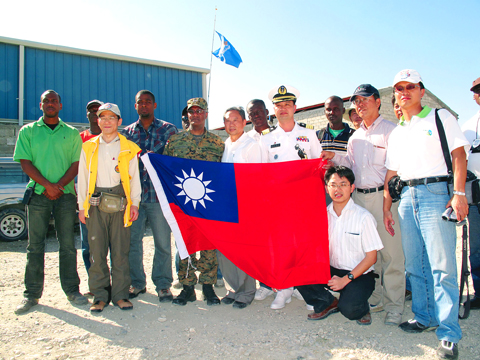 Taiwanese, Haitians and Dominicans involved with earthquake relief operations pose with a Republic of China flag in Port-au-Prince yesterday after a consignment of medical supplies from Taiwan was delivered to WHO officials stationed in the Haitian capital.
PHOTO: CNA
Unlike Ma's two previous stopovers in San Francisco, pan-green supporters did not stage a protest outside the hotel.
Edward Hsin (辛義德), chairman of the California chapter of the Taiwanese Association of America, said since Ma's popularity has dropped to 23 percent and his political influence has dwindled, they did not want to stage a protest and raise his media exposure.
Instead, they placed advertisements in Chinese-language newspapers to express their opposition to the KMT government's China-leaning policies and its plan to sign an economic cooperation framework agreement (ECFA) with Beijing.
Ma also met Democratic Representative David Wu (吳振偉) at his hotel on Monday night.
Wu expressed the hope that Taiwan would obtain F-16C/D fighter jets from Washington.
Ma was expected to talk to more US lawmakers by telephone yesterday morning and take lunch with members of the Committee of 100, a group of prominent Chinese Americans, as well as have some free time in the afternoon. He was to have dinner with overseas Taiwanese.
Ma is also widely believed to be planning a visit to the Hoover Institution at Stanford University, which would be his first public activity on US soil.
Ma was greeted in San Francisco by American Institute in Taiwan Chairman Raymond Burghardt, who apologized for the rainy weather, but said he was very glad to see Ma.
When Burghardt welcomed Ma in August 2008 in Los Angeles, Burghardt likened Taiwan-US relations to the weather. Burghardt told Ma that when he welcomed then-president Chen Shui-bian (陳水扁), it was in Alaska in January. He was glad to welcome Ma in Los Angeles' 27ºC weather.
Ma and his delegation were to leave for Honduras last night.
During the flight to the US, Ma said he had a telephone conversation with Haitian President Rene Preval on Friday and hoped to see Preval during his trip to the Dominican Republic tomorrow.
Ma told reporters that he realized Preval was preoccupied with relief efforts in his country and that it would be up to Preval to decide whether he has time to meet.
If they were to meet in the Dominican Republic, Ma said he would like to discuss how Taiwan could help Haiti with the relief effort.
The main purpose of Ma's trip is to attend the inauguration of Honduran president-elect Porfirio Lobo Sosa today.
A trip to the Dominican Republic tomorrow was added at the last minute so the president can deliver relief supplies to quake-hit Haiti and extend Taiwan's support for victims of the quake.
Ma said he planned to meet Dominican President Leonel Fernandez Reyna to discuss assistance for Haiti.
Ma will not visit Ambassador to Haiti Hsu Mien-sheng (徐勉生), because he has been transferred to a hospital in Miami, Florida.
Hsu sustained head injuries, facial lacerations, a broken rib and some chest and back injuries during the Haitian earthquake.
Consul to Haiti Chi Wang-teh (齊王德) has also checked out of the hospital in the Dominican Republic's capital, Santo Domingo.
Hsu and Chi were sent to Santo Domingo to receive medical attention after being pulled out from debris in Haiti's capital, Port-au-Prince.
They had been trapped for six hours before rescuers found them.
As rescue operations in Haiti draw to a close, the president said reconstruction and relocation projects will ensue, which he said could take five to 10 years or even longer.
As a diplomatic ally and member of the global community, Ma said Taiwan was duty-bound to assist Haiti to get back on its feet, adding that the country has a lot to offer after Typhoon Morakot lashed central and southern Taiwan last August, killing hundreds.
"This is just the beginning," the president said.
"We are glad to offer a helping hand to any country in need, especially our diplomatic ally," he said.
Ma's presidential jet is carrying 10 tonnes of relief goods, including medical supplies, milk powder, cookies and canned corn.
They will be transported by land from the Dominican Republic to Haiti on arrival, Ma said.
Ma lauded the country's rescue teams in Haiti, which he said has attracted international attention for their outstanding performance.
"I kept saying over the past year that we don't want to conduct 'dollar diplomacy' any more," he said. "Let's use our soft power, trade, culture, humanitarian assistance and human rights to make friends."
Ma said his trip consists of two themes: celebration (attending Lobo's inauguration) and humanity (delivering aid goods).
During his stay in Honduras, Ma said he hoped he could pick up where he left off last June.
Ma had planned to visit Honduras during a visit to the region last year but canceled at the last minute because of escalating tensions there, which he described yesterday as "a surprising political dispute."
Ma said the Ministry of Foreign Affairs was cautious in responding to the Honduran crisis at first but later joined the international community in condemning the coup.
The interim government encountered many difficulties at the beginning, but Taiwan had stood by it all along, he said.
Ma said he was happy to see a new government elected in November, helping the country return to the path to democracy.
Comments will be moderated. Keep comments relevant to the article. Remarks containing abusive and obscene language, personal attacks of any kind or promotion will be removed and the user banned. Final decision will be at the discretion of the Taipei Times.