MORAKOT: THE AFTERMATH: Victims blame reservoir project
SUSPICIONS Survivors in hard-hit regions said that since construction began on the Tsengwen reservoir diversion project, nearby townships had suffered major flooding
As Typhoon Morakot disaster rescue and cleanup work rolled into its 10th day yesterday, survivors of the hardest hit regions — Kaohsiung County's Jiaxian (甲仙), Liukuei (六龜), Taoyuan (桃源) and Namasiya (那瑪夏) townships — continued to voice strong suspicion that the nearby Tsengwen Reservoir trans-basin diversion project was responsible for the destruction of their villages.
"Though the government said that this project did not cause Xiaolin Village (小林) to be completely wiped out, we find it hard to believe," Xiaolin Village Self-help Association spokeswoman Hsu Wan-su (徐婉愫) said.
Since construction began two years ago, the townships have suffered several major floods, Hsu said.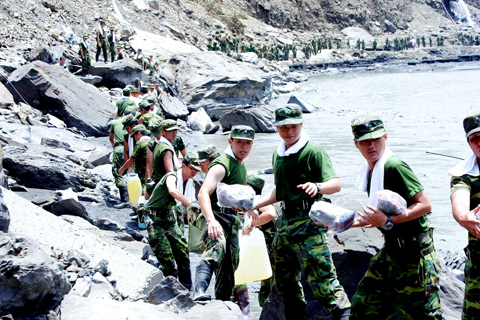 Military personnel pass along provisions in Kaohsiung County yesterday as roads connecting Maolin Township have been cut off by flooding and landslides.
PHOTO: CHANG CHUNG-YI, TAIPEI TIMES
"The Morakot flood took 500 lives in our village … Such floods never occurred in the past century, ever since our ancestors arrived, so our suspicions are completely logical," Hsu said.
In response, Water Resources Agency Director-General Chen Shen-hsien (陳伸賢) said that the disaster "had nothing to do with the project."
A tearful Chen told reporters that the dynamite used in the Tsengwen project cut into mountain surfaces to a much shallower extent than most tunnel projects, and that it could not have caused mudslides.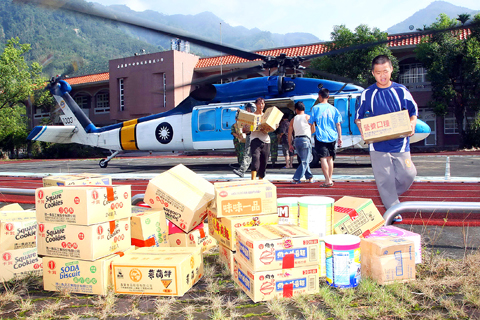 Workers unload relief goods from a navy helicopter in Alishan, Chiayi County, yesterday.
PHOTO: AFP
"Satellite images show that about 50 hectares of the mountain collapsed onto Xiaolin Village, bringing with it 3 million to 4 million cubic meters of mud. The Tsengwen diversion project couldn't have caused something so powerful," he said.
"To point the finger at us for a disaster that took several hundred lives is a burden heavier than we can bear," Chen said.
However, Tainan County Commissioner Su Huan-chih (蘇煥智) yesterday demanded that the Cabinet order an immediate halt to the construction.
"The Morakot disaster claimed 28 lives in Tainan County, most of which have to do with Tsengwen Reservoir flooding," Su said.
"[Besides Tainan County], the most affected areas — Jiaxian, Liukuei, Taoyuan and Namasiya townships — are all located on the five faults and three fracture belts that the diversion project passes … We will represent victims' families to demand compensation from the [central] government," Su said.
Mourners continued to battle with the trauma yesterday and brace themselves for the long road of reconstruction ahead.
"Words cannot express my shock, pain and sorrow over having two-thirds of my students taken away by one storm," Xiaolin Elementary School principal Wang Chen-shu (王振書) said.
As of yesterday, 57 out of 81 Xiaolin Elementary School students were either dead or missing.
Nearby at Jiaxian Junior High School, 19 students out of the 30 or so children living in mountainous areas have not been found, the junior high school's principal Chen Bi-yuan (陳碧媛) said.
"Some children have not spoken for days, and instead have just cried in silence," Chen said.
Meanwhile, Taoyuan Township chief Hsieh Chui-yao (謝垂耀) said that help was still urgently needed for people in his township.
"We are without electricity and running water. The only communication we have with the outside world is a temporary base station that is powered by a small generator, but the electricity will run out in another two days," Hsieh said.
As of press time, Taoyuan Township's Meishan Village (梅山) chief Wu Jin-song (吳進松) remained on the mountain with about 200 of his villagers.
His daughter and wife, who were airlifted to the Cishan Junior High School shelter, said her village was in need of money to pay for hospital fees, rice and cooking oil.
Kaohsiung County Commissioner Yang Chiu-hsing (楊秋興) told reporters that the government had found a 40-hectare relocation site for Xiaolin survivors in Wulipo (五里埔), near Xiaolin's former location.
The county said it had stopped accepting donations of goods except for brooms, dustbins, shovels, plastic pipes, undergarments, wash basins, walking canes, power lines, wireless base stations and construction helmets. Donors can call (07) 746-6900 ext. 200 for details.
Rescue efforts continued, as soldiers searched typhoon-devastated areas for survivors and bodies, and more than 1,600 people waited to be airlifted to safety.
Rescue work had eased because military search crews had canvassed the whole disaster area and many survivors chose not to leave the mountains, said Hu Jui-chou (胡瑞舟), an army major general.
Centers for Disease Control (CDC) Deputy Director-General Lin Ting (林頂) said that so far there have been no reports of epidemics in areas devastated by the flooding.
Most of the sick in the affected areas suffered from gastrointestinal diseases, infections of the upper respiratory tract or skin problems because of poor hygiene, he said.
There have been no reports from affected areas of group infections of swine flu or other communicable diseases, he said.
However, Lin said there was an increase in the number of patients seeking treatment for chronic diseases at the provisional medical stations set up for typhoon victims.
Lin said there were no shortages of drug supplies at the medical stations because most of them were operated by regional medical centers.
Lin's assurances, however, were rebutted by Lu Chung-chien, a physician at the National Taiwan University Hospital emergency treatment division.
Lu, stationed in Tawu Township (大武) in Taitung County, where he was providing free treatment to flood victims under the auspices of the Taiwan Root Medical Peace Corps, said that many chronic disease sufferers fled their homes without taking their medicine.
Some of them, suffering in the shelters from lack of sleep and nutrition, have been unable to get proper treatment at medical stations because they lack the drugs they require.
She said that despite a great quantity of donations of medical supplies from local drug manufacturers and foreign countries, the supplies were either stockpiled in warehouses because there were no pharmacists available who could sort them out, or shipped to places where they were not needed.
Wu expressed concern over wastage because of the short shelf life of many of the drugs.
Also yesterday, the Ministry of the Interior finalized plans to help victims of Morakot get back on their feet.
Yeh Shih-wen (葉世文), director-general of the Construction and Planning Agency under the ministry, told a press conference at the Central Emergency Operation Center (CEOC) that the victims would be given three options to resettle.
They could choose to rent housing, buy a new house or accept accommodation provided by the government, Yeh said.
Every household that chooses to rent will be granted a monthly stipend ranging between NT$6,000 and NT$10,000 for a maximum of two years, depending on the size of the household, Yeh said.
Each of the households will also receive a monthly subsidy of between NT$3,000 and NT$15,000 depending on the size of the household to cover their basic living expenses, Yeh said, adding that this stipend would be in effect for a maximum of six months.
Those who choose to buy housing will still enjoy the living expense subsidy and a mortgage of NT$3.5 million (US$106,000) with the interest rate set at 0.533 percent, Yeh said.
However, typhoon victims who choose to accept accommodations offered by the government, including military dormitories and fabricated homes, will not receive the rent or living expense subsidies, he said.
Yeh said China had offered 1,000 prefabricated homes, with 100 set to arrive today at Kaohsiung Port from Shenzhen, Yeh said, adding that the homes would be shipped to disaster-hit areas in Taitung first.
CEOC Commander Mao Chih-kuo (毛治國) said the government would test the homes for any excessive traces of formaldehyde to ensure the health of typhoon victims.
As of 6pm, CEOC statistics confirmed that the disaster caused 126 deaths, while 60 were missing, 45 were injured and 24,775 were evacuated, with 4,920 people now living in 49 shelters.
Also yesterday, the ­Directorate-General of Highways (DGH) said that Maolin Township (茂林) in Pingtung County was no longer cut off because it had managed to repair the section of road near Dajin (大津) on Highway 27.
To facilitate the reconstruction of Highway 18, the only road leading to Alishan, the DGH said it was planning to remove debris on county route 159 first so that construction vehicles could move on to some of the remote villages in Alishan.
"The damage is worse than we thought," DGH general secretary Mile Chen (陳茂南) said.
Despite severe damage, Chen said "it is too early to say" whether Highway 18 would disappear like the Central Link Highway (中橫公路), which was completely destroyed by the 921 Earthquake in 1999.
Chen said yesterday that the most urgent task now was to make highways accessible, which is different from restoring highways.
"To restore highways means to restore their normal function, which is what we are going to do in the next phase," Chen said.
Large tour buses to Alishan may also have to wait because an accessible highway does not mean that it is able to accommodate them, Chen said.
Chen also said the DGH had requested that King Bus (國光客運) provide bus services on the South Link Highway (南迴公路) starting on Saturday. The company said it had scheduled 60 buses that would run two-way service on Highway 9.
Meanwhile, assistance and messages of condolences from the international community continued to pour into the country yesterday.
A team of five disaster management experts sent from the EU arrived last night to survey the damage in southern Taiwan, while help from the EU is expected to arrive on Thursday.
Ministry of Foreign Affairs spokesman James Chang (章計平) said the team would mainly assess the ongoing relief work and the supply coordination efforts before finalizing details of its operation.
The Canadian government yesterday announced it would donate C$50,000 (US$45,000) to the Taiwan Red Cross Society as well as 200,000 water purification tablets to help with relief efforts.
Local and Canada-based staff at the Canadian Trade Office in Taiwan have also raised NT$67,300 to donate to the same organization.
Taiwan's representative office in Seoul accepted a US$120,000 cash donation from the South Korean government to the Red Cross.
A nearly 1-tonne shipment of blankets, sleeping bags and tents donated by German humanitarian group Luftfahrt ohne Grenzen will also arrive today.
MOFA's latest tally shows that 64 countries and many international non-governmental organizations have expressed condolences and offered to help with money, goods and humanitarian assistance. Cash donations have reached NT$68 million.
In related news, the Internet Portal Yahoo! Kimo yesterday turned its home page black-and-white in remembrance of those who died in the disaster.
The Dalai Lama sent a letter to President Ma Ying-jeou (馬英九) on Wednesday expressing his concern over the devastation caused by Morakot, the Tibetan spiritual leader's office in Dharamsala said yesterday.
ADDITIONAL REPORTING BY SHELLEY SHAN AND AGENCIES
Comments will be moderated. Keep comments relevant to the article. Remarks containing abusive and obscene language, personal attacks of any kind or promotion will be removed and the user banned. Final decision will be at the discretion of the Taipei Times.