China Internet blackout linked to leader's son
China's Internet censors blocked news yesterday about a graft probe in Namibia involving a firm linked to the son of Chinese President Hu Jintao (胡錦濤) as the state-run media ignored the sensitive issue.
Two Namibians and a Chinese national were arrested last week in Namibia as part of a probe into bribery allegations involving Nuctech, a company headed until last year by Hu's 38-year-old son, Hu Haifeng (胡海峰).
Searches for information on the case and Hu Haifeng's connection to it on Chinese Web portals turned up error messages such as: "The search results may contain content not in line with relevant laws, regulations and policies."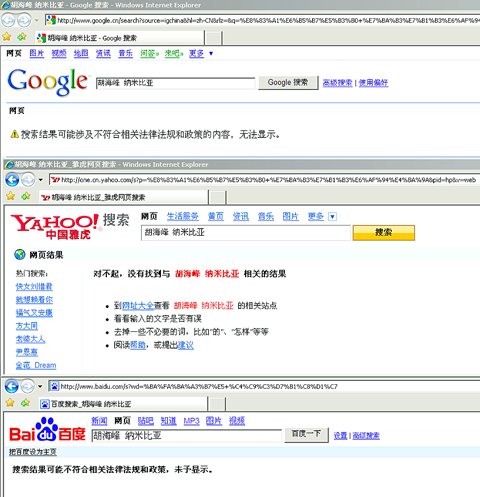 A screen capture shows the Google Inc, Yahoo Inc and Baidu Inc Web pages displaying messages telling users of blocked access on searches for "Hu Haifeng," Chinese President Hu Jintao's son, and "Namibia" in Beijing, China, yesterday.
PHOTO: BLOOMBERG
Such results on China's heavily censored Internet are typically returned when a Web user seeks banned information.
China has a history of blocking access to sensitive data on the Internet, especially concerning politics and the lives of top leaders.
Popular sites such as Facebook, YouTube and Twitter have been blocked for weeks as censors sought to limit the information flow over the deadly unrest in Xinjiang and the 20th anniversary of the Tiananmen Square crackdown.
The US-based China Digital Times, which monitors Web developments in China, said propaganda officials had issued an order banning various Internet searches related to the Nuctech case.
China Digital Times and media watchdog Reporters Without Borders said it appeared the Nuctech Internet censorship had been in place for a few days.
China's mainstream media is tightly controlled by the government, and newspapers as well as TV news have also made no mention of the Nuctech case in recent days.
Hu Haifeng was president of Nuctech, which provides scanning technology, until last year, when he was promoted to Chinese Communist Party secretary of Tsinghua Holdings, which controls Nuctech and more than 20 other companies.
Nuctech provides security scanning equipment.
Nuctech representative Yang Fan (楊帆) and two Namibians, Teckla Lameck and Jerobeam Mokaxwa, were arrested after Namibia's Anti-Corruption Commission (ACC) discovered that a US$12.8 million down payment on 13 scanners had been diverted to a firm called Teko Trading owned by the two Namibians.
Nuctech has a Namibian government contract to supply security scanning equipment in a US$55.3 million deal, paid for with a Chinese loan granted when the Chinese president visited the country in 2007.
Investigators say the down payment was diverted to Teko Trading between March and April.
All three of the accused later drew large sums from the Teko account, with Yang taking 16.8 million Namibian dollars (US$2.1 million), most of which he is said to have paid into an investment fund, investigators said.
China's foreign ministry declined comment when contacted by reporters about the case on Wednesday, referring queries to Nuctech.
Staff at Nuctech's Beijing-based headquarters, however, also declined comment.
"We never speak to the media," a woman who answered the phone said.
Comments will be moderated. Keep comments relevant to the article. Remarks containing abusive and obscene language, personal attacks of any kind or promotion will be removed and the user banned. Final decision will be at the discretion of the Taipei Times.