Legislative meeting ends in clashes
STICKS AND STONES Insults flew yesterday as a legislative committee meeting degenerated into farce after a clash between Lee Ching-hua and Chiu Yi-ying
A legislative committee meeting intended to be a briefing on this weekend's cross-strait talks ended abruptly yesterday amid physical confrontation.
The adjournment of the meeting meant cross-strait policy makers and negotiators were denied the opportunity to brief the committee.
The third round of cross-strait talks between Straits Exchange Foundation (SEF) Chairman Chiang Pin-kung (江丙坤) and his Chinese counterpart, Association for Relations Across the Taiwan Strait (ARATS) Chairman Chen Yunlin (陳雲林), will be held from Saturday to Wednesday in Nanjing, China.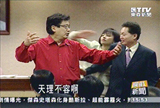 Democratic Progressive Party Legislator Chiu Yi-ying, center, slaps Chinese Nationalist Party (KMT) Legislator Lee Ching-hua, left, during a meeting in the Legislative Yuan in Taipei yesterday.
SCREENSHOT FROM ETTV NEWS
Both sides are expected to sign three agreements on financial cooperation, changing direct cross-strait charter flights into regular flights and joint efforts to combat crime, as well as a joint statement on opening Taiwan to investment from China.
UNHAPPINESS
The committee meeting yesterday began with Democratic Progressive Party (DPP) legislators complaining that Chiang was not present.
A skirmish began while Chinese Nationalist Party (KMT) Legislator Lee Ching-hua (李慶華) was at the podium, after he said that rather than criticizing Chiang, the DPP should have condemned former SEF heads under the DPP administration for failing to report to the committee.
Lee and DPP legislator Chiu Yi-ying (邱議瑩) then engaged in a shouting match after Lee asked Chiu to stop interrupting him and show manners.
Offended by his remarks, Chiu rushed to the podium and asked Lee to apologize, saying his sister, Diane Lee (李慶安), was the one lacking upbringing.
Diane Lee quit her position as a legislator earlier this year after being found to possess US citizenship in violation of the law.
BICKER
Committee chairman KMT Legislator Wu Yu-sheng (吳育昇), ordered a recess, Chiu and Lee continued to bicker, with Lee challenging Chiu to hit him and calling her a pofu (潑婦, "shrew").
Chiu demanded Lee Ching-hua apologize.
When no apology was forthcoming, Chiu slapped Lee's face. Lee Ching-hua then shouted "violent party" and called Chiu a "violent shrew."
PUTTING ON A SHOW
KMT Legislator Chu Fong-chi (朱鳳芝) criticized Chiu for "putting on a show." Chiu then asked what Chu would do if she were called a "shrew."
Chu replied she would never do anything to merit that title. Chiu burst into tears.
Wu later expressed regret over the incident and said he was taken aback. He also apologized for failing to prevent the clash.
As Wu asked committee members to decide on a proposal by KMT lawmakers to adjourn the meeting, DPP legislators demanded Lee apologize.
Ignoring the DPP request, Wu adjourned the meeting, leading to the two sides engaging in a shoving match.
Demands by DPP legislators that Lee Ching-hua apologize to Chiu were ignored.
Both sides then followed up by holding separate press conferences and blaming each other.
The KMT condemned the DPP for "resorting to violence."
KMT caucus secretary-general Yang Chiung-ying (楊瓊瓔) demanded Chiu be referred to the legislature's Discipline Committee.
"Legislators enjoy immunity for their remarks [within the legislature] but they do not have immunity for resorting to violence," she said, urging DPP Chairperson Tsai Ing-wen (蔡英文) to take responsibility for the conflict.
Lee Ching-hua also protested his innocence, accusing Chiu and other DPP legislators of assaulting him and his legislative aide.
"I'm sorry that the DPP has used violence again. I'm also sorry that I could not slap her back because I am a man," he said.
Lee Ching-hua argued that he called Chiu a "harridan" because "that is what she is."
KMT Legislator Alex Fai (費鴻泰) supported Lee Ching-hua, accusing Chiu of giving him the finger two months ago.
Fai said Chiu should spend more time studying ethics.
Later yesterday, Lee Ching-hua filed a lawsuit against Chiu at the Taipei District Court for "harming him and smearing him in public."
"I did not sue her for my own ends. I sued her because violence is contagious ... I would like to curb violence," he said.
Lee Ching-hua said he was "very shocked" when Chiu slapped him.
"Under no circumstances can you assault a male legislator or give him the finger," he said.
He said he might consider dropping the lawsuit if Chiu formally apologized to him.
The DPP caucus supported Chiu, saying Lee should apologize for humiliating Chiu.
DPP caucus whip Ker Chien-ming (柯建銘) said the conflict resulted from the absence of ministers in charge of the three agreements and a joint statement both sides planned for the Chiang-Chen meeting.
Chiu was merely expressing a firm position on behalf of the Taiwanese people, Ker said, but she was suppressed by the "China sympathizers," and Lee in particular.
"He should leave the legislature like his sister," he said.
Chiu said she could not tolerate anyone insulting her parents and pledged to "fight to the death" in defending them. She admitted slapping Lee, but said it was not a violent act and vowed to protect her honor and that of other women.
She criticized the KMT for being "gutless" in defending Lee Ching-hua, who she called a "chauvinist pig."
"I cried because I was angry, but I will not cry again," she said. "I will not let a low-class Mainlander get away with it."
Chiu said Lee Ching-hua was not qualified to say that she received no education.
She said Lee Ching-hua's sister had lied to the public about her US citizenship and had illegally received more than NT$10 million (US$300,000) in income while serving as a public servant. She was the one who was really lacking in education, Chiu said.
DPP caucus whip Kao Jyh-peng (高志鵬) warned the KMT caucus not to send Chiu to the legislative Discipline Committee, or the DPP caucus would respond in kind.
ADDITIONAL REPORTING BY RICH CHANG
Comments will be moderated. Keep comments relevant to the article. Remarks containing abusive and obscene language, personal attacks of any kind or promotion will be removed and the user banned. Final decision will be at the discretion of the Taipei Times.