Chen Shui-bian chained
HANDCUFFED Prosecutors requested that the former president be remanded in custody, saying he might tamper with evidence in the bribery case against him
A handcuffed former president Chen Shui-bian (陳水扁) was taken to the Taipei District Court in police custody yesterday as prosecutors sought his detention in connection with alleged embezzlement from the presidential "state affairs" fund and claims of money laundering by the former first family.
The detention hearing was ongoing at press time. If the request were granted, Chen would be the first former president in Taiwan's history to be detained.
Chen raised his cuffed hands into the air as he was escorted into a waiting car, shouting "Political persecution, judicial persecution" and "Taiwan, jiayou!"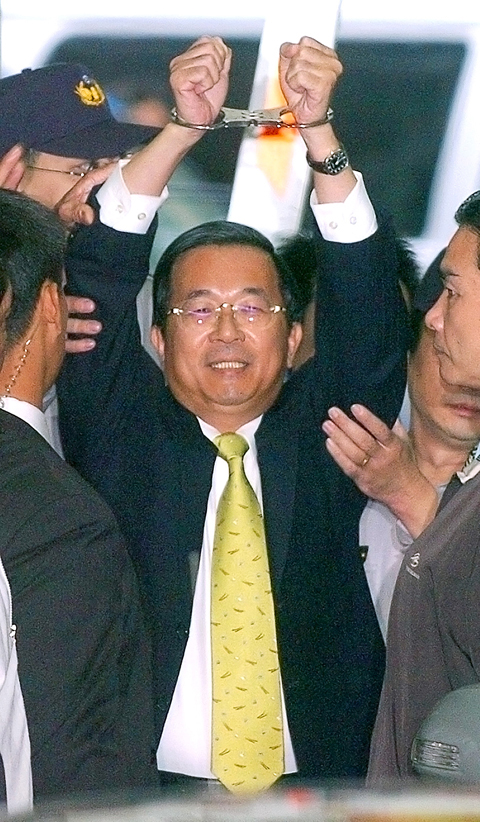 Former president Chen Shui-bian displays handcuffs and shouts slogans before getting into a police car in Taipei yesterday. After questioning Chen for seven hours, prosecutors with the Supreme Prosecutors Office's Special Investigation Panel applied to have him remanded in custody with no visitation rights.
PHOTO: WANG MING-WEI, TAIPEI TIMES
Chen Shui-bian said last night he had been struck by a bailiff and the Democratic Progressive Party (DPP) requested that he be taken to hospital for a check-up.
"We have asked that the suspect be detained on concerns that if freed, he might tamper with evidence concerning his role in the alleged case of embezzlement and bribe taking," said prosecutor Chen Yun-nan (陳雲南), spokesman for the Supreme Prosecutors Office's Special Investigation Panel (SIP).
Prosecutors made the detention request after questioning Chen for seven hours over his alleged embezzlement of NT$14.8 million (US$450,500) in secret diplomatic funds during his eight-year tenure. His wife, Wu Shu-jen (吳淑珍), has been charged and is being tried.
They said the former president was also suspected of accepting bribes from local businessmen and laundering at least US$21 million in funds abroad.
Chen Shui-bian has said that while his wife wired the funds abroad without his knowledge, the money was what had remained from previous election campaign donations.
Chen Yun-nan said prosecutors had collected enough evidence to bring corruption charges against the former president.
As the crimes Chen Shui-bian is suspected of could lead to a prison sentence of more than five years, prosecutors decided to file a detention request, he said.
Chen Yun-nan said that the questioning had been conducted by prosecutors Lin Cher-hui and Lee Hai-lung (李海龍) and began at 9:30am.
Chen Shui-bian was cooperative at first, answering all their questions, but stopped cooperating when Lin and Lee began to ask more sensitive questions, Chen Yun-nan said.
Outside the court in a light drizzle, a dozen of the former president's supporters shouting "injustice" and "political persecution" were kept at bay with barbed wire barricades, while several of his opponents on the other side of the barricades clapped their hands, shouting "long live the Taiwanese judiciary."
Elsewhere in Taiwan, some of Chen Shui-bian's opponents lit firecrackers to show their delight over his possible detention.
He had arrived at the SIP office yesterday morning around 9am. With traffic controls in force and nearly 3,000 police officers standing by, Chen Shui-bian left his office, which is located opposite the SIP offices. He stopped outside the entrance of the SIP offices for a short press conference.
"I am going to Taiwan's Bastille. They can imprison me physically, but they cannot control my mind," he said.
"The Chinese Nationalist Party (KMT) and the Chinese Communist Party see me as their No. 1 prisoner, as I am the biggest obstacle blocking their way to reunification," he told reporters.
He accused his successor, President Ma Ying-jeou (馬英九), of pursuing a political agenda and punishing him for demonstrations during a visit by China's Association for Relations Across the Taiwan Strait Chairman Chen Yunlin (陳雲林) last week.
"Chen Yunlin had a bad time in Taiwan ... so Ma Ying-jeou wants to put me in jail as a sacrifice to appease China. I am very honored and proud to play such a role," the former president said.
"I will not be imprisoned in vain and I will continue to strive ... Long live Taiwan democracy. Long live Taiwan independence," he said.
The Presidential Office said yesterday it would respect the court's ruling in Chen Shui-bian's lawsuit, but dismissed his allegation that Ma had ordered his detention.
Presidential Office Spokesman Wang Yu-chi (王郁琦) declined to comment on the legal aspects of the case, but denied that Ma had ordered Chen detained.
"We have publicly renounced such groundless allegations before," he said. "Chen's legal situation has never been discussed at the daily meetings of the Presidential Office, the Executive Yuan, the KMT or the KMT legislative caucus."
Chen Shui-bian said on Monday evening that he expected to be detained yesterday when he responded to a subpoena to testify in court because he believed Ma had ordered his detention, adding that he would exercise his right to remain silent.
The KMT yesterday slammed Chen Shui-bian for drawing a parallel between his overseas fund and that of Sun Yat-sen (孫中山), which the KMT regards as the founding father of the Republic of China.
KMT Spokesman Lee Chien-jung (李建榮) said the analogy was ludicrous, because Sun had saved the money overseas to build a new republic, while Chen Shui-bian pocketed government money and wired it abroad for personal gain.
Lee made the remarks during a panel discussion held by the Sun Yat-sen Memorial Library Foundation on the eve of Sun's 142nd birthday.
Lee said Chen Shui-bian had often mentioned Sun during his decades-long political career.
He did so on Sept. 18, 1995, when he said during an interview with the Chinese-language United Daily News that he admired Sun's selflessness and that Sun was someone he would like to emulate.
Chen Shui-bian admitted in August this year that he "did something that was not allowed by the law," and claimed that he had been inspired by Sun to wire some of his money overseas, Lee said.
Maa Shaw-chang (馬紹章), executive director of the KMT's think tank, the National Policy Foundation, said that while Sun raised funds to overthrow the Qing Dynasty, Chen Shui-bian never made any effort to establish a new republic during his two terms in office, but instead embezzled money.
While Sun's legacy was one of ethical assets, that of Chen Shui-bian was an ethical liability, Maa said.
KMT caucus secretary-general Chang Sho-wen (張碩文) yesterday accused the former president of attempting to discredit the judicial system.
"Chen was trying to take advantage of Taiwanese people's kindheartedness and politicize his corruption case," Chang said at a press conference.
"But the whole world knows that he is under investigation for corruption," Chang said.
KMT Legislator Wu Yu-sheng (吳育昇), who also attended the conference, defended the impartiality of the prosecutors, saying that Taiwan obeyed the rule of law and that there was no way the judiciary could be influenced by any political camp.
When asked for comment, KMT Legislator Hung Hsiu-chu (洪秀柱) cheered the prosecutors' decision to seek to detain the former president, saying that people should set off firecrackers in celebration and that Chen Shui-bian's attack on at the judiciary was "ridiculous."
The DPP caucus yesterday said Chen Shui-bian had been detained in order to humiliate and harm the DPP.
DPP caucus whip William Lai (賴清德) told a press conference that the judiciary could investigate Chen Shui-bian, indict him and find him guilty if the evidence proved he had committed crimes.
However, Lai said, the DPP opposed the detention of Chen Shui-bian just for the sake of taking his statement.
He said the judiciary could harm the DPP by its actions, but would also harm itself because it would lose public trust.
He said Taiwan would be further split following Chen Shui-bian's detention.
DPP Legislator Gao Jyh-peng (高志鵬) said the current political atmosphere had driven the authorities to take Chen Shui-bian into custody, and that meant the former president would not be subject to a fair and independent investigation.
He said prosecutors had purposely staged the scene showing Chen Shui-bian bound in handcuffs as it would leave the public with a negative impression of all DPP politicians.
Gao said that not a single KMT government official had been detained in handcuffs in the last 10 years, and that included Ma, who was indicted on corruption charges over the use of his special allowance fund during his stint as Taipei mayor.
"Such an action is meant to humiliate the DPP," Gao said.
DPP Legislator Lee Chun-yee (李俊毅) said: "The DPP will not be felled by this."
Comments will be moderated. Keep comments relevant to the article. Remarks containing abusive and obscene language, personal attacks of any kind or promotion will be removed and the user banned. Final decision will be at the discretion of the Taipei Times.