Legislative chaos as DPP lashes at Ou
'RUNAWAY MINISTER' Opposition legislators blocked the minister of foreign affairs from reaching the podium and then prevented him from leaving the legislative room
Legislators engaged in physical and verbal clashes during the legislature's Diplomacy and National Defense Committee meeting yesterday as Democratic Progressive Party (DPP) legislators continued their criticism of Minister of Foreign Affairs Francisco Ou (歐鴻鍊).
Ou was to make his first appearance at the legislature, where, according to the agenda, he was to unveil policy plans.
But DPP legislators blocked Ou from making his presentation, while criticizing him for once having permanent resident status in the US and for failings in handling the Diaoyutai (釣魚台) incident earlier this month.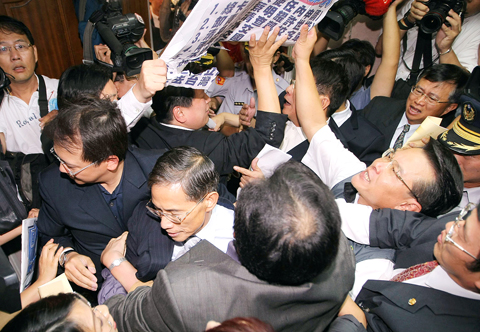 Democratic Progressive Party and Chinese Nationalist Party (KMT) legislators clash at the legislature in Taipei yesterday as Minister of Foreign Affairs Francisco Ou, second left, struggled to leave the meeting.
PHOTO: CNA
The lawmakers have been up in arms since it was revealed that Ou had obtained US permanent resident status in 2005 when he was Taiwan's ambassador to Guatemala. He only renounced the status one month before assuming his ministerial position on May 20. The matter has been used to question his loyalty to the nation.
Ou's handling of the Diaoyutai incident, in which a Taiwanese fishing boat collided with a Japanese patrol vessel and sank in waters near the disputed islands, was also a focus of criticism. Ou berated the nation's former representative to Japan, Koh Se-kai (許世楷), for his handling of the issue and asked him to report to the legislature, a request that Koh has rejected.
As DPP legislators continued to denounce Ou and blocked him from reaching the podium, Chinese Nationalist Party (KMT) Legislator John Chiang (蔣孝嚴) made a motion to end the meeting, which was quickly passed as the KMT holds a majority in the committee.
DPP lawmakers then attempted to stop Ou from leaving the meeting.
"Ou, step down!" "You're a runaway minister!" and "Get out and never come back!" DPP legislators shouted as they surrounded Ou.
KMT legislators eventually came to Ou's rescue and escorted him out of the building with help from legislative police officers.
The DPP caucus later continued its condemnation of Ou at a press conference and asked him to apologize and step down.
"We hereby ask the KMT and Ou to apologize to the public and that Ou step down," DPP legislative caucus whip William Lai (賴清德) said.
"Unlike other Cabinet members, Ou did not brief us as soon as he took office. This was a humiliation to us as lawmakers," Lai said. "In addition, the KMT helped him escape censure by taking advantage of its majority to cut short the legislative meeting. The KMT owes us an apology for this, too."
Lai said that Ou had yet to provide clarifications on his green card situation. In addition, he avoided his responsibilities during the Diaoyutai incident and never responded to lawmakers' requests for a briefing, as a minister is supposed to, Lai said.
"We were simply enforcing our right to ask a Cabinet member to do his job. Ou failed to fulfill that request. That is why we are unhappy," Lai said.
KMT caucus whip Lin Yi-shih (林益世) later complained that the DPP used "double standards" by allowing Koh to shun legislative questioning, while creating difficulties for Ou.
"Koh is the one who ran away, not Ou," Lin said, adding that the DPP should apologize to Ou and the nation.
KMT caucus secretary-general Chang Sho-wen (張碩文) said the DPP had obstructed procedures and should be reminded of the need to behave reasonably.
KMT caucus deputy secretary-general Chang Hsien-yao (張顯耀) said the DPP had used procedural matters to paralyze the proceedings of the meeting and to insult government officials. He said their behavior was in violation of Article 58 of the Rules of Procedure of the Legislative Yuan (立法院議事規則).
Additional reporting by CNA
Comments will be moderated. Keep comments relevant to the article. Remarks containing abusive and obscene language, personal attacks of any kind or promotion will be removed and the user banned. Final decision will be at the discretion of the Taipei Times.