Soft power serves up a golden duo for Team Taiwan
Taiwan finally ended its gold medal drought at the Asian Games with authority yesterday when both of its soft tennis players won their final matches. Women's soft tennis player Chiang Wan-chi struck first with a resounding win over China's Jiang Ting in five games.
Chiang turned in a dominating performance, allowing Jiang only one point in three of the five games and losing only the fourth. Not only was it Taiwan's first gold medal of the games, but also the first in Chiang's 10-year soft tennis career.
That win was followed shortly after by Wang Chun-yen's victory over his Japanese opponent Shinohara Hidenori. Wang was nearly as commanding as Chiang, needing just one set over the minimum to take home the gold.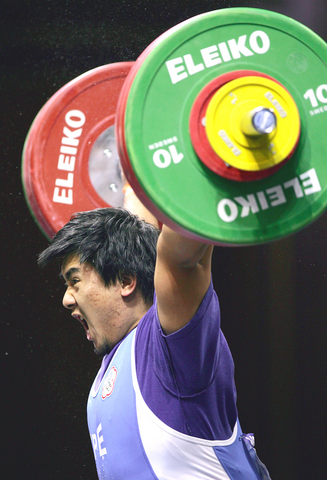 Hsieh Wei-chun lifts 157kg during the men's 94kg snatch competition in the Asian Games weightlifting competition in Doha, Qatar, yesterday. Hsieh won the bronze medal.
PHOTO: AP
The two golds met the predictions of the National Council on Physical Fitness and Sports, which projected Taiwan would win at least two golds in soft tennis.
Nine medals
Those wins helped up Taiwan's medal tally to nine -- two golds, one silver and six bronzes -- over the past two days at the Asian Games. As of press time, Taiwan's men's double trap team of Chang Chien Ming-shan, Chen Shih-wei and Shih Wei-tin had taken a bronze medal, while weightlifter Hsieh Wei-chun also took bronze in the men's 94kg division by lifting 157kg in the snatch and 198kg in the clean and jerk for a total of 397kg.
Ping-pong implosion
Meanwhile in table tennis, Hong Kong proved China are not invincible after all, dispensing with two of the Red Army's doubles combinations in a powerful display.
Hong Kong's Ko Lai Chak and Li Ching downed their mainland rivals and No. 2 seeds Wang Hao and Ma Long 4-2 in a tense semi-final match.
They now face a gold medal showdown with China's other doubles pair Ma Lin and Chen Qi who trounced Taiwan's Chiang Peng-ling and Chuang Chih-yuan.
On the women's side, second seeds Tie Ya Na and Zhang Rui from Hong Kong downed China's Wang Nan and inexperienced Chen Qing who left the arena in tears after their 4-2 defeat.
Tie said her win exceeded expectations and they were now steeling themselves for a gold medal showdown against another Chinese duo Guo Yue and Li Xiaoxia, also later yesterday.
Guo and Li, the number one seeds, dispensed with Taiwan's Huang Yi-hua and Lu Yun-feng 4-2 in their semi-final match.
also see stories:

Asian Games: Taiwan takes the sweet with the sour on big day

Asian Games: S Korea's taekwondo stranglehold could slip

Asian Games: Honey, Ponce and Baby add spice to Doha events

Asian Games: Japan dents medal drives by China and Uzbekistan
Comments will be moderated. Keep comments relevant to the article. Remarks containing abusive and obscene language, personal attacks of any kind or promotion will be removed and the user banned. Final decision will be at the discretion of the Taipei Times.