Activists give the `Taiwan Republic' flag a rousing cheer
Shouting "Taiwan Republic! Taiwan Republic!" thousands of independence supporters yesterday held a flag-raising ceremony using the group's version of a Taiwanese national flag.
The crowd gathered in front of the Presidential Office building, sang their version of the national anthem, waved flags and chanted slogans in favor of formalizing a "Taiwan Republic."
The event started yesterday with five representatives each reciting the "Taiwan Republic Campaign" statement in five languages, namely Mandarin, Minanhua, English, Japanese and German.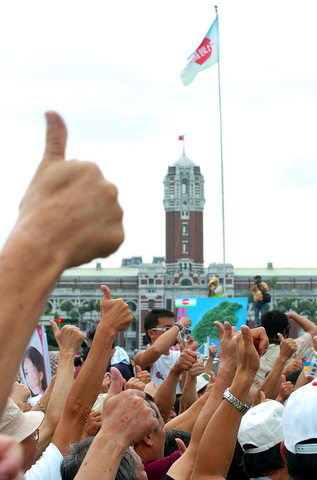 Supporters of the 908 Taiwan Republic Campaign give the thumbs-up and chant slogans on Ketagalan Boulevard in Taipei yesterday during a Taiwan independence rally.
PHOTO: CHIEN JUNG-FONG, TAIPEI TIMES
The statement stressed the need to abolish the Republic of China (ROC) Constitution, terminate the ROC system of government, promote a new constitution for the Taiwan Republic and implement a new Taiwan Republic system of government.
The crowd then sang Taiwan the Green (台灣翠青), a poem written by John Jyigiokk (鄭兒玉), a professor at the Tainan Theological College and Seminary. It was set to music by Taiwanese composer Hsiao Tyzen (蕭泰然) in 1988.
The song conveys the message that Taiwanese will realize the dream of building an independent nation and has significant meaning for those who advocate Taiwan's democratization, according to the event's sponsor, the 908 Taiwan Republic Campaign.
Taiwanese independence supporters regard the ROC national anthem as a song of the Chinese Nationalist Party (KMT).
The crowd also expressed their support for President Chen Shui-bian (陳水扁) and their disdain for former Democratic Progressive Party chairman Shih Ming-teh (施明德), who is leading an anti-Chen protest starting today.
"Shih Ming-teh is a dishonest man," said Albert Shaw, a 75-year-old retired school teacher.
Comments will be moderated. Keep comments relevant to the article. Remarks containing abusive and obscene language, personal attacks of any kind or promotion will be removed and the user banned. Final decision will be at the discretion of the Taipei Times.