Chen asks Soong to be his messenger
GOODWILL President Chen Shui-bian said yesterday that he asked People First Party Chairman James Soong to act as his messenger during a visit to China this week
President Chen Shui-bian (陳水扁) yesterday said that he hopes People First Party (PFP) Chairman James Soong (宋楚瑜) can act as his messenger when he visits China on May 5.
Chen revealed yesterday that he had a telephone conversation with Soong on Saturday night before his departure for the Marshall Islands on an official visit.
During the conversation, he asked Soong to act as his messenger and deliver certain friendly messages to Chinese officials.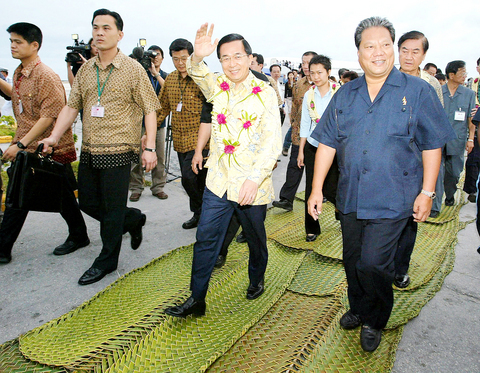 President Chen Shui-bian, center, accompanied by Marshall Islands' President Kessai Note and his entire Cabinet, yesterday waves at the public after arriving in Majuro, the capital of the Republic of the Marshall Islands, for a two-day visit.
PHOTO: CNA
But the president did not say whether Soong had agreed or not.
"However, my request to Soong does not mean that he has been `authorized' by the government. That is totally different," Chen said.
The president made his remarks during the flight from Taipei to Agana, Guam, yesterday.
In the meantime, Chen also said Chinese Nationalist Party (KMT) Chairman Lien Chan (連戰) kept the promise that he had made during their telephone conversation on April 26 and did not cross the line.
"Lien is actually suffering from terrific pressure from the US authorities regarding his trip to China. But, I am glad that he did not break his promise to me, according to the `five-point vision for cross-strait peace' which was announced as a joint press statement," Chen said.
"I have to say what I feel about chairman Lien and chairman Soong's trips to China," the president said.
According to Chen, prior to Lien's trip, a "US authority" has urged him not to become an instrument of propaganda for the Chinese communists and Lien has promised not to let this happen. In addition, Lien called him on April 26 and, obviously, the "five-point vision for cross-strait peace" showed that Lien did not break his promise.
Chen did not explain who the "US authority" was but it is believed to be American Institute in Taiwan Director Douglas Paal, who met with Lien a couple of weeks ago.
However, senior presidential advisor Koo Kwang-ming (辜寬敏) said he does not believe that Chen would ask Soong to be his messenger. But he stressed that everybody should unite for the good of the nation.
Koo established a fishing company in Majuro and registered six of his fishing boats in the Marshall Islands. In addition, he also invested US$600,000 in the Bank of Marshall Islands. He went to Majuro last week to deal with details of the president's trip and was part of a welcoming group, organized by Marshall Islands officials, at the airport when Chen's charter plane landed around 6pm, local time.
"No matter how we hate each other at home, once we step out, we shall stand together as a team," Koo said.
Chen departed from Taipei around 5am yesterday to begin his five-day trip to cement Taiwan's diplomatic relationships with the Marshall Islands, Kiribati and Tuvalu.
According to the Presidential Office, one of the purposes of the president's trip was to participate in the Marshall Islands' Independence Day celebrations yesterday.
"The president leaves on May 1 and will return to Taiwan on May 5," said Presidential Office Deputy Secretary-General James Huang (黃志芳).
According to Huang, the navy also sent two of its Lafayette-class frigates to visit the Marshall Islands and participate in the celebration activities. Chen will invite Marshall Islands President Kessai Note and reporters to board one of the frigates for breakfast today.
After the breakfast, Chen will deliver a speech at the Marshall Islands parliament which will be broadcast live by a local radio station, while a TV station will record the entire event and air it later.
In the afternoon, Chen will board a canoe with Note for the launching ceremony of a canoe contest.
Chen will leave for Tarawa, Kiribati's capital, tomorrow.
In Tarawa, the president is scheduled to deliver a speech at Kiribati's parliament at 3pm.
On Wednesday, Chen will leave for Funafuti, Tuvalu's capital. However, due to the limitations of Funafuti International Airport's facilities, only propeller aircraft will be allowed to land. Half of Chen's team will therefore fly directly to Agana, Guam, while the president and 15 reporters visit the country.
According to the official schedule, the president will meet with Tuvalu Governor Filoimea Telito and Prime Minister Maatia Toafa and will sign an agreement with Toafa after the meetings.
Chen, officials and reporters will leave Funafuti for Guam on the same day and will return to Taiwan on Thursday.
also see story:

PFP confirms Chen-Soong telephone call
Comments will be moderated. Keep comments relevant to the article. Remarks containing abusive and obscene language, personal attacks of any kind or promotion will be removed and the user banned. Final decision will be at the discretion of the Taipei Times.