`Radical' A-mei cancels show in China
`ONE CHINA' RHETORIC The pop star joined the list of Taiwanese doing business in China to be punished for appearing to support Taiwan's independence
Taiwanese pop diva Chang Hui-mei (張惠妹), better known as A-mei, was forced to cancel a performance in China on Saturday night due to a protest by students from Zhejiang University (浙江大學) who accused her of being a supporter of Taiwan independence. \nShe was scheduled to promote the Master Kong brand of Wei Chuan Food Corp (味全食品) in the province's capital, Hangzhou. \nAt a press conference held by Wei Chuan, Taiwan's second-largest food company, several hundred students raised banners reading "Safeguarding our motherland and unification" (捍衛祖國統一) to protest against what they believed to be A-mei's strong support for Taiwan's independence. \nFaced with student anger, event organizers kept A-mei from the stage. \nDays before the event, more than a thousand students from Zhejiang University signed an online boycott of A-mei, expressing discontent with the provincial government for allowing a pro-independence Taiwanese singer to make money in China. \nThis is not the first time China has blacklisted the Taiwanese singer. Four years ago, A-mei came under a Chinese media blackout for singing the national anthem at President Chen Shui-bian's (陳水扁) inauguration. \nInternet discussions on XinhuaNet and the People's Daily Online show that more Taiwanese entertainers have been blacklisted and become embroiled in political storms. \nThe users of China's two major Internet sources have identified more than 20 "green performers." They singled out pop singers Jay Chou (周杰倫), Wu Bai (伍佰) and Tsai Chen-nan (蔡振南), and program hosts like Pung Chia-chia (澎恰恰) and Chen Mei-feng (陳美鳳). \nReturning to Taiwan last night, A-mei said she respected the right of Chinese to express themselves on the Internet. \n"But I hope the situation will not get complex. We entertainment artists are innocent," she said at CKS International Airport in Taoyuan last night. \nA-mei said most Chinese fans were friendly and that she planned to continue with her scheduled activities in China. \nTaiwanese businesspeople have faced similar problems across the Strait. \nChina's criticism of Taiwanese tycoon Hsu Wen-long (許文龍) last month highlighted China's harder line. On May 24, China's Taiwan Affairs Office of the State Council declared that Taiwanese businessmen who "come to make money here and then go back to support Taiwanese independence are not welcome." \nA week after the statement came a diatribe on the front page of the People's Daily calling Chi Mei Optoelectronics (奇美) chairman Hsu, also a presidential adviser, an ardent supporter of independence. \n"His Chi Mei Corporation prospered hugely in the mainland, yet he is recognized in Taiwan's business community as a key figure of the Taiwan independence faction," the article said. \nChi Mei Corp has plants in Guangdong and Jiangsu provinces and is eyeing operations in Shanghai. \nAccording to Chen Yi-shen (陳一笙), chairman of the Taiwan Businesspeople Association in Chongqing, China has tightened its measures against Taiwanese businesspeople. Such moves include stricter tax inspection, cutting down on loans available for Taiwanese businesspeople and launching investigations into their personal backgrounds and political affiliations. \nChen said Chinese officials have demanded that all pro-independence businesspeople be excluded as candidates for re-election to the association.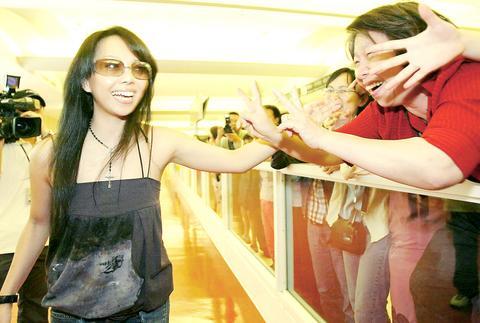 Taiwanese pop star Chang Hui-mei, better known as A-mei, is all smiles as she greets supporters at the CKS Airport yesterday. Fans went to the airport to encourage the singer after she was forced to cancel a performance in China because of being branded a ``splittist.''
PHOTO: TONY YAO, TAIPEI TIMES
Comments will be moderated. Keep comments relevant to the article. Remarks containing abusive and obscene language, personal attacks of any kind or promotion will be removed and the user banned. Final decision will be at the discretion of the Taipei Times.