Wanted `magic doctor' disappears into thin air
MIRACULOUS ESCAPE Zhang Ying claimed to have supernatural powers and when Taipei prosecutors started to look into her claims, she vanished
Controversial Chinese "magic doctor" Zhang Ying (張穎) took flight after the Taipei District Prosecutors' Office (台北地檢署) started investigating her, local media reported yesterday. \nIn response, prosecutor Ke Yi-fen (柯宜汾) issued an order on Friday night barring Zhang from leaving the country, while investigators decide whether she should be charged with fraud. \nMeanwhile, the Department of Health said that if Zhang continues dispensing medicine, she will face a maximum three-year sentence and NT$150,000 (US$4,000) fine, since she does not have a doctor's license in Taiwan. \nZhang, who currently resides in the US, arrived in Taiwan late last month with her Taiwan-born husband to visit relatives. In the past week she has been demonstrating her ability to "conjure up medicine pills out of thin air" (隔空抓藥) and to treat patients with her so-called "supernatural powers." \nLocal reporters had said that Zhang is a state-certified "person with miraculous power" in China and that she charges exorbitant fees for her services. \nZhang also claims to be able to see through human bodies and diagnose their diseases. "When I see someone, it's as if that person is naked. That is why I try not to look at men because I blush," Zhang said. \nZhang was supposed to have demonstrated her powers on Thursday at a local television station. Her show, however, was interrupted and challenged by famous local magician Nien Li-jen (粘立人), who attended the performance. Nien said that Zhang's "supernatural powers" were nothing more than simple sleight-of-hand. \nNien found a small piece of wax under the table Zhang was using and said it had been prepared by Zhang or her assistants beforehand. After this, Zhang failed to conjure up any more medicine during her performance. "I could not concentrate my power in the presence of someone who doubted my abilities," Zhang claimed. \nThe episode -- which took place under the glare of the media spotlight -- came to the attention of local authorities, who dispatched health officials and prosecutors to look into the legality of Zhang's antics. \nZhang's mother-in-law, however, told prosecutors on Friday that Zhang had already moved out and that she had no idea where Zhang was going. \nMeanwhile, Nien, along with his colleagues at the Taiwan Magicians' Association (台灣魔術師聯盟), called a press conference on Friday to accuse Zhang of using common trickery to fool patients. "Magic should never be used to encourage superstition," Nien said. \nLocal magicians also said that they would pay Zhang NT$3.2 million if she can successfully conjure up medicine pills out of thin air under their supervision. \nDefending Zhang, however, were local extrasensory perception "experts" who insisted that there are things that humans cannot comprehend. \nLee Si-chen (李嗣涔), Dean of Academic Affairs at National Taiwan University, said yesterday that people should not accuse Zhang without scientific examination. Lee denied the rumor that Zhang was invited to Taiwan by him or his school.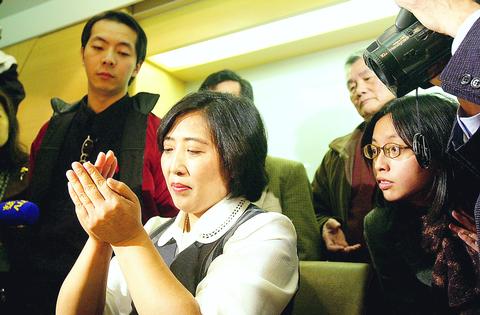 The Chinese `magic doctor' Zhang Ying, sitting, demonstrates her supposed supernatural powers -- `snatching medicine pills out of the air' -- at a press conference held on Thursday. Her performance was later challenged by famous local magician Nien Li-jen, left, who said that her performance was simply sleight of hand.
PHOTO: LIN CHENG-KUNG, TAIPEI TIMES
Comments will be moderated. Keep comments relevant to the article. Remarks containing abusive and obscene language, personal attacks of any kind or promotion will be removed and the user banned. Final decision will be at the discretion of the Taipei Times.