Jiang wants to ratify test ban treaty
EUROPEAN TOUR The Chinese president told Jacques Chirac that China intends to ratify the nuclear test ban treaty, `to create a more peaceful world'
Visiting Chinese President Jiang Zemin told his host, French president Jacques Chirac, that China intends to ratify the nuclear weapons test ban treaty, rejected by the US senate earlier this month.
``Our objective is to obtain the ratification of this treaty,'' the French presidency's spokeswoman Catherine Colonna quoted the Chinese leader as saying during breakfast at president Chirac's countryside chateau. China's parliament has already made an initial examination of a ratification project, she added. Jiang said that China wants to ratify the nuclear weapons test ban treaty to help ``permit to create a more peaceful world,'' Colonna said.
Chirac had expressed his ``consternation'' at the US senate's Oct. 13 refusal to ratify the treaty, and Colonna said that Jiang had the same reaction.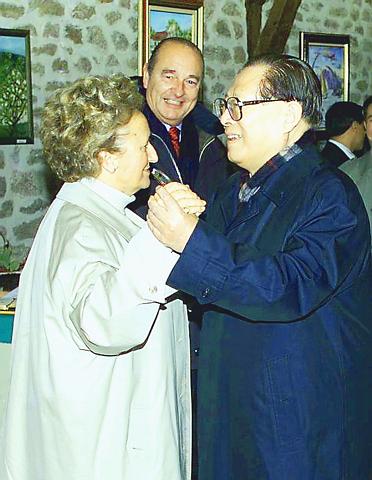 Chinese President Jiang Zemin waltzes with French First Lady Bernadette Chirac as her husband, Jacques, looks to cut in, during a visit to south-western France's Patrimony House yesterday.
PHOTO: REUTERS
In talks with his French counterpart, Jiang said his country would move ``step by step'' toward democracy with an eye to maintaining the nation's stability, Colonna said yesterday.
Jiang explained his approach to democracy during three hours of talks Saturday evening with Chirac, who hosted the Chinese leader at his estate in the Correze region, in the heart of France, on the second day of a five-day visit to the country.
The first two days were billed as a ``personal'' visit, with the state visit starting later yesterday when Jiang, on a two-week foreign tour that began in Britain, was to arrive in Paris.
But first, he enjoyed the pleasures of the French countryside, dancing to accordion music with French First Lady Bernadette Chirac at a local fair in the town of Chaumeil.
The night before, at Chirac's Chateau Bity, more serious matters were on the agenda.
Chirac expressed his concern about respect for democracy and political and religious freedoms, said Colonna.
Jiang in turn expressed ``his wish for his country to make progress step by step in this direction (toward democracy) without putting into question the stability of an ensemble of more than a billion inhabitants,'' Colonna said.
On the question of Chinese-occupied Tibet, the two men discussed the ``conditions of a dialogue'' between Chinese authorities and the Dalai Lama.
Colonna described the talks as ``deep, free and frank'' and said that Jiang remarked that the conversation was ``the deepest he has had with a foreign leader on this subject.''
Chirac, she added, was ``convinced that China will not remain at the side of the world's great evolutionary movement.''
Chirac has come under severe criticism from Chinese dissidents, human rights groups and some French politicians for inviting Jiang to his personal country estate, the first time such an invitation was extended to a foreign leader.
China and France meanwhile announced a ``hot line'' between their two nations described as a ``direct, secure telephone line permanently open,'' Colonna said. France currently has such lines with Washington and Moscow.
Comments will be moderated. Keep comments relevant to the article. Remarks containing abusive and obscene language, personal attacks of any kind or promotion will be removed and the user banned. Final decision will be at the discretion of the Taipei Times.