The difficulties foreign pregnant women face in Taiwan
Taiwanese birth culture is not evidence-based, and current practices won't change until the public starts questioning them
When the Uber was just about to pull over to their sidewalk on a cold winter night in 2020, Alina Pietilainen, who was 41 weeks pregnant, changed her mind: "We need an ambulance. Now."
Two hours later, Pietilainen's son Arlo was born at Taoyuan's St Paul Hospital. In contrast to expectations, Pietilainen gave birth unusually quickly for a first-time mother, meaning that her son was already born before her midwife and ob-gyn could make it to the hospital.
Still, Pietilainen had been mentally preparing herself for the delivery and was satisfied with the outcome. She had taken prenatal classes from doula Angela Chang, and had been introduced to local midwife intern Christine Chou through her hospital.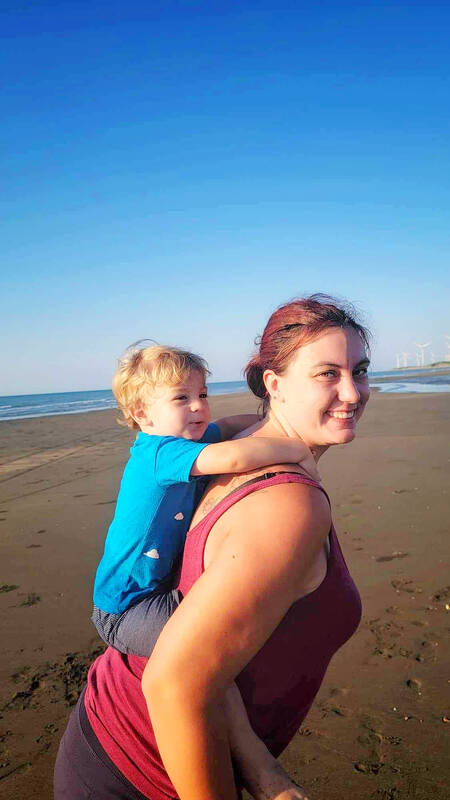 Alina Pietilainen poses with her son Arlo on a beach.
Photo courtesy of Alina Pietilainen
Doulas provide physical and emotional support to pregnant women during labor. However, they are not medical professionals and do not help with delivery.
"We don't have a support system here. It is literally just us," Pietilainen said when asked about the difficulties pregnant foreign women face in Taiwan. "[The medical personnel] make you feel unimportant."
'TRAUMATIZING'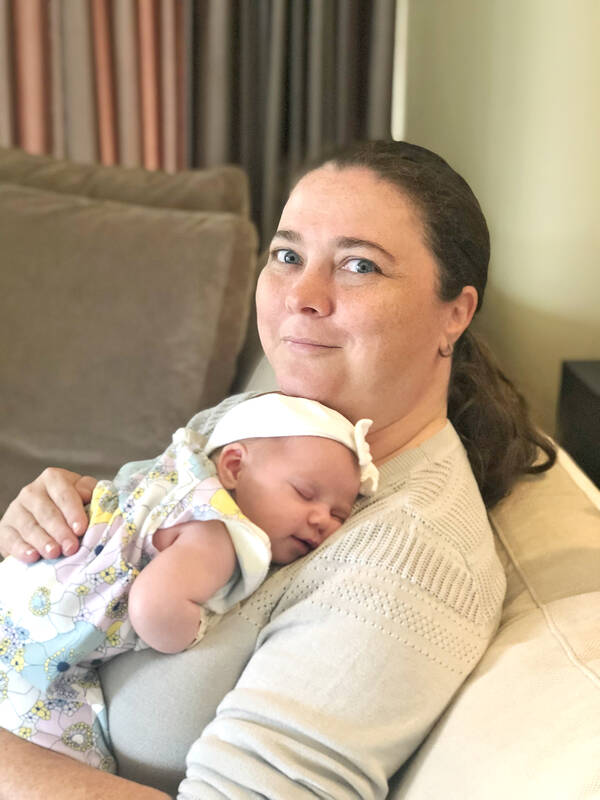 Doula Angela Chang holding a newborn.
Photo courtesy of Angela Chang
Chang, a mother of three from Canada, first came to Taiwan as an English teacher almost 25 years ago and became a doula after going through her own childbirth experience, which she described as "traumatizing" and "difficult."
Initially, she ran an expat playgroup that served a dual purpose. The babies got to play, but more importantly, parents got to socialize, and vent about the problems they encountered, as well as exchange information on where to get medical help in English. One of the pregnant women she met through the playgroup asked if Chang would like to accompany her during her birth, which started Chang's doula journey.
Today, as a certified doula, she helps foreign as well as mixed couples negotiate the intricacies of Taiwan's medical system. Being fluent in Mandarin and having a good grasp of the cultural nuances is one of the main reasons why foreign couples hire her as a doula, she says.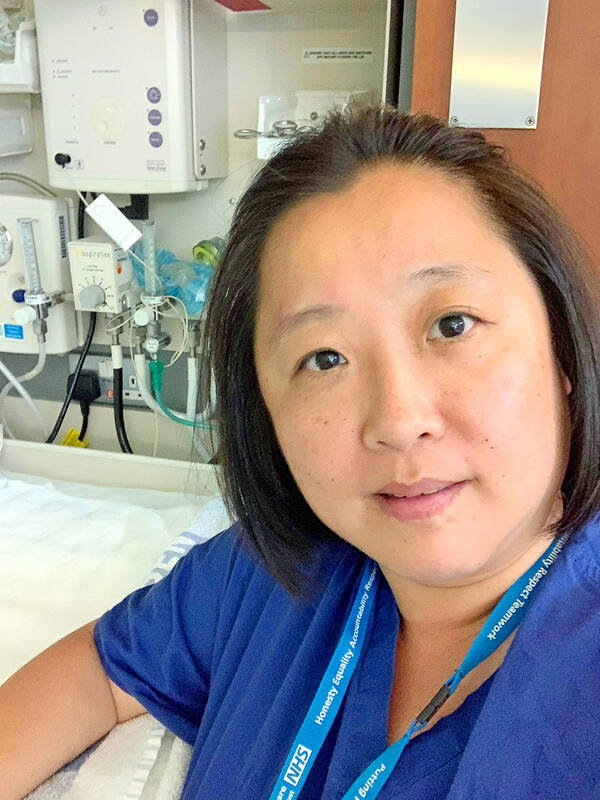 Midwife intern Christine Chou says women need to be more proactive with doctors.
Photo courtesy of Christine Chou
Chang says one of her main roles is to educate her clients, adding that she encourages them to discuss important issues with their doctor.
However, her concerns are not only limited to issues faced by foreigners. One of her major complaints is the apparently arbitrary use of labor induction, Caesarian-sections and episiotomy by doctors, who, she said, are still being taught that Asian women are "anatomically different" and must undergo episiotomy to give birth more easily.
Such methods should only be used when medically necessary, such as when the baby is too big or a baby is past their due date, and "not because they are more convenient for somebody," Chang said.
Pietilainen said that most foreigners she knows "had to go to many doctors, due to language barriers, due to issues with episiotomies, or issues with C-sections."
Chang, who has accompanied more than 500 births, said that a lot of Taiwanese birth culture is "not evidence-based," and that "the practices won't change unless more people start questioning them."
Taiwanese midwife Christine Chou (周竹宜) agreed.
"Taiwanese women have to see themselves and listen to their own voice… We usually tend to hand ourselves over to medical staff, but don't ask many questions," Chou said.
CONVENIENCE
Many of her Taiwanese patients prefer C-sections because they believe it is more convenient, she said.
Obstetrician James Lin (林思宏), whose career spans over 15 years, adds that the most important component of their work is safety; and points out that pregnancy is not a disease. He added that pain management was really important in order to let women have "good memories" of their birthing experience.
During COVID-19, PCR tests were compulsory in the delivery room, so people preferred to schedule inductions, even if there were no signs of labor. He however still provided many options, and asked what her patients wanted; so the final choice belonged to the woman, Lin said.
Hospitals primarily focus on treating sick or injured people, and issues about the obstetrics department might not be their first concern, Lin said, adding that focusing on specialty birth clinics is essential for this reason.
The ratio of women giving birth by C-section in Taiwan is about 34 percent, much higher than the WHO-recommended figure of 10 to 15 percent. The number is about 28 percent in OECD countries, and 32 percent in the US.
Women are not well-informed about potential complications and what could go wrong, Chou said.
C-sections should be performed only when necessary, instead of being used as a method of convenience, she said.
'GENTLE BIRTH'
Chou works at St Paul's Hospital, where Pietilainen gave birth, and is an ardent proponent of practicing "gentle birth," where medical intervention during labor is considered as a last resort.
That has encouraged many Western women to choose the hospital for delivery, as they tend to ask more questions and wish to be informed about their options, Chou said.
"I hope Taiwanese women can do the same," she added.
Chang said the birthing practices in Taiwan are "very different" from those in the West, and urged health officials to heed the calls of pregnant women — foreigners and Taiwanese.
"I don't want to see women hurt… Some doctors induce every single woman. Why is that OK?" she said.
Still, Chang said she has seen the first signs of change, albeit small, in the right direction: Facebook groups, local birth pages and gentle birth advocates have cropped up in recent years to provide much-needed support to foreign pregnant women.
Pietilainen said she is among those who seek support from such online platforms where expats exchange information.
She said she changed four doctors during her pregnancy before finally ending up at St Paul Hospital, where she found Yang Cherng-chia (楊誠嘉), who addressed her concerns.
Before that, her experience was tinged with frustration, as she had to endure indifference by medical personnel, as well as the lack of bedside manners by doctors.
Most of the nurses she encountered refused to speak English, while she and her friends had to deal with doctors who called them obese, despite being in normal weight ranges, Pietilainen said.
Chou, Chang and Pietilanien all expressed the hope that the Taiwanese medical system would change for the better where doctors respect pregnant womens' desires while giving birth, all the while being medically available, should there be need for a medical intervention.
Pietilainen has a simple request from Taiwanese doctors: that they listen to pregnant women.
"I'm in a new country, in a new medical system, in a language [I] don't understand. The least you could do is answer my questions," she said.
Comments will be moderated. Keep comments relevant to the article. Remarks containing abusive and obscene language, personal attacks of any kind or promotion will be removed and the user banned. Final decision will be at the discretion of the Taipei Times.