Taiwan in Time: From pipe king to 'father of badminton'
Wu Wen-ta made his fortune in the metal industry before becoming a tireless and generous promoter of the sport in Taiwan
Nov. 5 to Nov. 11
Wu Wen-ta (吳文達) didn't touch a badminton racket until he was 37 years old. Once he did, however, he was hooked.
The businessman not only began playing every day, he devoted his energy and wealth to promoting the sport, and his efforts were so successful that he was officially named the nation's "Father of Badminton" in 2006.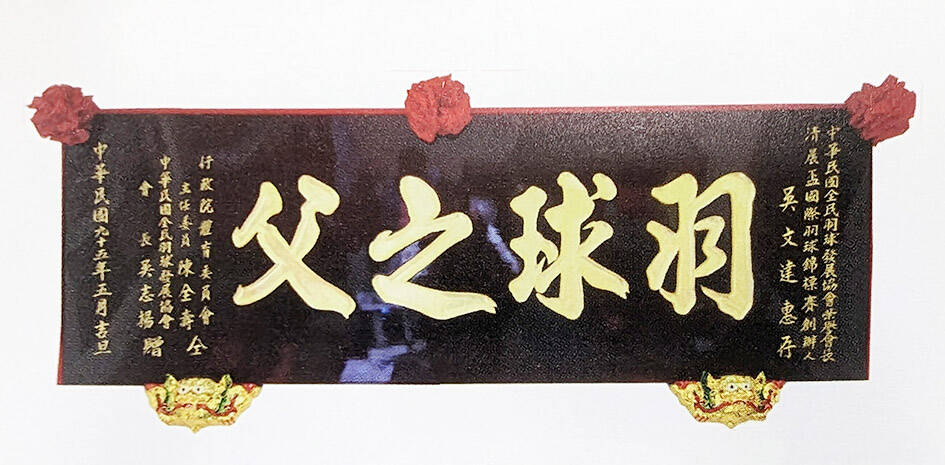 This "Father of Badminton" plaque was given to Wu Wen-ta in 2006 by the Executive Yuan.
Photo courtesy of Taiwan Senior Badminton Association
The World Morning Cup (世界清晨盃) badminton championships, which Wu co-founded in 1972, is still running today. Beginning with just 100 local participants, this year's event in April attracted nearly 3,600 players from across the globe. Since Wu died on Nov. 9, 2015, it's also been known as the Wu Wen-ta Memorial Cup.
Wu did not stop at just badminton. He also helped kickstart Taiwan's competitive canoeing and eight-person tug-of-war, and took part in developing dragon boat racing into an international event.
ATHLETIC CHILDHOOD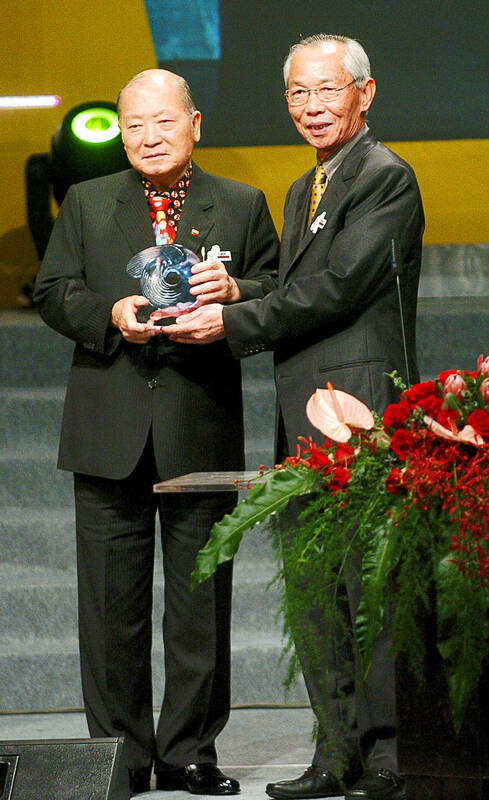 Wu Wen-ta, left, is presented with the 2006 Sports Promotion Award from the Sports Administration.
Photo: CNA
Wu was born in July 1929 in Taipei's Wanhua District (萬華). A rambunctious child and natural athlete, Wu excelled in sumo wrestling, baseball, volleyball and gymnastics. According to the 2008 book Gardener of the Sporting World for Half a Century (半世紀體壇園丁), he wasn't academically inclined, enjoying a carefree childhood playing sports and developing a competitive spirit.
Badminton did not exist in Taiwan yet; it would be introduced after 1949 by Air Force soldiers retreating from China.
Wu was a strong proponent of having students participate in sports from a young age. In the book, he disparaged the modern parental notion that children must focus solely on studying to succeed.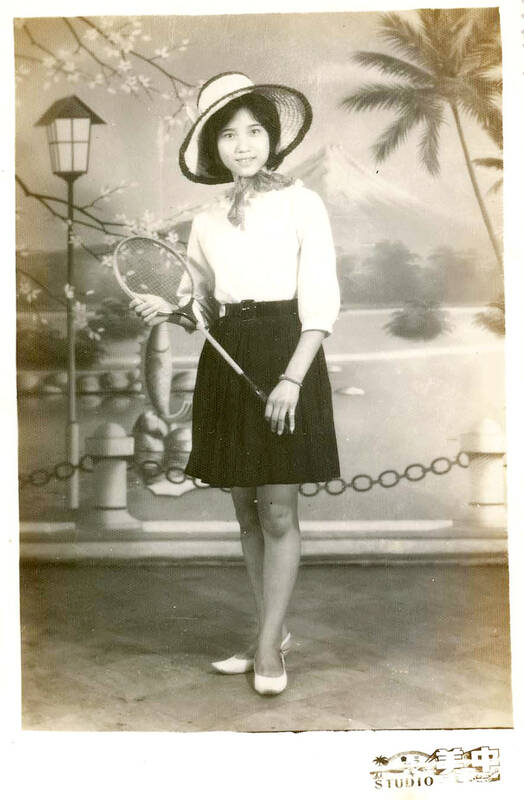 It was fashionable during the 1960s to pose with a badminton racket because of its association with the West.
Photo courtesy of New Taipei City Government
At the age of 17, Wu launched his business career before he graduated high school in Keelung by selling the school's discarded scrap metal to the mines in Jiufen. He also traded local commodities with fishermen from China.
His father and uncle taught him the ins and outs of the hardware industry and by the age of 22, Wu was running his own shop with his wife Wu-Tsai Hsiu-chen (吳蔡秀珍), focusing on steel pipes.
Wu almost lost everything after being swindled out of a major deal five years later, but he drew from his days playing sports and refused to give up. He relaunched his empire immediately and caught on to Taiwan's industrial boom, finding new clients in cement, fertilizer and telecommunications. By the early 1960s, he was Taiwan's undisputed steel pipe king.
Officers in the 1970s play badminton at what is today's Air Force Institute of Technology. The Air Force is credited for introducing the sport to Taiwan.
Photo courtesy of Gangshan Military Dependents Village
DISCOVERING BADMINTON
As Wu's business grew, so did his desire to get back into sports. In 1967, Cheng Yuan Junior High School (成淵國中), which his son attended, opened its athletic facilities to early morning exercisers. He immediately started the Cheng Yuan Early Risers Club, which consisted of about 30 people, including his entire family.
That year, Wu met Lin Yu-shan (林玉山), a bank employee and badminton enthusiast who spent nearly all his free time playing the game and teaching people at no cost. Lin became Wu's mentor and his regular doubles partner, and the two dominated local competition until Lin's untimely death at the age of 49.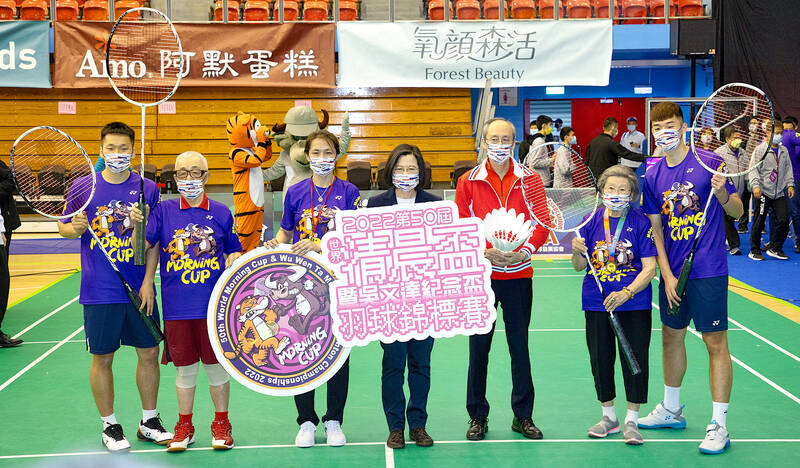 President Tsai Ing-wen attends the 50th annual World Morning Cup, also known as the Wu Wen-ta Memorial Cup, badminton competition in April last year.
Photo courtesy of Taiwan Senior Badminton Association
"I was able to maintain a high level of interest because we won so often," Wu recalls. "In time, I became addicted. It is a habit that I could not live without."
In 1969, Wu and 15 others, including Taiwan Shiseido founder Lee Chin-chih (李進枝) and Malaysian doctor and badminton coach Cheng Hsi-hsien (鄭錫賢), launched the Jen-ai Badminton Management Committee (仁愛羽球管理協會) with the goal of training young players for national competition. The group also served as a network for others who liked to play badminton in the morning, often practicing together and playing friendly matches.
Wu always partnered with his wife during mixed doubles events while wearing matching uniforms. The couple reportedly owned more than 120 identical outfits.
The committee launched the Morning Cup three years later at the Chunghwa Badminton Gym on Nanjing E Road, one of Taipei's few facilities devoted to the sport. In 2006, Wu introduced the world's first 3-on-3 format — a design that would allow an older player to partner with two younger people to make up for their decline in speed and agility, thus extending their playing careers.
OTHER VENTURES
In 1993, Wu mournfully watched his beloved Shengguang Badminton Court, which he built in 1981 in two of his former warehouses, get torn down due to the Keelung River rerouting project.
His subsequent failure in the early 1990s to convince the Taipei City government to preserve the Chunghwa Badminton Gym was probably the biggest sore point in his career. The structure was replaced with today's Taipei Gymnasium.
As chairman of the national Badminton Association, Wu vigorously fought the city while the association launched protests, but he could not change their minds. He then launched a petition to build a badminton gym in the planned Park No 7 (today's Da-an Forest Park), but the city rejected the proposal. Wu quit the position in frustration after nine years at the post.
During his tenure, Wu believed that it wasn't just enough to get students involved; their teachers and principals also needed to be interested so they would whole-heartedly promote the sport. He sent free rackets to various schools and sent coaches to train the staff, pouring a great amount of his personal finances into providing equipment and scholarships. He supported national players financially — even allowing them to stay in his newly-built apartment complex for free — so they could focus on training.
Wu was also involved in fostering other sports. In 1991, he launched the national Canoe Association under the encouragement of former Japanese house speaker Yoshio Sakurauchi. The two had become close friends through badminton exchanges, and Sakurauchi was also president of the Asia Canoe Confederation.
However, canoes were restricted items then and difficult to import, and nobody in Taiwan knew how to make them. Wu managed to obtain some through a special permit that was very complicated to obtain and began training rowers. Meanwhile, he kept pushing the government to relax restrictions, finally getting his wish in 1995. That same year, the sport made its debut at the National Games in Kaohsiung.
According to the book, Wu also helped make dragon boat racing an international event by inviting teams from Hong Kong and Macau to compete in Taipei. The International Dragon Boat Federation was launched in June 1991 with Taiwan as a founding member.
In 1992, Wu started organizing eight-person tug-of-war teams, and became the Asia Tug of War Federation's chairman in 2000.
Wu's many awards include a lifetime contribution award from the International Olympics Committee and a 3rd class Order of the Rising Sun medal from the Japanese emperor.
Taiwan in Time, a column about Taiwan's history that is published every Sunday, spotlights important or interesting events around the nation that either have anniversaries this week or are tied to current events.
Comments will be moderated. Keep comments relevant to the article. Remarks containing abusive and obscene language, personal attacks of any kind or promotion will be removed and the user banned. Final decision will be at the discretion of the Taipei Times.