Exhibit puts age of humans on display
This group show documents the geographical and ecological changes wrought upon our planet by human beings in an interesting and unbiased manner
Huge piles of elephant tusks and rhino horns confiscated from poachers go up in flames as smoke blacks out the sky. The scene, part of a video played on a giant screen in a dark room, is an installation from the "Anthropocene" exhibition at the Kaohsiung Museum of Fine Arts.
Most other pieces at the exhibition are similarly super-sized and awe-inspiring. The smallest photo prints are almost as tall as an average person — a likely attempt by photographer Edward Burtynsky and documentary directors Jennifer Baichwal and Nicholas de Pencier to underline the immensity of their subject matter: to document the geographical and ecological changes wrought upon our planet by human beings.
Burtynsky's photographs anchor the exhibition occupying three halls. Visitors to the first hall are greeted by a 6-meter wide print of a marble quarry in Italy showing an excavator working in front of a sheer rock face shaved off in neat, straight lines. The image is flanked by a smaller picture of an outcrop from Spain displaying dozens of rocky strata layered on top of each other in a wavy pattern, underlining the contrast between the natural and the human-made.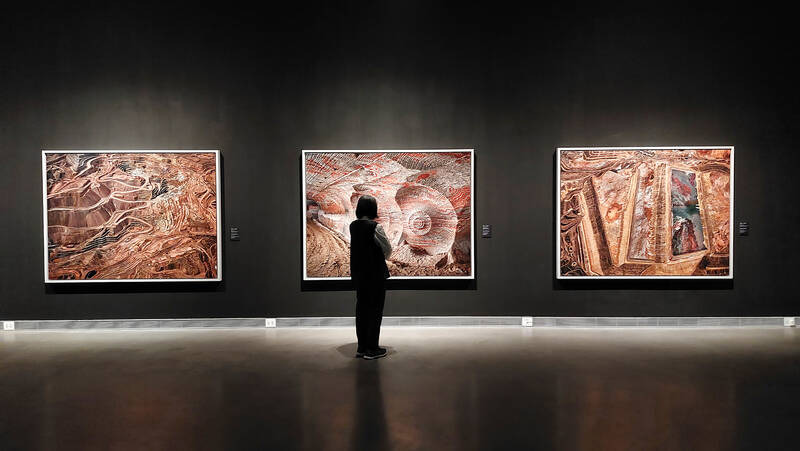 A woman stands in front of Uralkali Potash Mine #4 by Edward Burtynsky at the "Anthropocene" exhibition at the Kaohsiung Museum of Fine Arts on Tuesday, Sept. 26.
Photo: Doruk Sargin
Imagery that has become the staples of environmentally-conscious exhibitions — people standing in landfills, garbage-strewn rivers and polluted waterways — are sparse in "Anthropocene," as it seeks to depict the human state as is, without judgement. And so visitors are treated to aerial photographs of a highway cutting through a suburban neighborhood in California, a busy intersection in Lagos and phosphate production plants in Florida. Added to these are images of perfectly rectangular lithium mines from Chile, where booming demand for electric car batteries is transforming the Atacama Desert, which, normally, should be devoid of human life. In the second hall, however, the line between the natural and the human-made becomes blurred as what appears to be a close-up photograph of an ammonite is revealed to be an aerial image of a potash mine in Russia.
The artists have also made a distinction between "good Anthropocene " and "bad Anthropocene." An example of the former is displayed in a video called Danger Trees by Baichwal and De Pencier, showing trees that pose a danger to humans or the environment in Vancouver being exploded in controlled detonations to bring them down. The trees are then left on the forest floor to decompose naturally. The artists argue that this quickens the natural pace of the decomposition process, and causes no harm to the environment.
The exhibition also takes a different approach to the problem of coral bleaching. Instead of filming or photographing destroyed corals, Baichwal and De Pencier collected coral samples, placed them in an enclosure mimicking their natural habitat and subjected them to the stresses caused by climate change. The result is a striking time-lapse video showing vibrant corals fading away as symbiotic algae crucial to the corals is wiped out.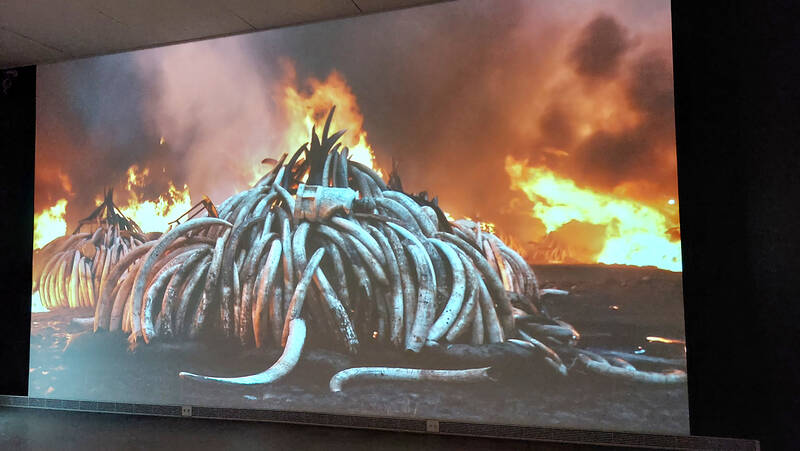 A video installation displays piles of elephant tusks and rhino horns burning at the "Anthropocene" exhibition at the Kaohsiung Museum of Fine Arts on Tuesday, Sept. 26.
Photo: Doruk Sargin
The adjoining room houses the video installation showing the burning tusks and rhino horns. The scene is from 2016, when the Kenyan government set on fire hundreds of tusks and horns it confiscated over the decades, to send the world the message that the illegal trade had come to an end. However, the effort was too little, too late, as the last male northern white rhinoceros died in 2018, leaving behind only two females of its kind.
Despite its somber subject matter, "Anthropocene" is a refreshing break from similar works, free from pretense and finger-pointing. Rather than burdening the visitors with a sense of guilt, the exhibition imbues a sense of awe and wonder for the great changes humanity has brought about simply by existing. As Baichwal declares, its goal is "to not preach, harangue or blame, but to witness, and in that witnessing, try to shift consciousness."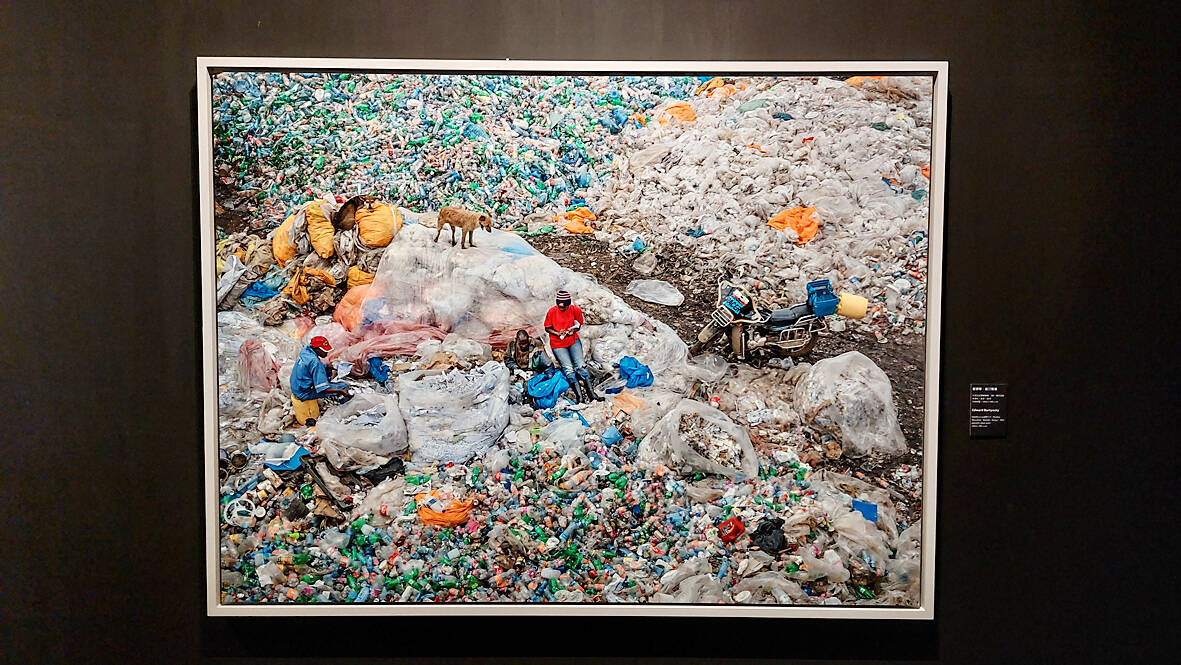 Dandora Landfill #3 by Edward Burtynsky is displayed at the "Anthropocene" exhibition at the Kaohsiung Museum of Fine Arts on Tuesday, Sept. 26.
Photo: Doruk Sargin
Publication Notes
Exhibition notes
What: Anthropocene Where: Kaohsiung Museum of Fine Arts, 80 Meishuguan Road, Kaohsiung (高雄市美術館路80號); tel: (07) 555-0331. When: Until Dec. 3. Open Tuesdays to Sundays from 9:30am to 5:30pm Admission: NT$200, NT$100 for seniors and students On the Net: www.kmfa.gov.tw
Comments will be moderated. Keep comments relevant to the article. Remarks containing abusive and obscene language, personal attacks of any kind or promotion will be removed and the user banned. Final decision will be at the discretion of the Taipei Times.