Seafaring culture unites tribes
An Indigenous Tao youth ambassador reflects on his recent canoe journey with the peoples of the Pacific Northwest
Si Mateneng of the Tao indigenous community felt like he had reunited with a lost friend. While visiting Seattle's Burke Museum of Natural History and Culture, he encountered a boat that had been in the US since the 1970s, first hanging in a restaurant then languishing in a warehouse before being purchased by a collector and donated to the museum. Si Mateneng could tell from the crosses on the vessel, known as a tatala, that it was built on his homeland of Orchid Island (Lanyu, 蘭嶼) after the introduction of Christianity in 1959. He could hardly contain his excitement.
Si Mateneng was also excited to see a small tatala carving from around 1925, as it used processing methods that no longer exist.
"Despite being in the US, the experience left me feeling transported back to Lanyu, completely immersed in the richness of Tao culture. It was a unique and captivating sensation," he says.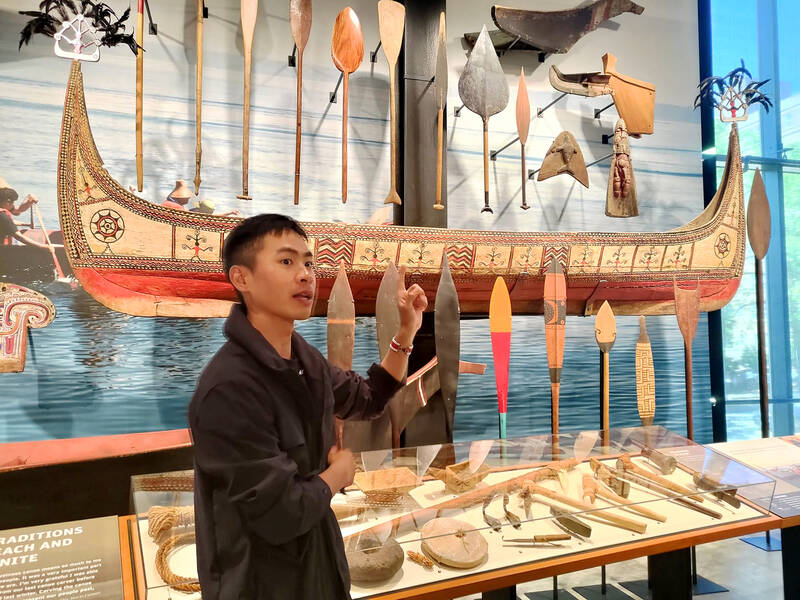 Si Mateneng explains details of the tatala.
Photo courtesy of SI Mateneng
Si Mateneng was one of two Taiwanese youth ambassadors participating in the annual Tribal Canoe Journey that took place from late July to early August. The idea is for indigenous peoples from the region to journey from their lands and paddle toward a chosen location. This year more than 100 vessels eventually arriving in Aiki Beach in the US state of Washington, home of the Muckleshoot tribe.
Taiwanese participation was made possible by nonprofit organization Indigenous Bridges, which established a "canoe family" relationship with the Nisqually in 2017.
During the days-long journey through the Puget Sound, Si Mateneng had the opportunity to "pull" (paddle) a canoe twice for four hours each time.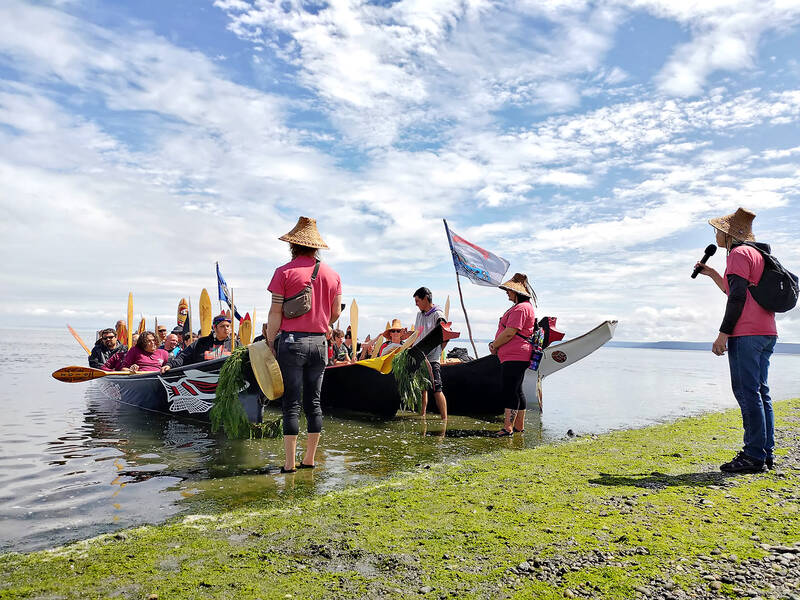 Canoes must follow "protocol" by introducing themselves and asking permission to land during the Tribal Canoe Journeys.
Photo courtesy of SI Mateneng
"It's also an honor to pull, so everyone is fighting for the opportunity," he says.
After the journey they spent time in Seattle, where Si Mateneng visited the tatala on display at the Burke Museum of Natural History and Culture and shared his knowledge with museum staff. That was the only event where they had to be somewhere at a set time.
"During the trip, we set out when the sun rose, landed whenever we arrived and meetings were held spontaneously," he says.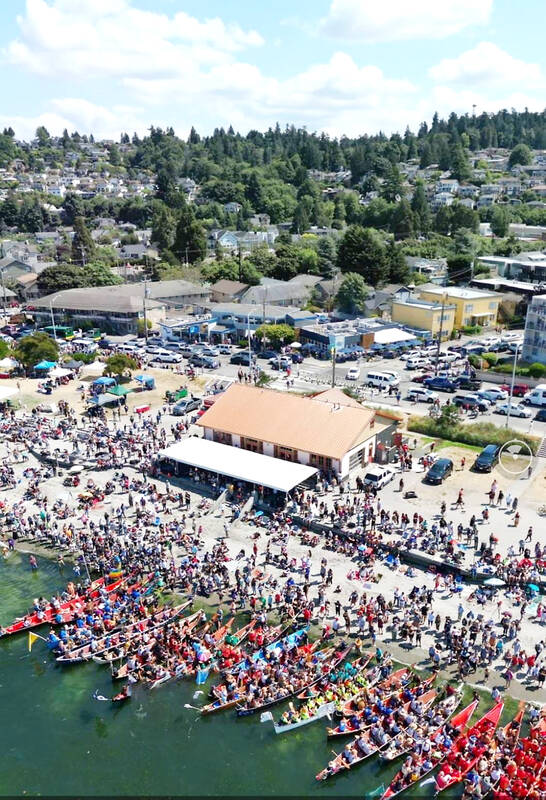 Canoes congregate in late July in the Puget Sound during the Tribal Canoe Journeys.
Photo courtesy of SI Mateneng
FIRST ROWING
Soon after arriving, Si Mateneng was eager to try his hand on one of the canoes to "test his relationship with the ocean."
But he had to wait as many wanted to participate.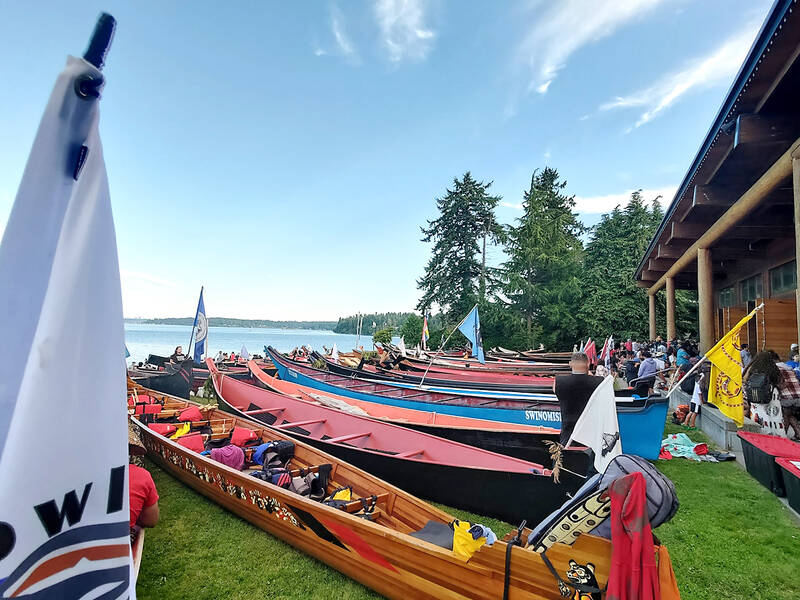 Canoes congregate in late July in the Puget Sound during the Tribal Canoe Journeys.
Photo courtesy of SI Mateneng
At the next stop, they were joined by the smaller Chehalis tribe, who looked like they could use some help. He ended up paddling for the entire four-hour journey, and was contemplating taking the following day off when a Nisqually paddler asked if he'd like to participate.
"Without a moment's hesitation, I responded with a resounding 'yes,'" Si Mateneng writes in his journal. Afterward, the Nisqually gifted him a "warrior" t-shirt, which he saw as an acknowledgement of his inclusion within the community.
"I felt that I was a nobody at first," he says. "But after paddling, they started introducing my name, where I was from and that I also came from a [boat] culture. Only then could I share my traditions with them."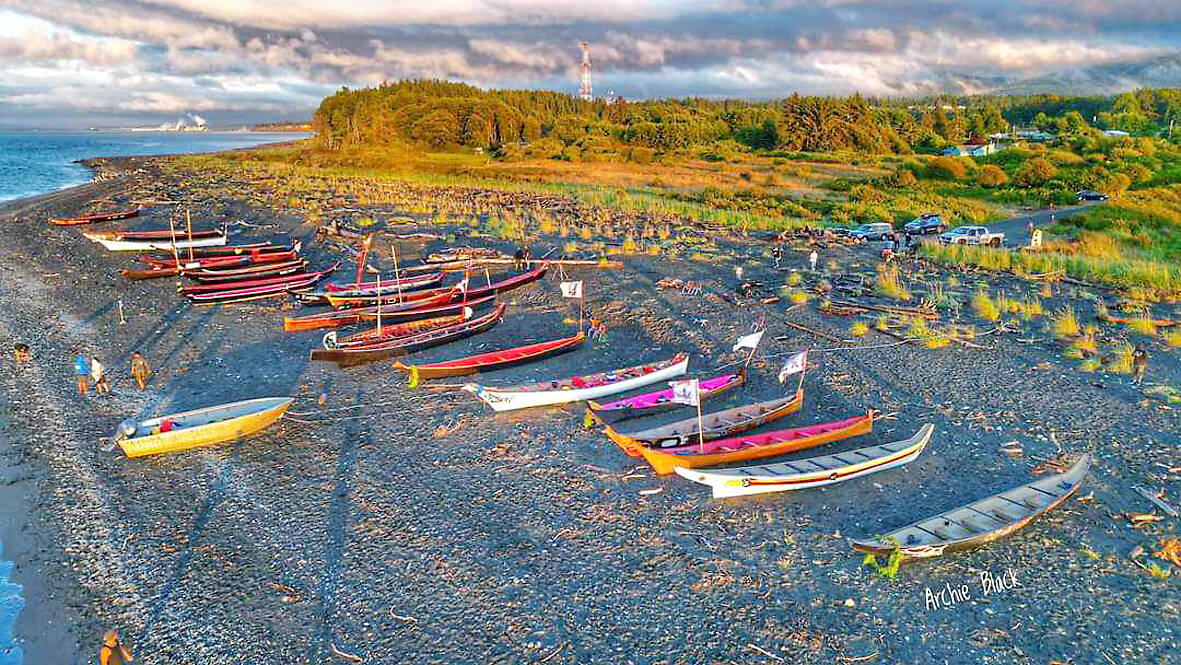 Canoes congregate during the Tribal Canoe Journeys in Washington State.
Photo courtesy of Gary Smoke
The communities perceive rowing the canoe as a healing, meditative process. Si Mateneng says that he had many worries before he arrived, and felt much calmer after.
"You have to focus on keeping up with the pace and making the correct motions; you don't have any energy to think about other things," he says. "You start really enjoying the moment."
During the journey, the tribes explained some of their language and culture, and also kept participants motivated by dedicating each row to a cause.
"They'll say, let's pull 10 times for cancer patients, 10 times for those who lost family during COVID," Si Mateneng says.
SHARED VALUES
About 20 canoes had congregated when Si Mateneng arrived, but their numbers grew along the way as more communities joined. Each stop had an indigenous host, and the paddlers followed traditional protocol by explaining who they were and asking permission to come ashore.
The host provided food for the guests, and Si Mateneng saw that they had much reverence toward the elders, who got to eat first, followed by the paddlers and then the rest of the participants.
Besides significant differences in structure and rowing style, he also noticed while the Tao still use their tatala in their daily livelihood, it's become purely symbolic for the Native Americans.
"They place great importance on traditional practices, and that's why they ride the canoes in the water once again," he says. "They're recreating what their ancestors once did, while respecting each other and their respective territories. This event really focuses on the humanistic aspect."
Si Mateneng hopes that in Taiwan, he can also exchange and share with people more genuinely without worrying what each party gets out of it.
"It's not just sharing what I have, but also my feelings and emotions on a more spiritual level," he says.
Comments will be moderated. Keep comments relevant to the article. Remarks containing abusive and obscene language, personal attacks of any kind or promotion will be removed and the user banned. Final decision will be at the discretion of the Taipei Times.