Taiwan in Time: The 'American Matsu' of Erlin
Venturing abroad for the first time at age 46, Joyce McMillan spent almost half a century in rural Taiwan caring for and educating children with polio and other disabilities
SEPT. 25 to OCT. 1
Joyce McMillan was greatly moved by the pleas of the Taiwanese pastor and doctor who preached at her church in the summer of 1954.
Hsieh Wei (謝緯) had just completed his medical residency in Buffalo, New York and stopped by Berkeley to raise funds and recruit staff for the tuberculosis treatment center the Presbyterian Church planned to open in his hometown of Puli, Nantou County.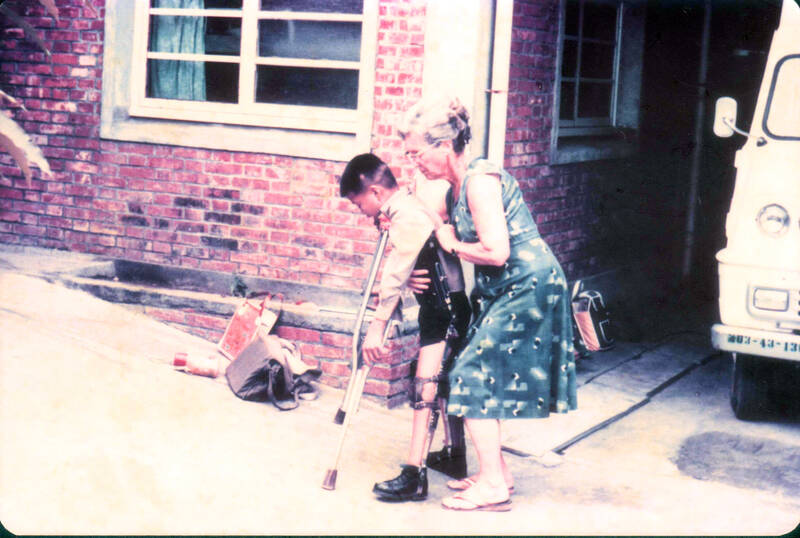 Joyce McMillan helps a polio patient walk in this undated photo.
Photo: Wang Pai-lian, Taipei Times
McMillan, who was a nursing aide, had the dream of being an overseas missionary since she was 7 years old. She also had a close friend die of tuberculosis. She expressed interest to Hsieh and gave him some money, but she couldn't leave just yet as she was caring for her elderly mother.
Her mother died in 1959. McMillan packed her bags and at the age of 46, left the US for the first time on a small twin-engine plane that required five stops to reach Taiwan. Notable Presbyterian missionary and humanitarian Lillian Dickson greeted her at the airport and brought her to Puli Christian Hospital's tuberculosis sanatorium.
McMillan wasn't sure what she could do with her limited experience, but she was determined to stay and help out for at least one year. She ended up making Taiwan her home until her death in 2007, caring for hundreds of polio-stricken children at Changhua County's Erlin Happy Christian Home (二林喜樂保育院), which she established in 1965. Her goal was not only to treat these kids, but also to give them confidence and applicable skills in a time where they were shunned by society and even their families.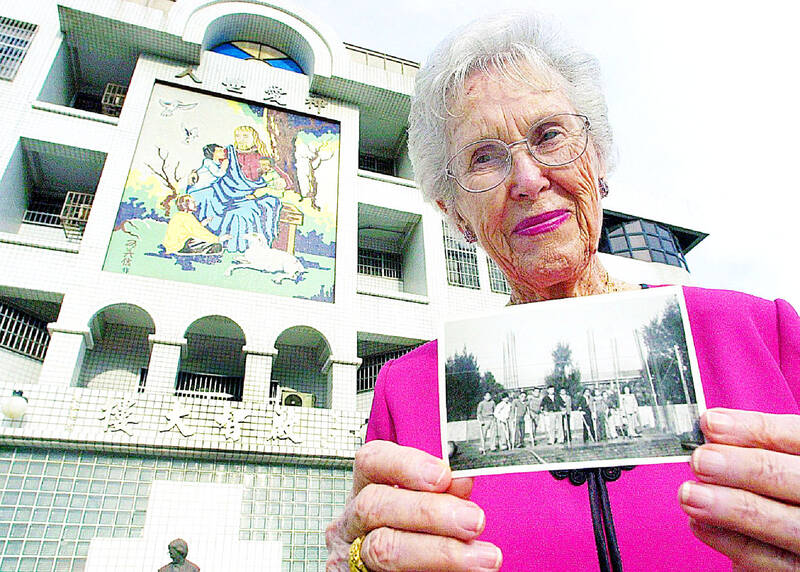 An 88-year-old Joyce McMillan displays an old photo of Erlin Happy Christian Home next to its newest building in 2002.
Photo: Fang Pin-chao, Taipei Times
After polio was eradicated in the 1980s, the home took in mentally disabled children and senior citizens with dementia and physical impairments. McMillan tirelessly raised funds for the cause and received numerous awards for her efforts, and then-president Chen Shui-bian (陳水扁) honored her at her funeral.
CHANCE ENCOUNTER
McMillan was born on Sept. 29, 1914 to a poor farming family in Washington state. She helped around the farm from a young age, but things got even worse as the US went through the Great Depression. She was determined to get an education, however, and was one of seven students — and the only female — to graduate from Moses Lake High School.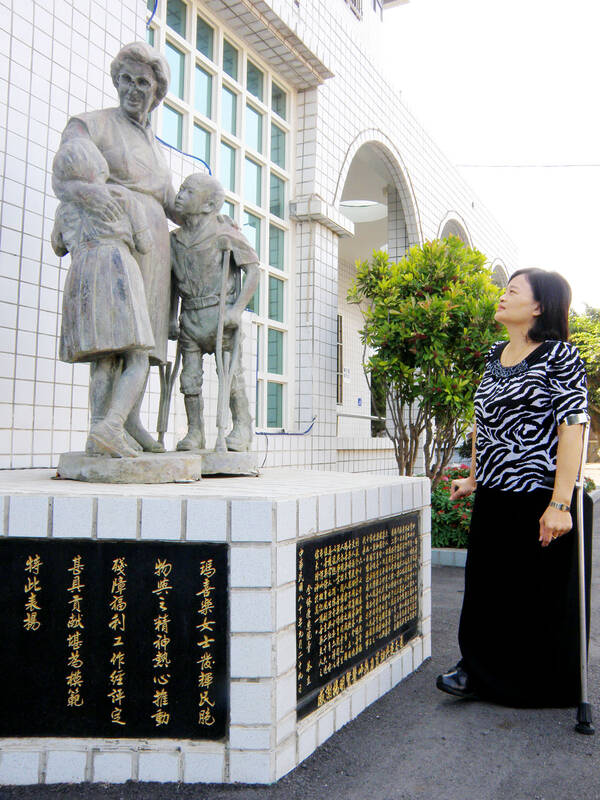 Erlin Happy Christian Home director Lin Yu-chang looks at a statue of institute founder Joyce McMillan in 2011.
Photo: Liu Hsiao-hsin, Taipei Times
McMillian saved up enough money to enroll in UC Berkeley in 1935, where she studied pre-med, but eventually dropped out due to financial difficulties. After the death of her husband and father, and with her stepchildren all grown up, McMillan returned to school at the age of 41, completing a one-year nursing program. She began working as a nursing aide and also cared for her mother, who had suffered a stroke.
McMillian was itching to fulfill her childhood dream by heading to Taiwan after her mother's death. She had set aside some money and was mulling whether to simply give it to the tuberculosis center or use it to fund the trip. Most thought she was crazy to go, but several pastors told her that it was better to visit and see for herself first, writes Tsai Yue-tung (蔡岳彤) in a biographical study.
During the 1950s, Puli was an isolated town lacking modern medical services, and tuberculosis and polio ravaged the population. Hsieh was born there in 1916 to a Presbyterian family. He originally wanted to become a minister and attended seminary school, but due to Japan's suppression of Christianity during the 1930s, he moved to Tokyo to study medicine.
Hsieh returned to Puli after World War II and was active in Nantou County as both pastor and physician, working closely with the Presbyterian Church and spending hours traversing the rugged mountains to visit remote villages.
The church sponsored Hsieh to further his studies in the US, hoping that he could help start a tuberculosis clinic upon his return. He traveled to the Bay Area on his way home to raise funds, and one of his stops was the First Presbyterian Church of Berkeley that McMillan attended.
With support from the church and World Vision International, Hsieh launched in Puli the first tuberculosis sanitorium in Taiwan in 1956, which treated all patients for free. They opened a second facility in 1960.
CURSED CHILDREN
McMillan served in Puli for three years, but soon found her calling in Erlin, a rural township in Changhua County that lacked medical services. Polio affected thousands of children in Taiwan between 1956 and 1966, and was heavily stigmatized in the countryside. Many believed that the family must have done something terribly wrong to suffer such a fate, and parents often hid their children at home where they received no treatment nor education.
After visiting several times, Hsieh decided to start a Christian hospital with a polio center in Erlin. He asked McMillan if she wanted to help run it. McMillan was reluctant to leave Puli, but after seeing all the hobbled children in town, she knew that she had found her calling.
McMillan moved to Erlin in 1964. On the opening day of the polio center, 222 children turned up, most of them having never received any medical help. McMillan quickly saw that what they needed wasn't just treatment, but long-term care and education.
By this time she had taken up the Chinese name Ma Hsi-le (瑪喜樂), which translates to "joy." She wanted to spread joy to the disabled children and encourage them to stand up on their own, both literally and figuratively.
"I told them, disability is not a sin, and doesn't have anything to do with what you or your parents did in the past life," she says in a Changhua County oral history series. "You should view yourself positively."
Happy Christian Home opened in August 1965 with 16 children and minimal resources. McMillan worked at the hospital during the day, and at night she personally fed, bathed and cared for these children. She also pushed to enroll them in local schools, and later built a facility across the street from the local junior high so they could commute more easily.
People were reluctant to send their children to the home at first, but McMillan was persistent. One day, she spotted Hsu Chen-hsing (許振興), who was moving around in a wooden tub on wheels he constructed himself, begging for money at the local market. It took six visits to his family for them to let him move to the home. He was able to walk with crutches after surgery and live a productive life.
POST-POLIO YEARS
Despite many ups and downs, McMillan managed to raise enough funds to continue expanding the home, and by 1985 it had a prayer hall, library, physical therapy room, activity center and other facilities.
By that time, McMillan was well-known in Taiwan and mostly relied on local instead of foreign support. Polio was all but eradicated in Taiwan by 1984, so the government encouraged the home to start taking in mentally disabled children, footing the bill for new facilities. McMillan was 73 years old by then, but she still enthusiastically planned the new venture. By 1995, there were 80 mentally disabled students, 40 physically disabled and four orphans.
It required a lot more resources to care for mentally disabled residents than polio patients, and it was difficult to convince professionals to move to Erlin. But McMillan carried on with no intention of retiring. In 2002, the home added a factory and bakery so residents could earn money and gain work experience.
McMillan started showing signs of dementia around 2000 and also suffered from squamous-cell carcinoma, gradually losing her ability to speak. However, she still made her daily rounds in the facility, checking on the doctors and patients. She declined to move back to the US and asked to be buried behind the facility's grounds.
Taiwan in Time, a column about Taiwan's history that is published every Sunday, spotlights important or interesting events around the nation that either have anniversaries this week or are tied to current events.
Comments will be moderated. Keep comments relevant to the article. Remarks containing abusive and obscene language, personal attacks of any kind or promotion will be removed and the user banned. Final decision will be at the discretion of the Taipei Times.