Book review: Out of Taiwan
This wide-ranging study shows how Taiwan was the place of origin of the peoples of the Pacific region and an indigenous society colonized by outsiders
Two theses underlie this book and the views of its contributing writers. First, that Taiwan is essentially an indigenous society that has been colonized by settlers, the Chinese included. Second, that Taiwanese indigenous peoples are the genetic originals of the entire population of the Pacific region, from Madagascar to Easter Island.
China, of course, effectively prohibits such discussions, as it does discussions of Tibet. And many people fear that Taiwan may become the Tibet of tomorrow. Tibet also sees a native population, the Tibetans, overwhelmed by invading foreigners, the Chinese.
Indigenous rights in Taiwan, however, have progressively advanced, culminating in the passing of the Indigenous Basic Law (原住民族基本法) of 2005. And in 2016 President Tsai Ing-wen (蔡英文) delivered an official apology for four centuries of "pain and mistreatment."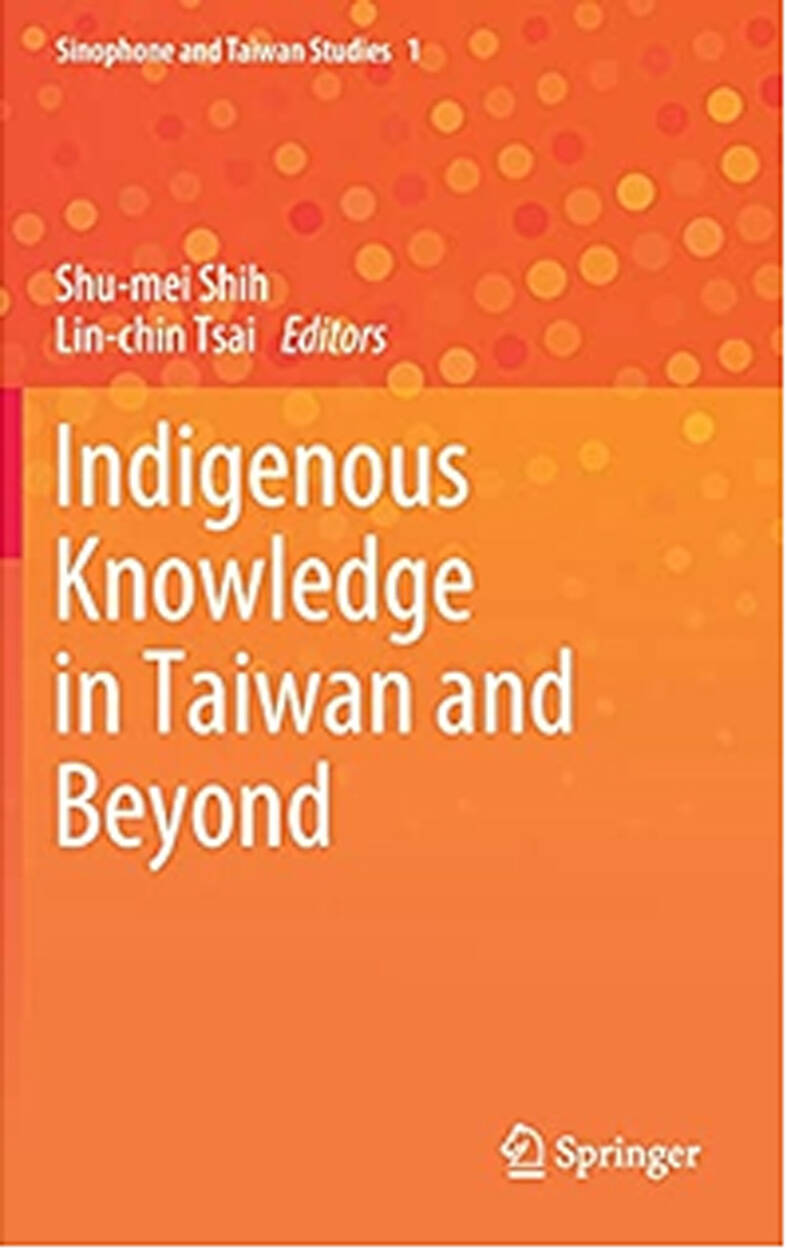 Indigenous knowledge in Taiwan and beyond edited by Shih Shu-mei and Tsai Lin-chin
This is a complex and difficult book about people often perceived, quite wrongly, as rather basic in their assumptions.
A chapter early on examines indigenous film-makers, singling out three, Mayaw Biho, Pilin Yapu and Chang Shu-lan (張淑蘭).
Mayaw Biho was born in 1969 in the Ceroh community in Hualien County. His representative films include Children in Heaven (1997) and What's your "Real" Name? (2002).
Pilin Yapu was born in 1966 in the Mipihaw community of Taian (泰安) Township in Miaoli County. His speciality is documentary films such as Where Has all our Property Gone? (1997) and The Moment Run Through (2009). He led the way in devising a curriculum for children from first to fifth grades that included spiritual cultures, ecological wisdom, tribal history and Atayal literature.
Chang was born in 1972 on Lanyu Island. Her Catholic father urged her to conform to the faith. Her documentary And Deliver Us from Evil (2001) began her career in film.
The themes of all three film-makers are property rights, hunting rights and educational issues.
There are of course minorities in almost all Asian countries — the Burghers in Sri Lanka, the Ede and Hmong in Vietnam, and so on. But the differences between individuals in modern city life is scarcely noticed.
Next comes a jointly-written chapter based on an agreement signed in 2015 at Makotaay, a Pangcah community on the east coast.
All in all, the culture exemplified in this book, especially in Pilin Yapu's school curriculum, is extraordinarily humane when compared with the commercial culture that surrounded, and still surrounds, it. The claim, therefore, that indigenous values, despite being adhered to by only a small minority of the Taiwanese population, are the best on the island is hard to resist.
On an international level the United Nations Declaration on the Rights of Indigenous Peoples (UNDRIP), 2007, is only one of many such affirmations. Its emphasis on free consent to any medical experimentation is much discussed. Hunting also comes under scrutiny, both via indigenous rights and in a consideration of hunting in fiction.
The effect of Taiwan's rapid modernization on indigenous peoples is also analyzed.
The ancient association of millet with indigenous communities and their culture is exhaustively discussed — millet wine, pregnancy and birth issues. And the particular habits of the Bunun, all based on the lunar calendar, especially their association with millet cultivation, are all discussed.
Comparisons between indigenous customs in Taiwan and those on the Philippine island of Luzon follow, with emphasis in Luzon agriculture on mushrooms, peaches and the honey-peach.
Since the 1980s, Taiwan's indigenous people have continued their fight against "Han domination, cultural imperialism and ethnic inequality," with some limited success.
The concept of non-indigenous settlers as colonialists next comes to the fore, striking deep into the first principle enunciated earlier (i.e. that only the aboriginals are "native," the rest colonial intruders). The Japanese era (1895-1945) makes this state of affairs more complicated. They demonized indigenous communities and thought hunting a mark of savagery. The arrival of the Chinese Nationalist Party (KMT) also perpetuated the native/colonial dichotomy, but nevertheless "settler colonialism," as this book makes clear, is a worldwide phenomenon.
So what we find is an indigenous population on Taiwan that on the one hand continues to suffer discrimination (though the situation is improving), and on the other can proudly and justly claim to be the genetic originals of the peoples of the entire Pacific region, stretching as far south as the Maori people of New Zealand.
Another chapter looks at the events of 1895, the year Japan was ceded the island. On the one hand you saw Hakka resistance to the Japanese armies, while on the other aboriginal people of eastern Taiwan, under their female leader Chen Da-da, collaborated with the Japanese in order to drive Qing Dynasty soldiers away from the island. These events have resulted in two contrasting productions, Attachment to our Land, filmed earlier but not released until 2008, and The Last Queen, first published as a novel in 2015.
"Indigenous history is important," writes academic Lin Fang-mei, "not only because it endows indigenous people with a subject position from which to speak and write, but also because indigenous history is world history."
Maps are also treated by looking at the different depictions of the Han and other settlers, concluding that they are "insidious mechanisms that justify the dispossession on minority peoples."
I expected to be especially interested in extracts from a book on her journey to Tibet in 2002 by Bau Dadelavan, but found only a small amount about Tibet. Most was about her life in the Paiwan community back in Taiwan — funeral ceremonies, shamans. About Tibet there are descriptions of full-body prostrations, the circumambulation of sacred mountains and sky burials. The author went to Tibet as a member of the U-Theatre Drum Ensemble, and her book is called Eagles, Goodbye: A Paiwan Woman's Journey to Western Tibet (2004). The color illustrations, of both Tibet and Taiwan, are impressive.
Publication Notes
Publication Notes
Indigenous knowledge in Taiwan and beyond Edited by Shih Shu-meiand Tsai Lin-chin 348 pages Germany, softback
Comments will be moderated. Keep comments relevant to the article. Remarks containing abusive and obscene language, personal attacks of any kind or promotion will be removed and the user banned. Final decision will be at the discretion of the Taipei Times.