Environmental Impact Assessment: Scholars, activists unconvinced by environment agency upgrade
Experts say that the new ministry will be stymied by other ministries and will fail to take a proactive approach to protecting Taiwan's environment
Last month, the central government's Environmental Protection Administration (EPA) was reorganized and renamed the Ministry of the Environment. According to an Aug. 22 post on the Executive Yuan's Web site, Premier Chen Chien-jen (陳建仁) described the ministry's establishment as "an important milestone in Taiwan's sustainable environmental development," adding that it would "respond to the international net-zero emission trend and global environmental changes, and integrate powers to deal with climate change."
To find out if this reform, which has been in the pipeline for more than a decade, should be a cause for optimism, the Taipei Times asked a number of scholars and activists for their opinions on the upgrade.
Liao Kuei-hsien (廖桂賢), director of the Taiwan Rivers Network, an NGO that works to promote the protection and restoration of river health, says she is "in general positive" about the ministry's creation, because "it implies more investment in environmental protection."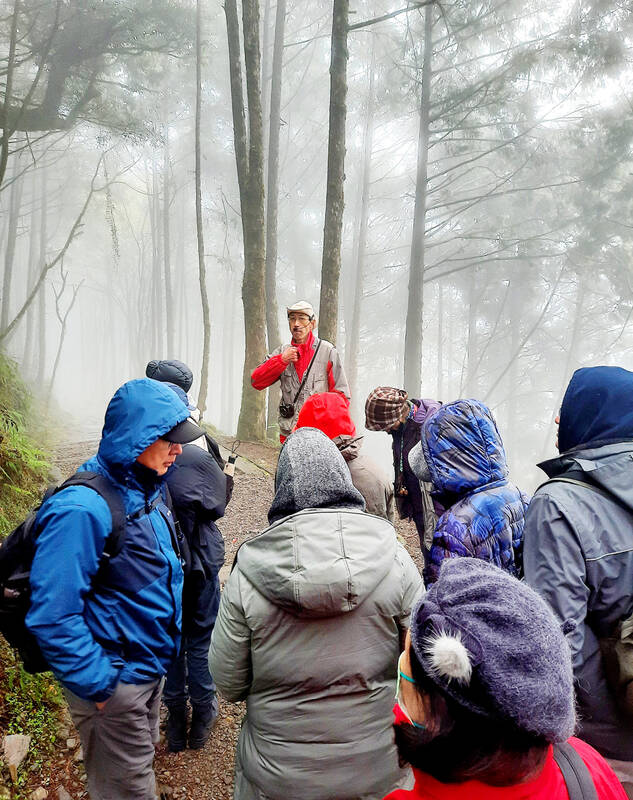 Tourists listen to a guide at Cilan Divine Trees Garden in Yilan County. Despite hopes that control over Taiwan's forests would be consolidated within the new Ministry of the Environment, this reserve remains the responsibility of the Forest Conservation and Management Administration of the Veterans' Affairs Council.
Photo by Steven Crook
However, she thinks the ministry's administrative structure represents something of a missed opportunity.
"As far as I know, the [ministry] is going to focus on responding to climate change, which is great, but I think it is biased toward climate change mitigation, and climate change adaptation receives less attention," she says.
The former aims to slow down climate change by reducing greenhouse gas emissions, she explains, whereas the latter is a set of responses to materialized and/or future impacts of climate change, such as flood risk and heat waves.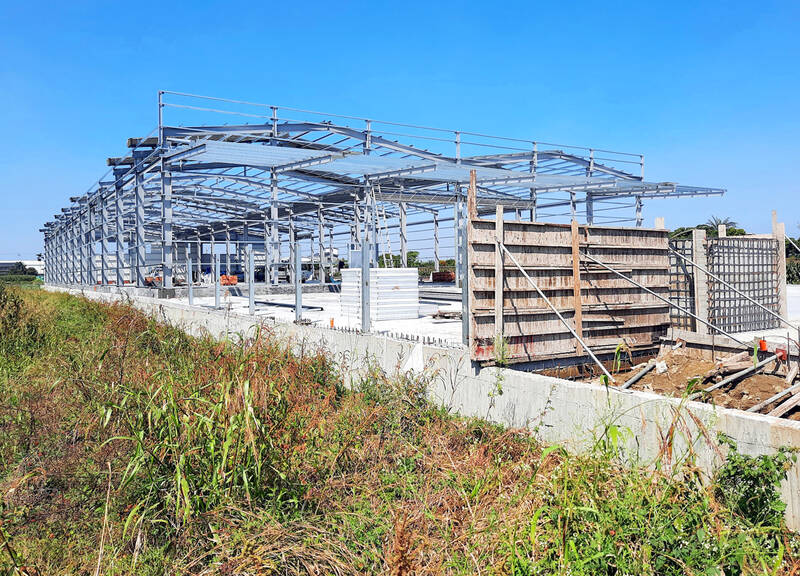 A factory under construction on a greenfield site in Tainan's Shanhua District. Urban sprawl and the loss of farmland are among the issues the Environmental Protection Administration wasn't able to tackle comprehensively during its 36 years of existence.
Photo by Steven Crook
"Adaption is to act upon what can't be reversed," says Liao, who's also a professor in the Graduate Institute of Urban Planning at National Taipei University
ECOSYSTEM HEALTH NEGLECTED
Liao worries that ecosystem health will continue to be neglected.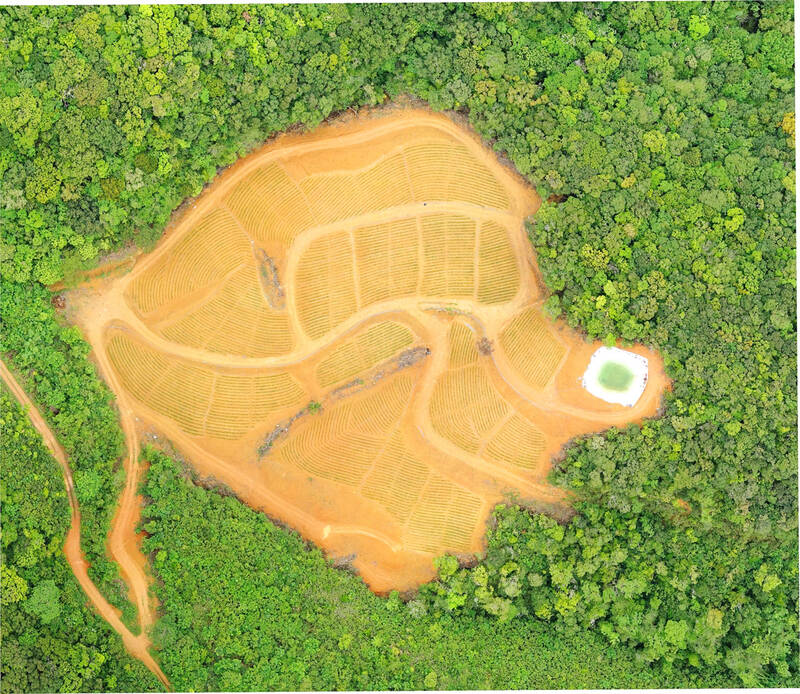 The destruction of a valuable forest in Taitung County's Daren Township to make way for ginger and mushroom farming is shown in May.
Photo courtesy of the Taitung County Government
"For example, river health — which requires addressing the entire watershed in an integrated fashion — is still the responsibility of no single agency. Taiwan urgently needs to restore its degraded ecosystems, rivers included, but it seems the [environment ministry] will not be able to address this issue," she says.
When other countries have upgraded their environmental protection agencies to ministry level, the results have been mixed, says Armin Ibitz, an associate professor at Wenzao Ursuline University of Languages.
Boosting staff numbers and spending is no guarantee that more will get done, he warns.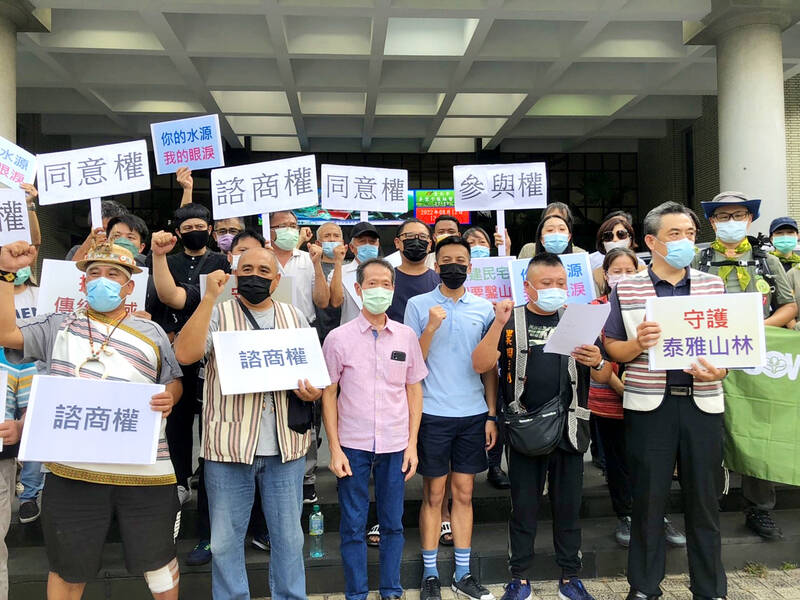 Activists in August last year protest against the Nanshi diversion tunnel project.
Photo: Chou Hsiang-yun, Taipei Times
"A critical factor is expertise. Without it, upgrading the agency could lead to inefficiencies and mismanagement. Ultimately, the effectiveness of an upgraded ministry will hinge on the government's dedication to environmental protection. Only if coupled with strengthened political commitment, environmental education, and rewarding positive behavioral shifts by 'nudging strategies,' can this upgrade enhance Taiwan's environmental situation. Here in Taiwan, I expect progress to be incremental and slow," Ibitz says.
"Taiwan's environmental agencies grapple not only with understaffing but also a lack of visionary perspectives. The country's approach to environmental protection continues to be reactive rather than proactive," says Ibitz, who's also director of the Wenzao EU Center, and chair of the university's Graduate Institute of European Studies.
While the upgrade suggests a greater commitment to the environment, the new ministry may struggle to influence policy when it comes up against agencies which prioritize unchecked economic growth. He doubts that the new ministry will have enough weight to propose the phasing out of fossil fuel subsidies, given public sentiment, or tackle the issue of water scarcity in the face of opposition from the agriculture and manufacturing sectors.
'INDUSTRIAL' CONCERNS
Huang Tai-hua (黃泰華), CEO of the Taiwan Ecological Engineering Development Foundation, says the new ministry's powers and responsibilities will cause it to focus on "topics of industrial concern," such as climate change and waste disposal.
Despite the upgrade, he doubts that "protection mechanisms for Taiwan's unspoiled woodlands, waterways, wetlands, oceans and other natural habitats will really improve." The EPA had a tendency to "ignore unquantifiable ecological values," he says. As a result, many environmental impact assessment (EIA) decisions "sacrificed precious natural ecosystems, and allowed energy-saving and carbon-reduction programs to greenwash projects."
Last year, Huang played a key role in a campaign against plans to build a tunnel to divert water from Nanshi Creek (南勢溪) in New Taipei City's Wulai District (烏來) to Shihmen Reservoir (石門水庫) in Taoyuan (see "Will Nanshi Creek be sacrificed on the altar of economic development?" in the July 27, 2022 issue of the Taipei Times). That project was eventually scrapped, but the environment ministry's structure doesn't give Huang confidence that it'd be anything other than "a rubber stamp that endorses the central government's plans."
He makes another criticism of the reorganization. What used to be the Forestry Bureau has been upgraded to the Forestry and Nature Conservation Agency (FNCA), but it remains within the Ministry of Agriculture (formerly the Council of Agriculture). Huang says that, from what he and fellow activists have seen in recent years, the government's forest-management body has "made real progress in ecological conservation concepts and implementation, close to the standards in other advanced countries. Also, it manages a large number of natural habitats."
OVERLAPPING RESPONSIBILITIES
The FNCA's exclusion from the new ministry, Huang says, doesn't bode well. He hopes that better cross-ministerial integration can make the most of the agency's conservation experience.
The problem of cross-ministerial coordination and overlapping responsibilities has also been recognized by legal scholar Chris Hsu (許?睿). In a May 17 article published on The Storm Media, an online Chinese-language news portal, Hsu points out that many of Taiwan's woodlands are supervised by the Ministry of Agriculture's FNCA yet located within national parks, all of which fall under the Ministry of the Interior's Construction and Planning Agency. He adds that, because some forests are controlled by the Veterans' Affairs Council's Forest Conservation and Management Administration, it's even possible that progress at a few sites could be stymied by three government agencies pulling in different directions.
The leadership of the Society Of Wilderness (SOW), an NGO that aims to protect habitats and natural ecosystems while promoting public awareness of nature conservation, levels similar criticisms. Ahead of the reorganization there was "an expectation from all walks of life that the [environment ministry] would integrate the natural-resource management powers of other ministries," says SOW Chairman Li Chi-ting (李騏廷).
However, due to other parts of the central government being unwilling to cede responsibility, "those powers are still in the hands of the Ministry of Economic Affairs [which oversees the Water Resources Agency], the Ministry of the Interior and the Ministry of Agriculture," he says.
Li describes the addition of the Climate Change Administration as "a bright spot," but otherwise he doesn't see much substantial progress. He expects that government policies will continue to put economic growth before environmental considerations.
"Whenever there's a conflict between economic development and environmental protection, the environment is usually the one that has to give way. Will the upgrade of the Ministry of the Environment have a positive impact? It depends on how various ministries communicate and coordinate. I sincerely hope that the [new ministry] will stick to its guns, see that people want change, work hard for Taiwan's environment, and stop being a myrmidon of the Economics Ministry," he says.
Steven Crook, the author or co-author of four books about Taiwan, has been following environmental issues since he arrived in the country in 1991. He drives a hybrid and carries his own chopsticks. The views expressed here are his own.
Comments will be moderated. Keep comments relevant to the article. Remarks containing abusive and obscene language, personal attacks of any kind or promotion will be removed and the user banned. Final decision will be at the discretion of the Taipei Times.