How to prevent China from cutting off Taiwan's Internet
The digital ministry wants to accelerate plans to make the nation more resilient to communications breakdowns and direct attacks on digital infrastructure
Buffeted by earthquakes and the potential of conflict with China, Taiwan's leaders want to accelerate plans to make the island more resilient to communications breakdowns and direct attacks on its digital infrastructure.
It could be an impossible task.
Audrey Tang (唐鳳), the head of the Ministry of Digital Affairs, says she wants the country's US$740 billion economy to be able to handle the possible collapse of all its communications in the event of an emergency by the end of next year.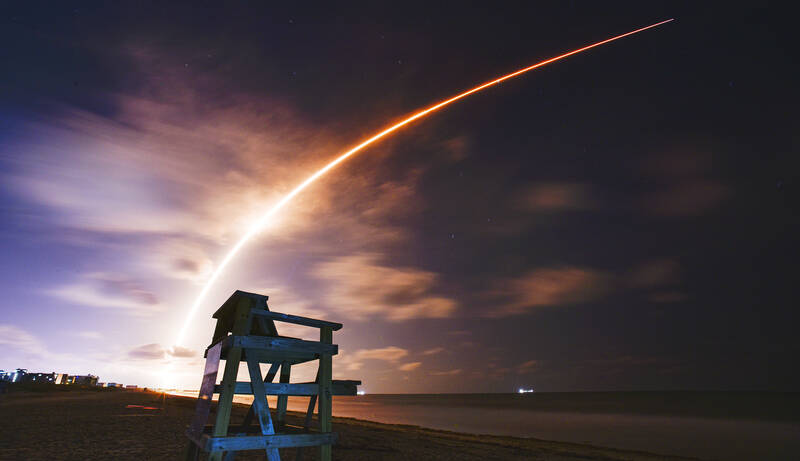 A SpaceX Falcon 9 rocket carrying a batch of Starlink satellites on May 14 launches from Launch Complex 40 at Cape Canaveral Space Force Station, seen from Cocoa Beach, Florida.
Photo: AP
The threat isn't theoretical: the Matsu Islands found themselves digitally adrift after two of their submarine internet cables were severed by boats flying Chinese flags in February. Before that, a 2006 earthquake cut eight subsea cables around Taiwan, took weeks to repair and disrupted the Internet, banking and cross-border trading across much of Asia. Both events were harsh reminders of what could happen in a conflict or natural disaster.
"The main lesson we learned is psychological," Tang said in a May 17 interview. "How to manage the expectation on reduced bandwidth, how to prioritize the bandwidth use, which uses are OK to have a slightly higher latency, and so on."
Tang says the worst-case scenario for Taiwan would be the destruction of the island's physical points of communication: its three major telecommunications providers as well as their power supplies.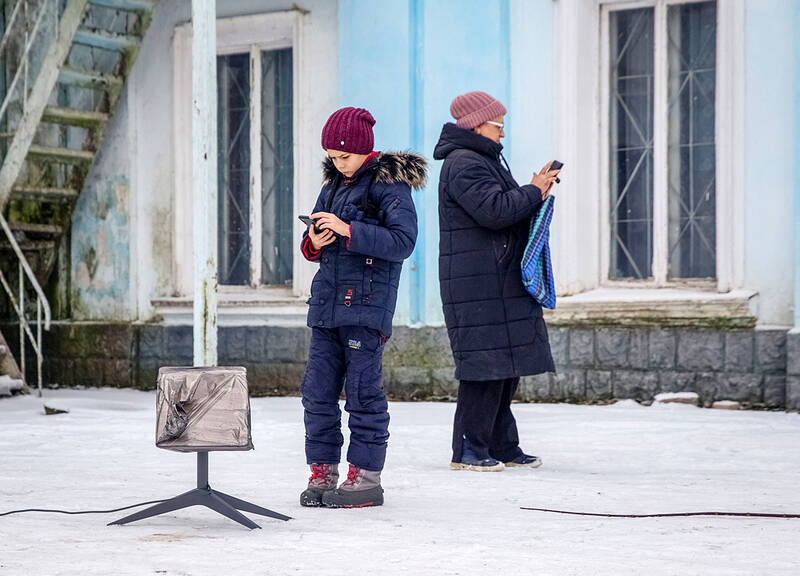 Local residents in January use a Starlink terminal, amid Russia's attack on Ukraine, in Chasiv Yar, Donetsk region, Ukraine.
Photo: Reuters
"The enemy knows" where the nation's key facilities are because the information is public, Tang said. "So we can assume that they're going to be disrupted, jammed or destroyed in a huge earthquake."
Tang mentions "earthquakes" a lot. Besides referring to natural disasters — Taiwan sits in the tectonically-active region known as the "ring of fire" — it's also a euphemism for incidents related to tensions with China, including cyber attacks.
"It's a very apt analogy because an earthquake is not going to give you a lot of warnings," Tang, 42, said.
With Taiwan holding presidential elections early next year, China is expected to ramp up efforts to influence the vote.
SATELLITES
But building up the digital resilience Tang wants by late next year is a tough target.
The island's disaster response plan calls for the establishment of 700 satellite receivers placed all over Taiwan. Some of the receivers would be fixed, others mobile, and they would have to be configured to receive communications from multiple constellations of satellites in Low Earth Orbit (LEO) and Medium Earth Orbit (MEO).
To get there, the government opened bids for research institutes to take part in a proof-of-concept round of testing and verification. So far, at least three have signed up, Tang said. The winner will begin work with satellite providers. Among the providers, French-Luxembourg company SES Global now has two receivers in Taiwan.
Tang said OneWeb, a satellite provider with investors including the UK government, Indian conglomerate Bharti Global and Softbank Group Corp., has signaled its interest, as has Project Kuiper, an initiative from Amazon.com Inc to create a constellation of over 3,000 LEO satellites. But neither of those is currently available.
Only Starlink Inc's SpaceX satellite constellation has the capability to provide live coverage right now. Tang describes Starlink as a potential provider, but adds that she's after more than one participant in order "to ensure that when there's adversity, multiple constellations will have to be destroyed or disrupted to deny us communication" with the outside world.
VULNERABLE CABLES
That means for now, Taiwan's satellite capacity pales in comparison to the coverage it currently gets from its 14 undersea cables, says Kenny Huang (黃勝雄), chairman and chief executive officer at the Taiwan Network Information Center, a non-profit partially owned by Taiwan's government.
Current satellite capacity "only adds up to about 0.01 percent of the transmission capacity of the undersea cables," Huang said. "It's almost impossible to use those satellites as back up or to enhance communication resilience."
The undersea cables are highly vulnerable, however. Huang added that the plan to have 700 receivers won't be big enough to cover the communication needs of the island's 23 million people.
Tang called the 700 receivers she's initially aiming for a minimum to sustain essential communication. The government has earmarked NT$550 million (US$18 million) this year and next year to subsidize the testing and verification of the disaster response program.
She added that the nation has taken lessons from the conflict in Ukraine, which has confronted repeated cyberattacks by Russia on its infrastructure and population. But Ukraine has access to the Starlink system, which has helped keep communications up and running since the war began.
It's not clear if that is a realistic option for Taiwan. There are questions about whether SpaceX owner Elon Musk, whose Tesla Inc has significant investments in China, would want the geopolitical headache of aiding Taiwan. Musk suggested last year in comments to the Financial Times that Taiwan should agree to become a special administrative zone of China, angering Taiwanese officials and winning praise from Beijing.
CRITICAL COMMUNICATION
Referring to Ukraine President Volodymyr Zelenskiy's daily video briefings throughout the war, Tang said it's critical for the government to be able to communicate to its people as well as the outside world.
That means local video calls should be handled domestically, she said. Yet right now, Zoom sessions are initially routed overseas before a local connection is made. Tang added that Alphabet Inc's Google Meet has entirely domestic routing, ensuring it will still be operational should Taiwan's undersea cables get cut.
Asked about this part of the government's plan, Zoom Video Communications Inc and Google didn't immediately respond to a request for comment. Microsoft Corp declined to comment.
Underscoring her sense of urgency, Tang said the nation's digital infrastructure is already under siege by millions of largely automated attacks by suspected Chinese-affiliated actors. That will only get worse in the case of a future earthquake or other emergency, Tang said.
"We're going to see a lot of live reports from Taiwan that are completely synthetic," she says, referring to "deep fake" videos and other disinformation efforts. "That is what we're preparing ourselves for by the end of next year."
Comments will be moderated. Keep comments relevant to the article. Remarks containing abusive and obscene language, personal attacks of any kind or promotion will be removed and the user banned. Final decision will be at the discretion of the Taipei Times.