Notes from Central Taiwan: PRC tourists, Taiwanese voters and the DPP
The public's overwhelming concern with domestic issues may at last compel a national election in which cross-strait relations play a minor role
A fine-grained opinion piece in United Daily News (UDN) in December was packed with data that tells the story of the coming voter shifts in this election.
The piece cited another UDN poll from early last year that surveyed residents of the six municipalities. The overall data identified four areas of major concern: housing prices (named by 50.6 percent), low salaries and insufficient career opportunities (32.2 percent), transportation problems (26.5 percent) and air pollution (25.1 percent). The next more important issue was public order at 10.1 percent.
None of these issues have become a signature issue for any of the presidential candidates. As several commentators have noted, the public's overwhelming concern with domestic issues may at last compel a national election in which domestic issues play a strong role. Much depends, of course, on whether the People's Republic of China (PRC) engages in its usual self-defeating aggression around elections.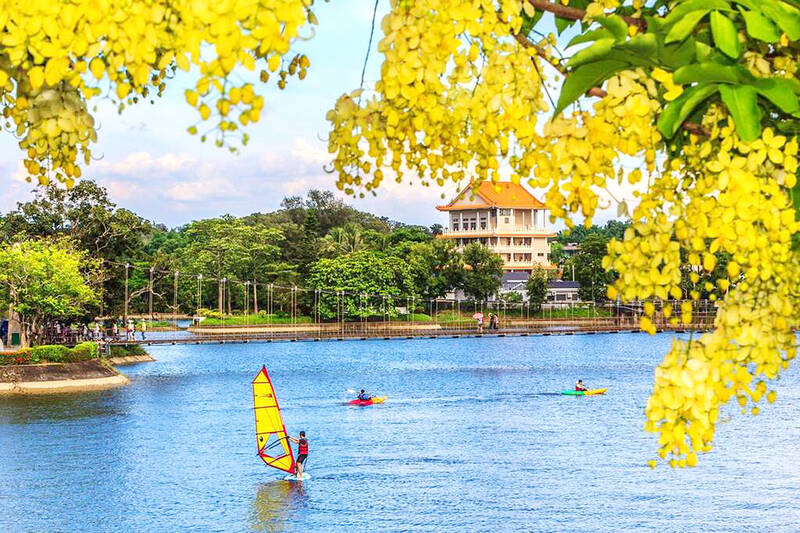 Students on May 22 enjoy watersports at a scenic spot in Tainan. Many Taiwanese say they don't want a return to pre-pandemic Chinese tourist numbers.
Photo courtesy of the Tainan Tourism Bureau
AIR POLLUTION AND TRANSPORTATION
The air pollution issue is bound up with the transportation issue. Studies in several countries show that air pollution increases both the rate and severity of traffic accidents. A Taiwan-based study in the International Journal of Environmental Research and Public Health in June last year found that "unhealthy AQIs were associated with an increased risk of sustaining severe [road traffic injuries (RTI)]. In addition, the patients involved in [road traffic accidents] that occurred in periods with higher hourly PM2.5 concentrations were more likely to sustain severe RTIs."
Bad air kills, not only by obscuring road conditions but also by reducing cognitive functions: it causes impulsive behavior, irritability and aggression. The above study observes that of the 474,000 document road traffic injuries and nearly 3,000 deaths in 2021, 75 percent involved motorcycles. These vehicles, dangerous and polluting though they may be, remain popular because they are a convenient response to terrible road and parking conditions.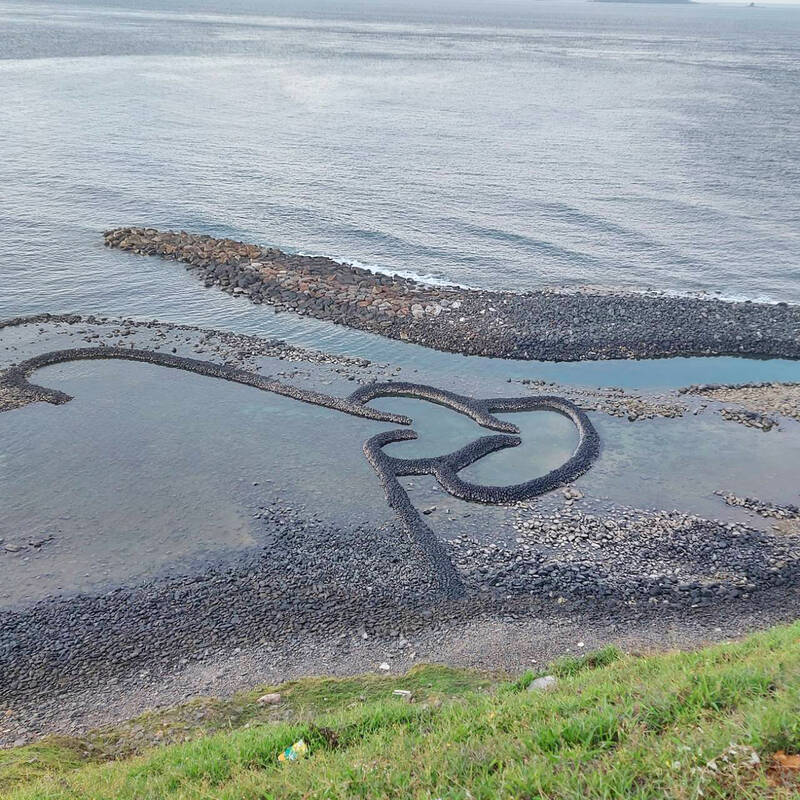 A design made from stones has become a popular tourist attraction in Kaohsiung's Chimei.
Photo: Photo: Liu Yu-ching, Taipei Times
The influence of air pollution on the development of children's lung functions and subsequent respiratory issues is well known, beginning in the womb. Numerous studies have shown that worker productivity is negatively affected by pollution, which increases fatigue while degrading cognitive performance.
Stronger environmental regulation pays for itself in enhanced worker productivity and reduced demand for health services, yet it is doubtful any candidate will offer such policies. Indeed, we might see just the opposite occur: we may see decisions that will increase these problems.
The transportation issue and its attendant issues of environmental and civic pollution will be a constant presence in Taiwanese lives throughout the coming campaign. While salaries and housing prices have been the subject of complaints for well over a decade, traffic deaths and pollution have become more important topics only in the last few years.
The recent "flash mob" protests against traffic deaths are a sign that these topics will become regular features of what passes for domestic policy debate: smart analysis in the media and academia totally ignored by politicians. Last week the Cabinet okayed NT$42 billion for traffic safety measures, in response to growing public anger. The public shouldn't have had to wait.
CHINESE TOURISM — FINANCIAL BENEFITS?
One item that may bring both the domestic pollution and traffic issues and the PRC threat to Taiwan into sharp focus is the issue of PRC tourism. In February, the South China Morning Post reported that the Taiwan Tourism Bureau said a million PRC tourists could show up this year if the ban on them, in place since COVID-19 began, were lifted.
In March the Minister of Transportation and Communications Wang Kwo-tsai (王國材) said the government would consider lifting a ban on Chinese tour groups if Beijing shows "goodwill" by listing Taiwan as one of the countries Chinese tourists are allowed to visit. However, recent media reports indicate that although flights between the two nations are increasing, there are no plans to permit PRC tourists. The PRC government has not given its permission.
Last time around, as geographer Ian Rowen has documented in his studies of PRC tourism groups in Taiwan, PRC assertions of control over Taiwan via tourism backfire because the PRC tourists are alienating the Taiwanese. The spaces they occupy quickly become perceived as "Chinese" spaces by both Taiwanese and PRC actors, he documents.
The economic benefits have long been oversold. In reality, because of the lack of financial benefits, the environmental costs, and the effects on the New Taiwan dollar, PRC tourists are a net loss for the nation. Like so many economic behaviors in Taiwan, they represent a transfer of wealth from ordinary Taiwanese to a few large businessmen who organize the tour trade.
In addition to supporting PRC territorial claims over Taiwan, PRC tourism is notorious for creating poor traffic conditions, "clogging up all the nice places" as a friend put it on Twitter, and increased environmental stress, both issues that are of growing importance to Taiwanese.
Given how PRC tourism touches so many hot issues, it is odd that the pro-Taiwan Democratic Progressive Party (DPP) government would be supporting a re-opening during the run-up to the presidential election. If the PRC is smart enough to keep a low profile, refrain from aggression — the ADIZ incursions have become so normalized that they appear to no longer be perceived as a specific aggression but have become background noise — and send tourists, it could really hurt the DPP in the upcoming election.
When the public starts avoiding local scenic spots because they are overrun with PRC tourists, they are going to blame the DPP for allowing them. When roads are clogged with buses and new tarmac is put down in scenic areas, the public is going to blame the ruling party.
We have been through this once before. Taiwan does not need these tourists, and the DPP does not need them before an election. This is an idea that should be delayed until it withers on the vine.
Notes from Central Taiwan is a column written by long-term resident Michael Turton, who provides incisive commentary informed by three decades of living in and writing about his adoptive country. The views expressed here are his own.
Comments will be moderated. Keep comments relevant to the article. Remarks containing abusive and obscene language, personal attacks of any kind or promotion will be removed and the user banned. Final decision will be at the discretion of the Taipei Times.