Xi upends secret world of US$10,000 an hour China experts
Beijing clamps down on 'expert networks' over threats to national security, sending shockwaves through the financial world with experts saying the move will derail China's push to attract foreign investors
Private conversations with corporate insiders and ex-government officials that cost upwards of US$10,000 an hour. Coded language and blurred regulatory lines.
For hedge funds and other global investors, China's vast web of "expert networks" has become a key tool for navigating an opaque but potentially lucrative economic powerhouse. For Xi Jinping's (習近平) Communist Party, the secretive industry represents something far more ominous: a threat to national security that must be reined in.
That contradiction is now sending shockwaves through the financial world as China's government cracks down on the expert networks it had showered in praise less than a decade ago during Xi's first term as president. The anti-espionage campaign — which centers on Capvision, a giant of the industry with offices in Shanghai and New York — has reignited concern among China watchers that Xi's fixation on security and tightening grip on information will derail his push to attract foreign investors.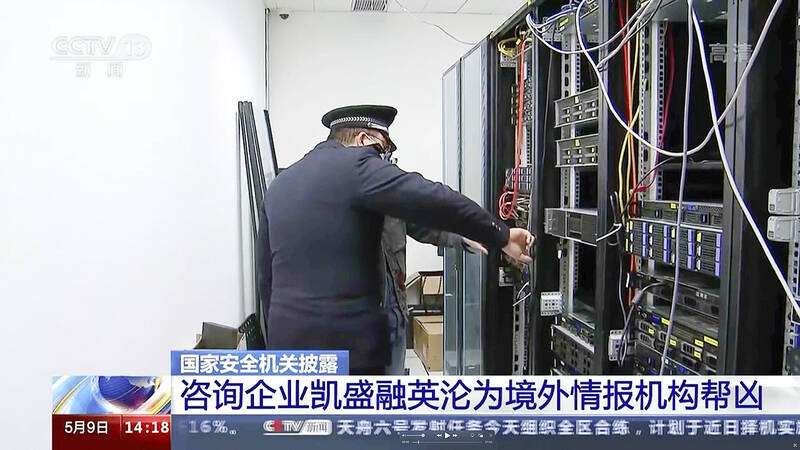 In this image taken from undated video footage run by China's CCTV, Chinese police raid the Capvision office in Shanghai. China's chief foreign intelligence agency has raided the offices of business consulting firm Capvision in Beijing and other Chinese cities as part of an ongoing crackdown on foreign businesses that provide sensitive economic data.
Photo: AP
ABRUPT CRACKDOWN
Chinese authorities are hardly the first to scrutinize expert networks, which broke into the US public consciousness in 2010 for their role in insider trading scandals at hedge funds including SAC Capital Advisors and Galleon Group LLC. But Xi's campaign stands out for the abruptness of the crackdown, its emphasis on national security at a time of growing tensions with the US, and its role within a broader government push to restrict access to what many consider basic data on companies and the economy.
The impact on investor confidence in China may be long-lasting, according to interviews with nearly two dozen money managers, consultants and lawyers with ties to expert networks. Some firms that have long relied on the industry to get comfortable with their China exposure are pulling back or cutting off access entirely. Expert consultants based overseas have curbed travel to China, while those who live in the country are growing increasingly cautious about who they work with and what they say — regardless of their proximity to sensitive sectors like semiconductors and defense.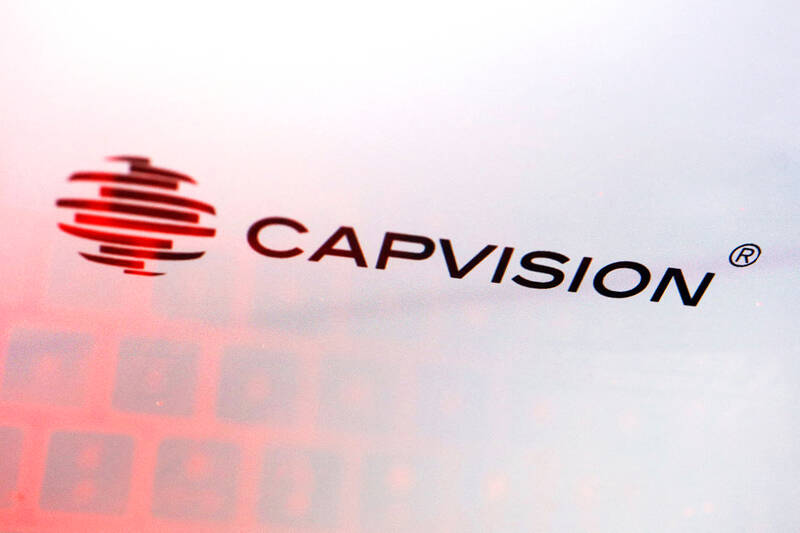 The logo of consulting firm Capvision is displayed on a computer screen in this illustration picture taken May 9.
Photo: Reuters
At stake is China's ability to lure the foreign capital needed to finance its economic growth. Foreign direct investment tumbled by the most in more than six years in the first three months of this year, while the nation's stock and bond markets have seen steady outflows. Underscoring the urgency, China's ruling Politburo last month called for greater efforts to boost foreign investment. The commerce ministry has dubbed 2023 the "Year of Investing in China."
Even as China tries to attract investors, "it fears a loss of control over the information about firms that is passed to foreigners," said George Magnus, an economist and associate at the University of Oxford China Cent re. "This type of action will simply add fuel to the decoupling momentum that we can already see."
'EXPERT NETWORKS'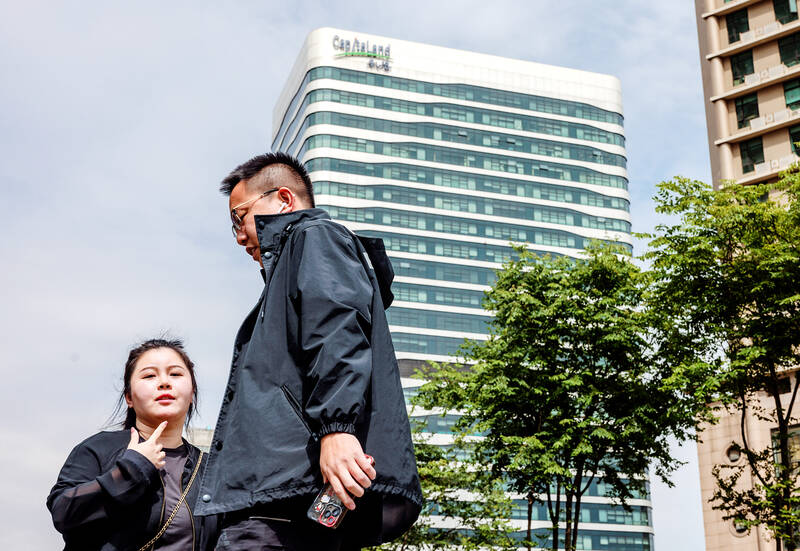 People on May 10 walk in front of the Capvision Partners headquarters building, in Shanghai, China.
Photo: EPA-EFE
Expert networks grew rapidly in China in recent years as an important channel for foreign firms — whether hedge funds, banks, venture capital or multinationals — to access on-the-ground intelligence about everything from industry trends to government policies. As recently as 2016, the firms also had strong official support, with the People's Daily calling them "indispensable" for upgrading China's economy. Capvision was praised for its "robust compliance network" and "complete supervision."
Demand for their services increased as Xi tightened control over other forms of information and assailed a variety of industries with tougher regulatory regimes.
Capvision, with more than 450,000 freelance consultants on its books, is the most prominent in China. Others include American firm Gerson Lehrman Group Inc, Third Bridge, AlphaSights and Lynk Global. Aside from Capvision, none of the firms have been called out by Chinese authorities.
Pricing at Capvision ranged from 500 yuan (US$71) an hour to US$10,000, according to the prospectus published last year for the company's now-shelved initial public offering in Hong Kong. The firm, founded in 2006, has more than 2,000 clients, including some of the top global consultancy firms, private equity funds and banks, according to its Web site. Its founder and CEO Xu Rujie is the biggest shareholder with a 29.4 percent stake, the prospectus shows. In 2020 the firm had a 33 percent market share of China's expert network industry, the prospectus said.
Gaining greater clarity over government policy is a primary reason for using expert networks. A typical example from the corporate world — highlighted by a consultant who asked to remain anonymous to discuss a sensitive subject — involved a carmaker seeking more information about official plans to tighten emission standards. The carmaker tapped expert networks to reach people working in associations that are familiar with government thinking, helping the company refine production plans.
For investors, the lack of transparency in China is a potential edge to exploit. When the government cracked down on health food products in 2019, for instance, an Asian hedge fund used information gleaned from an expert network to conclude that US nutritional supplement firms operating in China would struggle to sell their inventory. The fund manager, who declined to be named due to the sensitivity of the matter, shorted the companies' shares before they plunged 50 percent over the following months.
RED LINES
As is common in other parts of the world, the most expensive conversations are with former government officials who can charge US$10,000 an hour, according to a senior analyst at a US bank. A former official of a similar rank in the US may cost three or four times that, the analyst said, adding that Chinese ex-officials typically know where the red lines are and are cautious about sharing sensitive information.
Yet there are ways to bend those lines. One former official provided advice using hypothetical examples to avoid commenting on government policy that had yet to be made public, using phrases such as "if I were investing my own money," according to a global investor. That investor followed the ex-official's hypothetical advice, buying depressed securities before they rebounded in what turned out to be one of the firm's best trades that year.
The informality of some of these conversations, patchy regulatory oversight, and sensitivity of subjects that some experts talked about made them prime targets for government scrutiny. Even more so after the US expanded curbs on China's access to semiconductor technology in October, according to Gregory Allen, senior fellow in the strategic tech program at the Center for Strategic and International Studies, a Washington think tank.
STATE SECRETS
On May 9, Chinese authorities accused Capvision of encouraging experts to leak state secrets and accepting consulting projects from companies with close ties to foreign intelligence agencies. Underscoring the point, state television used the prime-time slot to show footage of officials raiding Capvision's offices, questioning employees and removing equipment.
Capvision was criticized in the 15-minute broadcast for telling its experts to answer sensitive questions by giving hypothetical examples and analogies as well as hiding the identity of clients and experts.
The accusations came weeks after authorities questioned staff at the China offices of US consultancy Bain & Company. Officials also raided New York-based due diligence firm Mintz Group's office in Beijing and detained five of its Chinese employees. China's foreign ministry put out a short statement saying Mintz was suspected of illegal business operations, while separately stating that it wasn't aware of any raid at Bain's Shanghai office.
In response, Capvision said it will set up a committee in Shanghai to manage compliance issues and vowed to adhere to China's national security laws, according to a company statement issued on May 10. Capvision did not respond to multiple e-mailed requests for comment.
More broadly, China's government has been tightening its grip on potentially sensitive information. Employees at state-owned enterprises have been told to undergo more security training this year, including best practices for keeping secrets, according to at least three people at different firms who have taken part. Chinese financial data providers including Wind Information Co recently stopped providing detailed data on domestic companies to overseas clients. The government this month warned domestic brokerages not to spread information that compromises national security, after inspecting dozens of trading firms.
"Harsh regulatory campaigns have become more regular as the leadership prioritizes security and control above economic growth," said Katja Drinhausen, head of the politics and society research program at the Mercator Institute for China Studies. "In the eyes of the party, control over information flows is clearly a matter of security."
The result is a rapidly shifting landscape. Since the crackdown started, workers at SOEs have become reluctant to share any data with foreign analysts and many experts have canceled scheduled calls, said the senior analyst at a US bank, who used Capvision on a weekly basis and who didn't want to be named. This makes doing due diligence harder, and drives up the cost of investing in China, the analyst said.
Institutional investors have become more cautious over who they talk to, according to a manager at an Asian hedge fund. Since news of the Capvision probe broke, his firm banned employees from speaking to expert consultants in sensitive industries, such as defense and chipmaking, the fund manager said. His firm has also suspended the use of Capvision until there is further clarity.
Another hedge fund, which was a Capvision client, has suspended the use of all expert networks in China. It also told China portfolio managers to cease writing e-mails citing information coming from the country including Wind.
TRIPS CANCELED
Expert networks are reducing risks where they can. One overseas-based firm has paused a number of projects, while business trips to China are off the table for now, a person working at the company said, who didn't want to be named.
Some are optimistic the industry will survive the campaign. The high-profile nature of Capvision's probe will send a clear message to the industry that it needs to better self-regulate, said a China-based due-diligence consultant, who asked not to be named.
Yet the clampdown comes at a time when China's relations with the West in particular are strained, making investors more cautious. Unpredictable regulatory tightening over industries ranging from tech to property has unnerved businesses, while the extreme nature of China's former zero-COVID policy in the previous three years prompted firms to look for alternative markets.
The fear for some investors is that when it comes to a choice between protecting their interests or those of the Communist Party, they will lose.
The action taken against Capvision and other firms is the "physical manifestation of Xi Jinping's mantra about better balancing development and security," said Christopher Johnson, president of China Strategies Group, a political risk consultancy. "When the two are in conflict, security always wins. That's the overarching message."
Comments will be moderated. Keep comments relevant to the article. Remarks containing abusive and obscene language, personal attacks of any kind or promotion will be removed and the user banned. Final decision will be at the discretion of the Taipei Times.