Notes from Central Taiwan: Reading Taiwan's history right
The Chinese Communist Party is perfectly aware that it is attempting to annex Taiwan, a country that does not and never has belonged to it, and whose people do not want to be annexed — as it has with East Turkestan and Tibet
One of the ways that pro-People's Republic of China (PRC) peaceniks forward PRC propaganda is by presenting its fabricated history of the Taiwan-China relationship as accepted, mainstream history. Like the faces of astronauts on rocket sleds reshaped by high GEE effects, every conversation about Taiwan is distorted by this stream of effluent.
PRC supporters ground their conversations about the PRC in this fake history because it allows them to maintain that the PRC is "reasonable" and is simply deterring Taiwan's "permanent separation" from "China" rather than bent on annexing an island it has never ruled over. It also recasts the PRC as the victim of history, presenting it as a nation maimed by history. That idea of victimhood is overt in the PRC's expansionist claim of "century of humiliation," but it is latent in every claim that Taiwan is part of China.
Writers who speak of "Beijing's feelings" or "China's perspective" on Taiwan as part of China forward this propaganda. Seldom does serious commentary forthrightly start with the plain fact that Beijing is perfectly aware that it is engaging in annexing an island that does not and never has belonged to it, and whose people do not want to be annexed.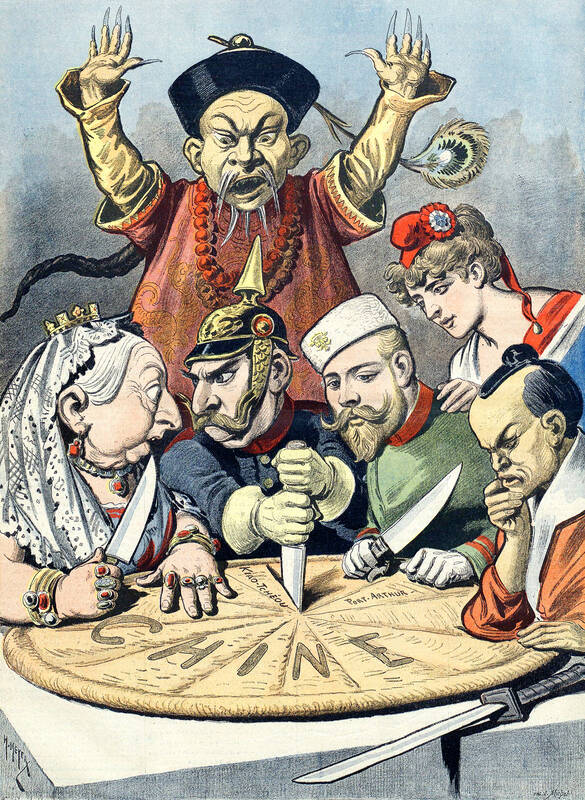 A French political cartoon from 1898 depicting Queen Victoria (Britain), Kaiser Wilhelm II (Germany), Tsar Nicholas II (Russia), Marianne (France) and Emperor Meiji (Japan) dividing China. The PRC often casts itself as a victim of history with its talk of a "century of humiliation," which is latent in every claim that Taiwan is part of China.
Photo courtesy of Wikimedia Commons
In fact, the word "annex," which until recently never appeared in the media to describe Beijing's desire to absorb Taiwan, has in recent months been creeping into articles here and there. Progress is slow, but steady.
Will the PRC attack Taiwan? Many people think that chances are high, yet those of us who have been sounding the alarm are told we are too emotional, or discussions are raising tensions, or even that in warning about it we are increasing the chance of an invasion. What can history teach us?
Let us recall Tibet. In both Chinese Nationalist Party (KMT) and Chinese Communist Party (CCP) propaganda, Tibet was regarded as part of China. Like Taiwan, it had been annexed to the Manchu Empire, but it had never been part of any Chinese emperor's domain (not that it matters — we would never countenance Italy, France or Germany attempting to reconstruct the later Roman Empire).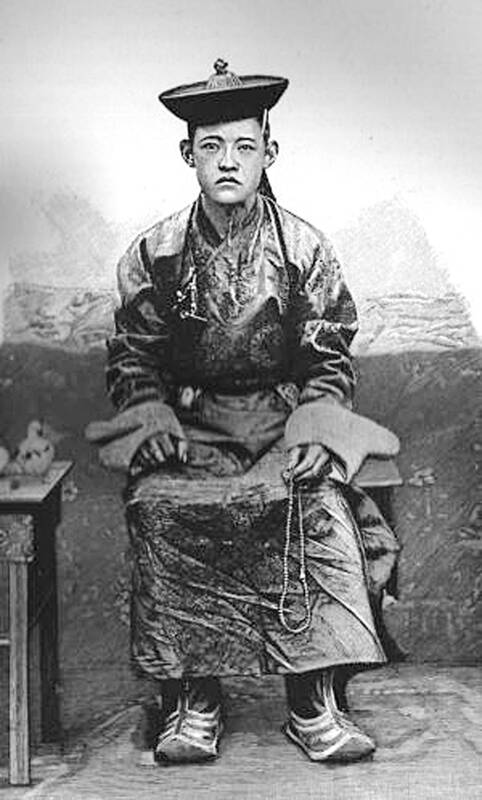 With the fall of the Qing Dynasty in 1912, Mongolia under the Bogd Khaan (pictured) declared its independence. But the newly established Republic of China (ROC) considered Mongolia to be part of its own territory.
Photo courtesy of Wikimedia Commons
After the Manchu empire fell in 1912, the Republic of China (ROC) claimed all its territories, including Tibet. This manufactured history of the "five races" of China is one basis of the PRC "historical claim" to Tibet.
Just as it is with Taiwan. Mao Zedong (毛澤東) sent the army into Tibet in 1950 precisely because the Tibetans could not be pressured or beguiled into giving up their de facto sovereignty. That invasion occurred because negotiations "failed" — that is, the PRC would not give up its claims to Tibet, and Tibet would not submit. Failure was inevitable.
The key takeaway is that false historical claims drove real action. The opposite is also true: the PRC produced a white paper in 2019 that argued that East Turkestan — you guessed it — had been part of China since its early history.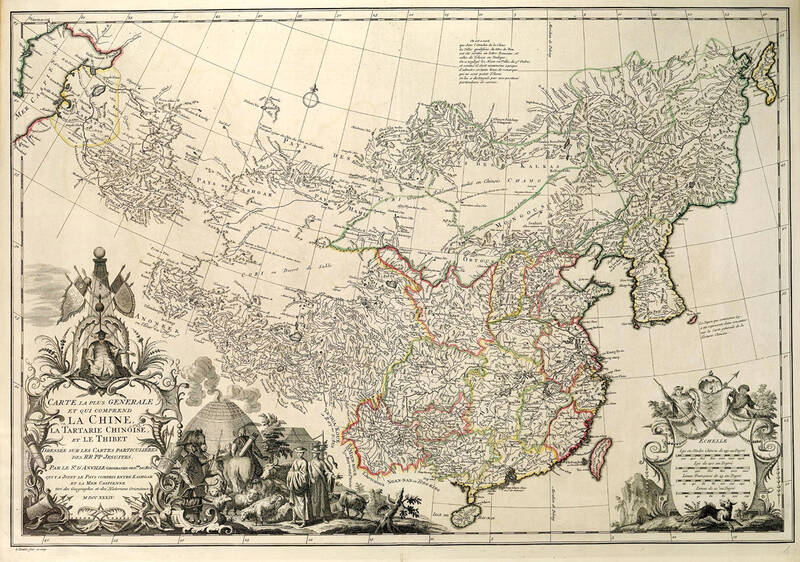 Tibet in 1734, by Jean Baptiste Bourguignon d'Anville, based on earlier Jesuit maps.
Photo courtesy of Wikimedia Commons
The conquest of Tibet has led to further historical invention, which drives the current conflict between India and China. The "disputed" area of Aksai Chin, which had been located outside China in documents from between the wars, was claimed as part of China by the PRC. In 1950, the PRC built a road that connected its colonies of Tibet and East Turkestan (today's Xinjiang), with a long section of it running through what had been considered the Indian portion of Aksai Chin.
Taiwan watchers take note: in June 2006, Google Earth satellite imagery uncovered a 1:500 scale terrain model of eastern Aksai Chin and adjacent Tibet not far from the capital of Ningxia region in China. "A visual side-by-side comparison shows a very detailed duplication of Aksai Chin in the camp," Wiki says. Similar scale models of Taiwan facilities in China have been spotted by satellites.
The 1950 road section through Aksai Chin shows how the construction of infrastructure on other people's territory to support annexation is an old practice with the PRC, one continued most recently in its occupation of the South China Sea. As with India, Tibet and East Turkestan, the PRC's "historical" claims to the South China Sea, invented in the 1930s, led the PRC to pursue military conflict with Vietnam, and to the current military occupation of the area.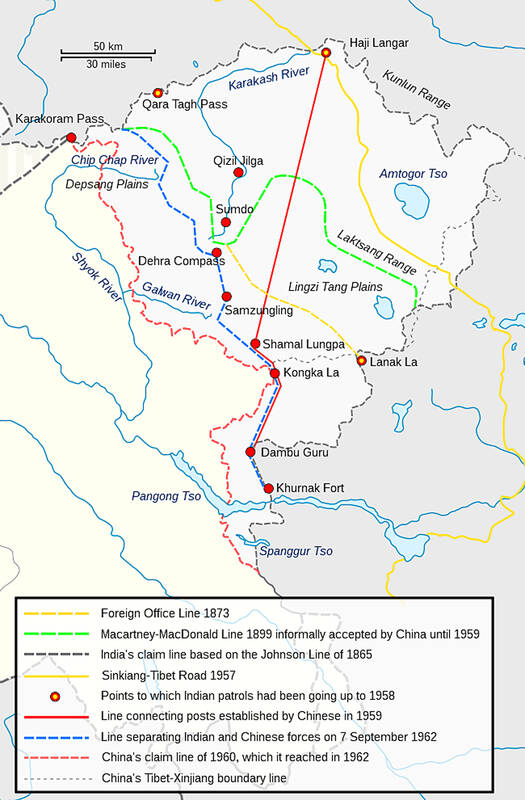 This map shows the Indian and Chinese claims of the border in the Aksai Chin region, the Macartney-MacDonald line, the Foreign Office Line, as well as the progress of Chinese forces as they occupied areas during the Sino-Indian War.
Photo courtesy of Wikimedia Commons
Outer Mongolia may currently be an independent state, but recall that Mongolians were included in the "five races" of China. After the Manchu Dynasty fell in 1912 Mongolia claimed independence, but in 1919 it was annexed by Chinese Nationalist forces, who in turn were driven out by White Russians in 1921.
After World War II, the Soviets compelled the KMT government to accept Mongolian independence, but the KMT annulled this acceptance in 1953. It should not be forgotten that until it was defunded in 2017, the ROC government maintained a Mongolian and Tibetan Affairs Commission (originally constituted as the Mongolian and Tibetan Affairs Agency in 1912). The Chinese dream of snuffing out Mongolia still lurks in the hearts of CCP and KMT men.
What this brief survey of history shows is that whenever the PRC claims a place has been "Chinese since ancient times," the army follows. Korean reactions to Chinese claims about Korean culture are often treated as amusing, but the Koreans are very aware of this history, since they were repeatedly invaded by the Manchus and remained a tributary state until 1895. Recall that the first ROC map showed that Korea was a lost territory awaiting recovery.
What does all this mean? People who ask "Will China attack Taiwan?" are asking the wrong question. The correct question is "Why should the CCP behave differently in the Taiwan case from the way it has in any other case of its "historical claims?"
There too Mongolia may serve as a lesson: it is currently independent because a Great Power backed its independence. That potential parallel is of course perceived by CCP elites with respect to the Taiwan-US-Japan relationship. Taiwan retains its de facto independence precisely because it is backed by the US and Japan, and for no other reason.
The PRC has still other, unrequited claims, awaiting military action. Its manufactured claims to the Senkakus (known in Taiwan as the Diaoyutais, 釣魚台), which date from the late 1960s, are based on its claim to Taiwan, just as its claim to Tibet has led to further claims on Aksai Chin and Arunachal Pradesh ("South Tibet" in PRC expansionist parlance) in India. Okinawa, long quietly a target of PRC expansion, lies beyond.
Once Taiwan is taken, rest assured two things will occur. First, the legions of PRC apologists who swore that the PRC was simply engaging in defensive actions with respect to Taiwan will reconfigure their efforts to apologize for PRC expansion against the Philippines and Japan. Second, "failed negotiations" followed by PRC military action will occur against "disputed territories."
Why would the PRC ever do things differently?
Notes from Central Taiwan is a column written by long-term resident Michael Turton, who provides incisive commentary informed by three decades of living in and writing about his adoptive country. The views expressed here are his own.
Comments will be moderated. Keep comments relevant to the article. Remarks containing abusive and obscene language, personal attacks of any kind or promotion will be removed and the user banned. Final decision will be at the discretion of the Taipei Times.