Taiwan in Time: The man sentenced to death 10 times
Brazen criminal Wu Hsin-hua was executed on May 27, 1988 for killing at least 14 people during a four-year crime spree
May 22 to May 28
Lee Li-chuan (李莉娟) nervously chewed stick after stick of gum on her way to meet with Wu Hsin-hua (吳新華), Taiwan's most notorious criminal during the early 1980s. She rarely chewed gum — or wore makeup — but the 32-year-old officer had to maintain the facade as the wife of Uncle Yung, a fictitious arms dealer who had successfully lured the elusive Wu out of his mountain hideout.
Lee was supposed to carry out the mission with veteran cop Lin Lai-fu (林來福), who was playing the role of Uncle Yung, but Wu insisted that she come alone. They met up and headed to the Taizi Hotel (太子飯店) in Taoyuan City, where the deal was supposed to take place, but a drunken brawl had broken out at the entrance, causing Wu to hesitate. Lee convinced Wu to not waste his trip and head upstairs when the "middleman" they were with attempted to flee. Lee thought that the operation was blown and that her life could end any second, as the ruthless Wu was known for his lightning-quick knife skills.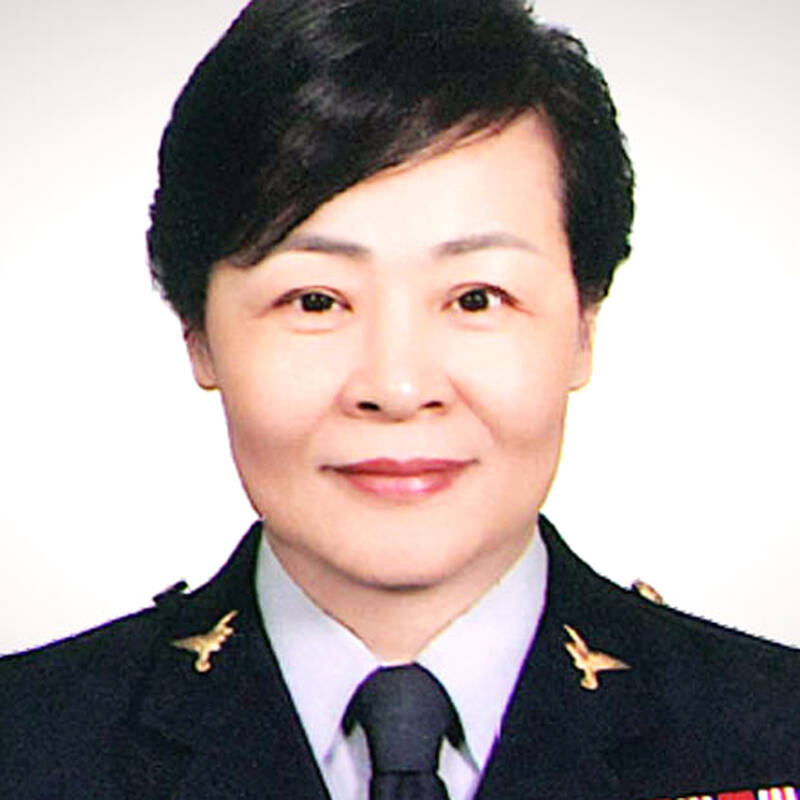 Lee Li-chuan played a key role in Wu Hsin-hua's arrest in 1987 and later became Taiwan's first female precinct head.
Photo: Taipei Times file photo
According to a United Daily News report, the middleman suddenly turned around, and before Wu could notice something was off, they entered room 301 where Lin was waiting as Uncle Yung. Wu opened his coat to reveal that he was armed with knives, darts, a fake gun and a grenade, but Lin managed to distract him and knock him to the ground, upon which the support jumped out of hiding and subdued him.
The police wanted Wu alive, as there were more than a dozen murder cases he was suspected of committing between 1982 and his arrest on Dec. 3, 1987. He confessed to 10 cases involving at least 14 victims and attempted suicide with poison in the interrogation room before being stopped. Wu told reporters that he had killed so many people that he lost count, but denied involvement in an unsolved bank robbery that claimed the lives of two policemen.
On May 27, 1988, Wu was executed by shooting. However, because his heart was located toward the right side of his body, it took five bullets to kill him. The 10 death sentences he received remains a national record.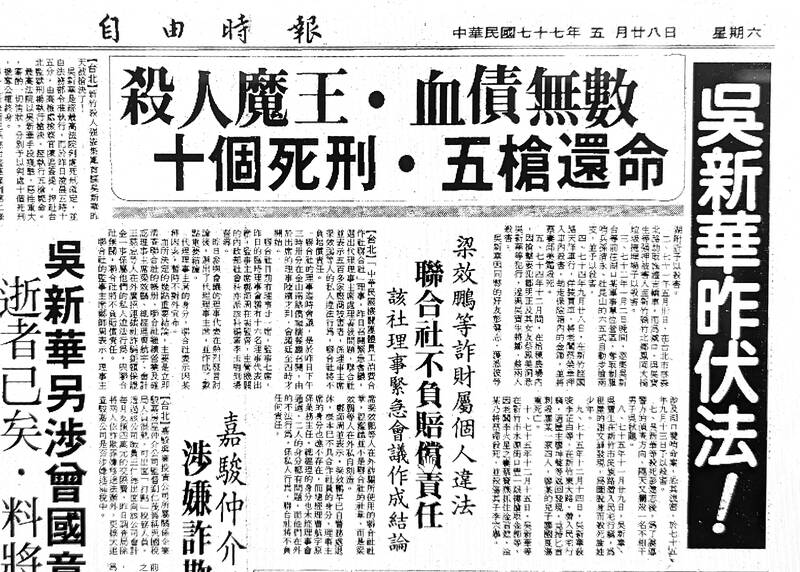 The Liberty Times report on Wu Hsin-hua's execution on May 27, 1988.
Photo: Liberty Times
LIFE OF CRIME
Wu grew up in a military dependents village in Hsinchu alongside six siblings, two of whom became his partners in crime and were also sentenced to death. According to news reports, since the children roamed the area without supervision, neighbors would frequently blame them when their things went missing. Wu's father severely beat him after each incident — whether or not he was guilty.
He told reporters after his arrest that his life of crime began with the theft of a guava when he was around 10 years old, for which he was roughed up by the cops. He was furious at the treatment, and decided to start killing people for revenge, noting that he had given up hope for a bright future by then.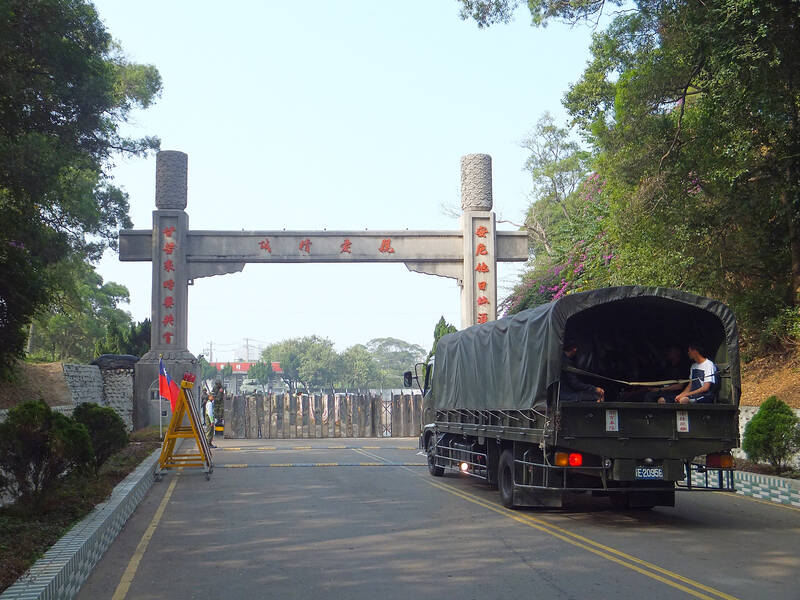 The military base in Hsinchu Counthy's Hukou Township where Wu Hsin-hua and his gang killed two soldiers.
Photo: Taipei Times file photo
Wu struggled to support his wife and child running a shaved ice stall, so around 1981, he and his gang began breaking into houses on weekends. These escalated into robberies, and finally in April 1982, they carjacked a man in a suit driving an expensive car and took him to an isolated area in Miaoli County. After discovering that the man was just a driver and had little money, Wu stabbed him to death.
After committing another similar crime in Taipei, Wu decided that they needed to acquire some firearms to rob a bank. They targeted the military base in Hsinchu County's Hukou Township (湖口), where they noticed that one isolated entrance was guarded by just two soldiers. The gang approached them in a car pretending to ask for directions, then killed them and stole two rifles and a large amount of ammunition.
HIDING IN THE HILLS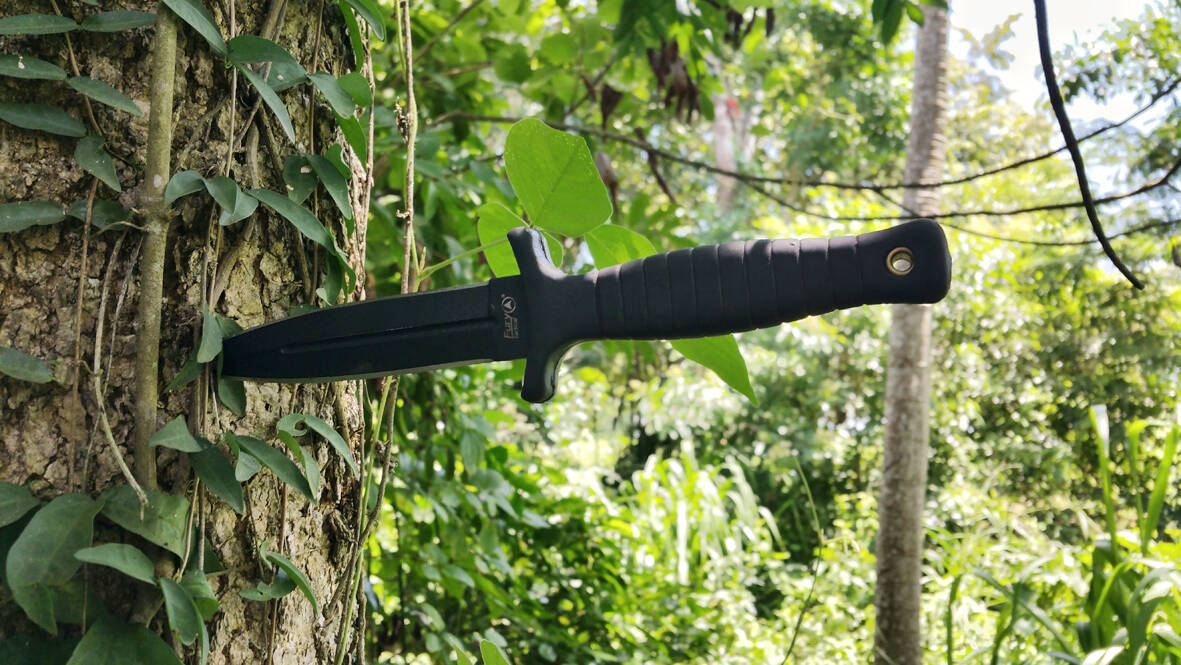 Notorious criminal Wu Hsin-hua was known for his deadly knife skills, and he often practiced in the woods during his time on the run.
Photo courtesy of Pxfuel
Wu's acts became increasingly brazen, at one point murdering two people in broad daylight on consecutive days in September 1986. He was deadly with his knives, which he allegedly fashioned and sharpened himself. Several victims were accomplices whom he silenced after suspecting that they would sell him out.
The gang's final known heist took place in December 1986, where they robbed a jewelry store and killed the owner's wife in the process. Several members were caught, and Wu began his life on the run. After injuring a highway patrolman with an army rifle, he disappeared.
Wu told reporters after his arrest that for the previous year, he had been hiding in two underground caves that he dug in the bamboo forest near Fo Guang Shan Monastery (佛光山). He subsisted on basic provisions and rarely went out; when he did he made sure he was always clean shaven, and carried a book with him to appear scholarly. He spent his time reading, listening to the radio and practicing his knife skills.
He said he chose the location because he wanted to find some peace of mind after killing so many people, and he would recite the Nilakantha Dharani (Great Compassion Mantra) regularly to help transmute the souls of his victims. He even recited a section in front of the reporters, and the police found incense sticks and an altar in one of the caves. However, another report indicated that Wu wanted to be closer to his wife and daughter in Kaohsiung.
UNDERCOVER TRAP
Wu appeared in the Hsinchu area at least three times during this period, each time triggering a massive police effort to arrest him.
In December 1987, the police suspected that Wu had emerged from hiding and returned to the area, and they hatched their plan to lure him in with undercover agents pretending to sell guns. Since Wu was very cautious, they wanted a female cop to participate in the operation so he would lower his guard. Lee volunteered for the task.
She was meant to carry out the task with Lin, but Wu insisted on meeting her alone with the middleman. This added a huge amount of risk, but Lee did not shirk from the mission. They met up in Taoyuan, and Wu paid Lee the cash first. Newspaper accounts say that she counted the money like a seasoned dealer, which further fooled him.
Wu asked her to get in the car and ride to the hotel together, but Lee insisted on riding her bicycle there on their own as she thought it was too dangerous. Wu only agreed when she threatened to cancel the deal, and followed her in his car.
Only when Wu saw Lee again in the police station after his arrest did he realize that he was tricked. Lee later became Taiwan's first female precinct head.
Taiwan in Time, a column about Taiwan's history that is published every Sunday, spotlights important or interesting events around the nation that either have anniversaries this week or are tied to current events.
Comments will be moderated. Keep comments relevant to the article. Remarks containing abusive and obscene language, personal attacks of any kind or promotion will be removed and the user banned. Final decision will be at the discretion of the Taipei Times.