Movie review: Ah Fei
This digitally remastered 1984 classic depicting the gender inequality and hardships women once silently endured is a strong statement on female empowerment for its era
First premiering in 1984, almost every scene in Ah Fei (油麻菜籽) unsubtly depicts the severe gender inequality and hardships women once silently endured, bitterly resigned to their fate and passing on the trauma to their daughters.
Digitally remastered by the Taiwan Film and Audiovisual Institute, the original Hoklo-language (commonly known as Taiwanese) version of the Taiwan New Cinema classic was re-released in theaters last Friday. The movie was dubbed into Mandarin due to Golden Horse Award regulations back then, and it's a rare treat to be able to hear the Taiwanese dialogue.
From a modern perspective, Hsiu-chin (Chen Chiu-yen, 陳秋燕) is the stereotypical terrible mother; she's always bitter and never encouraging, and spoils her sons while controlling her daughter Ah Fei (Su Ming-ming, 蘇明明), who is tasked from a young age to help care for the family. In one scene, Hsiu-chin gladly pays for the son's pricey private school fees, while Ah Fei has to practically beg to continue studying past elementary school.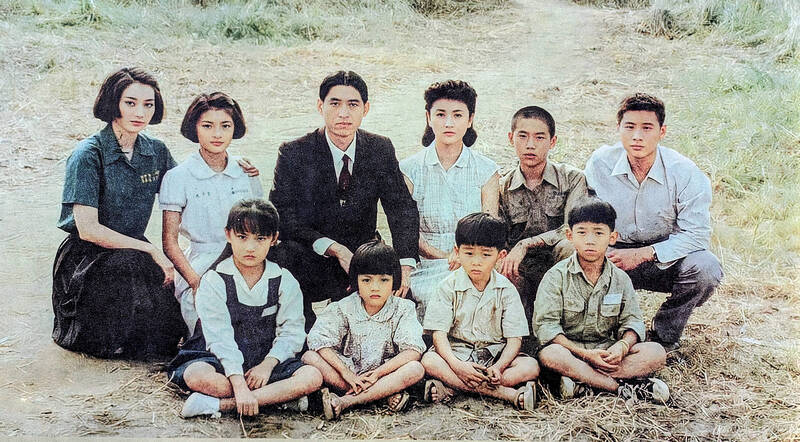 The Lee family — including the children at different ages — are featured on the new promotional poster for Ah Fei.
Photo courtesy of Swallow Wings Films
But the movie also explains what made Hsiu-chin that way, as she was married off by her wealthy father to the philandering, irresponsible and violent Shih-chun (世俊), who's meek in public and a bully at home. He squanders his income and his wife's savings on other women, but still relies on Hsiu-chin to solve his problems.
Although the parents present quite standard tropes for this sort of period family drama, Shih-chun is also not as heartless as he seems, being the only one to encourage Ah Fei to follow her ambitions and shows her warmth and kindness that Hsiu-chin never exhibits. On the other hand, Hsiu-chin is the one that's holding the family together, pretty much doing all the work and worrying besides earning money, which Shih-chun unfortunately isn't very good at, and yet her efforts are never acknowledged.
Women are like rapeseeds, Hsiu-chin says, referring to the movie's Chinese title, they don't have a choice where they're scattered, and tells Ah Fei that the only thing that's important for her is to marry the right husband. Chen's convincing performance of Hsiu-chin won her a Golden Horse for best supporting actress.
Su Ming-ming plays the grown-up version of the titular character in Ah Fei.
Photo courtesy of Swallow Wings Films
But Ah Fei watches everything — there are numerous scenes focusing on her observant eyes as the domestic violence and other unfair incidents unfold — and by the time she grows up, the times are different. She does not have to walk down the same path.
The movie is based on the 1983 book of the same name by Liao Hui-ying (廖輝英), who along with Hou Hsiao-hsien (侯孝賢) won a Golden Horse for best adapted screenplay. Liao is known for writing about disadvantaged families and rapid societal change, especially as Taiwan's economy took off in the 1970s.
The early 1980s were an interesting time, as the government's iron grip on society was loosening and all sorts of social movements were beginning to take root. In 1982, feminist activists launched the Awakening Publishing House (婦女新知雜誌社), the nation's first non-government organization "explicitly committed to promoting gender equality," according to its Web site. There was still a long way to go, however, as women were still commonly seen as the property of the husband and domestic violence was mostly condoned — even in public — well into the 1990s, according to a Foundation of Women's Rights Promotion and Development (婦女權益促進發展基金會, FWRPD) report.
Although the theme of rapeseeds depict the plight of women of those times, it's just as much about the men, though, as Shih-chun and his sons are enabled by the patriarchy to become petulant, lazy and selfish figures who oppress the women when they're not even properly doing their job as breadwinners. The scenes are loaded with such symbolism and messages. In one of them, young Ah Fei is busy scrubbing the floor while her brother is playing outside. Shih-chun returns home without greeting the women, instead telling Ah Fei to fetch her brother. The brother rushes in with his dirty feet, steps all over the floor that Ah Fei just cleaned, and the father takes him out to town.
Ah Fei's story may seem cliche for today's standards, like something you'd see from a daytime drama geared toward older viewers. But under the context of its times, it was an unflinching yet poignant statement about female empowerment in both the public and private spheres. Furthermore, despite the significant advancements in gender equality in Taiwan, the patriarchy persists and this sort of generational trauma lives on, and younger people would benefit from seeing the movie to get a better idea of what their parents or grandparents had to go through.
Publication Notes
FILM NOTES
Ah Fe (油麻菜籽) Directed: Wan Jen (萬仁) Starring: Su Ming-ming (蘇明明) as Ah Fei, Chen Chiu-yen (陳秋燕) as Hsiu-chin and Ko I-chen (柯一正) as Shih-chun Running time: 115 minutes Languages: Taiwanese with English and Chinese subtitles Taiwan release: In theaters
Comments will be moderated. Keep comments relevant to the article. Remarks containing abusive and obscene language, personal attacks of any kind or promotion will be removed and the user banned. Final decision will be at the discretion of the Taipei Times.