Book review: Droppin' hip-hop knowledge, Taiwan-style
New book explores the genre's diverse roots and penchant for ingenious, language-specific wordplay
Confession: Despite being a diehard fan of golden age hip-hop and having had the privilege to interview some stalwarts of that era, including Public Enemy, Ice T and DJ Premier, during my early years in Taiwan, my grasp of Taiwanese rap music is feeble.
MC Hot Dog, who I saw open for Missy Elliot in 2006; Dwagie (大支), who I didn't recognize as a support act for Wu Tang Clan's Raekwon and Ghostface in 2014; and LA Boyz, who I discovered (and promptly dismissed) in my ex-brother-in-law's dusty stack of CDs back in 2002: That was the extent of my knowledge. While I often found the beats formulaic and forgettable, and the rappers' flows clunky and overly shouty, the language barrier was the obvious problem.
Had my comprehension been sufficient to decipher the odd rhyme or two, the penchant of Taiwanese emcees for multilingual homophonic punning would still have have left me bamboozled. It is therefore fitting that a substantial portion of this book is dedicated to the pedagogic role that rap has played for young men in Taiwan; the sections that analyze intricate wordplay inspired me to find the tracks in question to see how much I could follow.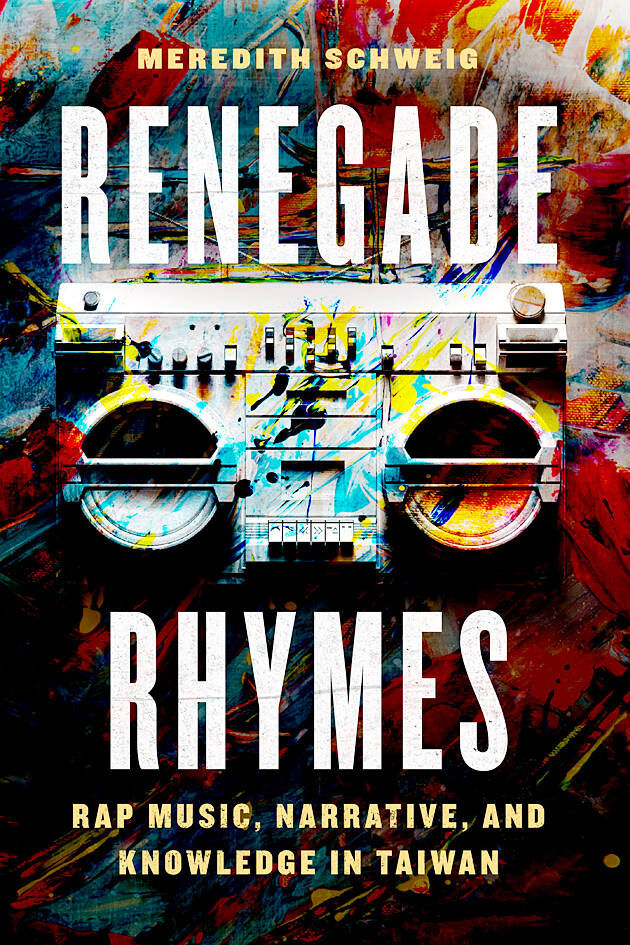 Renegade Rhymes: Rap Music, Narrative and Knowledge in Taiwan, by Meredith Schweig.
Deconstructing verses from some of Taiwan's foremost wordsmiths, the author demonstrates how the properties of Mandarin and Hoklo (also known as Taiwanese) are used to accentuate what the late, trailblazing scholar of hip-hop Adam Krims calls a "percussion-effusive flow." This term refers to the use of complex rhyme schemes where lines "spill over the rhythmic boundaries of the meter" to create polyrhythms "through subdivision of the beat, staggering of syntax or rhymes, off-beat accenting" and other techniques. The effect is to achieve a punchiness through the vocals, such that "the listener is given the impression that the MC is using his or her mouth as a percussion instrument."
A notable example is the 2002 track Forty-Four Fours (四十四個四, sishisi ge si) by Dwagie. (Jay-Z released a tune with the same name, which also hinged on homophonic punning, a few years later. Was this a unique case of an American rap star biting from a Taiwanese emcee?)
"Dwagie's take on percussion effusiveness," Schweig writes, "profits from Mandarin's remarkable capacity for homophonic punning …"
LANGUAGE GAMES
What follows is a fascinating exposition of how this achieved. As with all the material she analyzes, Schweig renders Dwagie's verses in traditional Chinese characters, followed by the Hanyu pinyin, and finally the English translation. She explains in an introductory note on romanization and translation that the English lyrics "do not attempt to preserve the rhythm or rhyme of the original-language texts, but are intended to provide a sense a meaning, tone and emphasis."
As the name suggests, Forty-Four Fours plays on homophones for the si and shi syllables in the title. The latter syllable alone is used 19 times in seven different characters across the first four lines. There are also internal rhymes using the like-sounding syllable zhi. However, rather than the rhyming of the final, emphasized vowel sounds, it is the allusion to the conflation of alveolar (s) and retroflex (sh, zh) sibilants in initial consonants by Taiwanese speakers of Mandarin and Hoklo that particularly grabs the listener's interest.
This "self-deprecating joke," Schweig writes, recalls the music of Jutoupi (豬頭皮), an unlikely progenitor of Taiwanese rap. Starting out as a folk singer-songwriter in the early 1990s, Jutoupi — whose real name is Chu Yueh-hsin (朱約信) — was enlisted by Ni Chong-hua (倪重華), the record exec behind the success of Taiwanese-American pop-rap trio LA Boyz. (Ni went on to head MTV Taiwan and, more recently, was embroiled in controversy before resigning from his post as cultural commissioner for Taipei City in 2015.)
TRADITIONAL ROOTS
Brought in as a lyricist, Chu ended up creating his madcap Jutoupi alter-ego as an outlet for quirky material that was deemed unsuitable for another of Ni's acts, The Party. In his 1994 release, Taiwan Language Battle, Jutoupi plays multiple characters in snippets of dialogue that he, the song's narrator, has supposedly overheard while wandering around Taipei. These include comical misunderstandings based on mispronunciations by Taiwanese speaking Mandarin and Japanese conversing in heavily accented English. In one example, a student asks a classmate, "How old are you?" (同學你幾歲?) only to be told "That's my foot bath water" (我洗腳水啦) — a supposedly Hoklo-inflected mispronunciation of "I'm 19 years old."
Schweig and several of her interviewees, including Jutoupi, trace this type of "rapped" dialogue set to music to liamkua (唸歌) folk traditions, where performers recite verses in song and spoken-word form in a variety of voices and pitches, usually accompanied by a moon lute (yueqin, 月琴). Another traditional art that is mentioned in passing by the rapper Manchuker (滿人) is xiangsheng. From the comical miscommunication angle, this certainly seems more influential.
FORGING AN IDENTITY
Nevertheless, liamkua is identified as one of three inspirations for Taiwanese rap. The other two are xiha (嘻哈), a transliteration of "hip-hop," which refers to a black- and Latin-influenced "composite hip-hop culture" brought to Taiwan from the US in the 1980s; and raoshe (饒舌), which Schweig translates as "rhapsodizing tongue."
This latter strand, which "demands verbal agility" is associated with "politically incisive multi-genre musicians who first experimented with Mandarin- and Hoklo-language rap after the end of martial law." Elsewhere, Schweig examines hip-hop in Taiwan as a medium for knowledge exchange. It is striking how many of the scene's high-profile figures are well-educated. Several have completed doctorates or postgraduate studies, and even those who didn't generally attended reputable universities and high schools. Through workshops, online discussion forums and lectures, these elder statesman have inculcated a new generation of politically aware b-boys (and, yes, they are — as Schweig notes — overwhelmingly male and, often, preoccupied with exuding machismo).
While some of the aspects of Taiwanese hip-hop that Schweig identifies do not seem culturally specific, there is enough here to get a sense of an art form and cultural movement that has cemented its own separate identity. Based on more than a decade of research and fieldwork, Renegade Rhymes touches on a wide range of sociopolitical themes. As such, it would be a shame if its readership was limited to hip-hop heads.
Publication Notes
Publication Notes
Renegade Rhymes: Rap Music, Narrative and Knowledge in Taiwan By Meredith Schweig 248 pages The University of Chicago Press Paperback : 2022
Comments will be moderated. Keep comments relevant to the article. Remarks containing abusive and obscene language, personal attacks of any kind or promotion will be removed and the user banned. Final decision will be at the discretion of the Taipei Times.