Movie review: Guardians of the Galaxy Vol. 3
For as cute as Rocket's little gang is, James Gunn, who has the soul of a B-movie horror director, also keeps things surprisingly gross
The Guardians of the Galaxy movies typically open with a big musical sequence. But whereas the first two start with jaunty tracks, the latest goes for something more melancholy. Guardians of the Galaxy Vol. 3, directed by James Gunn, starts with talking trash panda Rocket (voiced by Bradley Cooper) quietly humming along to Radiohead's Creep.
It's an amusing but somber opening that is a good indication of the big and mostly successful swing Gunn takes with his Marvel Cinematic Universe swan song before he jumps ship for the competitor and devotes himself fully to his new job as co-chief executive officer of DC Studios.
Vol. 3 keeps much of the goofy humor of previous Guardians installments and melds it with a wonderfully bizarro and often deeply tragic narrative about a genetically engineered creature that owes as much to Terry Gilliam as it does to any of its franchise brethren. As is often the case with current blockbusters, this Guardians has a 2.5-hour runtime that occasionally tests its audience's patience, but it makes up for the bloat with a mashup of ingenuity and sincerity.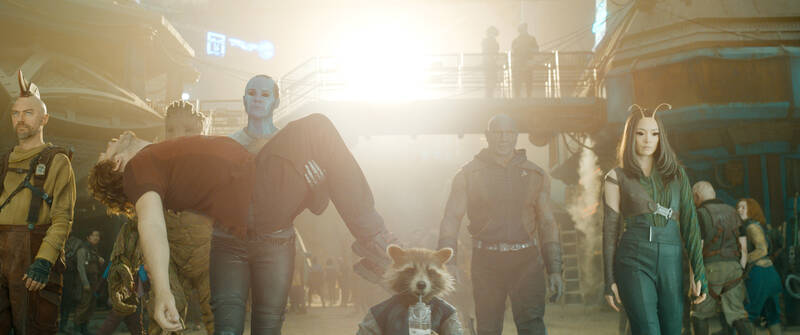 A scene from Guardians of the Galaxy Vol. 3.
Photo courtesy of Disney
The threequel arrives at a crucial moment for Marvel Studios. Its predecessor in the Walt Disney Co. subsidiary's seemingly never ending lineup, Ant Man and the Wasp: Quantumania, received the lowest Rotten Tomatoes score of any MCU movie — tying with Eternals — and saw diminishing box office returns after a strong start. On top of all of that, Quantumania was intended to serve as the big screen introduction of Kang, the new top villain, played by Jonathan Majors. Now Majors is embroiled in controversy after an arrest for assault, and it remains to be seen whether he'll continue to be at the center of Marvel's future plans.
But frankly, Gunn is unconcerned with any of that and it's for the better. Vol. 3 leaves all the labored world building of the MCU behind to tell a story that's specific to its characters and not any of the IP nonsense revolving around them.
STRANGE VISION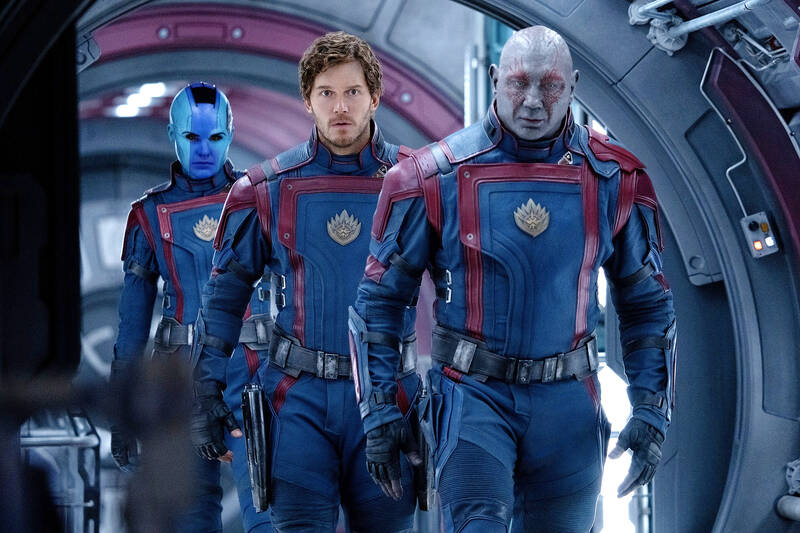 From left, Karen Gillan, Chris Pratt and Dave Bautista star in Guardians of the Galaxy Vol. 3.
Photo courtesy of Disney
That said, describing the plot can make you seem a little nutty. When the movie opens the space-based fighters known as the Guardians are camped out in a floating city called Knowhere. Out of — excuse me — nowhere, a golden-skinned man called Adam Warlock (Will Poulter) arrives with the intent of kidnapping Rocket and returning him to his maker, the High Evolutionary (Chukwudi Iwuji), an experimenter with a god complex and a goal of creating the perfect society through enhanced animals. (You do just have to succumb to the ridiculousness of all of this.)
Though the Guardians — among them Chris Pratt's Star-Lord aka Peter Quill, Dave Bautista's Drax the Destroyer and the talking tree with the tenor of Vin Diesel named Groot — stop Adam from getting away with the raccoon in hand, Rocket is gravely injured. To save him, his pals must find a code that overrides a kill switch embedded in his little body meant to prevent the theft of intellectual property. As they go on this adventure, the audience learns the story of Rocket's creation, a sad tale that introduces us to other manipulated friends, including an Otter with metal arms voiced by Linda Cardellini.
Maybe because of the incongruity of that first needle drop, Vol. 3 is initially unstable in its tone. The jokey bits fight against the moroseness of the characters. Rocket is in an existential crisis and Peter has turned into a drunk mourning the loss of his relationship with Gamora (Zoe Saldana), who has no memory of their time together. It's in the scenes of talking quadrupeds that Gunn's strange vision starts to coalesce.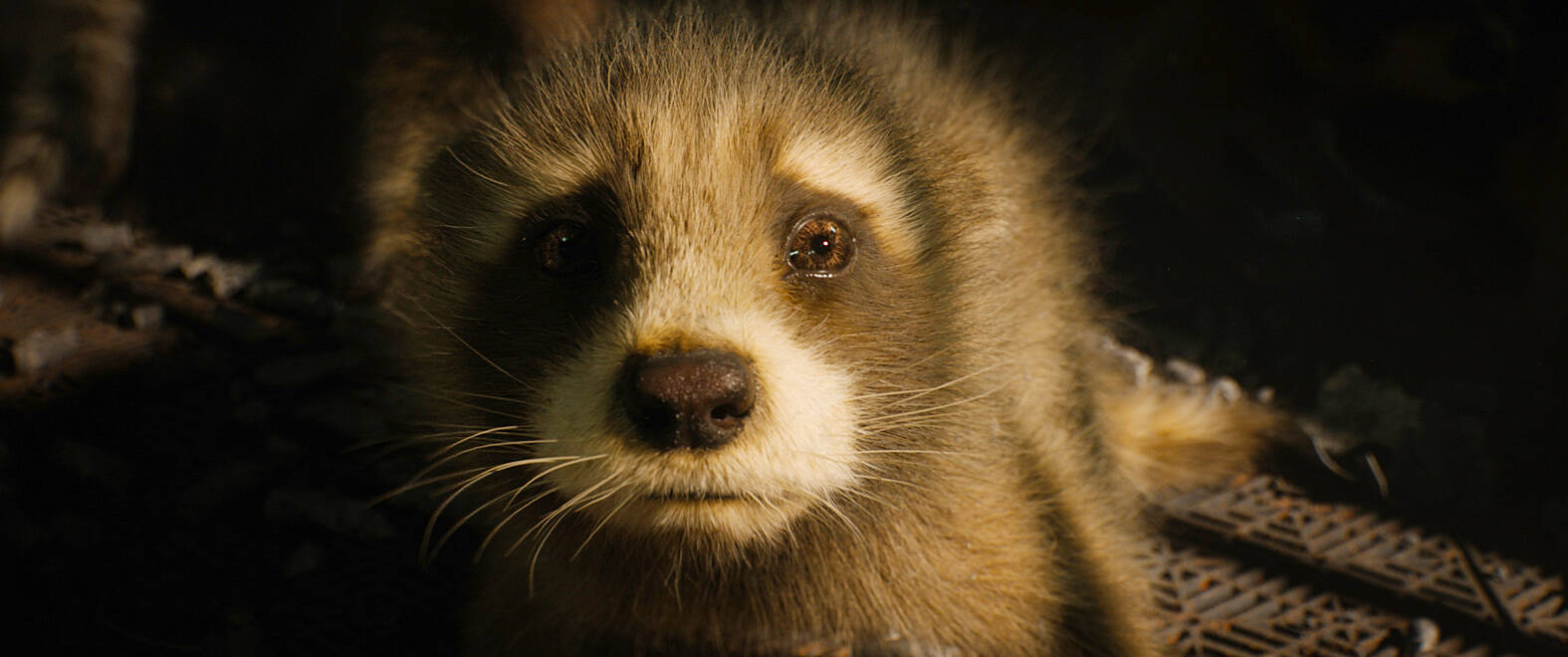 Rocket, voiced by Bradley Cooper, is the focus of Guardians of the Galaxy Vol. 3.
Photo courtesy of Disney
Cooper has always seemed like something of an outsider among the Guardians cast. Even compared to Diesel, who also just does voice work, the actor and director keeps his distance from the promotional fray. But his performance as Rocket has consistently been one of the highlights of these movies, and that remains true here. Cooper, twisting his natural speech into something like a wisecracking gangster from the 1930s, gives Rocket a deep well of sorrow mixed with his pugnacious gumption. It also helps that the CGI wizards make him and his fellow furry prisoners extremely adorable with expressive wet eyes.
B-MOVIE SOUL
For as cute as Rocket's little gang is, Gunn, who has the soul of a B-movie horror director, also keeps things surprisingly gross, with darker moments that are not for the littlest Marvel fans. (A man's face is ripped off, for instance.) The filmmaker goes as Cronenbergian as he can while still maintaining a PG-13 rating, but he relishes in mangled bodies and exploding flesh.
The most delightful set piece involves our heroes invading a corporate headquarters made from gooey organic matter that looks like an intestine. Unlike the muddy visuals that have grown all too tiresome in this cinematic universe, Guardians Vol. 3 is actually fun to look at with frenetic but clear action sequences and vibrant settings that have plenty of color to them.
With the focus on Rocket and his past, the ostensible leader of the group, Star-Lord, can sometimes feel ancillary. The effortless charm that launched Pratt to stardom with the first Guardians is now a little too perfectly polished, and while there are some funny bits about Peter trying to reconnect with Gamora, it's all second fiddle to the main attraction. Even Star-Lord's reliance on tunes of the past is a little strained this time around. Rocket jamming out to Radiohead works better than Star-Lord blasting the Beastie Boys for a fight sequence.
Still, the supporting cast remains uniformly excellent — especially the clueless comedic buddy duo of Bautista and Pom Klementieff, as the empath Mantis. There's also now a talking dog voiced by Borat Subsequent Moviefilm breakout Maria Bakalova. Don't worry about it.
Ultimately, Guardians of the Galaxy Vol. 3 preaches familiar messages about embracing found family and confronting the past, but it takes a freakier route to get there. By the end it offers both silly catharsis and a savvy departure from the neat bow of fan service expectations. In a superhero landscape that is overly concerned with hitting the beats that will sell viewers on the next big product they should buy into, those risks are welcome.
Comments will be moderated. Keep comments relevant to the article. Remarks containing abusive and obscene language, personal attacks of any kind or promotion will be removed and the user banned. Final decision will be at the discretion of the Taipei Times.