Singers of marginalized languages connect a world apart
Maori group Half/Time to perform alongside Welsh-language artists in Wales part of musical cultural exchange
They will bring heavy riffs, pounding drums and lyrics delivered with a growl — but a punk band from New Zealand arriving in Wales this week also hope to spark important conversations about what it means to create pop songs in "minority" languages.
The band Half/Time, who perform in Maori and English, will appear alongside artists and groups who sing in Cymraeg, or Welsh, as part of a cultural exchange organized by the universities of Cardiff and Waikato.
Elen Ifan, a lecturer and researcher at Cardiff University's school of Welsh, said that on the face of it the Maori and Cymraeg music scenes might be expected to have different feels.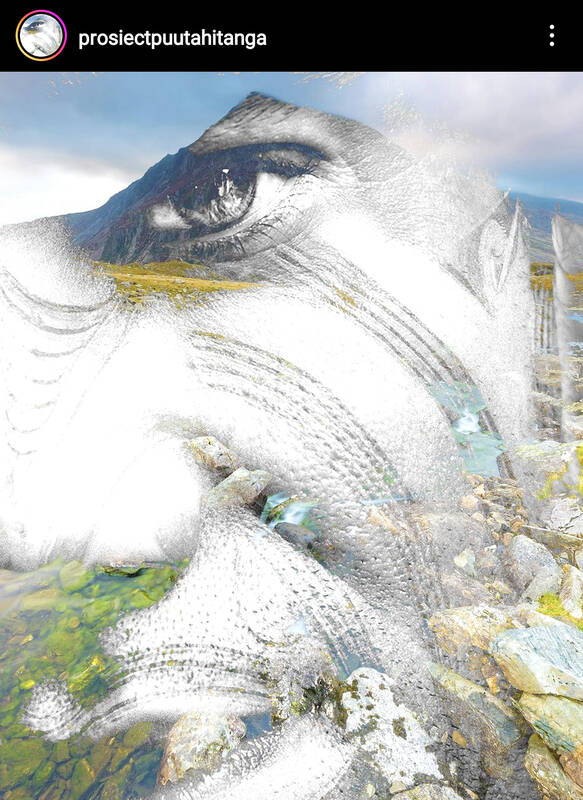 A screengrab of a graphic combining Welsh and Maori elements on the Putahitanga Instagram page.
Screengrab: Taipei Times
"The two cultures developed on opposite sides of the world," she said. But there are similarities. Both have grown in places subject to colonial rule and have felt the pain of having their languages suppressed. There is a surge of interest in both countries in learning the languages that were lost to many and in bands and singers who perform in their indigenous tongues.
Ifan, who plays cello with the Cardiff band Rogue Jones, who perform in Welsh and English, said the Welsh-language music scene is booming, with artists such Gwenno (who sings in Cymraeg and Cornish) winning fans around the world.
"There seems to be a new confidence in the Welsh-language scene with artists really experimenting and finding their own voice. It's exciting," she said. "This project is an opportunity to gather and share thoughts about what it means to perform music in a minority language."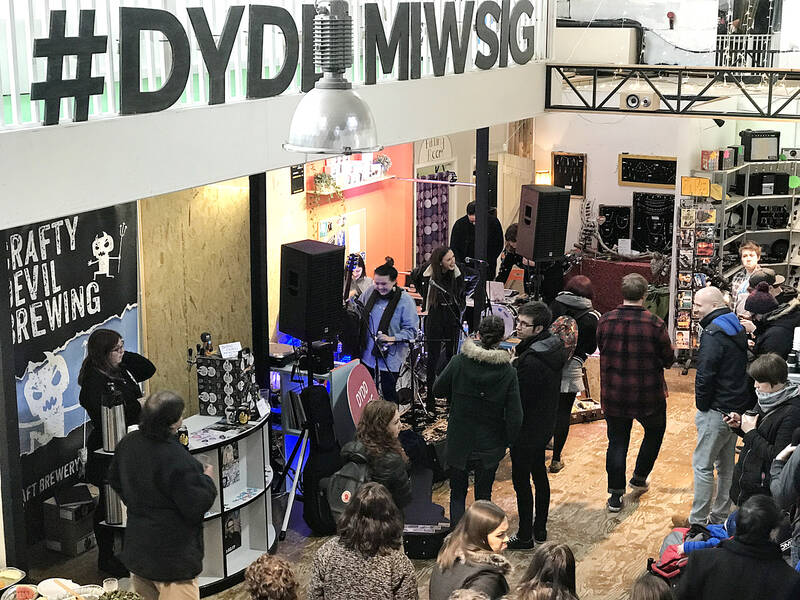 Welsh-language band Adwaith performs at Welsh Language Music Day in 2017.
photo courtesy of Wikimedia Commons
Half/Time will appear at the Focus Wales festival in Wrexham on the same bill as the post-punk band Adwaith, one of the young bands whose Welsh-language songs are receiving national and international attention.
The New Zealand band accept that punk is "not necessarily" a genre of music associated with Te Ao Maori (the Maori world/worldview) but argue there are parallels such as beliefs on the importance of community and resistance.
Wairehu Grant, the band's guitarist, who describes himself as a "dusty weirdo lurking in the depths of Kirikiriroa [Hamilton]," said the three-piece grew out of the "cosmic hellscape" of 2020 when the pandemic gripped the world, one of its intentions being to "address the lingering impacts of colonization in modern Aotearoa [New Zealand]."
Their EP, out soon, is called Scary Stories to Tell When You're Dark, and their songs include lines such as "Come find us/Out where the industrial waste meets rural religious real-estate/In every home, between every floorboard and in every silence/You will find us there."
Grant said: "Music has proven to be a powerful tool for engaging with the language of my whakapapa [ancestors] through performance and collaboration. It has helped to shift my headspace from one of embarrassment over my lack of knowledge, to one of hope and excitement for all that I have yet to learn." He also said the trip was a chance to "infiltrate a dude-getting-a-pointy-crown celebration party."
The project is called Putahitanga, a word in Maori that refers to the bringing together of a community on a similar issue, with its Instagram account featuring a striking image that melds a Welsh mountain with a Maori face.
Joseph O'Connell , a specialist in popular music studies at Cardiff University's school of music, said there were exciting Welsh-language bands with punk sensibilities doing well such as Pys Melyn (Yellow Peas) and Breichiau Hir (Long Arms).
He said that although they were a world apart, Wales and New Zealand had "marginalized communities with languages that have been oppressed over generations." He added: "Although thousands of miles apart, there is much that both cultures can learn from each other."
Comments will be moderated. Keep comments relevant to the article. Remarks containing abusive and obscene language, personal attacks of any kind or promotion will be removed and the user banned. Final decision will be at the discretion of the Taipei Times.