Does Taiwan have a justified reputation for safety?
As pandemic restrictions are lifted and tourists return to Taiwan en masse, we examine how safe the nation is for visitors
When John Michael Soliveres mislaid his wallet at Taipei Zoo earlier this month, the Manila-based financial analyst wasn't at all hopeful he'd get it back.
Twice in his native Philippines, he'd lost that particular wallet, only to have it quickly returned to him. But on both previous occasions it'd contained no cash. This time around, he didn't think he'd be so lucky, because it held significant amounts of Taiwan dollars and Philippine pesos, as well as his credit cards and other important pieces of plastic.
Thanks to the honesty of an employee in the zoo's shop, Soliveres was soon reunited with his wallet and its contents.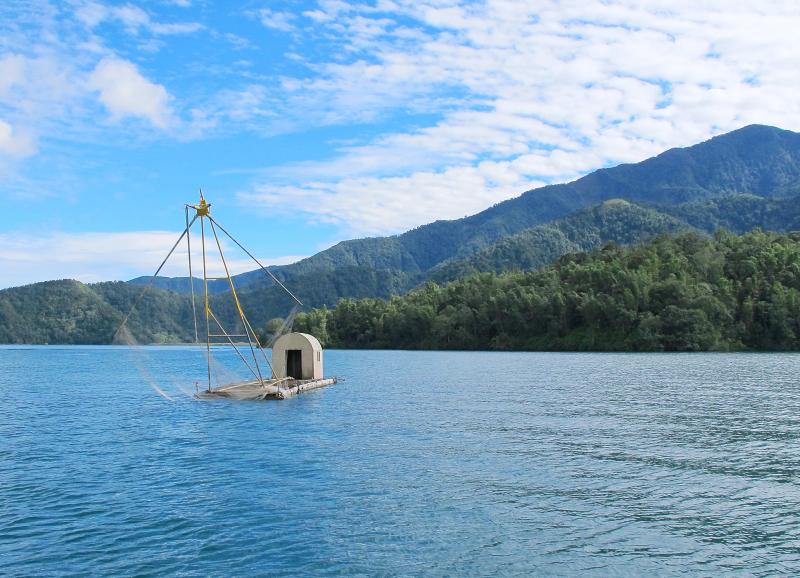 Sun Moon Lake is a leading attraction, but also where some unscrupulous vendors prey on tourists, say industry professionals.
Photo: Steven Crook
"I was so happy to get everything back," recalls the young Filipino, who spent six days in Taiwan on a solo sightseeing trip.
That Soliveres got his wallet back isn't surprising. China may be threatening to use military force against the country, but recent international comparisons put Taiwan in a highly positive light when it comes to tourist safety.
At the start of the year, Numbeo, which collates user-contributed data about cities and countries worldwide, published its crime and safety index for 142 countries and territories. As with last year, Taiwan was ranked as the third-safest place in the world, behind Qatar (number one) and the United Arab Emirates (number two). In 2021, Taiwan ranked second out of 135. In 2014, it was ninth out of 128.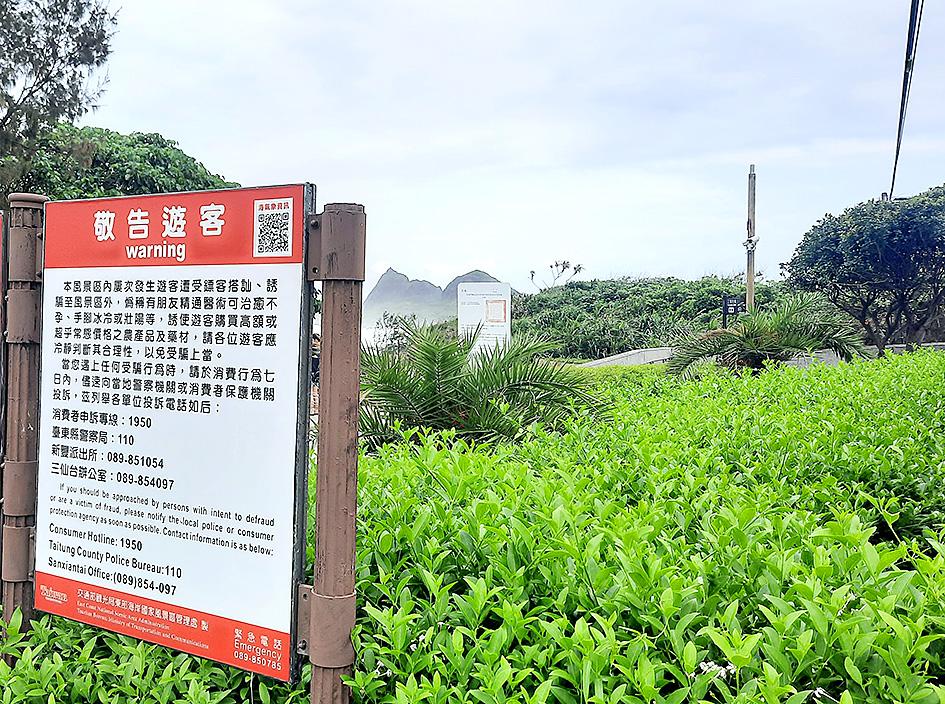 A bilingual sign at Sanxiantai, a major tourist attraction in Taitung County, advises tourists how to respond if approached by a stranger they suspect is trying to cheat them.
Photo: Steven Crook
According to a report published on Feb. 17 by Get Licensed, a British private-security company, Taipei ties with Singapore as the fifth safest vacation destination in the world. The only cities regarded as safer are Reykjavik, the capital of Iceland; the Swiss capital Bern; Bergen in Norway; and Kyoto in Japan.
Numbeo's rankings are derived from answers provided by visitors to its Web site, filtered to defeat malicious attempts to skew the outcome.
"I think such surveys tend to show individuals' perceptions, and — by and large — Taiwan does feel safe. It's safe to walk around at night compared to some places," says Roy Ngerng (鄞義林), a Singaporean blogger and activist who's lived in Taipei since 2016.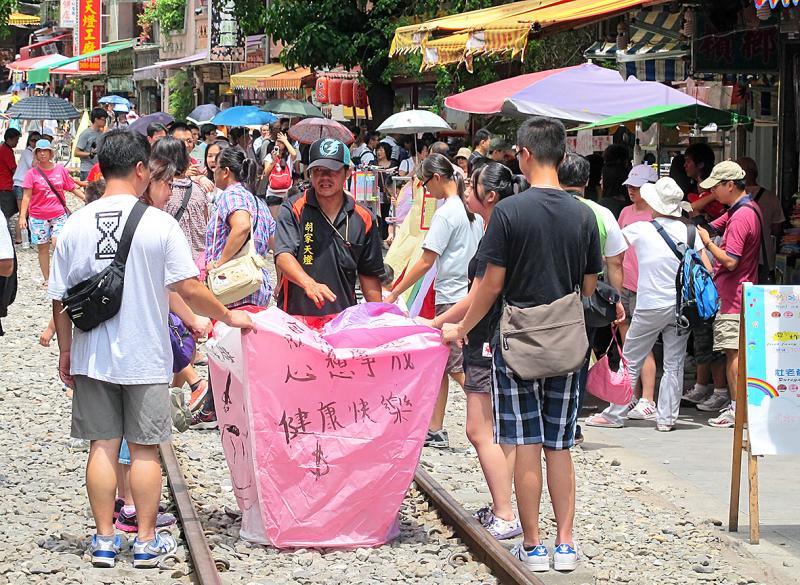 Tourists prepare to launch a sky lantern at Shifen on the Pingxi Branch Railway.
Photo: Steven Crook
TRAFFIC BLUES
But certain metrics call into question how just safe Taiwan is, he continues. Neither the Numbeo nor the Get Licensed rankings take into account road safety, and — as Ngerng points out — the risk of death or injury in a traffic accident is substantially higher here than in Japan, South Korea and most of Europe.
Even visitors who leave all the driving to others are at risk. In 2016, a Japanese tourist died in a taxi crash less than two hours after arriving in Taiwan. Six Chinese visitors were hurt in 2019 when their minivan crashed on the main road connecting Chiayi City with Alishan. Last year, two foreign visitors had to be evacuated from Taitung County's Green Island (綠島) by ship after they were hit by a drunk driver. Tour-bus mishaps are common.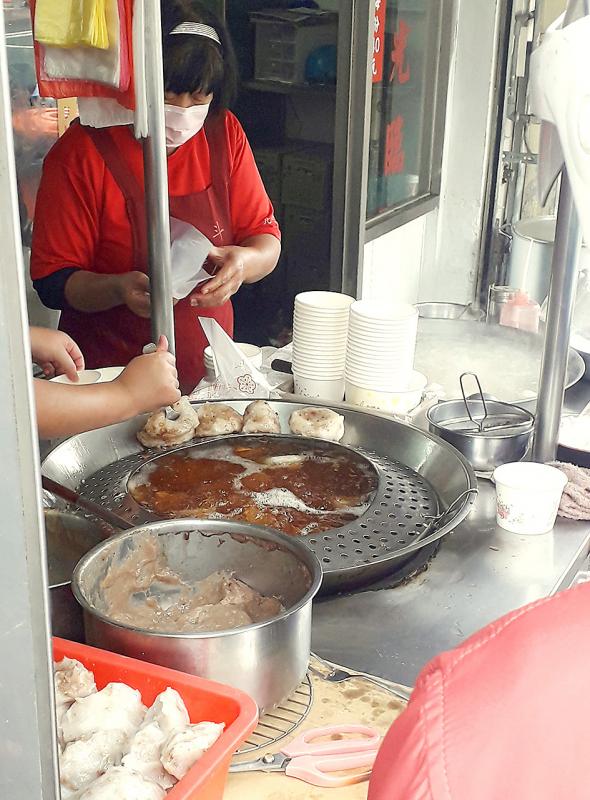 A meatball vendor in Beidou, Changhua. Many visitors adore Taiwan's street food, but it doesn't agree with every foreign stomach.
Phots: Steven Crook
"Taiwan's homicide rate is also comparatively high, and is considered high among advanced countries," says Ngerng.
The number of murders per 100,000 was one of eight variables Get Licensed looked at when creating their index. (The others were Numbeo's crime index; the percentage of people who feel safe walking alone at night; the percentage who fear being robbed; terrorism; rule of law; police reliability; and LGBT social acceptance.)
Taipei's homicide rate is more than quadruple Singapore's, and higher than the rates in Bern, Bergen and Kyoto — yet substantially lower than Reykjavik's. Taipei residents are less fearful than the citizens of almost every city in Get Licensed's list of Top 20 Safest Global Tourist Destinations, perhaps proving Ngerng's point about perception versus reality. This feeling of safety could be because the kind of alcohol-fueled violence that plagues some European cities on weekends isn't common in Taiwan.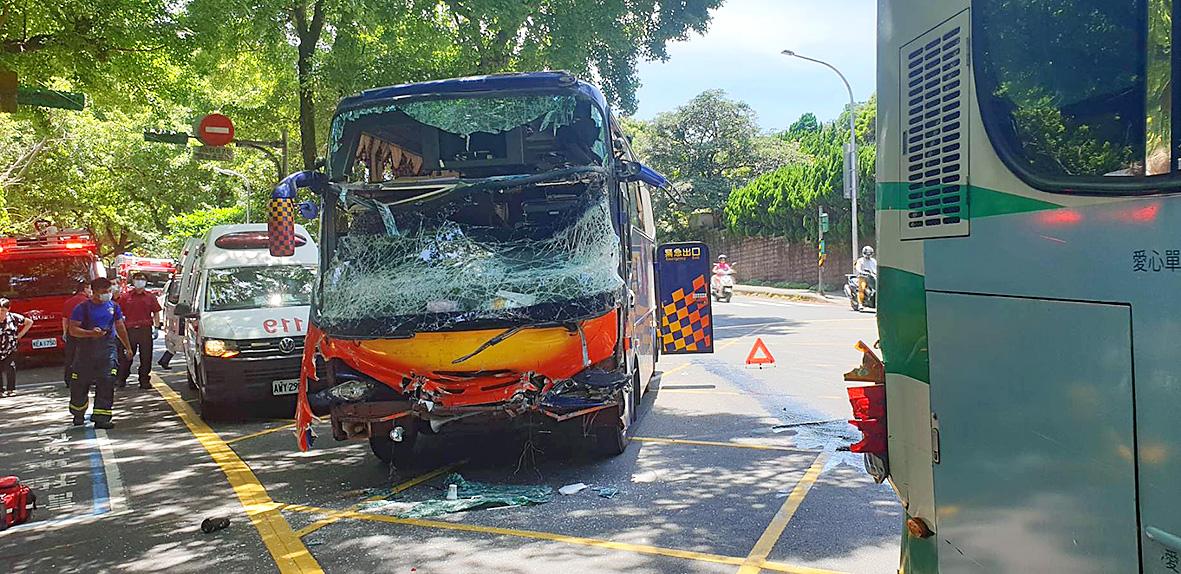 In this file photo, a bus suffers serious damage in June 2020 after colliding with a car on Yangmingshan Road, causing 24 injuries.
Photo: Tseng Ching-yi, Taipei Times
Just as it has an impact on the comfort and health of residents, poor air quality can also make tourists miserable, and "Taiwan ranks as one of the most polluted among advanced countries," says Ngerng.
Taiwan's annual average PM2.5 concentration has for many years been double or triple the maximum deemed acceptable by the WHO, according to IQAir.com.
Get Licensed's LGBT acceptance score for Taipei is slightly below that of Singapore, and someway below the scores assigned to most of the European cities in its Top 20. However, Taiwan's capital is more accepting, it seems, than Tokyo, Kyoto or Seoul.
"One thing I'm grateful for is that gay individuals and couples can express themselves relatively freely in Taiwan as compared to other Asian countries. When I hold hands in public with my partner, I'm more at ease here than I was in Singapore," says Ngerng.
The US State Department categorizes Taiwan as a Level 1 destination, which means Americans going there are advised to "exercise normal precautions."
The Web site of the UK's Foreign and Commonwealth Office says that, in Taiwan, "crime levels are low, but small-scale petty crime does exist. You should maintain at least the same level of vigilance as you would at home." It also notes the presence of dengue fever and, that while "there's no recent history of terrorism in Taiwan, attacks can't be ruled out."
Singapore's Ministry of Foreign Affairs Web site mentions the occurrence of "petty crime and scams," and urges travelers to "familiarize themselves with local traffic rules and road conditions."
GUIDES
Because Taiwan has a reputation as a safe destination where people are friendly and helpful, more and more tourists are opting to engage a guide or join a tour for only part of their trip, and self-guide for the rest, says freelance tour guide Muchin Lee (李慕瑾).
She warns visitors who decide to rent a car to be careful of cyclists and motorcyclists, especially on twisting mountain roads such as the approaches to Hehuanshan (合歡山).
None of her clients has been involved in a road accident, become the victim of a crime, or come down with serious food poisoning, but some have suffered stomach discomfort, says the Taipei native, who since 2009 has shown travelers from more than 20 nations around Taiwan.
"I always warn them not to drink unboiled tap water, and to pay attention to the freshness of anything they're eating," says Lee, author of Foreign Tourists Encounter Amazing Taiwan, a 2015 Chinese-language book. Some visitors are allergic to MSG (monosodium glutamate, which many Taiwanese chefs add to cooked dishes), but they don't know that until they have a reaction, so when ordering for tourists in restaurants or at street stands, she always asks the cook not to add the flavor enhancer.
Lee says that few of her clients are interested in attending crowded events, with the exception of the Lantern Festival. As for pickpocketing, she tells visitors that it's not a serious problem in Taiwan. Nonetheless, she advises everyone to take reasonable precautions, and wonders if the risk might have increased since the start of the pandemic, because some people have been out of work. On the Pingxi Branch Railway (平溪支線), which very often is packed with local and foreign sightseers, she thinks a degree of extra caution is warranted.
Tourists should be careful when buying tea or fruit, Lee warns. "With tea, you might taste some and decide to buy it, but the vendor may cheat you by swapping it for a different kind. They also do this to Taiwanese people," she says.
At Sun Moon Lake and on Tamsui Old Street (淡水老街), she's seen stand owners charge tourists from China more than double the going rate for fruit. "But I know which businesses have a reputation for this, so I steer my clients to shops that can be trusted," says Lee, who stresses that she never accepts any commission from the businesses she brings her clients.
Because some tourist-oriented restaurants lack English-language menus and don't display fixed prices for certain dishes, Lee recommends that travelers confirm prices when ordering. Even when there's no intention to overcharge, the language barrier can lead to misunderstandings, she explains.
Another type of danger is an unavoidable consequence of Taiwan's dramatic topography. In Taroko Gorge and on high-mountain roads and trails, visitors have to stay alert for rockfalls and landslides. But only after heavy rains is the risk so great that they'd be better off staying at home, and missing out on some the country's best scenery.
Comments will be moderated. Keep comments relevant to the article. Remarks containing abusive and obscene language, personal attacks of any kind or promotion will be removed and the user banned. Final decision will be at the discretion of the Taipei Times.