Taiwan in Time: Taiwan's "Iron-blooded Drillmaster" of the diamond
Famous for his verbal tirades and relentless work ethic, legendary baseball coach Tseng Chi-en created international baseball miracles during his five-decade career
March 20 to March 26
In their haste to retreat from Taiwan in 1945, the Japanese army left behind a cache of baseball equipment at the Shuinan Air Base (水湳空軍基地) in Taichung. They didn't expect it to beget a legendary baseball coach who decades later would win numerous world championships.
Before he became the "Iron-blooded Drillmaster" (鐵血教官), Tseng Chi-en (曾紀恩) was just a propeller technician who didn't want the equipment to go to waste. Although of diminutive stature, he was an accomplished athlete known for his fiery temper and fighting prowess.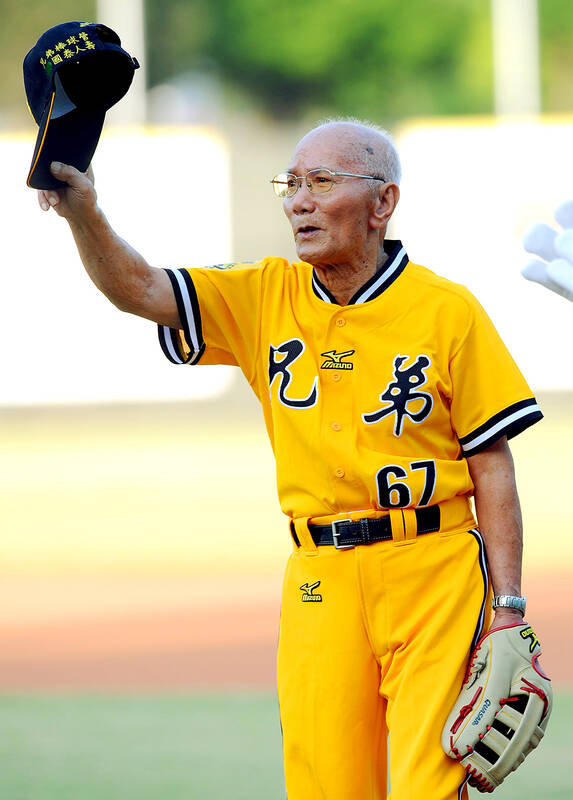 An 87-year-old Tseng Chi-en throws the first pitch at the Brother Elephants' 25th anniversary game.
Photo: Lin Cheng-kun, Taipei Times
One of the base's supervisors, Colonel Hu Hsu-kuang (胡旭光), had spent time in the US, where he picked up an enthusiasm for the sport. When he saw Tseng playing with his colleagues, he asked him to put together an Air Force team and begin playing in formal matches.
Tseng was the only person with competitive experience on this rag-tag squad, and he became its ace pitcher as well as coach and captain. The team flew to Shanghai for the 1948 national sports tournament, holding four Chinese and US teams to zero points and finishing second place.
Famous for his verbal tirades, thundering hand clap and tireless work ethic, the strict disciplinarian created international baseball miracles at the military, student and professional levels. His teams claimed both Senior League (13-15 years old) and Big League (16-18 years old) world championships in 1974, helping to bring home the first of the nation's six "triple crowns."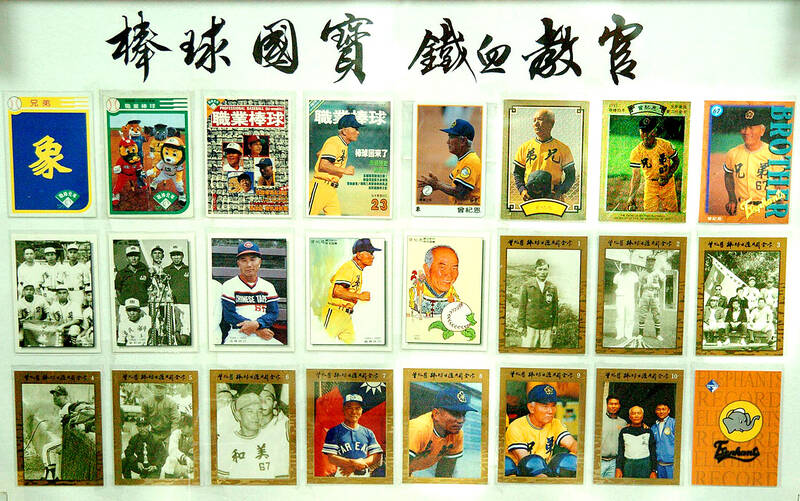 A collection of baseball cards featuring legendary coach Tseng Chi-en.
Photo: Chang Chung-yi, Taipei Times
Tseng later coached the Brother Elephants pro team until his abrupt retirement in 1991. On March 25, 2012, a month after his death, the Elephants held a special ceremony where his jersey, number 67, became the first in team history to be retired.
TROUBLED YOUTH
Tseng was born in 1922 in rural Meihe Village (美和) in Pingtung County to a family of scholars. He was more athletically inclined, however, and excelled in sports and fighting rather than studying.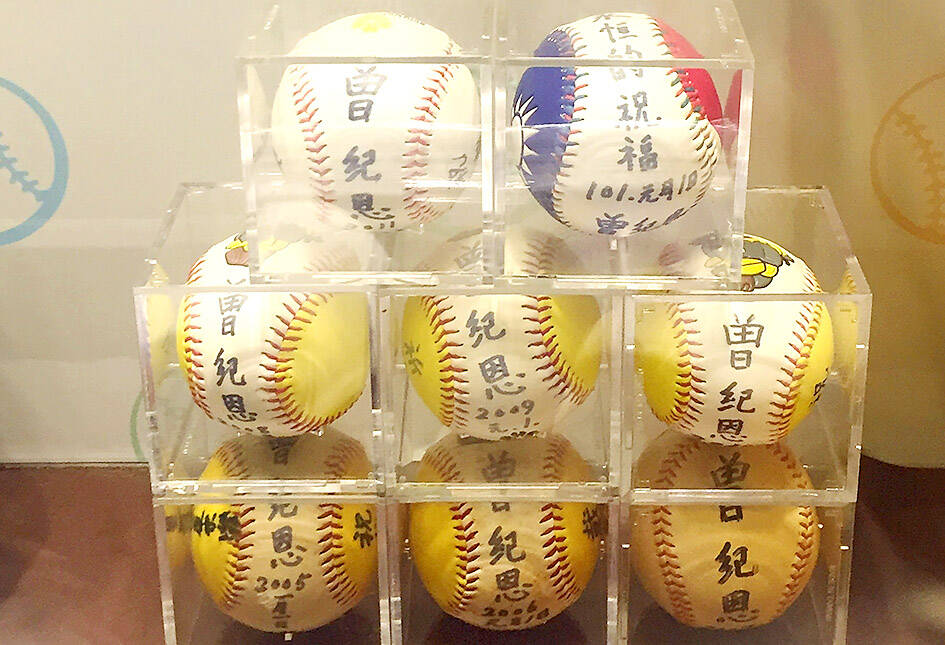 A display featuring baseballs signed by Tseng Chi-en is seen in a 2017 exhibition in Pingtung County.
Photo: Lo Hsin-chen, Taipei Times
As his schoolmates recall, Tseng's fury was never without reason — his biography by the Sports Affair Council states that he only became violent when he saw racism and injustice on campus.
"I wanted to show people that Taiwanese were not to be messed with," he recalls.
He defied expectations when he gained admission to the prestigious Neipu High School (內埔高中) but was soon expelled for beating up a Japanese student who was bullying a smaller Taiwanese classmate.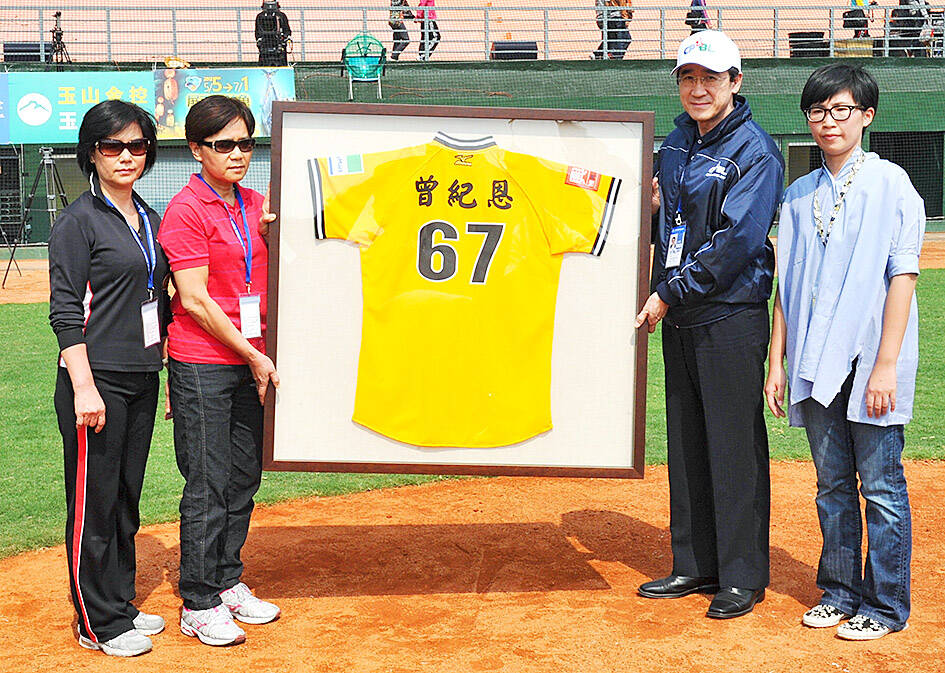 The Brother Elephants retire Tseng Chi-en's jersey on March 25, 2012, a month after his death.
Photo: Huang Chih-yuan, Taipei Times
He quit school and found a job as a porter, but found himself in trouble again when he took his boss's car out for a joy ride and fatally struck a pedestrian by accident.
Tseng was only fined due to being underage, and the incident left him depressed and directionless — but it mellowed his fierce personality. He later studied machinery in Japan and found steady work supervising the propeller repair team at the Gangshan Air Base (岡山), which was heavily bombed by the Allies during World War II.
The Chinese Nationalist Party (KMT) took over the base after the war, and Tseng was hired as a technician and transferred to Shuinan Air Base.
STRICT DISCIPLINARIAN
Tseng's Air Force team overwhelmed the opposition in China in 1948, beating National Central University 10-0; a joint US Air Force-ROC Air Force Academy team 9-0; Zhejiang University 15-0; and finally the US Army 5-0. Tseng was the starting pitcher for all four games.
Their success influenced the other branches of the armed forces in Taiwan to start their own teams, and an intense rivalry between them developed. The Air Force team was the most successful, and many players represented the country internationally during the late 1960s and early 1970s.
Tseng said that with little information about baseball in those days, he basically figured out how to coach on his own. He even came up with his own signals, including his thundering hand-clap that confused the opposition by meaning something different each game. The team woke up at 6am to train every morning and also held night practices, even on Sundays. He enforced strict rules on his players, declaring that "cigarettes, alcohol and women are the impediments of motivation" and "a good player does not leave the field for more than half a day."
He earned his "drillmaster" nickname when he was promoted to Second Lieutenant.
Many of Tseng's players went on to have successful baseball careers, and they recall that although it was tough playing under him, they were also grateful for his rigorous training. Well-known player and coach Kao Ke-wu (高克武) says that there weren't many opportunities for an indigenous Amis back then, and he's glad Tseng gave him a chance.
TRIPLE CROWNS
By 1970, changes in education policy and urbanization led to a shortage of students at Tseng's hometown Meihe High School, and the principal decided to start a baseball team to boost enrollment. It was successful at first, but almost lost its entire team to rival Huaxing High School (華興中學) in Taipei.
Desperate, school founder Hsu Pang-hsing's (徐傍興) thought of hiring Tseng, but didn't know which base he was at. He put an ad in the paper that read, "Tseng Chi-en, where are you? We have urgent business with you!"
Tseng never saw the ad, but someone from the village did and brought it to the air base. Tseng was 50 years old and considering moving home anyway, so he said yes. The Air Force refused to let him go, but allowed him to relocate the Air Force team to a base in Pingtung.
Tseng was reportedly just as strict and terrifying as a school coach, and most players recall being scolded loudly by the militaristic leader. "Mr. Baseball" Lee Chu-ming (李居明) recalls visiting the school before enrolling and hearing Tseng screaming: "I knew I was in for hard times ahead."
Lee respected Tseng because he wanted the players to push themselves, and also set an example by outplaying the students at age 50. Lee struggled at first, and Tseng relentlessly trained Lee to become an outfielder instead of the more popular positions.
"If you don't run with all your might when he hits the ball, you'll get yelled at; but if you fail to catch it you'll also get yelled at even worse," Lee recalls. "This training completely transformed my reaction time, foot speed and catching ability."
GOING PRO
In addition to Meihe's international success, it also developed an intense rivalry with Taipei's Huaxing, which was founded by first lady Soong Mei-ling (宋美齡). Their matches attracted scores of spectators, who dubbed it the "battle between nobles and peasants."
During Tseng's 13 years at Meihe, his team won three Senior League and five Big League world titles. He retired in his 60s, but continued to coach the Air Force team, which had by then relocated to Taipei.
Around this time, the Hung (洪) hotelier brothers decided to start the first private baseball team in Taiwan, and approached Tseng who was practicing nearby. As usual, the team struggled to attract players at first, and the 63-year-old Tseng and the five owners were listed as reserves in case of an emergency.
Tseng was soon back to his winning ways, and the Brother Elephants won three national championships in a row in the late 1980s. He still insisted on physically participating in practices, and was strict as ever toward these players who were neither students nor soldiers.
In 1986, Tseng led the national team to the 29th Amateur World Series, where it finished second place. But most importantly, they beat Cuba, which was considered invincible at that time.
On March 17,1990, the Brother Elephants lost the against the Uni President Lions in the nation's first professional baseball match. The team had an up-and-down second season, and a reporter asked Tseng what he would do if the Elephants didn't win a championship that year.
"I'll quit," he exclaimed, causing a huge media stir. The team owner begged him to not make any further comments, but Tseng said he could not take back his words. At the end of the season, he really retired.
The next day, the Elephants announced that they would make Tseng their "eternal vice-captain" and continue to pay his salary. Tseng advised the team and led the Elephants' youth camp every year, but he spent most of his time in Pingtung.
The Elephants could not keep their "eternal" promise, however, as Tseng was let go in 2011 amidst financial woes.
Taiwan in Time, a column about Taiwan's history that is published every Sunday, spotlights important or interesting events around the nation that either have anniversaries this week or are tied to current events.
Comments will be moderated. Keep comments relevant to the article. Remarks containing abusive and obscene language, personal attacks of any kind or promotion will be removed and the user banned. Final decision will be at the discretion of the Taipei Times.