Book review: Twilight of the Raj
This intricate novel on the eve of Partition blends historical and fictional figures, imagining why Britons were attracted to and exhausted by empire
India Be Damned: A Novel of Partition begins in the autumn of 1946, 10 days after the local festival of Diwali, also known as the Festival of Light.
Several British journalists are present, and they are going to be the focus of interest for much of the book. Indians in saffron robes are merely the background.
Soon to appear is Archibald Wavell, then governor general of India, seen wearing an old tweed suit. Though scarcely mentioned at this point, Partition is judged as "terrible for the Empire, wonderful arguably for India, fascinating for the world at large, all heading for the most tremendous smash-up."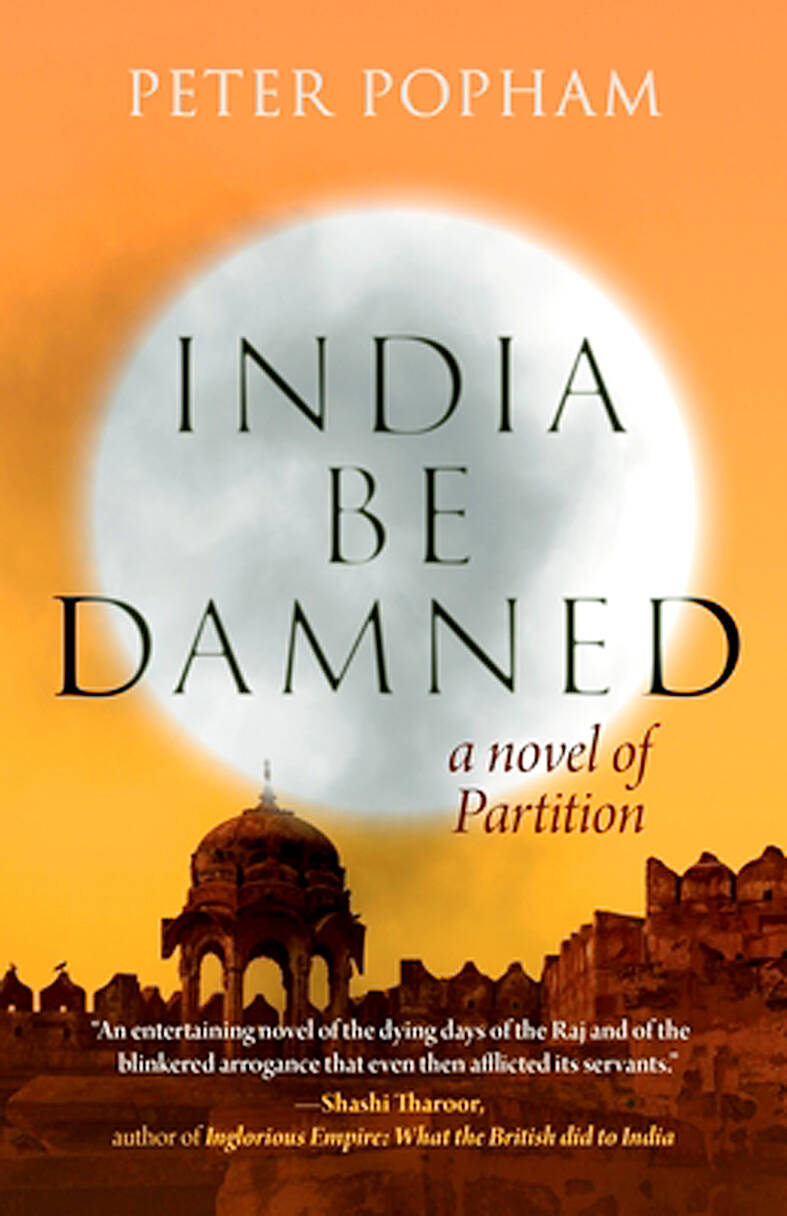 India Be Damned: A Novel of Partition, by Peter Popham
Many whites have already fled, sending their women and children in advance.
ATTRACTED TO EMPIRE
Contrasting points of view are central to this novel. People with a British Home Counties (those around London) background and meager education assume the status of visionaries if not prophets, and Peter Popham, himself a journalist, is excellent on why Britons went to work in the Empire in the first place.
"He might have ended up in a fog, friendless, unhappy or addicted to something, or just stuck in some banal routine, but instead here he was surrounded by dear friends, with music in his ears and curry fumes in his nostrils."
Thus we read about one correspondent, Fred Niblett. As a student he'd been marked by an "unimpeachable mediocrity."
India was a vast landscape but no nation, and Mahatma Gandhi was ever-present as the one light in the eyes of the very poor. In addition, Gandhi had actually perceived a possible nation.
The correspondent described above had actually enrolled in Gandhi's ashram, but that was 12 years ago. Now he had burned his boats — compulsory spinning indeed.
This book is based on the most thorough research. Bombay is called Bombay because this is 1946. And the Briton helps an Indian stranger write his bulletins, then gets taken up by The Times in London.
He then finds himself put through immediately to the top man when he calls a diplomatic number. In the background, however, the Raj is in its death agony.
This novel's opening chapter is a masterpiece of Gandhian tradition, English fastidiousness and India in general. The food served for the journalists contained things war-torn England had not seen for half a decade.
Another correspondent, Zak Starr, has been recruited for a special assignment under cover of being a freelancer, something his colleagues have no knowledge of.
For quite a long time this novel deals with the misfortunes and successes of British journalists in Delhi, and Partition is scarcely mentioned.
Popham doesn't make things difficult for his readers, explaining things carefully as he goes along.
Thus Wavell, said to be more interested in poetry than politics — or India — is seen quoting Romantic poet Christina Rossetti.
Wavell's verse anthology, Other Men's Flowers (1944), takes its title from Montaigne, one of the few writers whose influence can be seen in Shakespeare. These things are other men's, he wrote, and only the twine that binds them together in mine.
This is the second time I have to confess a special interest in this author. We shared an apartment in the UK in the 1970s, and co-authored a book in the 1980s. India Be Damned was completed over a decade ago and was liked by the literary agent Gillon Aitkin. But he couldn't find a publisher for it, so it lay in Popham's bottom drawer until I suggested Taiwan's Camphor Press. Camphor had previously confined its attention to East Asia, but expanded westwards specifically to accommodate this novel.
Popham's previous publications have been, among other things, on Tokyo, where he lived for nine years, and on Myanmar. He knows India well, presumably from the years he spent there as the Delhi correspondent of The Independent in London. What it was like before Partition, of course, he can only imagine.
This is Popham's best book. Tokyo was excellent, the Myanmar books less so despite Desmond Tutu's high praise. But India Be Damned is outstanding.
FACT AND FICTION
The mixture of historical figures and fictional ones is a feature of this fine novel. The intense attraction, for example, between India's first prime minister, Jawaharlal Nehru, and Edwina Mountbatten, the wife of Lord Mountbatten, the last imperial viceroy of India, appears. It is very improbable that this relationship was ever consummated.
One issue that preoccupied the British was how to deal with states with mixed populations, Hindu and Muslim (almost all of them). Should they be partitioned as well? Clearly not.
Mountbatten's performance before the press is described as "polished, urbane, witty, the master of his brief." By contrast, the founder of Pakistan, Mohammad Ali Jinnah, was a sick man and not given more than a year to live.
If you want a series of insights into Partition, if you want a tale with many conflicts and intricacies, India Be Damned is an excellent choice. The partition itself looks like a disastrous political move, and it seems strange there haven't been more novels about it.
Publication Notes
India Be Damned: A Novel of Partition
By Peter Popham 456 pages Camphor Press Taiwan: Softback
Comments will be moderated. Keep comments relevant to the article. Remarks containing abusive and obscene language, personal attacks of any kind or promotion will be removed and the user banned. Final decision will be at the discretion of the Taipei Times.