Environmental Impact Assessment: Restoring Taiwan's urban waterways
Many rivers and creeks that drain the nation's cities are hideous and give off offensive odors. But a few exceptions show that cleaning them up is possible
Some of the rivers and creeks that drain Taiwan's cities are hideous. They look nauseating and give off offensive odors. The concrete trenches through which they flow are eyesores.
There are exceptions, however. In Hsinchu, Taichung and Tainan, short sections of waterway have become minor tourist attractions following restoration and remodeling.
Like several towns and cities in Taiwan, Hsinchu was a walled settlement back in the 19th century. During the 1895-1945 period of Japanese rule, the colonial authorities decided that the brick-and-stone city walls were holding back the town's development, so the entire barrier was torn down, save for Yingxi Gate (迎曦門).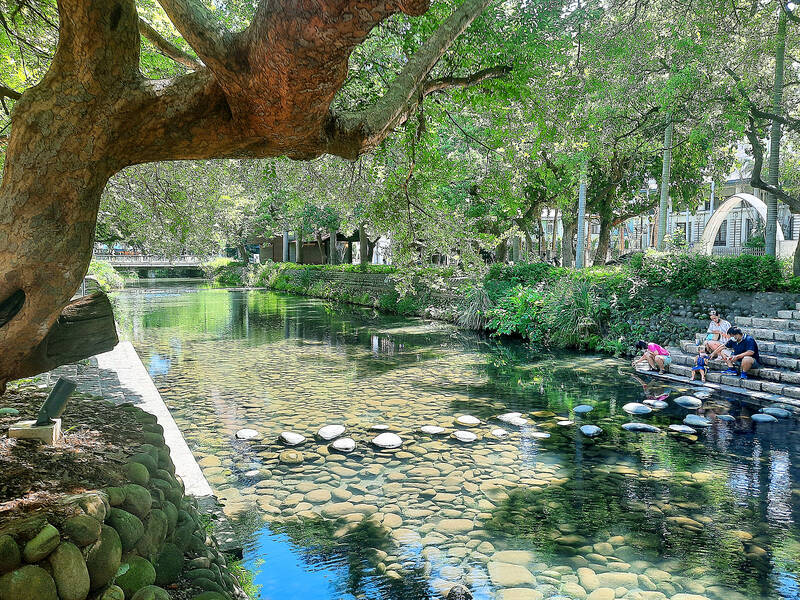 A family relaxes by the waterside in Hsinchu Moat Park.
Photo: Steven Crook
HSINCHU MOAT PARK
Parts of the old moat were filled in or built over, but a surviving stretch was overhauled to become Hsinchu Moat Park (新竹護城河親水公園). Sometimes compared to Cheonggyecheon in downtown Seoul, a fetid stream which famously regained its beauty and health nearly 20 years ago, it's become a popular spot to relax and take photos.
The moat park earned the city government a gold prize at the 2017 FIABCI-Taiwan Real Estate Excellence Awards. Yet, according to Liao Kuei-hsien (廖桂賢), director of the Taiwan Rivers Network, an NGO that works to promote the protection and restoration of river health, the old moat provides mostly lentic habitat, meaning it's one in which the water hardly moves. Such habitats are ideal for tilapia (of which there's a huge number in the moat) and other nonnative fish species. They tend to be "biologically monotonous," she says.
Tainan's Jhusi is much cleaner than it used to be, yet the water is usually very dark.
Photo: Steven Crook
As reported in the Oct. 17, 2021 Taipei Times, for a time the moat was infested by Louisiana crawfish, an invasive species.
"To be sure, the moat serves as a nice linear open space for Hsinchu City. However, such a waterway, which was designed solely for recreation and aesthetics, supports few species," says Liao.
Asked if she thinks the moat should have been reconstructed in a different way, so as to gain additional ecological functions, Liao stresses that her knowledge of the project is limited, and that when it was planned, biodiversity wasn't a priority.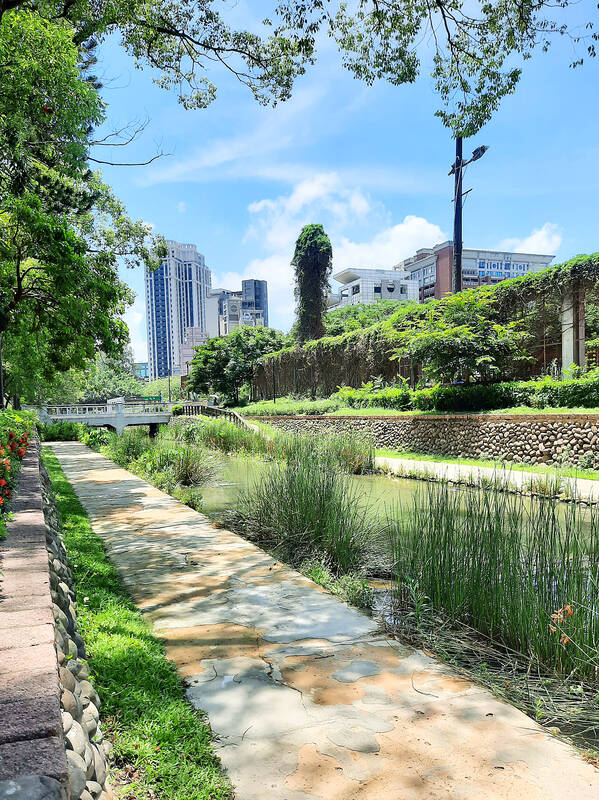 While visually appealing, Hsinchu's old moat isn't a biodiverse habitat.
Photo: Steven Crook
"It's not a real river in the first place, so it isn't fair to examine the moat with the criteria of a functioning river. However, the moat could certainly be improved in the future. Currently, it is simply a 'waterscape,' a nice amenity. But the general public doesn't know how it connects hydrologically to its watershed," says Liao, who's also a professor in the Graduate Institute of Urban Planning at National Taipei University.
"To my understanding, the moat is double-decked, the 'real moat' being covered beneath a nice 'waterscape.' This is to prevent flooding, and to allow people to get closer to the water," she says.
GREEN WATERWAY: 'FAKE RIVER'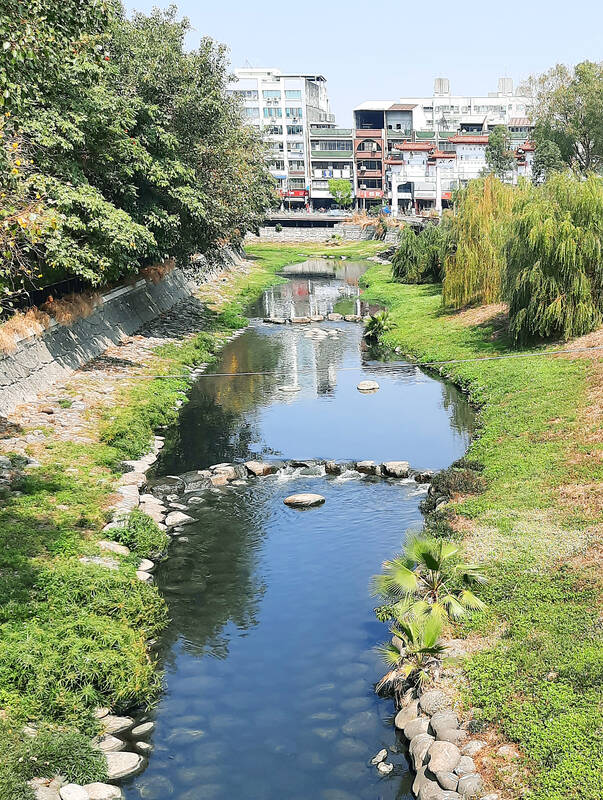 The section of Jhusi just south of Jiankang Road in Tainan.
Photo: Steven Crook
Taichung's Green Waterway (綠川) has a similar design. And while such watercourses are certainly prettier than those that have been cased in concrete banks and beds — a form of engineering known locally as sanmianguang (三面光, "three smooth sides") — Liao's circle of activists and experts regard them as jiaheliu (假河流, "fake rivers").
If the design of urban creeks reflected the real nature of waterways, people would better understand how rivers work and grasp their dynamics, Liao says. What's more, this type of rebuilding needn't be more expensive than constructing a "fake river," and might even be cheaper, she thinks.
"While urban waterways are inevitably constrained by their highly altered watershed conditions, I do believe they have the potential to go beyond being just 'nice scenery.' They can be designed in ways to provide additional and enhanced ecosystem services, and I hope Taiwan can start a new era of waterway design," Liao says.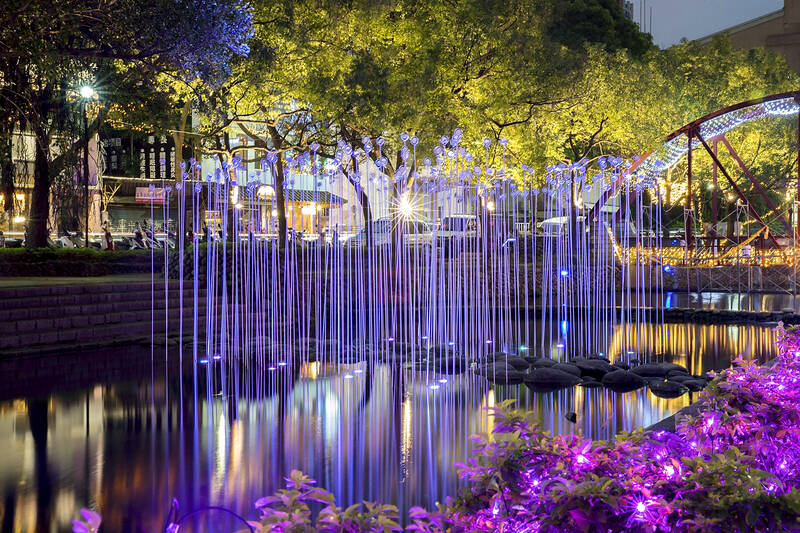 A section of Hsinchu Moat Park at night.
Photo courtesy of the Hsinchu City Government
BAMBOO CREEK RESTORATION
Compared to Hsinchu Moat Park and Taichung's Green Waterway, the recent makeover of a city-center stream in Tainan signifies meaningful progress, she says. In terms of social and ecological functions, the restoration of Jhusi (竹溪, "Bamboo Creek") — which until recently was entirely cased in concrete — has been "a real improvement."
It's good, but it's not perfect. According to the Environmental Protection Administration's (EPA), of the country's 2,934km of streams and rivers, 68.1 percent were non-polluted in 2020. In the same year, 9.3 percent were lightly polluted, 19.3 percent were moderately polluted, and 3.3 percent were heavily polluted.
Liao says the government has never used the term "river restoration," because they didn't understand how to do river restoration and didn't really care much about it.
"The focus has been on improving the social/recreational functions," Liao says.
She adds that if you use the term "restoration" (which requires removing the man-made hydraulic structures), "it implies that what was done before is wrong," and no one wants to admit that. Consequently, there has never been an official list of river restoration projects. Many of the "water improvement" jobs do not focus on ecological restoration.
"Something I think could have done differently [at Jhusi] is to make the riverbed materials more heterogenous and further reduce the area of impervious surfaces in the river corridor. Also, it'd be great if they'd allow the vegetation to grow and evolve, instead of trimming it periodically," Liao says.
Jhusi sometimes smells bad due to sewage discharges, and the color of the water isn't appealing, but the creek now hosts an encouraging number of waterbirds and fish.
Water quality has improved since the construction of a purification plant with an aeration zone which creates the right conditions for the biological oxidation and decomposition of certain pollutants, and a non-aeration zone for the sedimentation of suspended solids.
Work on Jhusi is continuing. The focus is now on a 450 m-long stretch that runs through Hahenaer Forest (哈赫拿爾森林), a woodland which dates from at least the 1624-1662 Dutch occupation of Tainan.
According to a Dec. 10, 2021 report in Liberty Times (the Taipei Times' Chinese-language sister newspaper), Tainan City Government's Water Resources Bureau is committed to, in principle, retaining the creek's original revetments, with only partial improvements made to collapsed sections. On parts of the right bank closest to the forest, all work is being done by hand, to avoid having to create access for heavy machinery. As much of the original left bank will be preserved as possible.
Assuming everything goes to plan, by the end of this year a trail network will give the general public access to Hahenaer Forest. This will also be built by hand, to minimize harm to the environment.
Liao says that, if coupled with efforts to educate citizens as to the importance of low-impact construction, this should be cause for optimism.
"I hope this can be a project that focuses on improving the creek's health, without inserting conventional recreational facilities such as concrete paths or fancy footbridges. We've had enough river projects that focus on recreation. It's time to carry out a project which shows people that we should also do something just for the sake of the river!" she says.
Liao highlights two reasons why so few urban creeks have enjoyed the kind of ecological restoration implemented at Jhusi.
The first is the cramped nature of Taiwanese cities.
"A river needs space to do what it's supposed to do: flood, erode and deposit. These are important mechanisms to maintain river health following proper habitat restoration. If there's a large linear park alongside the waterway, then there's potential to carry out a successful restoration," she says.
The second has nothing to do with geography.
"Not all urban rivers lack space. The real challenge today, I think, is that the government has no political will to carry out river restoration."
Steven Crook, the author or co-author of four books about Taiwan, has been following environmental issues since he arrived in the country in 1991. He drives a hybrid and carries his own chopsticks. The views expressed here are his own.
Comments will be moderated. Keep comments relevant to the article. Remarks containing abusive and obscene language, personal attacks of any kind or promotion will be removed and the user banned. Final decision will be at the discretion of the Taipei Times.