Taiwan's Ukrainian community shows a little goes a long way
Cancellation of concert by Russian soprano escalated with remarkable speed
Ukrainians are nothing if not determined. The Russian invasion of their country and atrocities against its population has made that clear. Taiwan's small Ukrainian community and its supporters have also demonstrated their doggedness this week through a campaign to have a performance by a pro-Putin opera singer canceled.
Following a sustained social media and e-mail campaign involving volunteers from the nongovernmental organization Taiwan Stands With Ukraine (TSWU, 台灣烏克蘭陣線), the National Symphony Orchestra agreed to call off a concert by Russian soprano Anna Netrebko set for March 5 at National Taiwan Concert Hall.
The cancellation came just hours after the NSO had issued a statement justifying its decision to book Netrebko, who — until it started to jeopardize her career — was fawning in her support for Russian President Vladimir Putin. Ahead of the 2018 presidential elections in Russia, Netrebko said it was "impossible to think of a better president for Russia" having previously gushed over his "strong, male energy."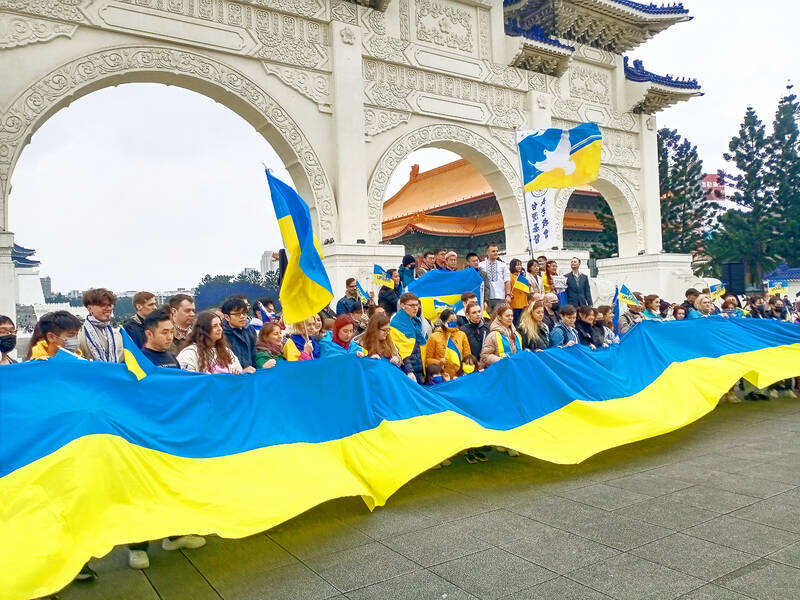 Demonstrators mark the first anniversary of the Russian invasion of Ukraine at an event organized by the Taiwan Stands with Ukraine group at the Liberty Square arch in Taipei's Zhongzheng District on Feb. 25.
Photo: James Baron
She was also infamously pictured wearing a t-shirt emblazoned with the Russian words for "To Berlin." This could be taken as a reference to Russia's victory over Germany in World War II, but also as indicating a desire for Putin to extend his war in Ukraine westward.
"It signifies the Russian army shouldn't stop until it reaches Berlin," say Yulia Maksymova, a Ukrainian resident of Taipei who helped propel the campaign.
"Oh, it's definitely understood as the future tense, not the past," says Alex Khomenko an organizer with TSWU. "Just your light imperialist invasion humor. You know how Russia rolls."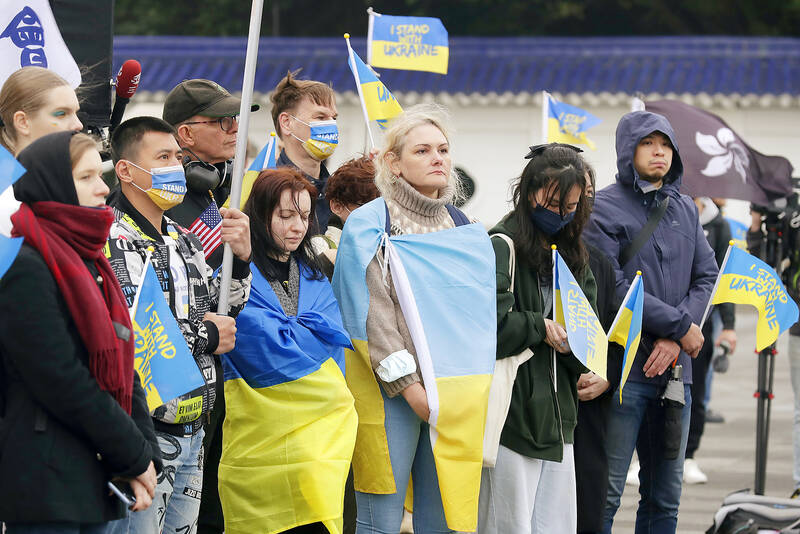 Yulia Maksymova, third from right, and a group of Ukrainian people and supporters on Feb. 25 gather during a protest, marking one year since the Russian invasion of Ukraine, at Liberty Square in Taipei.
Photo: AP
After having performances canceled at venues throughout the world, Netrebko finally spoke out against the war, in what critics say is simply a bid to salvage her career. Pointedly refusing to condemn Putin, she has attempted to create some distance by saying she has met him just a few times on ceremonial occasions.
Having featured on a list of high-profile endorsers for Putin's return to the presidency in 2012, Netrebko claimed she had not voted in the 2018 election. Yet any doubts over the cosiness of her relationship with Putin were dispelled by a concert to celebrate her 50th birthday at the State Kremlin Palace in September 2021. Speaking at the event, Putin's press secretary read out a Telegram from Putin in which he praised Netrebko for her "uplifting personality and a clear-cut civic stance."
SUPPORT FOR SEPARATISTS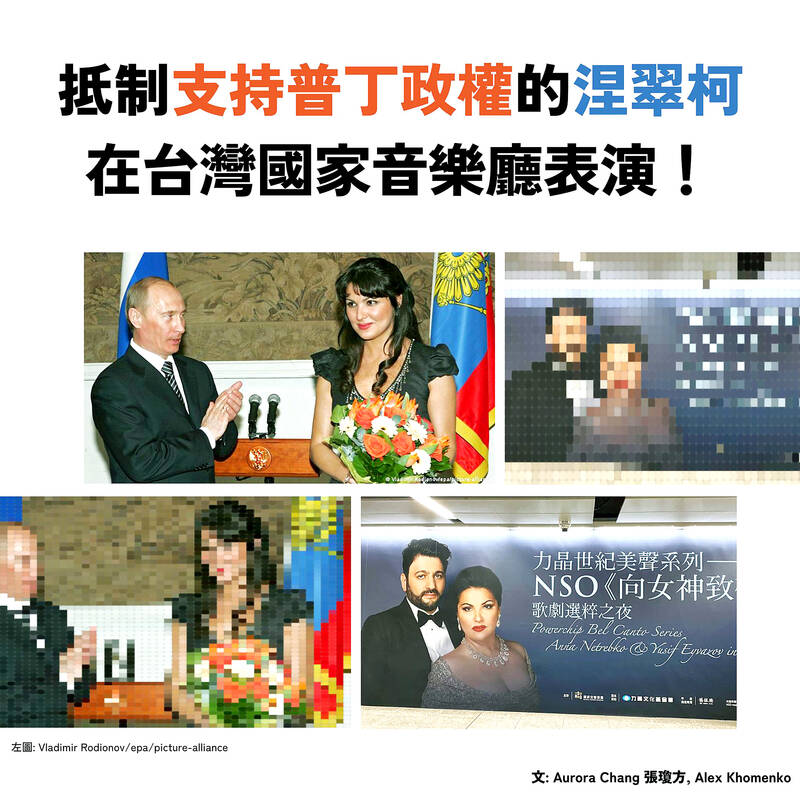 A section of an infographic designed by Aurora Chang, an organizer with Taiwan Stands With Ukraine, calling for "the Putin supporting" opera singer Anna Netrebko to be made persona non grata in Taiwan.
Photo courtesy of Aurora Chang
But by far the most obvious reason of why she should never have been considered an appropriate choice for the NSO in the first place is her 2014 appearance with separatist leader Oleg Tsaryov at the Donetsk opera house. During a press event, which came just months after Russian annexation of Crimea, Netrebko and Tsaryov held up a flag for the breakaway region of "Novorossiya."
"This was just after the Russians shot down that airliner [Malayasia Airlines Flight 17 in July 2014]," says Maksymova. "So anyone who was aware of what was happening in the international arena should be thinking twice before getting into the insidious company of those people. She was not an innocent little girl."
DECENTRALIZED APPROACH
The campaign was kickstarted after Maksymova and friends chanced upon a banner advertising the performance outside the National Concert Hall on Saturday during a TSWU event to mark the first anniversary of the Russian invasion.
"At first we didn't register," she says. "But when we realized it was her, we were mortified."
Maksymova describes the way in which people were quickly galvanized into action as "typically Ukrainian" in that it was more of an organic, decentralized approach than top-down decision-making.
"Before the war, I hardly knew any Ukrainians in Taiwan and wasn't particularly interested in reaching out because I was living my own life," she says.
Maksymova compares the process to bees fulfilling their everyday tasks with little interest for what their fellows are up to.
"It only becomes one directed, effective mass when all the bees start working together as one organism driven by a particular aim."
There was certainly some method to the frenzy of action after group chat discussions among Taiwan's Ukrainians on how best to proceed. Activists and organizers with TSWU began sharing news across social media and soon local news networks were picking up on the story.
TIPPING POINT
"It was a community effort," says Aurora Chang (張瓊方), another organizer with TSWU. Following rapid dissemination of the initial posts and tweets by Maksymova, Khomenko, and others, Chang noticed there hadn't been much traction in Mandarin. She contacted Taiwan Association of Human Rights Secretary General Shih Yi-hsiang (施逸翔) for his input "since he's such a prominent figure in Taiwan's human rights circles."
Shih posted on the subject, extending the reach of the protests to those who might not normally have come across it. Chang then put together an eye-catching composite infographic featuring images of Netrebko that made plain the singer's stance, and explanations in Chinese, which also quickly circulated.
Soon TV networks were involved, with TVBS interviewing Ukrainians and TSWU figures. Initially the NSO responded by noting that Netrebko had spoken out against the war and had since performed in Europe — a justification that was dismissed as a cop-out. However, an e-mail campaign, which Khomenko guesses ran into the dozens, piled on the pressure. Then, with Democratic Progressive Party Legislator Wang Ting-yu (王定宇) and the Ministry of Culture weighing in, a tipping point appears to have been reached.
The speed at which things had escalated surprised many. "I'll be honest: I didn't see that coming. It was awesome to see real action so quickly," says Khomenko.
"That's the beauty of it," says Maksymova. "We're not waiting for someone to create a series of steps. It works organically and each of us brings our own contribution to the table.
Comments will be moderated. Keep comments relevant to the article. Remarks containing abusive and obscene language, personal attacks of any kind or promotion will be removed and the user banned. Final decision will be at the discretion of the Taipei Times.