Through a dark glass, brightly
An exhibition at the Yu-Hsiu Museum of Art brings together a sampling of thirty years of works by French artist Liang Zhaoxi
Taiwanese collectors are rumored to shun contemporary works on paper, deemed too fragile to withstand the island's notorious tropical humidity and the voracious pests that go with it.
Somehow, this does not seem to bother Liang Zhaoxi (梁兆熙) who, to this day, only draws and paints on paper sheets, larger formats being then glued onto canvas.
Who is this rare artist? Reading the poster at the entrance of the museum was my first encounter with this China-style pinyin Romanization: I have known him since the end of the nineties as Leung Hsiu-hay (some galleries prefer to spell his name Leung Siu Hee).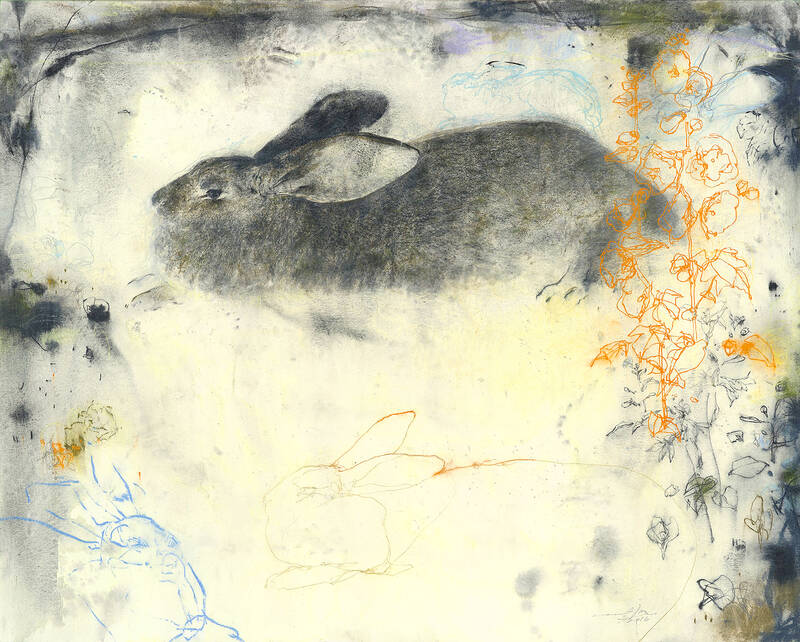 Liang Zhaoxi, Rabbit (2021).
Photo courtesy of Yu-Hsiu Museum of Art
Not at all worried about the added blur to his identity, Liang doesn't care much how galleries or museums transcribe his name, or what anybody says about him.
"I'd rather my drawings talk for me, lest I influence the viewer," he told me over the phone in late January. "Really, feel free to write whatever you want, I never read reviews anyway."
Born in 1953 in the then British-ruled Solomon Islands (and not "Luomen, China", as I read on the Web with amusement) to parents from Hong Kong, Liang graduated from Ecole Nationale Superieure des Beaux-Arts in Paris in 1980.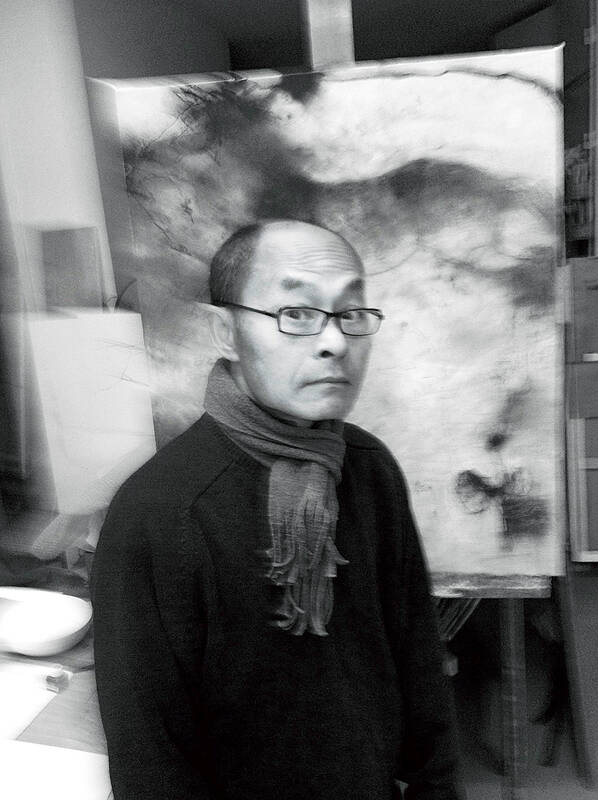 French artist Liang Zhaoxi
Photo courtesy of Yu-Hsiu Museum of Art
Although he has lived in Paris for over 40 years, Taiwan is the place where he has been exhibiting exclusively since 1990, and he therefore considers himself as an integral member of the Taiwanese art scene.
PETRIFIED CORNUCOPIA
Yet I definitely detect the true Parisian in his habit of loitering in the flea markets of the French capital. This is where, I imagine, he must have encountered this full medieval armor, that beautiful conch shell, that rumpled garment or other sometimes barely recognizable objects, but my guess is that the hippocampus appearing in some of his still lifes is a reminiscence of Hong Kong traditional Chinese medicine counters.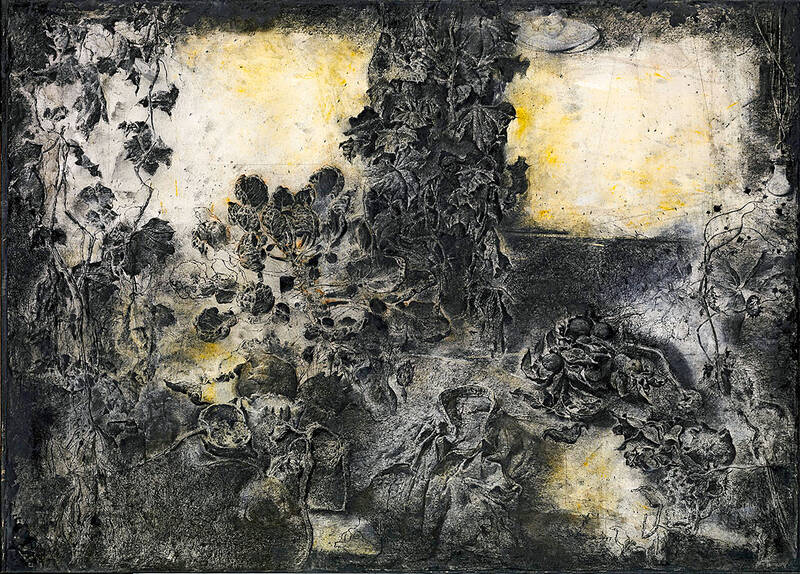 Liang Zhaoxi, LC-67 (1997).
Photo courtesy of Yu-Hsiu Museum of Art
Liang's unique style revolved in his early works around his use of charcoal, sometimes projected onto the paper in the form of powder by plucking a straightened metal string, which allowed for straight lines that give his works a kind of photographic preciseness.
If Liang may have honed his strong fusain drawing skills at Beaux-Arts, this particular technique comes from a job at a carpenter's workshop during his student years.
The "black" still lifes of the 80s and 90s feel like a visit to a dusty attic, only guided by the dim light of a lone electric bulb or the rays of the moon shining through disjointed wooden planks.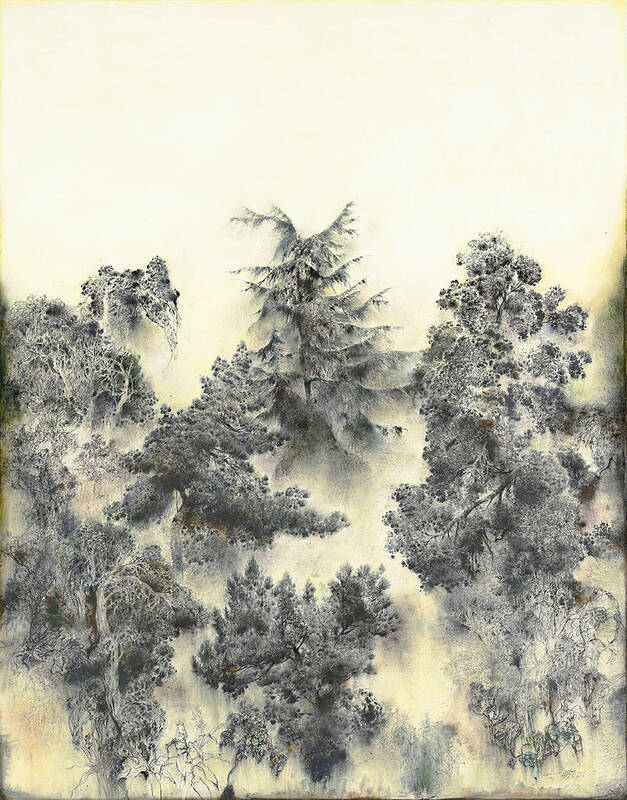 Liang Zhaoxi, Woods (2016).
Photo courtesy of Yu-Hsiu Museum of Art
Another technique employed by Liang is closer to free hand sketching and allows better for the depiction of movement — human silhouettes with gaunt torsos, muscular horses, are caught in the midst of a turn, of a leap.
Liang's running horses have as much evocative power as those of Paleolithic parietal works such as those seen in Lascaux, in Southern France, and the painter's hand prints left here and there on some drawings could be another wink to some of the earliest artists in mankind's history.
Animals, in Liang's drawings, are royal and serious, yet you might also sense in their straight gaze a hint of mischievousness or simple confidence.
If I am allowed by Liang himself to give you my personal interpretation, then this is the artist at work, taking the silly world around him with a pinch of salt.
TWO WORLDS
I invite you to savor the view of his tranquil hares which take us back to Albrecht Durer and other Renaissance masters.
The hare, or the rabbit, has been a recurrent motive in Western art at least since the Renaissance: See for instance the extraordinary Dame a la Licorne tapestry dated circa 1500, which is hung in the Cluny Museum in Paris.
Liang acknowledges that after 40 years in France, he is indeed "influenced by French culture," but how could he not have first and foremost an intimate knowledge of the masterpieces of Chinese classical art?
His beautiful furry creatures, among other members of his rich bestiary, could very well be having a conversation with Magpies and Hare (雙喜圖), the painting by the mid-11th Northern Song painter Tsui Pai (崔白) that is one of the highlights of the National Palace Museum (NMP) collections.
It is a delight to see exhibited here one example of Liang's ominous mountains, where the huge mass of land occupies most of the space.
Again, I like to see here a clear reference to famous classical Chinese ink paintings such as Travelers among Mountains and Streams (谿山行旅) by Fan Kuan (范寬), another Song dynasty painter and NPM favorite.
I personally wished I had seen in this exhibition more of Liang's earlier "black" works such as Untitled (1983) depicting a table laid with various objects under the cone of a hanging light.
Liang is here a master at his own game of depicting "dark brightness falling from the stars," to paraphrase 17th century French tragedian Pierre Corneille.
Over the years, somber lights have gradually allowed color pigments to seep through, and carbon black has eventually receded somewhat against light yellow or creme backgrounds.
That is the case for instance with two large works depicting mountain slopes with conifers emerging as if from mellow snow or icy mist.
Lately, plants in Liang's works seem similarly less desiccated and dusty, less brittle, and since the mid-2010s, roses are indeed in bloom.
Art critics are heard wondering aloud if this might be a sign of the serenity said to come with advancing age — just do not ask the artist to confirm.
Publication Notes
Exhibition notes
What: Liang Zhaoxi's Melancholy and Healing (抒情的軌跡 ─ 梁兆熙的鬱與癒) Where: Yu-Hsiu Museum of Art (毓繡美術館), 26, Ln 150, Jianxing Road, Caotun Township, Nantou County (南投縣草屯鎮平林里健行路150巷26號) When: Until April 24. Open Tuesdays to Sundays from 10am to 5pm; Thursday from 10am to 3pm Admission: Free, but visitors must book a time-slot in advance On the Net: www.yu-hsiu.org
Comments will be moderated. Keep comments relevant to the article. Remarks containing abusive and obscene language, personal attacks of any kind or promotion will be removed and the user banned. Final decision will be at the discretion of the Taipei Times.