How Taiwan's wealthy children beat the draft
The children of the middle and working class are likely to bear the burden of the new one-year military service, which many view as a waste of time, as the nation's birthrate continues to plummet
The new one-year conscription program announced late last year by the administration of President Tsai Ing-wen (蔡英文) is already having an effect, though probably not the one intended. At my high school, a prep school for children from monied families who want their kids to do a university degree abroad, the male students are already scheming about how they will avoid serving, either by staying out until they are too old, or emigrating.
Similarly, the perspicacious Taiwan commentator Ross Feingold observed in a conversation with journalists that because the wealthy will be able to avoid service, the one-year commitment is likely to fall largely on the working class. The Tsai administration, he argued, needs to work to make sure that does not happen.
This is an old problem. In 2011 the laws were amended to make it impossible to avoid service by staying in school and avoiding graduation.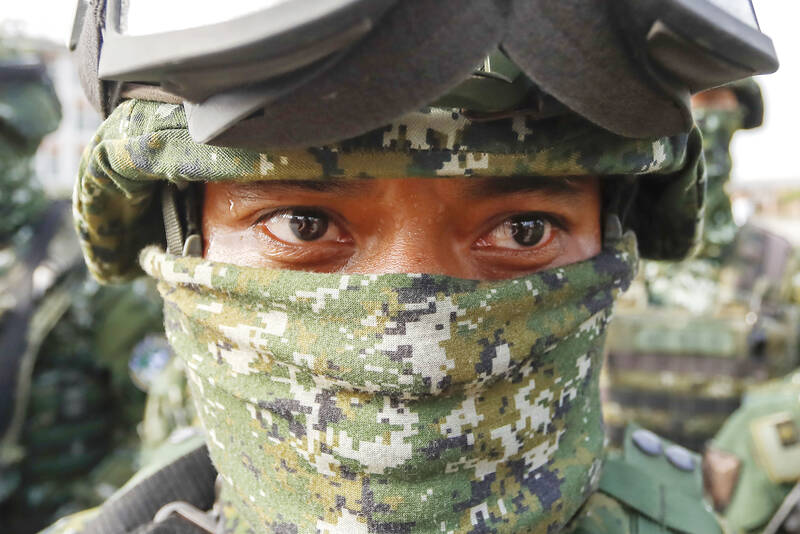 A soldier on Wednesday stands at attention during a preparedness enhancement drill simulating the defense against China's military intrusions, ahead of the Lunar New Year in Kaohsiung.
Photo: AP
"Ming Dao (明道), a Taiwanese actor and singer, has been a college student for 11 years and has changed four schools in that time," the Taipei Times noted that year.
Another famous star, Joseph Cheng (鄭元暢), spent seven years in college.
Sons of prominent politicians were also said to have evaded military service. In the 2000 election it was briefly an issue for a couple of the candidates.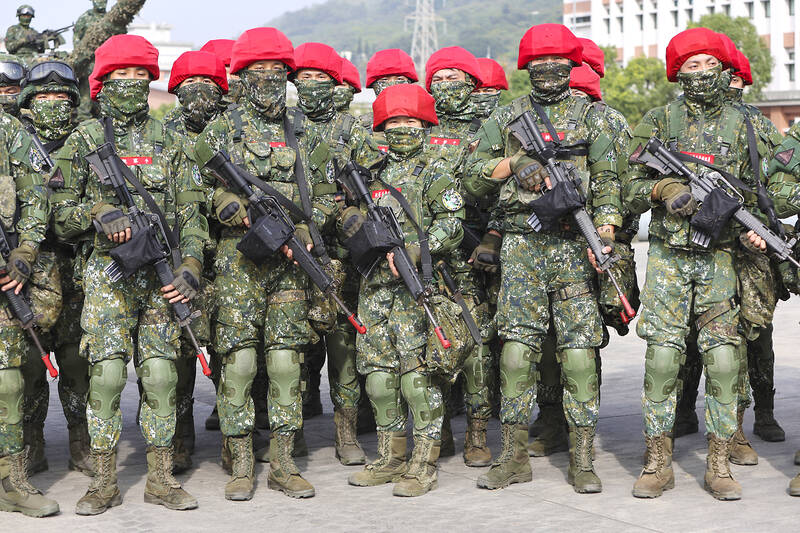 Soldiers on Thursday stand during a preparedness enhancement drill simulating the defense against Beijing's military intrusions in Kaohsiung.
Photo: AP
Last year the government tightened the physical requirements to prevent other common dodges, such as putting on weight. Height restrictions were also relaxed.
The government has responded to complaints about the increased length of service by raising the salary, and my students have noted this as a positive. However, the biggest problem the military service faces is that it's a total waste of time for all involved. Conscripts do little and learn less.
Hence, one way that the government can make it more tolerable (note I do not say "attractive") is by creating abundant opportunities to make things go boom. If the government can provide comprehensive training in first aid, rescue and other necessary skills, along with plenty of exciting explosions, eventually young men will come to accept it.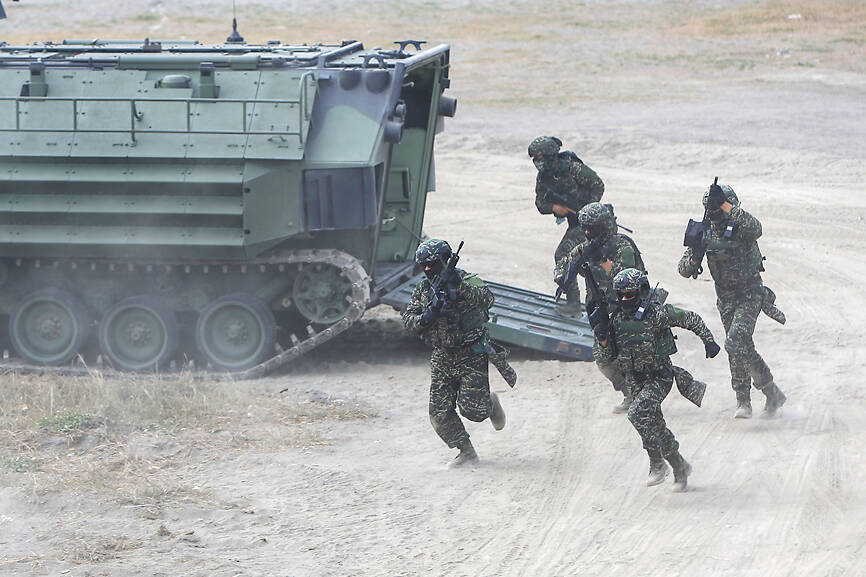 Soldiers on Thursday sprint after alighting from an assault amphibious vehicle during a military drill in Kaohsiung City.
Photo: AP
The fact that at least some of the scions of wealthy families in my classes were viewing the salary positively indicates a certain willingness to accept military service.
Who, though, is going to participate in this program? Who will there be left to defend?
PLUMMETING BIRTHRATES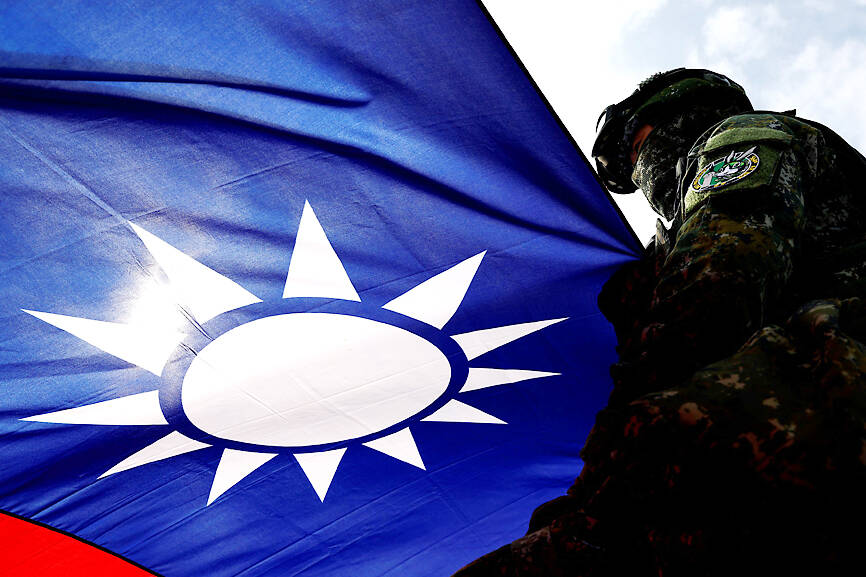 The armed forces on Wednesday begin two days of routine drills to show combat readiness ahead of Lunar New Year holidays at a military base in Kaohsiung.
Photo: REUTERS
Last week published data showed the birth rate falling for the third straight year, despite (or perhaps because of) government policies in place to promote it since 2011. The subsidies for having children are much too little. Nor does the government have in place a robust system of government childcare, as academics have advocated for years.
In Europe northern countries like France tend to have higher birthrates than southern European nations. The French birth rate, around 1.8, is the highest in Europe. Part of this is because the governments in northern European countries provide much better services, including government childcare. Part of it is because policies aimed at bringing equality between the sexes are pro-natal in that context. When treated better, women are more willing to have children.
Another component is cultural. Women have greater inequality in southern Europe, and get less help with childcare from their partners.
Taiwan, of course, resembles southern Europe far more than northern. Although there have been some local government initiatives, on the whole the nation remains without affordable childcare even with subsidies.
WOMEN'S RIGHTS
Despite advances in women's rights under the law, childcare remains largely something seen as women's work. An Academia Sinica white paper from 2011 calls for changes in these patterns, but there have been no initiatives at any level.
Another driver of Taiwan's falling birthrates is the state's heavy-handed involvement in marriage and childbirth. In France, over 60 percent of babies are born out of wedlock to committed couples. In Taiwan, this remains taboo and illegitimate babies are frowned upon. Given the way males regard child care, changes remain unlikely.
The law also stupidly forbids women who have had their eggs frozen from using them to make babies until they have married. That's right: single women can't make use of their own body parts without a man's permission.
Essentially, women must have children in wedlock, in which tyrannical mothers in law are a cliched cultural pattern. They must also take care of older relatives, and spend Sunday after Sunday with family. No wonder so many women put off or forego marriage, complaining that it destroys their freedom.
A third stream: what is one of the leading causes of children's death in Taiwan? Traffic accidents, and their deadliness has been rising. Indeed, last week TVBS reported that Taipei Mayor Chiang Wan-an (蔣萬安) of the Chinese Nationalist Party (KMT) had vowed to make the city safer for kids, traffic-wise.
It appears that some politicians have already realized the political value of improving traffic safety. But until there is meaningful change instead of the usual nibbling round the edges, the terrible commutes children must face and adults must supply remain a deterrent to having children.
A fourth strand: why don't we have money for childcare? Because the government gets about 45 percent of its revenues from income taxes. The argument goes that it won't increase the sales tax to harvest money from the wealthy because that might cause inflation. Yet other nations have high sales taxes without destructive inflation. Moreover, incomes are falling relative to inflation, and have largely been stagnant for two decades.
Two other issues cripple Taiwan's provision of public welfare in the form of childcare: low corporate taxes, which protects the rich, and massive tax evasion, which everyone participates in, but the wealthy most of all. Taiwan's tax take is thus small.
Finally, there's immigration. Immigration would have all sorts of positive effects, from increasing the tax base to providing warm bodies for the army — people, for example, from east and southeast Asia. Taiwan has no comprehensive immigration policy that would boost the birth rate and population growth.
Lately it seems everyone has been writing a song, whose refrain begins: "the government must…" That is because the government hasn't. The Democratic Progressive Party (DPP) took a beating in the local elections in part because there is no dramatic policy program it can point to at the local or national level that addresses any of the pressing problems that affect the birth rate and population growth. Nibbling at the edges solves nothing.
The rich will continue to evade taxes and military service. The birth rate will continue to fall. Young Taiwanese will pound the job boards in search of better work in world cities like Tokyo and Singapore.
Those who remain, will bear the burden. Of everything. What kind of politics will they embrace?
Notes from Central Taiwan is a column written by long-term resident Michael Turton, who provides incisive commentary informed by three decades of living in and writing about his adoptive country. The views expressed here are his own.
Comments will be moderated. Keep comments relevant to the article. Remarks containing abusive and obscene language, personal attacks of any kind or promotion will be removed and the user banned. Final decision will be at the discretion of the Taipei Times.