Lujhunan: The neighborhood that missed the update
This area in Miaoli County's Toufen Township features an impressive collection of traditional houses, which offer a glimpse into the lives of Taiwanese living there over the past 70 years, and the murals and movie posters are pretty cool too
En route to what some say is Miaoli County's most impressive cluster of traditional buildings, my thoughts turned to food.
I wasn't hungry. Instead, as the bus made its way through the outskirts of Toufen Township (頭份), I noticed a road name as endearing as it is unique. Mifen Street (米粉街), which translates as "Rice Vermicelli Street," is named for a type of ultra-thin noodle that's often served stir-fried with slivers of pork, mushrooms and cabbage.
Taiwanese rice vermicelli has long been associated with the cuisine of Hsinchu, the city that lies a dozen kilometers northeast of Toufen. But it seems that this neighborhood is also a center of mifen (米粉) production, as a quick Internet search reveals two nearby vermicelli factories.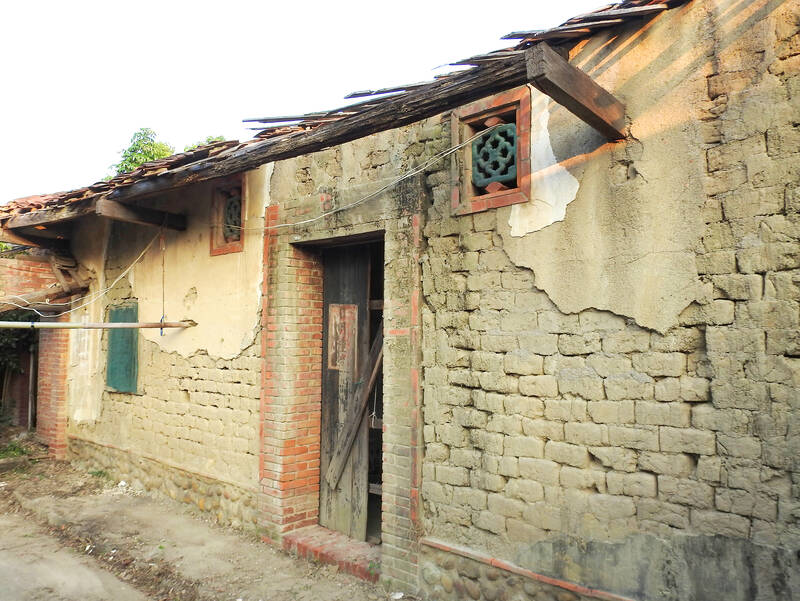 Several of Lujhunan's ruined homes were built partly of mudbricks.
Photo: Steven Crook
The bus trundled northward, and 1.5km later I stepped off. From Provincial Highway 13, I walked east down Lujhu Road (蘆竹路) and then along Lane 511 of Jhonghua Road (中華路511巷).
I was still a couple of minutes' walk from the heart of Lujhunan (蘆竹湳) when I came across a series of hand-painted movie posters. There's never been a movie theater hereabouts, and I later found out that these posters were created simply to decorate the street and celebrate cinematic achievements.
At least three quarters of the houses that stand between Lane 511 Jhonghua Road and a minor creek about 200m to the north are appealingly quaint. Tiled roofs are supported by wooden beams. External walls are made of brick, or of mudbrick faced with rectangular tiles. Interiors are divided by thin wattle-and-daub partitions.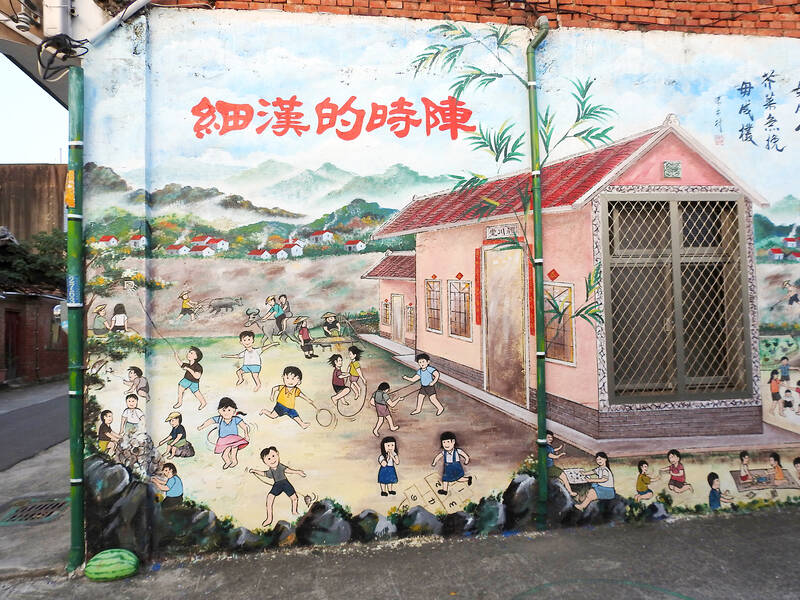 Chen Mu-cun's painted works can be found throughout the neighborhood.
Photo: Steven Crook
EXPLORING TRADITION
Many of these homes are unoccupied, and several are utterly dilapidated. Exploring an alleyway so narrow it'd keep out obese trespassers, I gingerly stepped inside one abandoned shell. The detritus inside would give an extraterrestrial visitor a few clues as to life in Taiwan in the second half of the 20th century.
Amid salvageable old-school furniture, there were broken plastic toys, the rusting remnants of an all-metal electric fan, and a refrigerator that looked like it'd withstand armor-piercing munitions.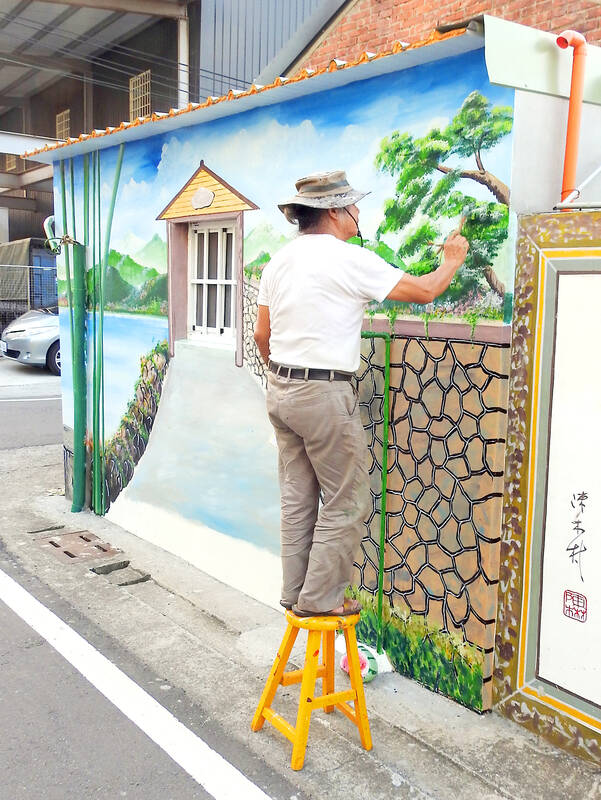 Chen Mu-cun touches up a mural he created.
Photo: Steven Crook
The survival of these old houses has a lot to do with the factory smokestacks visible to the north and east. In 1964, that part of Toufen was rezoned for heavy industry. It's said that pollution from chemical plants, coupled with the people living here not having the right skills for employment in the industrial zone, led to many families moving out. Those who stayed complained their wells ran dry, because the new industries depleted the groundwater.
In recent years, developers hoping to build modern homes here have likely run into two obstacles. The first is that many Taiwanese are loath to sell off ancestral lands and homes, thinking it'd imply they're hard up. The second is that ownership of old properties often ends up divided among a dozen or more descendants, not all of whom can be tracked down.
These days, Lujhunan's environmental situation isn't nearly so dire. And now that people have begun to recognize that few neighborhoods in Taiwan present so traditional an appearance as this one, there's an ongoing effort to protect and share what remains.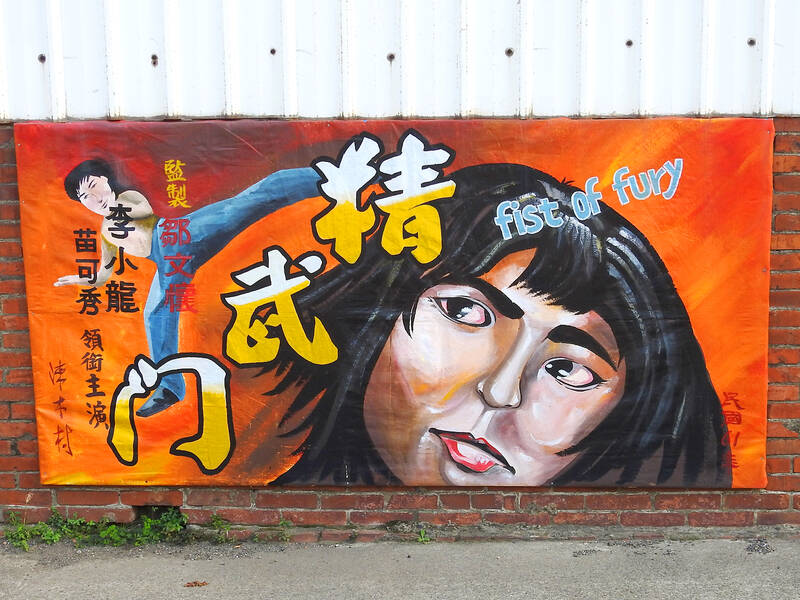 A replica by Chen Mu-cun of a 1970s movie poster.
Photo: Steven Crook
Throughout last year, the Old House Museum (古厝風情館) — the modest exhibition center that's at the literal and figurative heart of the preservation zone — received government support via the Ministry of Labor's Empowering Employment Program.
Signs around the neighborhood point the way to the museum, which is at 191 Lujhuli (蘆竹里). It's open 8am to 5pm Wednesday to Monday, and admission is free. Visit luzhunan.com.tw or call (03) 7628-187 to find out about upcoming activities or to book group meals.
The displays inside the Old House Museum don't need much time, but if you like pictureseque buildings, it's easy to spend two or three hours in Lujhunan, sauntering at random and taking pictures.
Unfortunately, on the day I visited, the 1739 Chen Nian Old Food & Art Museum (1739陳年舊事食藝館) — so named because the owner's ancestors arrived here in 1739 — wasn't open. According to local bloggers, it's a charming child-friendly establishment filled with folk artifacts, toys and games. Admission is NT$50, redeemable against purchases. It's usually open from 10:30am to 5pm (sometimes 6pm) between Friday and Tuesday.
MURALS
I'd almost finished my wanderings around Lujhunan when I spotted a gray-haired man atop a stool, paintbrush in hand, working on a mural. After asking if I could take a photo of him at work, we chatted for a while.
Chen Mu-cun (陳木村) is an energetic local retiree who's been painting the walls of Lujhunan for more than two and a half years. He said he's completed every picture he plans to paint, and now merely carries out restorations when and where they're needed.
In addition to the movie posters I'd come across earlier, and colorful depictions of life as it was lived in Taiwan in yesteryear, he's used wallspace to present proverbs and vocabulary in Hakka and Hoklo (also known as Taiwanese), so as to educate younger visitors.
When I inquired if he'd received any government subsidies, he told that the effort has been entirely self-funded. He mentioned this without, so far as I could tell, any disappointment or rancor. What a joy it is, to meet an unselfish and talented individual whose hobby makes the world a better place.
IF YOU GO
Walking the 2.1km from the TRA station at Jhunan (竹南) — which is well served by local and express trains — takes around 30 minutes. It's possible to cover most of the distance on quieter side streets. No bus service will get you within 450m of Lujhunan, but there are several options, including the #5811 between Houlong TRA Station (後龍火車站) and the east exit of Jhunan TRA Station, and the more frequent #5801, #5803, and #5807 services, all of which can be boarded near Hsinchu TRA Station (新竹火車站).
Comments will be moderated. Keep comments relevant to the article. Remarks containing abusive and obscene language, personal attacks of any kind or promotion will be removed and the user banned. Final decision will be at the discretion of the Taipei Times.