Leaping into the year of the rabbit
Soothsayers and temples provide instructions on how to avoid a bad year — even without visiting a temple
As inflation continues to bite, temples are charging more to help people avoid disaster in the Year of the Rabbit. Consequently, folklorist and soothsayer Liao Ta-yi (廖大乙) has been receiving many inquiries on whether it's possible to perform the "pacifying Taisui" (安太歲) ritual on their own.
According to local tradition, four of the 12 Zodiac signs are required to perform the ritual this year — Rabbits, Rats, Roosters and Horses. Failure to do so can result in misfortune.
Liao tells the Liberty Times (the Taipei Times' sister paper) that prices have almost doubled to NT$500, with some temples charging nearly NT$10,000.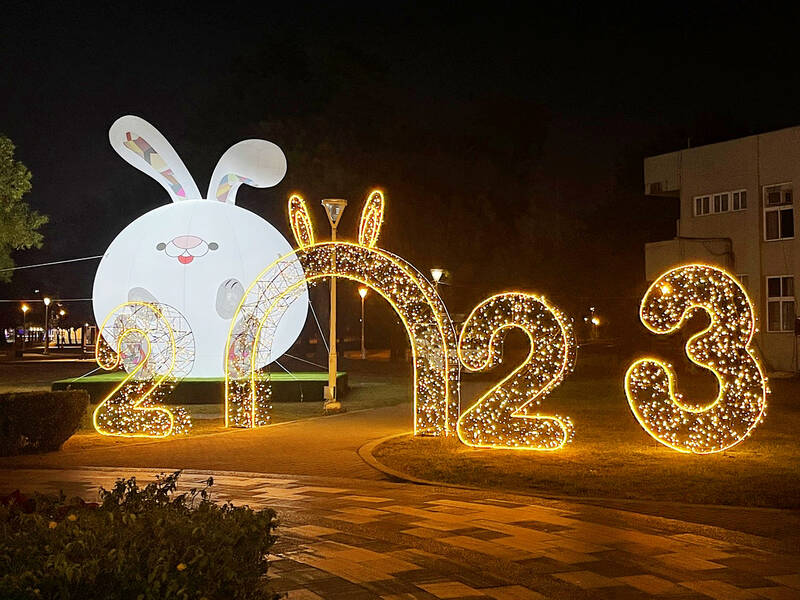 The Year of the Rabbit begins on Jan. 22.
Photo: Chen Wen-chan, Taipei Times
Paying for a temple to perform the ritual is a modern practice. The Ministry of Interior's National Religion Information Network says that in the past people would keep a small shrine to the Taisui god at home for the year, but temples began offering the service because it brings in added revenue. At first, it was donation based, but as Taiwan's economy took off, temples began setting the price.
Liao says that those who want to cut costs can print off a Taisui talisman from the Internet, write their name on it, pray to it and place it in a bright and conspicuous place in the home or office.
"It's best if it is easily visible, so you are constantly vigilant about what you say and do," he says.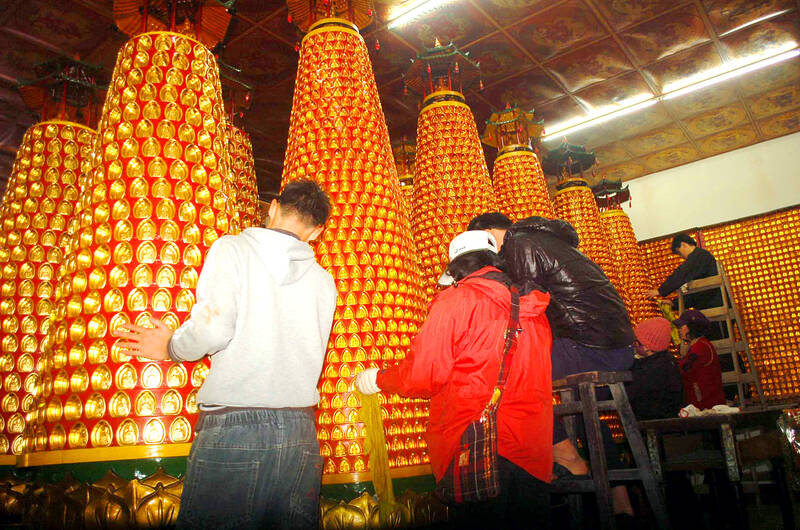 Worshippers visit Taipei's Gongfan Temple to "pacify Taisui," a ritual performed in the weeks leading up to the Lunar New Year.
Photo: Cheng Hsu-kai, Taipei Times
ZODIAC RANKINGS
While Liao urges those who fall under the four signs to be careful, especially while speaking and driving, it's not all doom and gloom. People can further salvage their year by being compassionate and performing good deeds.
Liao says people should watch out for the health of elderly parents, and spending more time with them will help them avoid misfortune.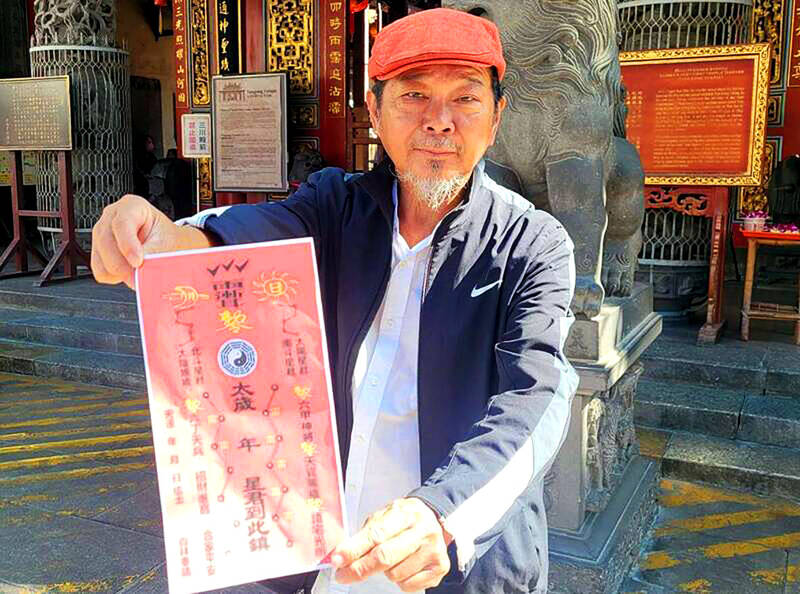 Folklorist Liao Ta-yi says that the Zodiac signs that need to "pacify Taisui" this year can print a talisman from the Internet, write their name on it, pray to it and place it in a conspicuous place.
Photo courtesy of Liao Ta-yi
There is one bright spot: the four signs will find success with examinations, especially in the legal field. If you've struggled to become a lawyer, prosecutor or judge, the Year of the Rabbit might finally see a passing grade.
Liao says that Tigers, Monkeys and Snakes will have good financial luck this year, and they should act generously. Wearing gold-colored pins or clothes with gold decorations will further boost their prosperity.
Astrologer and tarot practitioner Xiao Meng (小孟老師) says Rabbits, Rats, Roosters and Horses will be the least auspicious. Dragons will have an unremarkable year, and should remain conservative in all aspects.
Soothsayer Wisdom Tsai suggests placing a lucky bamboo with the number of stalks ending in 1 and 6 in the southwest corner of your office, living room or bedroom to boost your luck during Year of the Rabbit.
Photo courtesy of Wikimedia Commons
Xiao Meng says that Pigs, Sheep and Dogs will meet someone who will help them in their career, and Pigs will enjoy promotions, raises or good business.
Sheep, he adds, should pay attention to their mental health, while Dogs should be careful during weather changes. Dogs will be prone to committing minor mistakes at work, but they should not stress the small stuff as nothing is unfixable.
LUCKY TIPS
Soothsayer Wisdom Tsai (蔡上機) says placing a dark-colored crystal in water in the southwest corner of your living room, bedroom or office will optimize your luck. Doing so will also bring wealth, career benefits and romance. A lucky bamboo (dracaena sanderiana) will also work, but the number of stalks must end in one or six. If a stalk withers, it must be replaced immediately.
If that's not enough, place another lucky bamboo in the southeast position to boost your career and exam results, as well as stabilize your existing romantic relationships and evade backstabbers.
Fortune teller Liao Mei-jan (廖美然) provided extremely specific instructions on making "get rich water" (發財水) on the television program Super Lucky (命運好好玩): at 9:40am on the fourteenth day of the new year (Feb. 4), place one NT$50 coin, ten NT$10 coins, two NT$5 coins and eight NT$1 coins in a pot, pour in cold and then hot water, then boil it for 15 to 20 minutes. After the water cools, pour the contents into a plastic container that's about 13cm tall and 12cm in radius.
NATIONAL FORECAST
As for the nation's fortune, so far Yangmingshan's Jiang Taigong Daochang (姜太公道場) has already drawn its fortune stick for the Year of the Rabbit, suggesting that it's time for President Tsai Ing-wen (蔡英文) to reshuffle her cabinet. Whoever wins the 2024 presidential election will be an extraordinary figure chosen by the heavens to bring Taiwan to unprecedented heights, it says.
This is the same temple that predicted that Tsai would make a major comeback after her Democratic Progressive Party (DPP) suffered unprecedented losses in the 2018 local elections, and later foretold that she would be reelected in 2020, which she was.
Liao speaks of a year full of misfortune, including bank runs, a grim real estate market and soaring rent prices, food scares, chicken flu and egg shortages, a major earthquake, land cave-ins and construction accidents (especially elevator collapses), increase in thefts and robberies, as well as decline of the financial sector and major layoffs. She adds that those who found success overseas last year may be forced to return home.
Tibetan Buddhist diviner Pan Chih-hang (潘智航), on the other hand, predicts a year where good things will happen. Since the rabbit squats before it jumps, the nation's financial situation will improve exponentially after August. This year will also be full of overturning and revolution: "The rabbit not only can jump, it can also swim and spacewalk … It will defy your imagination."
Comments will be moderated. Keep comments relevant to the article. Remarks containing abusive and obscene language, personal attacks of any kind or promotion will be removed and the user banned. Final decision will be at the discretion of the Taipei Times.