Movie review: A Holy Family
Estranged from his family for 20 years, director Elvis Lu returns home and begins filming this documentary about their daily struggles
In A Holy Family (神人之家), the members of the Lu family (盧) probably talk to the pantheon of 12 deities worshipped at the home altar more than they do each other. Mired in debt and suffering from poor harvests, they just go about life and pray that the gods will bring them luck.
Director Elvis Lu (盧盈良), who is the family's youngest male child, has been estranged from them for two decades. The aging patriarch, who squandered most of the family's property by gambling, is always looking at incense patterns or other signs that may reveal winning lottery numbers. Lu's older brother is a farmer and spirit medium who relays advice from the deities to worshippers, while his mother makes daily offerings at the alter. Often alone at home, she says in one scene that the statues have become her friends.
Even the older brother's son, who scoffs at his father's superstitious behavior, begins crying and begs to ask the Emperor of the Mysterious Heaven (玄天上帝) what to do after a typhoon ruins their tomato crops.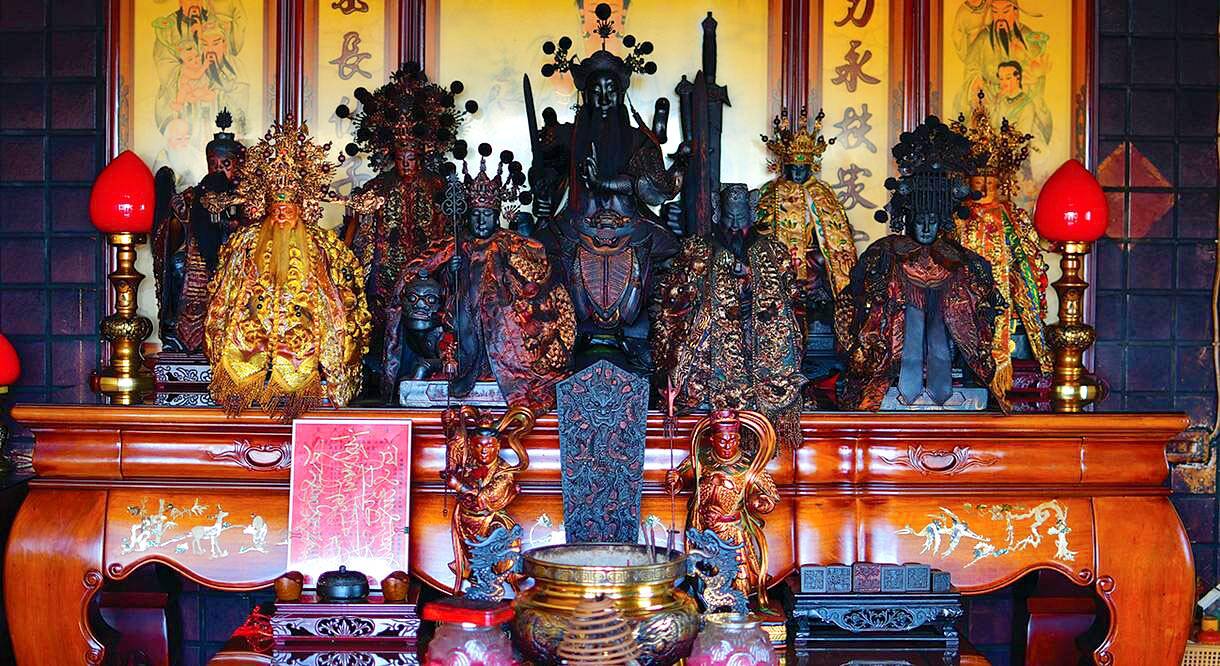 The 12 deities worshiped in the Lu family home in A Holy Family.
Photo courtesy of iFilm Co
When his mother suddenly calls him at the beginning of the documentary, Elvis Lu's first reaction is to ask if they need him to send them money.
Instead she tells him to come home, as she wants to discuss funeral arrangements. Lu initially plans to help them take funeral portraits, but soon begins filming their daily lives while asking very candid, straight-forward questions, which they are obviously unaccustomed to answering.
"Do you think the gods ever helped our family?" Lu responds when his brother asks him what he hopes to learn by filming the family and their attitude towards folk religion. "Or, are there really gods?"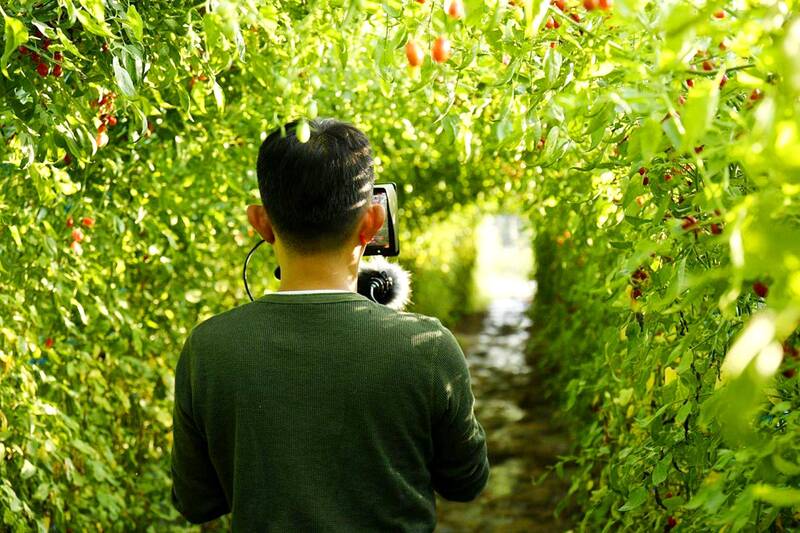 Elvis Lu shoots a scene in his brother's cherry tomato plot.
Photo courtesy of iFilm Co
He also breaks the overwhelming emotional staleness by being honest himself, telling them what he thinks of them and why he didn't return for so long. They know the reasons why, of course. But doing this seems to be deeply personal for the director, who says he did not have a documentary in mind when he first started shooting.
Their relationships change over what seems like a year or so of Lu returning several times to film. In the later half, Lu slowly starts appearing in the film (sometimes holding a giant camera) as he becomes more involved in the family story. This sort of slice of life story about the unspoken tensions and daily interactions (or lack thereof) in an ordinary family has become a staple of Taiwanese cinema over the past few years. The narrative is effective, as most people who grew up in a somewhat traditional Asian family can relate to the dynamic where affection and emotions are rarely expressed.
Yet it's difficult to capture this sort of atmosphere through a documentary, as the subjects have to be willing to expose their private lives, which can be far from glamorous.
Lu mostly shoots as an outsider despite his access. Although the family often objects to his filming, he's still treated as one of them — even though he himself might not feel like he is.
It's all very subdued and there isn't much drama or major epiphanies, but being brisker than many slow-burning epics of this genre such as A Sun (陽光普照), the shifts in atmosphere and character mood are more apparent and the story feels warmer.
Many films in this genre end by showing that some things never change, but in A Holy Family there's a positive message of healing and self-realization that only fully sinks in after the film ends.
Publication Notes
Film Notes
A Holy Family 神人之家 Directed By: Elvis Lu (盧盈良) Languages: Taiwanese and Mandarin with Chinese and English subtitles Running Time: 87 Minutes TAIWAN Release: In theaters
Comments will be moderated. Keep comments relevant to the article. Remarks containing abusive and obscene language, personal attacks of any kind or promotion will be removed and the user banned. Final decision will be at the discretion of the Taipei Times.