Keeping Taigi alive
Facing a lack of learning material, parents running a Taigi-language immersion playgroup have created a music and activity book with original songs
Before she starts singing, Vivi Tan (陳映璇) asks the crowd of mostly children: "Do any of you understand Taigi?" Only a few raise their hands, but they sing along when she teaches them how to say "good morning" in the night's first number, Gau tsa.
Taigi is the transliteration of Hoklo (better known as Taiwanese). The tune is an original by Tang Lek-hian (董力玄), cofounder of Taigi Road (牽囡仔e手行台語e路), a support and activity group for parents who are teaching the language to their children. Tan and her husband Iunn A-ian (楊晉淵), a professional musician, have been participating in the group for a few years.
Brought to Taiwan 400 years ago by Han settlers from Fujian Province, China, Taigi was once the most-spoken language in Taiwan, but its usage has been in decline since the 1930s, first due to the Japanese kominka policy in which Taiwanese had to learn Japanese. Then came decades of linguistic oppression under the Chinese Nationalist Party (KMT), which successfully made Mandarin Chinese the dominant language in Taiwan.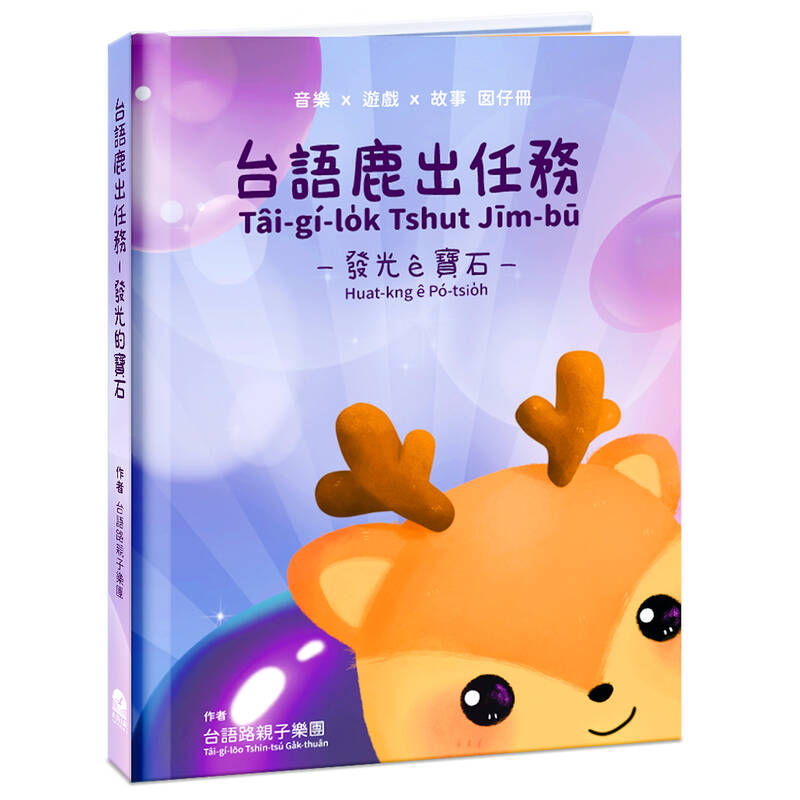 The cover of Tai-gi Lok, Taigi Road's crowdfunded song and activity book featuring original music.
Photo courtesy of Taigi Lok
From the 1950s to the 1990s, children were punished in school for speaking Taigi, which was branded along with other local tongues as uncultured and vulgar. Many who grew up during that time did not teach their children, who, like Tan and Iunn, are now having children of their own.
"My Taigi was quite poor," Tan says.
Iunn, who regularly speaks it with his parents, still signed up for Taigi lessons upon finding out they were expecting.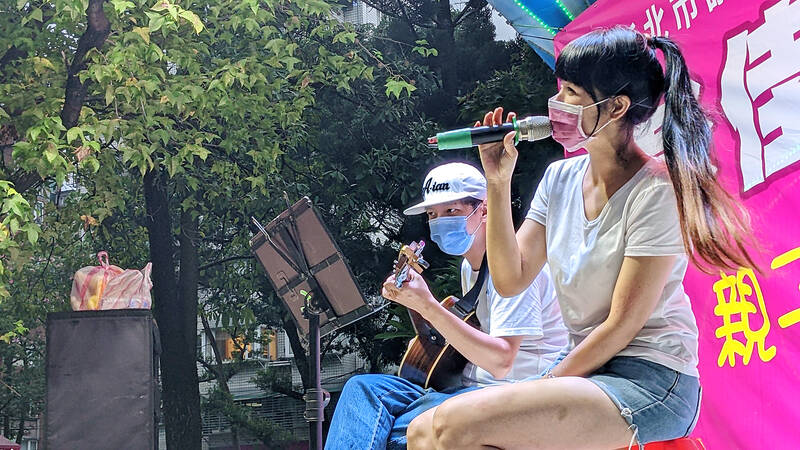 Vivi Tan, right, and Iunn A-ian perform in New Taipei City's Luchou District last month.
Photo: Han Cheung, Taipei Times
Despite recent efforts to revive and promote the nation's various "mother tongues," Mandarin's dominance continues to grow in the younger generation. According to government census data from 2020, 92.1 percent of six to 14-year-olds used Mandarin as their primary language, compared to 77.5 percent of 34-45-year-olds and 28 percent of those above 65. It has especially declined around the capital region, with only 15.4 percent of Taipei citizens primarily speaking Taigi, compared to 43.2 percent in Kaohsiung.
Although born to Taigi-speaking parents, Tan and Iunn solely communicated with each other in Mandarin until they decided to pass on Taigi to their children.
Taigi Road doesn't just collaborate musically. Its members pool their resources to organize learning experiences such as field trips and create compelling teaching material. The professionally produced songs are the basis for the group's sing-a-long activity book Tai-gi Lok (台語鹿出任務:發光的寶石), which just concluded its online fundraising campaign, where they nearly tripled their goal.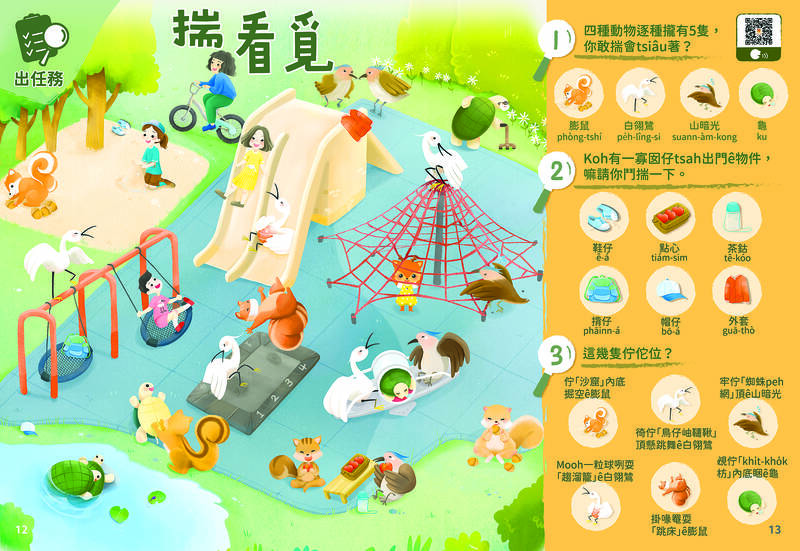 A page with language games from the book Tai-gi Lok.
Photo courtesy of Taigi Lok
"Nowadays, you need to persevere if you want your child to be able to speak their mother tongue," Tang says. "Parents need to support each other, and we also have to push the government to introduce changes."
INSPIRED BY NEW LIFE
Like many families in her generation, Tang's grandparents only spoke Taigi, so she spent her early childhood immersed in it. However, Mandarin became her main language soon after she started school, and she says her Taigi-language ability stayed at a child's level.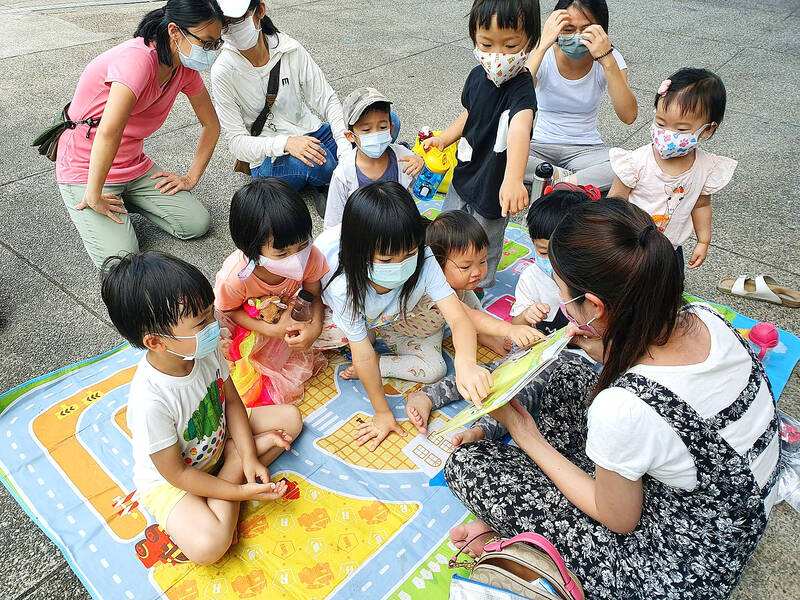 A parent reads to children from a Taigi story book during a gathering in Taipei.
Photo courtesy of Taigi Lok
But it was harder to get her and her husband's parents — who are fluent in Taigi — to start speaking it with her three children. They were the generation who got punished in school for speaking local languages instead of Mandarin, and many are still afraid to use it.
"My mother-in-law received higher education and worked as a teacher," she says. "It took her months to adjust to my request to start speaking Taigi. When she goes out on her own, she still uses Mandarin — she feels that people will judge her," Tang says.
Tang didn't understand the political and social causes behind language loss and the importance of linguistic preservation until she started educating her own children.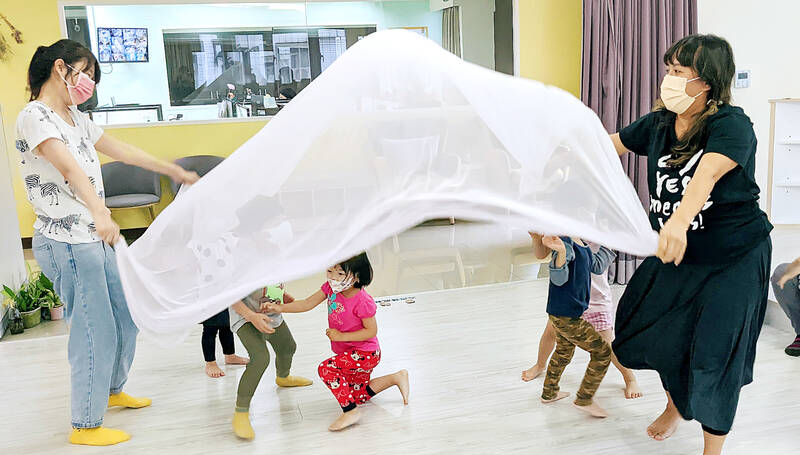 Play time in Taigi for the children at an indoor gathering in Taipei last month.
Photo: Han Cheung, Taipei Times
Tang also learned about the mental and developmental benefits of bilingualism. For example, it's easier for children to learn other languages if they're raised bilingually; regularly using two languages also keeps the mind of elderly people more active.
Iunn also realized the importance of passing on one's mother language after he found out he was going to be a father.
"We are doing this because of the kids," he says.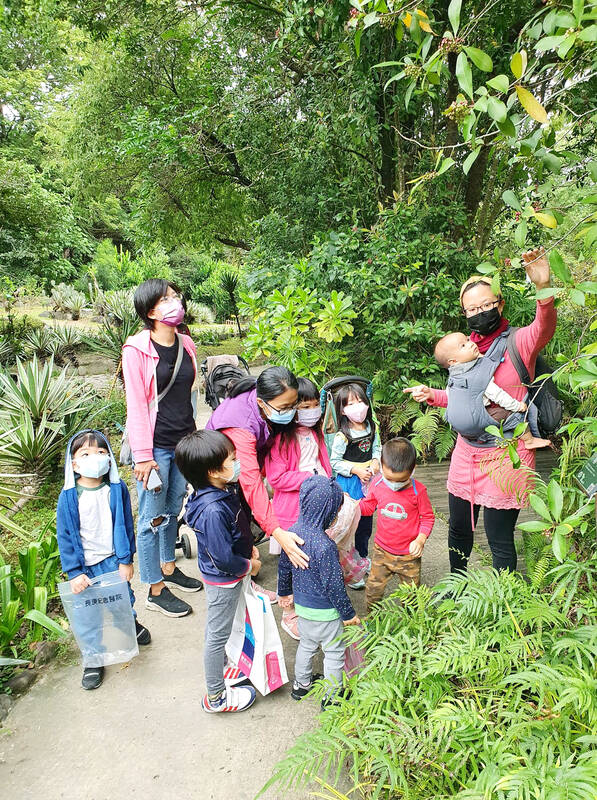 The children also go on various field trips and outdoor activities, all guided in Taigi.
Photo courtesy of Taigi Lok
CREATING RESOURCES
Tang says she started Taigi Road to meet other parents who were trying to maintain Taigi-speaking households. They soon expanded in number and began organizing weekly trips and fun educational experiences for the children.
"We needed to create something that could capture the children's imagination as much as Mandarin and English children's songs do," Tang says.
Tai-gi Lok offers activities for a wide range of ages and levels, and the songs are also suitable for families who speak Mandarin, Tang says.
"We also encourage parents to use the language at home," Tang says. "It's a waste if you don't use something you've already learned."
DOES IT WORK?
Tang's children are still young, the oldest being 7, but once they spend more time in the education system, they'll be exposed to mostly Mandarin — and English. They do have one period of Taigi class per week, but it's not nearly enough, and is meant for those children whose family don't speak it at home.
Some children have lost the ability to speak Taigi as they've grown older — one issue among many that are addressed in weekly seminars.
Ultimately, the key is using the language as much as possible, especially outside the home, she says.
"They'll definitely meet fewer Taigi speakers as they get older, but we want to show our kids that other people do speak the language, including some of their friends," Tang says.
For more information, visit: facebook.com/taigilok.
Comments will be moderated. Keep comments relevant to the article. Remarks containing abusive and obscene language, personal attacks of any kind or promotion will be removed and the user banned. Final decision will be at the discretion of the Taipei Times.