Environmental Impact Assessment: Persuading Taiwanese to pedal
Despite hefty investments in bike-only lanes and other infrastructure, and a sizable population of leisure cyclists, Taiwan hasn't developed a cycling culture like northwestern Europe. Here's how that can change
The environmental benefits of getting people to ride bicycles instead of using petroleum-powered vehicles are obvious. Hoping to reduce carbon emissions and energy consumption, mitigate air and noise pollution and ease road congestion, dozens of governments now encourage their citizens to pedal or walk, rather than drive.
Proponents of cycling point to countries like the Netherlands and cities like Copenhagen. In both, the majority of people regularly use bikes to get to work or school. Despite hefty investments in bike-only lanes and other infrastructure, and a sizable population of leisure cyclists, nowhere in Taiwan has developed a cycling culture remotely like that of northwestern Europe.
According to a 2014 Ministry of Transportation and Communications survey on traveling habits, the demographic most dependent on bikes are teenagers who ride to school. The unemployed and retirees are more likely than full-time workers to use bicycles, yet just 9.8 percent of those aged 65 or above say they cycle when the journey exceeds 500m.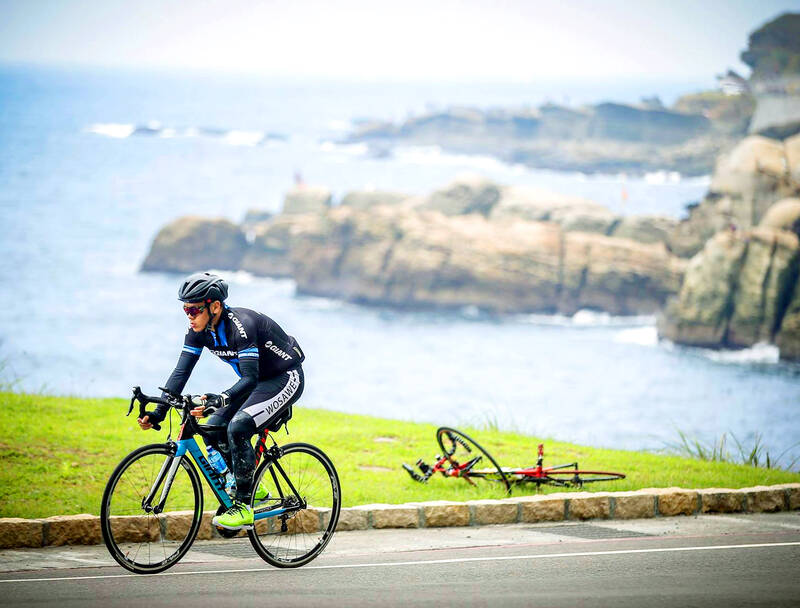 Taiwan offers spectacular leisure cycling opportunities, but getting people to regularly ride to their workplaces is proving difficult.
Photo courtesy of Miller Liang
DUTCH EXPERIENCE
For a Taiwanese perspective on European cycling habits, and what Taiwan could learn from Europe, the Taipei Times reached out to Lin Fen-yu (林芬玉), a Taichung native who's lived in the Dutch city of Delft since 2014.
Lin, who works for a company that designs and engineers floating urban projects, says she got around by bike throughout her high school and university studies in Taiwan, and that she often rides when she's back in her hometown of Taichung's Fengyuan District (豐原). In Delft, now that she's used to the weather, she uses a bicycle almost every day of the year.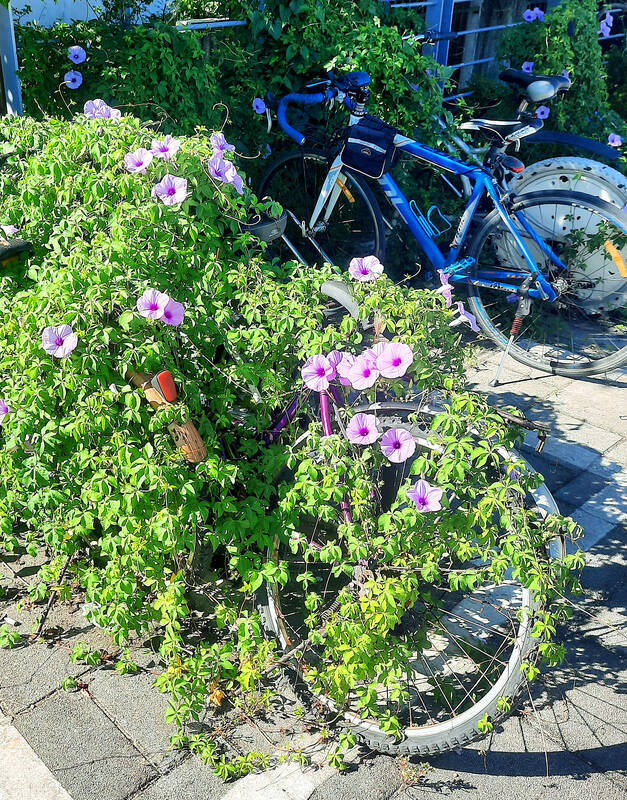 Abandoned bicycles at Yongkang TRA Station in suburban Tainan.
Photo: Steven Crook
According to Lin, key differences between the cycling environment in Taiwan and that in the Netherlands include, in the latter: better infrastructure; far stricter enforcement of traffic rules; and a widespread understanding of road-use etiquette that not only makes riding safer, but also ensures the harmonious co-existence of cyclists and pedestrians.
In Taiwan, she says, more than once she's been on a bike lane that's ended without warning, only to mysteriously reappear a few blocks down the road.
"Oftentimes, the transition isn't clearly marked," she says.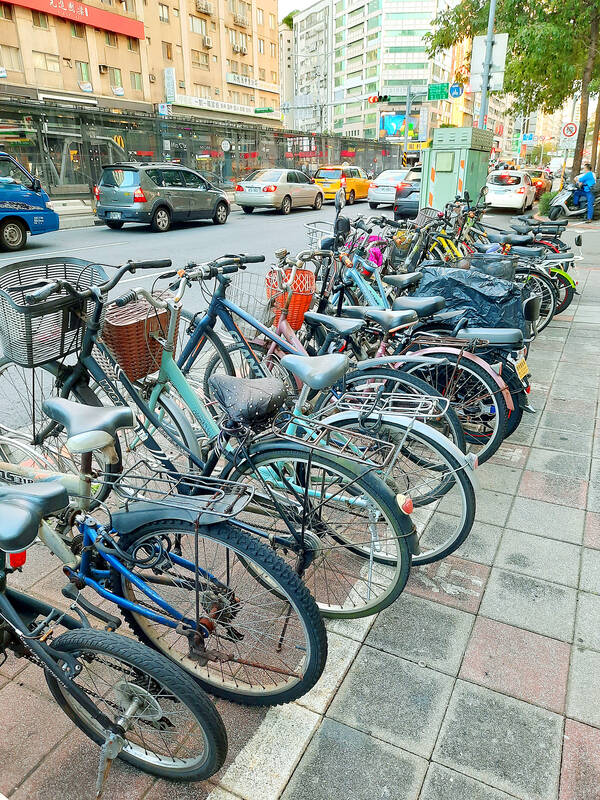 Bicycles parked by Guting Metro Station in Taipei. For many people, bikes are the "last mile" link between their homes and transportation hubs.
Photo: Steven Crook
Standardizing the design of bike paths throughout the country, so that everyone can understand their function, should be a long-term goal of the authorities, she says. In the Netherlands, she points out, bike trails have an obvious and universal appearance.
Pedestrians who stray into bike lanes in the Netherlands, and cyclists who ride on sidewalks, risk heavy fines. Generally speaking, Lin says, it's only foreign tourists who walk where they shouldn't, "and it's super annoying if you're on a bike."
In Taiwan, it's often forgotten — possibly because pedestrians, it seems, have never been a priority — that well-designed bike-only lanes make life safer for people who are walking, as well as for those who are riding. By giving cyclists places where they feel safe, they're less likely to ride on the sidewalk.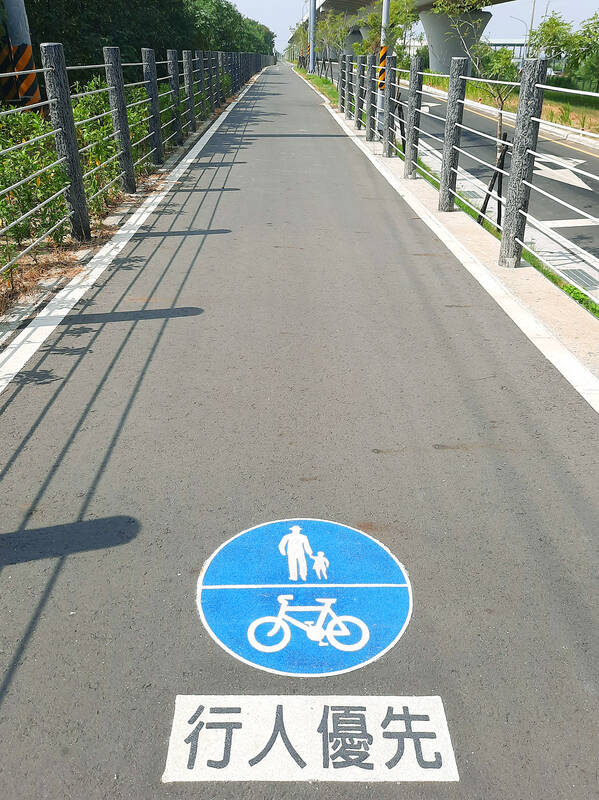 Pedestrians enjoy priority over cyclists on this brand new dual-purpose trail in Tainan, but European experience suggests walkers and bikes are best kept apart.
Photo: Steven Crook
Among other bike-friendly features common in Dutch neighborhoods are parking lots specially designed for bikes at railway stations and other hubs, and gutters beside steps, so cyclists can easily negotiate pedestrian bridges and underpasses. Taiwan could do with more of both, Lin says. However, she adds, bicycle theft is a very real problem in Dutch cities.
Lin says she'd like to see much more traffic-rule enforcement in Taiwan. She expresses certainty that "people will learn fast when there's a real threat of a hefty fine."
There's also a need to teach good cycling habits. Hand-signaling before turning is "almost unknown" in Taiwan, she laments. People need to understand that they shouldn't stop suddenly without warning, and that lights are essential when riding at night.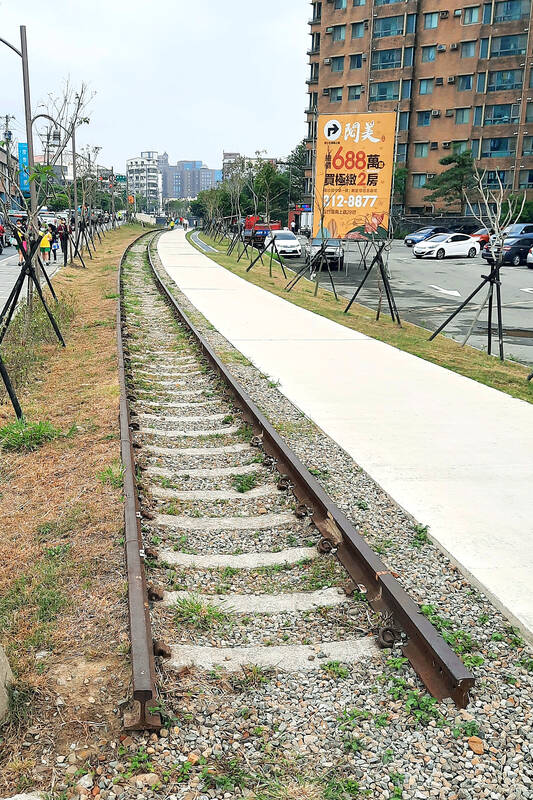 The path beside a stretch of closed-down railway in Nankan, Taoyuan, is used by cyclists — but no obvious signs indicate if bikes are allowed on it.
Photo: Steven Crook
Few Dutch people wear helmets when riding, because accidents are so rare. The cycling environment around Fengyuan is better than it was, thanks to the bike lanes laid out after the railroad was elevated, Lin says. However, she feels that Taiwan is still nowhere near safe enough for riders to leave their helmets at home. That said, she isn't sure if they should be made compulsory. Some cycling advocates oppose rules of this kind, arguing that they're likely to put people off riding.
RISKS ON THE ROAD
"Any cyclist in Taiwan risks his or her life each time they ride here," says Nathan Miller, an American resident of Taoyuan who has biked 16,000km so far this year.
Miller says that, because so many people own a gasoline-burning or electric scooter, most road users are "totally aware of what it's like to be on two wheels, which helps the cyclist. Yet I'd like to see just a bit more courtesy, attention to detail and integrity, such as giving the rider a wide shoulder when passing, not honking and not talking to the rider while riding, aside from a friendly jiayou [加油, an expression of encouragement]."
Asked what Taiwan does right, Miller points to Taipei's riverside bike trails.
"They're amazing. On weekdays, you'll find a sense of freedom and safe riding, and overall a very pleasant experience," says the college lecturer.
During periods of high traffic, however, these trails "breed potential accidents, and there's no system in place to easily communicate the exact location when an accident does happen. If there's a system of kilometer-markers, I've never noticed it. Access for ambulances is rather difficult. Also, at some locations, exiting the riverside isn't easy for a cyclist."
Relatively few Taipei residents commute to work via the capital's riverside bike paths. In Kaohsiung, which now boasts an extensive network of bike-only trails, the picture is similar: Most people ride for fun or for exercise.
In part, this is because of Taiwan's sticky climate. Before more Taiwanese begin cycling to work, office buildings will have to provide places where people can shower and change, as well as secure bike-parking spots. Adding such facilities is the kind of pump-priming, job-creating activity that the government could easily subsidize, but doesn't.
It's not as if the authorities aren't amenable to spending money to create what they call "a great cycling nation" (自行車騎乘大國). In a statement published on its Web site on Oct. 25 last year, the Executive Yuan reiterated its intention to spend a total NT$2.8 billion between 2020 and 2024, to improve "accessibility and user-friendliness" and "bridge gaps to connect local bike paths [for] a safer, more comfortable cycling environment."
But just as the government expedites, it also impedes. Many cyclists grumble that bringing a bike on a train is more difficult now than it was a five years ago. Taipei Times columnist Michael Turton, writing in this newspaper on May 9, bemoaned the unwillingness of the Taiwan Railways Administration (TRA, the state-run entity that operates the country's conventional rail network) to accommodate passengers with bikes.
The UK's railway system is subpar, yet British travelers can take bikes onto trains free of charge and, in most cases, without any kind of reservation. In Japan, traveling with a bicycle is permitted on any train and is free of charge — even on a Shinkansen "bullet train," so long as you use a special bike bag.
For individuals who live in Tainan and work in the nearby science park, being able to carry a bike on any train would be gamechanger. At the southern end of the commute, minor TRA stations like Yongkang (永康) and Daqiao (大橋) aren't well served by buses. At the northern end, Nanke TRA Station (南科車站) is between 1.8km and 5.5km from the park's major factories.
E-BIKES
In one regard, occasional cyclists are better off in Taiwan than in the Netherlands, Lin says. Thanks to YouBike and other government-supported networks, renting a bike is easier here than it is there. But, in her opinion, the only way to overcome the widespread reluctance to ride in Taiwan's heat and humidity is to increase the availability of electric bicycles.
E-bikes require charging, but they're roughly 13 times more energy efficient than ordinary cars. They're also quieter and require less space than conventional motorcycles.
However, they also bring particular safety, liability and rider-education challenges. At least last week's announcement by the Directorate-General of Highways that new e-bikes will require license plates beginning Nov. 30, and that all such vehicles must have them within two years, suggests the authorities are willing to plan for a future that includes e-bikes.
Lin may be right, but to really move the needle, the carrot of cheap-to-rent shared e-bikes would have to be combined with a few sticks. Authorities could start by reducing parking spots in downtowns, to make life more difficult for those driving cars or riding gasoline-powered scooters — but only if they can muster sufficient political courage, and are able to communicate the benefits of such a shift in behavior to the public.
Steven Crook, the author or co-author of four books about Taiwan, has been following environmental issues since he arrived in the country in 1991. He drives a hybrid and carries his own chopsticks. The views expressed here are his own.
Comments will be moderated. Keep comments relevant to the article. Remarks containing abusive and obscene language, personal attacks of any kind or promotion will be removed and the user banned. Final decision will be at the discretion of the Taipei Times.