Ceramics park steeped in history
Tucked away down a small lane in Nantou County lies a ceramics museum and culture park that is a must-visit destination for people of all ages
This is a tourist attraction that I have passed too many times to remember, but only visited recently. I was pleasantly surprised by what greeted me inside, but a more accurate description would be that I was shocked it doesn't receive the attention it truly deserves.
Shueili Snake Kiln Ceramics Cultural Park (水里蛇窯陶藝文化園區) in Nantou County's Shueili Township (水里) was built in 1927 and is the oldest wood-fired kiln in Taiwan. Founded in 1927 by master potter Lin Chiang-sung (林江松) it remained a family business for generations before being opened to the public as a ceramics park in 1993. The 30-meter elongated kiln bears a resemblance to a snake, hence its name.
There were two reasons for founding a kiln in this location. First, in the early 20th century Shueili was home to a thriving timber industry providing an ample supply of wood to fire the kiln. Second, the local clay is ideal for pottery.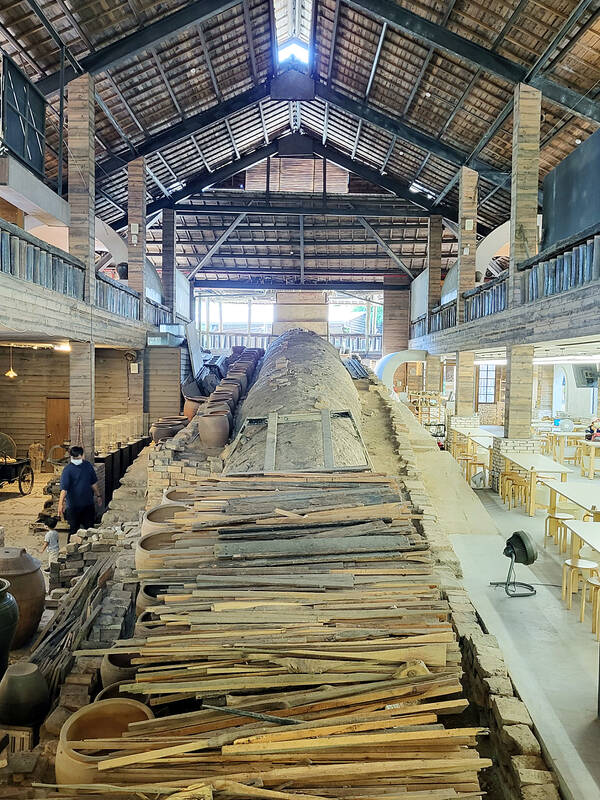 The outside view of the Snake Kiln at Shueili Snake Kiln Ceramics Cultural Park.
Photo courtesy of Mark Roche
After passing through the gateway the first thing that caught my eye was the three-story main building. It was like stepping into the Japanese colonial past. Ceramic jars line the outer walls of the wooden structure carved and assembled by artisans of a bygone era. Even more impressive is the fact that the whole complex had to be reconstructed from scratch.
RISING FROM THE RUBBLE
In 1999, the original kiln was completely destroyed by the catastrophic 921 Earthquake. The next year, it was fully restored and opened to the public. To celebrate its rebirth, potters created a 6.6-meter vase –—The Millenium Twin-lips Vase — certified as the tallest kiln work in the world by Guinness World Records.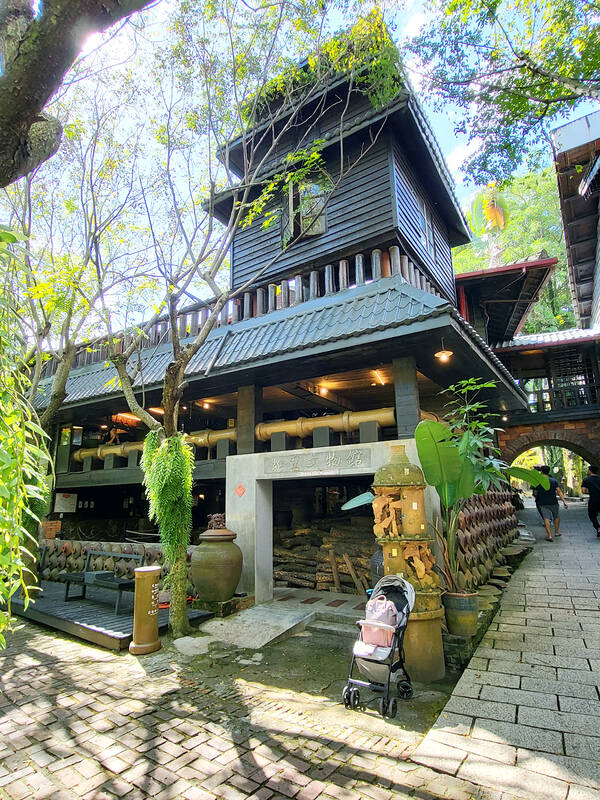 Fine examples of Japanese architecture at Nantou County's Shueili Snake Kiln.
Photo courtesy of Mark Roche
Shueili Snake Kiln also successfully transformed itself into a cultural park, where the family-friendly, educational and interactive pottery classes allow visitors to experience traditional clay making.
LOST IN THE LABYRINTH
I stood inside the 30-meter Snake Kiln in awe of the effort required to stack and fire its contents. Watching artisans transform a lump of clay into objects of beauty gave me extra appreciation when wandering through the gallery spaces, where traditional forms and contemporary designs contrast with more playful work.
Inside the Snake Kiln at Nantou County's Shueili Snake Kiln.
Photo courtesy of Mark Roche
Walking around the cultural park is a sheer joy. A maze of rooms, one leading into the other includes the Snake Kiln Museum, a multi-media room, an exhibition hall and a boutique shop to name a few. If you can find it without getting lost there is also a wonderful coffee shop on one of the upper floors.
I would advise the visitor to allow a few hours to cover all the areas inside. It would be a mistake to rush it if for no other reason than to just sit in the garden area and soak in the atmosphere of this temple dedicated to the art of ceramics.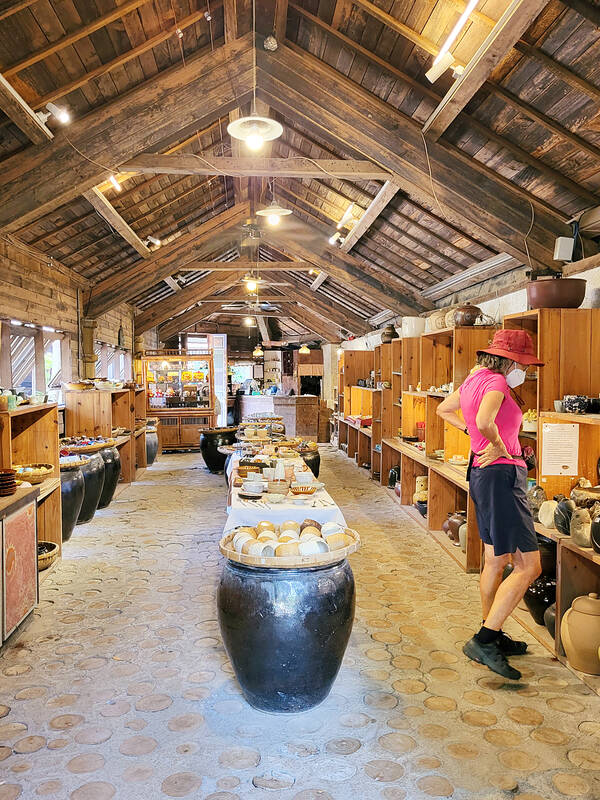 A visitor browsing in the shop at Nantou County's Shueili Snake Kiln.
Photo courtesy of Mark Roche
Publication Notes
Museum notes
What: Shueili Snake Kiln Ceramics Cultural Park (水里蛇窯陶藝文化園區) Where: 16 Huiyao Rd, Dingkan Village, Shueili Township, Nantou County (南投縣水里鄉頂崁村回窯路16號) Open: Daily from 8am to 5:30pm, closed Wednesdays; tel: (04) 9277-0967 Admission: NT$150, includes vouchers for coffee and ice-cream shops On the Net (Chinese only): www.snakekiln.com.tw
Comments will be moderated. Keep comments relevant to the article. Remarks containing abusive and obscene language, personal attacks of any kind or promotion will be removed and the user banned. Final decision will be at the discretion of the Taipei Times.