Notes from central Taiwan: Lessons from the peace
Many commentaries draw lessons for Taiwan from the war in Ukraine, but few discuss the peace that might follow a war for Taiwan, which could involve mass killings and deportations to concentration camps
The media reported last week that China's dictator Xi Jinping (習近平) told the People's Liberation Army to "focus all its energy on fighting." As commentators pointed out, when a dictator with an enormous military at his disposal tells that military to prepare for war, people should assume he means what he says and respond accordingly.
A lesson from Russia's invasion of Ukraine.
LESSONS FROM UKRAINE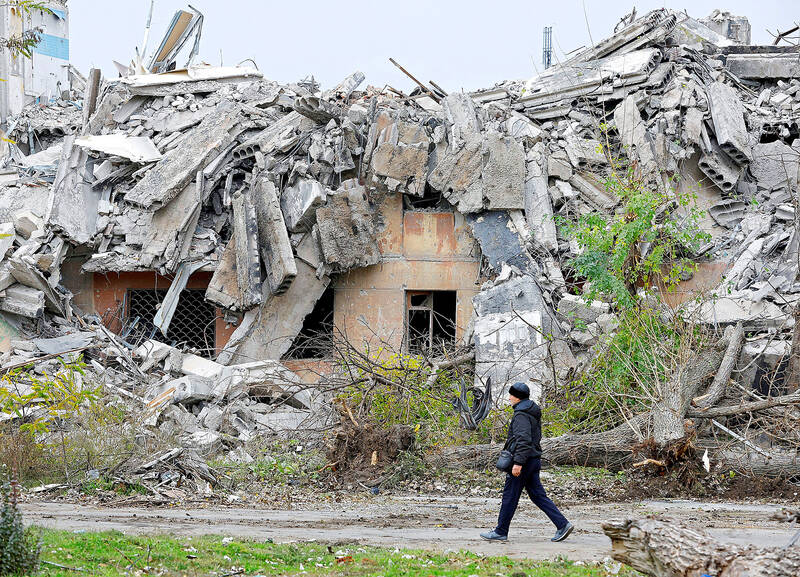 A man on Wednesday walks past the ruins of a building destroyed in the course of the Russia-Ukraine conflict, in Mariupol, Russian-controlled Ukraine.
Photo: Reuters
Innumerable commentaries draw lessons for Taiwan from the Ukraine war, few discuss the peace that might follow a war for Taiwan. Yet, the idea of peace in Ukraine, and whatever peace is made between Ukraine and Russia, will likely have lessons for Taiwan as well.
Calls for "peace" in Ukraine are common, especially from pro-Putin leftish organizations, which, not by coincidence, are also pro-China. The Pope recently called for peace in "war-torn" Ukraine, avoiding mention of who started the war. In the more intelligent magazines, writers have been saying that the war will end with a negotiated peace.
That's a no-brainer. Historically, most wars between major powers end that way even when victory is undeniable. Even World War II in Asia, which saw Japan surrender unconditionally after America's use of nuclear weapons obviated its strategy to continue the war, did not formally end until the San Francisco Peace Treaty was negotiated in 1951. Hence, Japan retained sovereignty over Taiwan until 1952 when the treaty came into effect.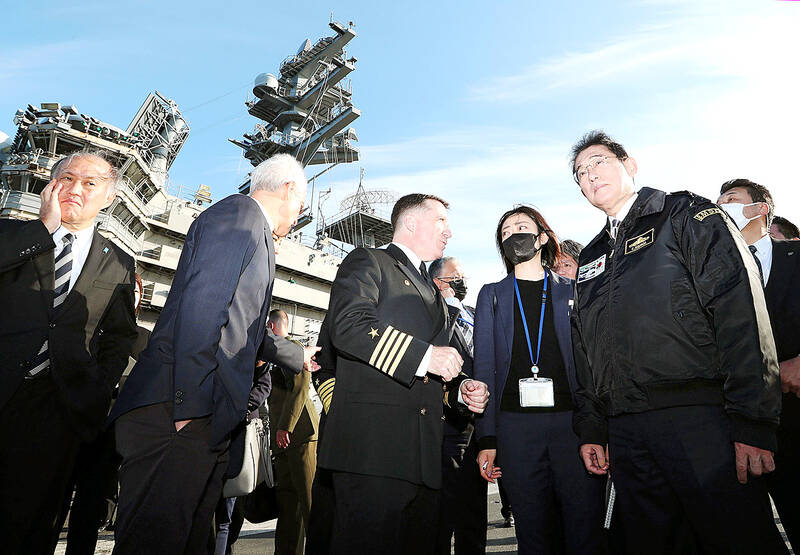 Japanese Prime Minister Fumio Kishida, right, on Nov. 6 visits the USS Ronald Reagan, in Sagami Bay, southwest of Tokyo. Kishida, at an international fleet review Sunday, said his country urgently needs to build up military capabilities as it faces worsening security environment in the East and South China Seas and threats from North Korea's nuclear and missile advancement and Russia's war on Ukraine.
Photo: AP
As in war, the smaller size of Taiwan has implications for any "peace" settlement. Taiwan does not offer a chunk of land large enough to sell out to China as a plausible "peace" chip, the way Russia's occupied lands in southern Ukraine offer that constant temptation. Nor, after Russia's actions, is anyone going to trust Chinese guarantees for a partial occupation. Never mind anyone who is familiar with China's betrayals of its agreements involving Tibet and Hong Kong.
Moreover, whoever is president of Taiwan when China attacks is going to have the Ukrainian President Volodymyr Zelensky model with its Churchillian "we-will-fight-them-on-the-beaches" tones to live up to. That will (happily) impede territorial sell-outs for a temporary and illusory peace. The attitude of Taiwanese will shape this: Ukraine's deeply individual patriotic resistance has made it difficult for outsiders to ignore them in considering a peace agreement.
Another issue will be the US position on the war's end. The pro-Putin left has been screaming that the US was impeding a "peace" settlement in Ukraine. Then it was revealed that the US had been pressuring Zelensky to give up his opposition to negotiating with Putin. Oops!
Successful Ukrainian offensives show how the "peace" movement keeps being wrong. Each time Ukraine liberates territory from fascist occupation, it pre-empts calls for "peace" that argue that the war is stalemated. Russia's unfolding disaster in Kherson, so predictable these last few months, has been a powerful argument against the pro-Putin peaceniks.
RESISTANCE CRUCIAL
There are lessons for Taiwan here: as long as resistance is continued, a peace that sells the island out can be avoided. Even better if Taiwan and its allies have victories to show.
The Ukraine situation makes it clear that the US attitude will be a major factor in a negotiated peace. Adding Japan to the equation will complicate things, as Tokyo is directly threatened by China's demands for its territory.
Both nations will likely be directly participating in the war, unlike in Ukraine. It will be hard to call for negotiations over the blood of American, Japanese and Taiwanese dead.
Remember, Taiwan is not Ukraine circa 2021, hardened by years of war in southern Ukraine against Russian regulars. It is more like Ukraine circa 2010, unready for what is coming.
This suggests the possibility of something akin to the Minsk agreements that Ukraine and Russia negotiated, which Russia ultimately betrayed and then declared invalid. Perhaps a short-of-war occupation of Kinmen and Matsu might lead to something like that, especially with China holding thousands of Taiwanese hostage, but Minsk-like agreements are more likely to be the outcome of a failed invasion that leaves China holding onto Taiwanese citizens and soldiers from Kinmen and Matsu, along with the South China Sea.
Because of Ukraine's experience, such agreements would imply, of course, that further war was coming.
The rock on which all calls for peace founder: what peace would the invader be willing to accept and abide by? Putin guaranteed Ukraine's borders. If Russia wants peace, why is it shelling Ukraine's cities with missiles and calling up another 300,000 men? The answer is obvious. If talks occurred now, they would simply buy time for the dictator to reposition for the winter.
Imagine a China defeated, but holding Kinmen and Matsu. At that point, would Beijing agree to a halt and talks? Even if China joined talks, who could trust them, having fallen far short of their goal?
A peace agreement would have to guarantee Taiwan's security from further attacks, just as with Russia's invasion of Ukraine, and provide for compensation. How could that be accomplished? It's not a coincidence that calls for "peace" are seldom accompanied by concrete proposals for it.
Just as many envision a postwar order that calls for Ukraine to become part of NATO to secure a permanent peace, so any stable peace involving Taiwan would have to (minimally) bring Taiwan into a formal regional security arrangement, with the US and perhaps Japanese military stationed here.
If only Taiwan diplomacy were oriented on creating the basis for such an order among its neighbors to the south.
INTERNAL PROBLEMS
Russia's internal problems also highlight issues for Taiwan. Putin is facing calls from his right for full mobilization and conversion to a war economy. Even if Putin is replaced, many analysts have argued, the next leader will likely be as committed to the war as Putin is.
Similarly, Chinese have now been subject to decades of propaganda about Taiwan. Even if the Communist Party falls, the next government will be formed of people holding those beliefs and supported by a population heavily indoctrinated with them.
The Ukraine war raises other problems "peace" will create: mass killings, mass rapes and mass deportations to concentration camps. I have maintained for years now that Xinjiang is the testing ground for the policies China will implement in occupied areas in Taiwan.
Further, note that the infrastructure China has created to support its lockdowns, with its mass detention areas and large-scale control and surveillance, are ideally suited to holding a population deported from Taiwan.
Finally, consider the mass murders in Izium, Bucha and Mariupol. How can Ukraine ever make peace with such butchers?
Hopefully, Taiwan will never have to ask that question of history.
Notes from Central Taiwan is a column written by long-term resident Michael Turton, who provides incisive commentary informed by three decades of living in and writing about his adoptive country. The views expressed here are his own.
Comments will be moderated. Keep comments relevant to the article. Remarks containing abusive and obscene language, personal attacks of any kind or promotion will be removed and the user banned. Final decision will be at the discretion of the Taipei Times.