Taiwan's techno-entrepreneurial diplomacy
The nation showed off its soft power at a series of events in New York to coincide with the UN General Assembly
Technology-savvy entrepreneurs from Taiwan help not only strengthen Taiwan's economic power with their endeavors, but also flank the nation's diplomatic thrust and enhance the reservoir of sympathies for it.
The recently held Concordia Summit 2022 in New York, with the participation of many high-profiled international figures from politics to finance, culture to environmental protection and human rights, was attended by a number of Taiwanese officials and businesspeople. Indeed, the summit, timed to coincide with the UN General Assembly, is being touted as a "mini United Nations."
Taiwan's uncontested global leadership in the electronics field, particularly in chip manufacturing, was noted at the summit where President Tsai, Ing-wen (蔡英文), in a recorded message, thanked organizers for staging the summit, and discussed Taiwan's development.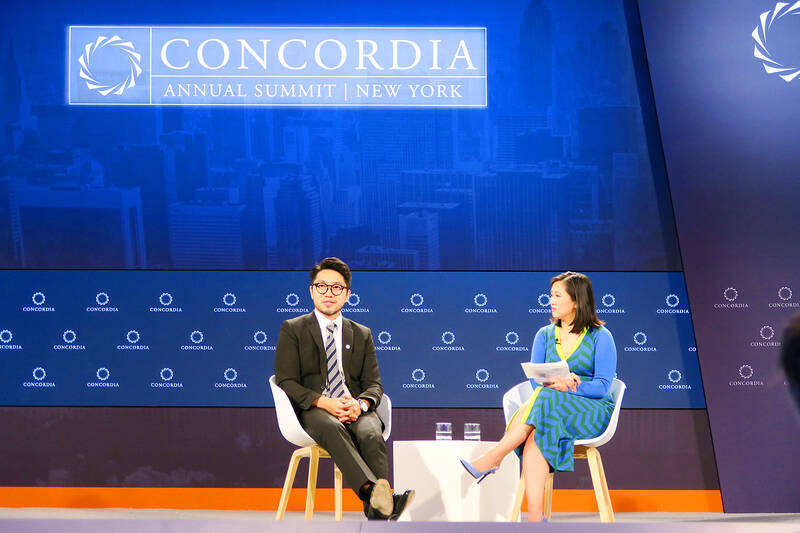 Arthur Huang, left, the CEO of Miniwiz Co, on Sept. 20 speaks about the recycling industry at the Concordia Summit in New York.
Photo: CNA
A striking feature about Tsai's virtual presence was that she was listed as President of the Republic of China (Taiwan), in contrast to certain UN-affiliated organizations, which usually describe Taiwan as "Chinese Taipei."
HUMANITARIAN AID
Alex Shyy (史立軍), Deputy Secretary General of Taiwan's International Cooperation and Development Fund (ICDF), said that Taiwan provides a wide range of technological assistance to developing countries, though "it is driven mainly by humanitarian considerations."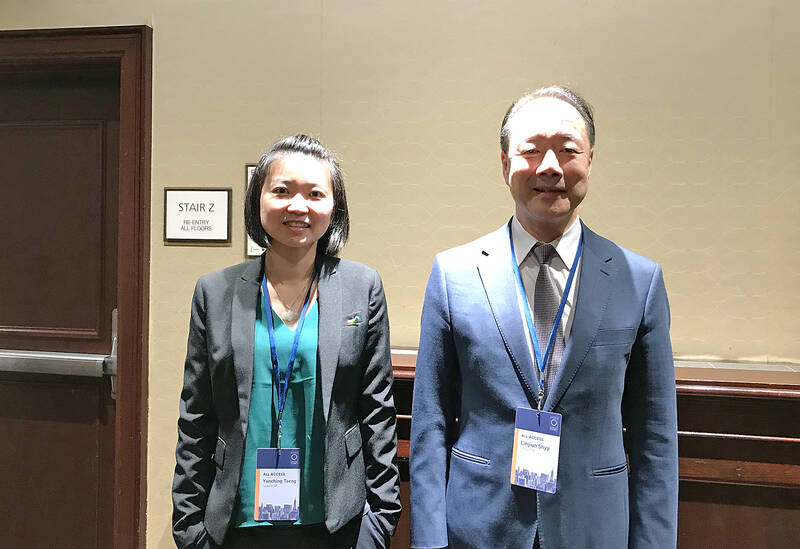 Tseng Yun-ching, Director, Research, Development and Evaluation Department, left, and Alex Shyy, Deputy Secretary General, International Cooperation and Development Fund.
Photo: Manik Mehta
"We provide soft loans, technology, education, vocational training, humanitarian aid … these are the key elements of our aid program," he told the Taipei Times.
Extending such assistance poses a sharp contrast to China's commercial loans for projects in developing countries that get caught in Beijing's debt trap and end up mortgaging their strategic assets as a surety for their inability to repay the loans, which recently happened in Sri Lanka.
The ICDF is active in Central and South America, the Caribbean and Pacific islands, Southeast Asia and West Asia Africa. This form of assistance is welcomed by many countries that are known to have disappointing experiences with China.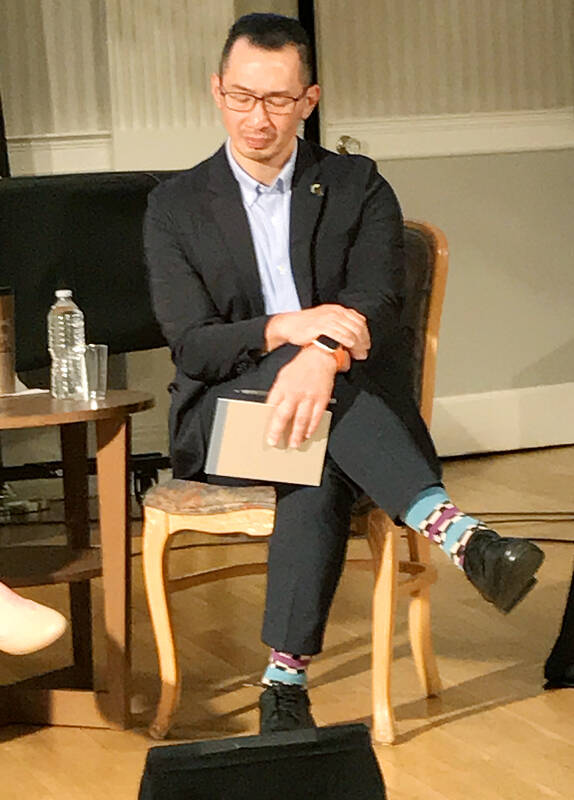 Allan John Ku, Vice President, EverIII & Partners at a TECO event in New York.
Photo: Manik Mehta
Shyy said that ICDF works closely with the European Bank for Reconstruction and Development and provides special funds to it to implement projects in Romania, Bulgaria, Uzbekistan and Moldovia.
"Our loans are given at very low interest rates as per OECD regulations. We have strategic partnership with USAID. We are here at the Concordia Summit to create awareness about Taiwan and build partnerships with US agencies," Shyy said.
Minister for Digital Issues Audrey Tang (唐鳳) highlighted Taiwan's technological advancement, and its high level of innovations and sophistication. Taiwan's techno-entrepreneurs, many of whom visited New York during the UN's general assembly, were seen interacting with US businesspeople.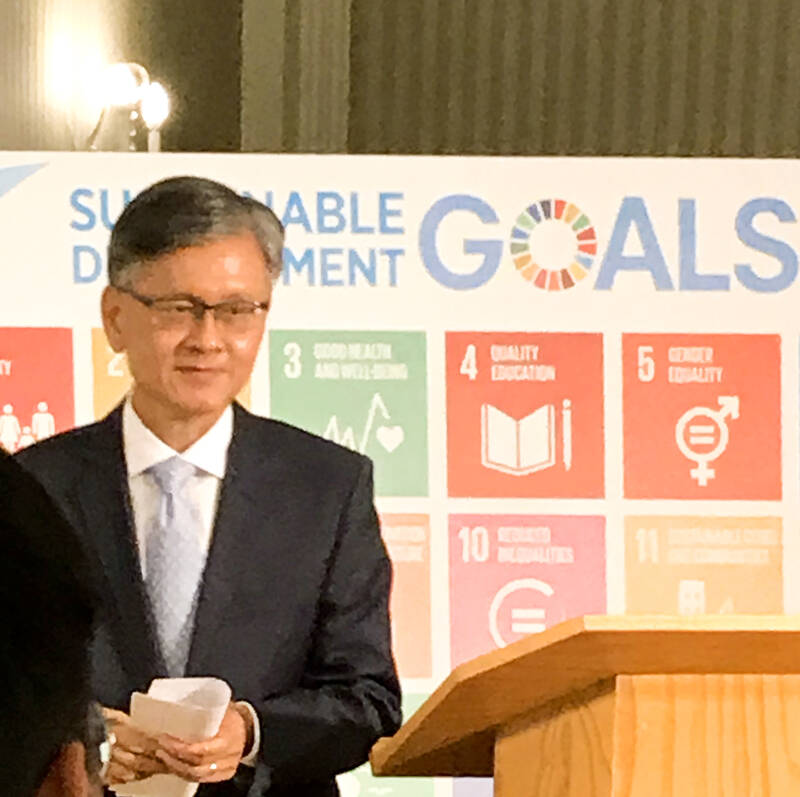 James Lee, Taipei Economic and Cultural Office in New York Director, at a TECO event in New York.
Photo: Manik Mehta
INNOVATION
Arthur Huang (黃謙智), CEO of Taipei-based Miniwiz Co, made a strong pitch for the recycling industry, whose aim is to reduce pollution and stop the depletion of resources in keeping with a key UN social development goal emphasizing conservation and engaging in responsible consumption and production.
"You can say that we convert trash into good, usable materials … [T]rash is precious and should not be wasted in the interest of our environment and our planet. I am wearing a suit that is made of used polyester propylene," Huang said, pointing to his attire as he spoke with the Taipei Times.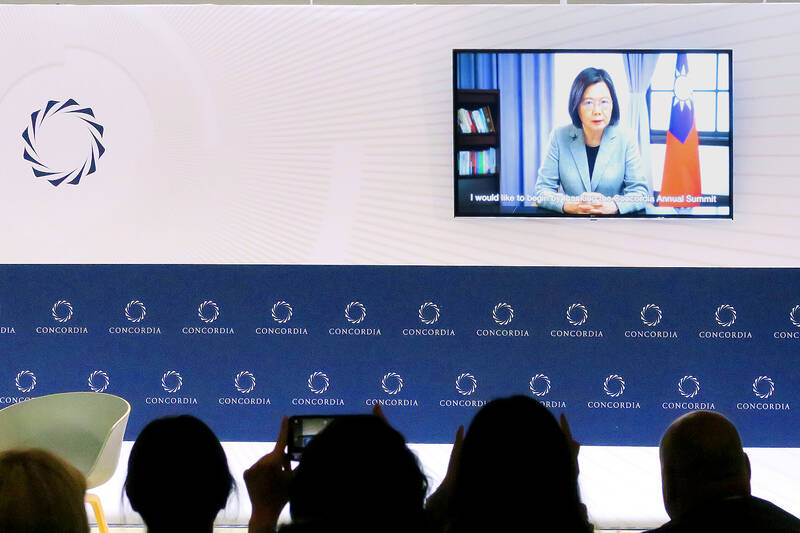 President Tsai Ing-wen delivers a pre-recorded speech on Sept. 19 at the Concordia Summit held in New York to coincide with UN General Assembly.
Photo: CNA
"Governments have tremendous power to play a role in the circular economy," Huang added. "The perception of trash in the consumer mind is still negative and needs to change. The first step is to make people realize that it is possible to create things from trash," he said.
Huang added that his company is targeting high-consumption industries such as textiles, plastics, steel and aluminum to reduce carbon emissions.
Another manifestation of the much-discussed "techno-entrerpreneurial diplomacy" was on display at another event, "Finding Transformative Solutions Through Innovative Partnership Mechanisms," organized by the Taipei Economic and Cultural Office in New York, where a number of prominent speakers, including Minister of Foreign Affairs Joseph Wu (吳釗燮), conveyed their views by video conference.
Allen John Ku (樊亞倫), Vice President of Ever III & Partners, a Taiwan-based consulting firm focusing on the new economy, innovation and "bridging Taiwan to the world," said his company designs and executes programs that enhance the innovation ecosystem and connect resources between regional stakeholders including startups, government agencies, multinational corporations, local businesses, adding that "our signature program" is the Taiwan Startup Stadium which helps Taiwan startups go global.
"We are the purveyors of the Startup Island Taiwan brand for the National Development Council of Taiwan," he said.
Ku maintained that Taiwan, though officially not a UN member, was working for the realization of the UN's 17 social development goals (SDGs), and had made good progress towards achieving the goals.
"The world has already started noticing Taiwan's progress even though the majority of the nations have not made much progress," Ku said.
Comments will be moderated. Keep comments relevant to the article. Remarks containing abusive and obscene language, personal attacks of any kind or promotion will be removed and the user banned. Final decision will be at the discretion of the Taipei Times.