Book review: All the world's a stage
Shakespeare productions cast light on Taiwanese identity and cross-strait relations in study of the Bard's influence in East Asia
A few years ago, I attended a Shakespeare workshop in Taipei. As someone who only began to appreciate the Bard outside the classroom, I was excited. Several Taiwanese were participating in the four-week course, and I was curious to see what they would make of it.
In the event, one quit after the first week, and others struggled with the language and, I suspect, the historical and cultural background to the soliloquies they chose. The experience got me wondering about Shakespeare\'s supposed universality. In this collection, Alexa Alice Joubin asserts a "deep connection among Asian and Anglophone performances" of Shakespeare. As her research interests included race, gender and identity, it is unsurprising to find these themes featuring prominently.
With women excluded from performing in the early modern era, gender fluidity was built into Shakespeare from the get-go. Prepubescent boys played the female roles, with Shakespeare even cunningly alluding to this through Cleopatra's lament that future dramatizations of her life will see "Some squeaking Cleopatra boy my greatness/In the posture of a whore."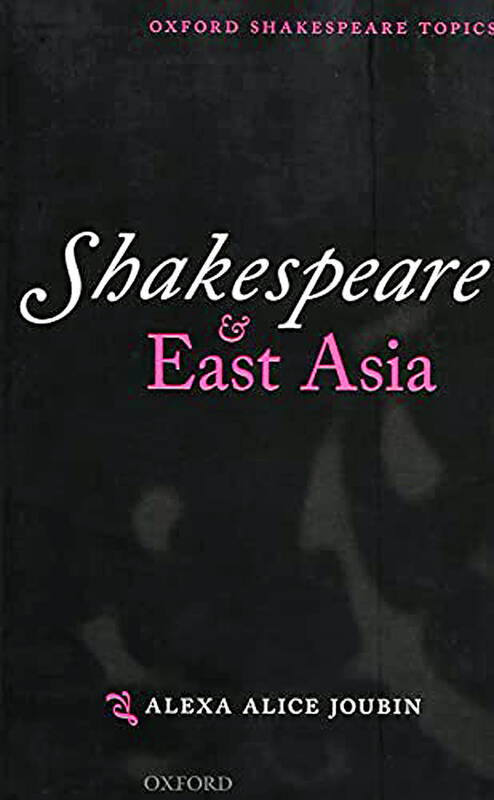 Shakespeare & East Asia, by Alexa Alice Joubin
Aside from young men "boying" female characters, several plays famously feature gender swapping — Viola as Cesario in Twelfth Night and Rosalind as the shepherd Ganymede, for example — a device that allowed the male actors to dispense with the "squeaking" while the character remained in disguise. So, analysis of Shakespeare through the lens of gender are hardly new or controversial. What makes Joubin's critiques interesting are the elements that she draws in. A section on representations of the character of Ophelia in South Korean theater and film, for example, looks at shamanism as conferring "greater agency" on women because "female shamans exist outside the Confucian social structure" and K-pop "flower boys" as a model for trans characters.
IMPROVING LOCAL ART FORMS
For Taiwan-focused readers, chapter two will be of interest. Titled Politics of Remediation, the section analyzes productions that have been used for "reparative" purposes — that is for improving local art forms, addressing socials issues and voicing controversial political views.
Citing Wang I-chun's (王儀君) experience of teaching Shakespeare to college classes, Joubin notes the students "found strong parallels between Roman-British relations in Cymbeline and Sino-Taiwanese relations during the Sunflower Student movement of 2014."
The tragedy, Wang believes, was an outlet for the students to "voice their concerns about Taiwanese identity in the face of threatened militarism from and economic dominance by the People's Republic of China." The play further became "a vehicle through which students of different political persuasions could discuss Taiwan's political future."
Through the work of actor-director Wu Hsing-kuo (吳興國), Joubin further examines the posited remedial capacity of Shakespeare. Focusing on the Wu's solo jingju (京劇 Beijing Opera) performance of King Lear, Joubin highlights the various dualities of the interpretation.
First, there is the notion of an actor's double consciousness. This is emphasized in Wu's take on Act 1, Scene 4, in which Lear expresses his identity crisis with the famous rhetorical question, "Who is it that can tell me who I am?" Wu's removal of his jingju headdress, beard and hair, which he joins together then addresses as if to a mirror or empty shell, indicates "the emptiness of stage representation and of the actor's empty self when he is not inhabited by the character." Further dualities evoked by the scene include the medieval dichotomy of the corporeal vs the transcendent "body" of the king, Lear's double role as a father and ruler, and the stylized aesthetic of jingju in opposition to Shakespearean character development. However, it is Wu's personal struggle to "reconcile his dual identities as a jingju actor and citizen of Taiwan" that is most interesting. Through Lear and other adaptations of Western works, Joubin argues, Wu "decouples Beijing Opera from the People's Republic of China."
THE CANON
While the "hypercanonicity" of Shakespeare's work has led to an almost unquestioned assumption of its didactic value, Joubin suggests that this reverence has also spawned a different approach "that is skeptical of the efficacy of reparative performances." This is expressed through parody, a form that can demonstrate confidence in interpreting a canon within a society, but also — conversely — that such confidence may be misplaced. Playing with these notions, Lee Kuo-hsiu's (李國修) Shamlet (莎姆雷特) incorporates embarrassing mechanical failures, bungled dialogue and unwittingly swapped roles. Stripped of its existential connotations, Hamlet's classic dilemma, "to be or not to be," is reduced to a series of jokes about who is playing which role. Yet, even in these comic exchanges, Joubin finds remedial value, as the actors "find themselves becoming souls adrift without meaningful identities" hinting at Taiwan's indeterminate status. Further, in the play's denouement, Joubin sees the entrance of the Norwegian usurper Fortinbras as allegorizing "the militaristic and ideological threat that Taiwan faces" from China.
In the real world, Joubin observes, Chinese Communist Party leaders have "repeatedly repurposed" Shakespeare for political purposes, particularly in their interactions with the UK.
Addressing the UK Houses of Parliament in 2015, China's President Xi Jinping (習近平) quoted Antonio's line from The Tempest that "what's past is prologue." This, Joubin notes, could be taken as a gesture of reconciliation for historical wrongs such as the Opium Wars or, alternatively, an ominous indication of China's burgeoning power (which is, in fact, closer to the original meaning). Aside from the analysis, this book provides some fascinating background to the history of Shakespeare in East Asia. An adaptation of Othello by Japanese actor-comedian Otojiro Kawakami is notable for depicting a (fictionalized) anti-colonial rebellion on Penghu.
"Kawakami's play," writes Joubin, "exhibited a double colonial gaze: Japan looked to some nations as colonizable subjects while Japan itself was in a subaltern position in relation to certain European cultures."
Joubin also points out that performances of Shakespeare in Asia have generally come at important historical junctures. The first ever Mandarin performance, staged in Taipei in 1949, is one example. While the material on Taiwan is limited, it is thought-provoking and cogently presented. With contemporary cinematic works such as Parasite, Star Wars and Hot Fuzz thrown into the mix, the comparative studies are entertaining. Finally, as academic monographs go, this is an eminently affordable book.
Links to many of the scenes, available via Joubin's MIT Global Shakespeares Video & Performance Archive, include Wu's Lear, and are offered throughout the chapters. Taken in conjunction with the textual analysis, this makes the book a great resource for any fan or practitioner of the Bard's work.
Publication Notes
Shakespeare & East Asia
By Alexa Alice Joubin 272 pages Oxford University Press Paperback: US
Comments will be moderated. Keep comments relevant to the article. Remarks containing abusive and obscene language, personal attacks of any kind or promotion will be removed and the user banned. Final decision will be at the discretion of the Taipei Times.