Taiwan in Time: 'Just an amateur artist'?
Watercolor artist Hsiao Ju-song kept a low profile when he was alive, but he is in the spotlight this month as Hsinchu County celebrates his 100th birthday
SEPT. 19 to SEPT. 25
Hsiao Ju-song (蕭如松) had big shoes to fill. His father became the first Taiwanese lawyer during Japanese rule — passing the exam without any formal study — while his older brother was an esteemed physician with a Doctor of Medicine degree from Germany. He even served as a lieutenant during World War II, a rank that few Taiwanese attained.
Despite their achievements, the family wasn't wealthy, and high hopes were placed on Hsiao when he became one of four Taiwanese students accepted into the prestigious Taihoku First High School (today's Taipei Municipal Jianguo High School, 建國中學).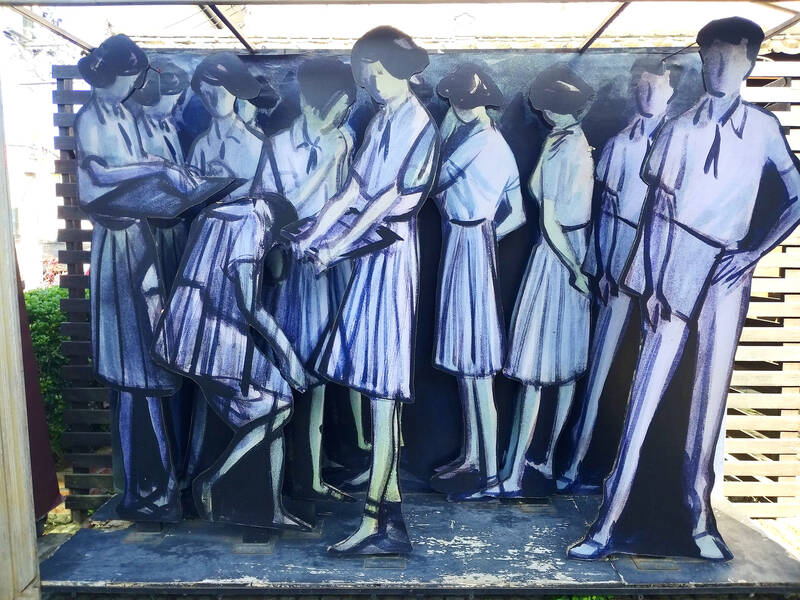 A replica cutout of Hsiao Ju-song's Group Portrait of Students is seen in front of his former residence in Hsinchu County's Jhudong Township.
Photo: Liao Hsueh-ju, Taipei Times
Facing discrimination at school and suffocating pressure at home, Hsiao found solace in painting. His parents forbade him from making art at home, but he always found a way — whether it was sketching on scraps of paper stolen from his father's study, or doodling in his workbooks while pretending to study.
At the age of 17, Hsiao was selected to exhibit at the 1939 Taiyang Fine Arts Exhibition. Aside from a brief hiatus, he participated in the show every year until 1991, submitting more that 70 pieces.
When Hsiao insisted on pursuing art as a career, his family called him a traitor and a good-for-nothing, refusing to provide him with any financial support. Supplies were scarce due to World War II, and for two years he subsisted mostly on taro leaves while studying to be an art teacher at Hsinchu Normal University, greatly damaging his health.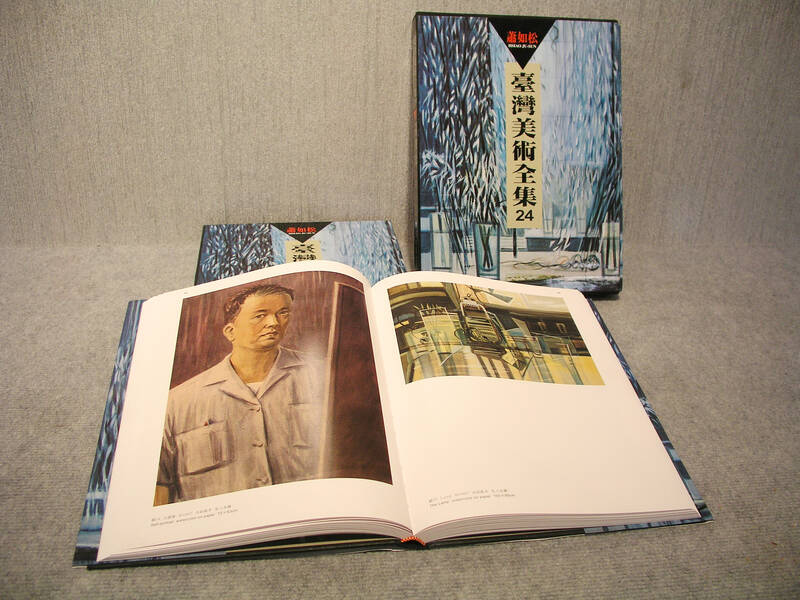 Self Portrait, left, and The Lamp, seen in the book Complete Works of Hsiao Ju-song.
Photo: Liang Hsiu-hsien, Taipei Times
Today, Hsiao is remembered as a low-key, yet important watercolor painter and a strict but passionate art teacher, with an art park dedicated to him around his former residence in Hsinchu's Jhudong Township (竹東). Hsinchu County has been putting on a series of events starting last month to commemorate his 100th birthday, which falls on Tuesday.
FIRST LAWYER
Hsiao's tenth generation ancestor was one of the first Han Taiwanese to settle in the future Hakka settlement of Beipu Township (北埔), Hsinchu County.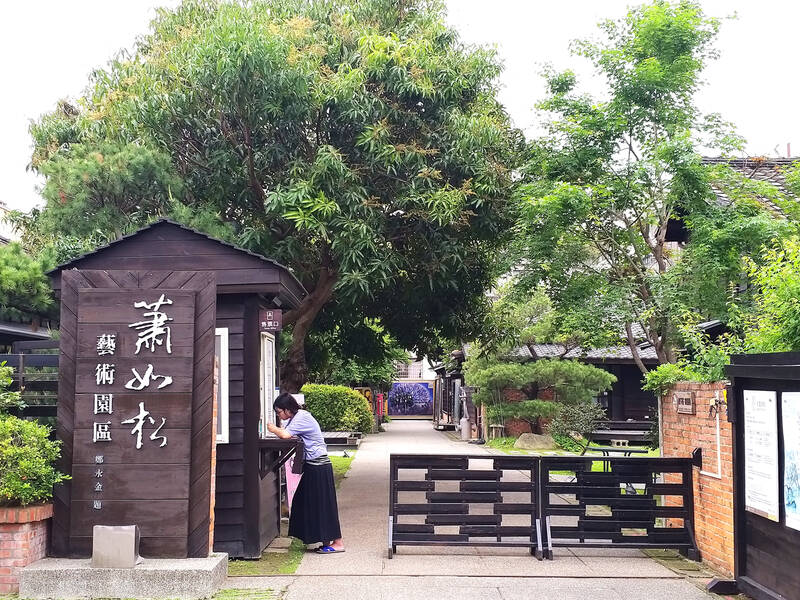 The entrance to Hsiao Ju-song Art Park, which consists of five Japanese-era buildings, including the artist's former residence.
Photo: Liao Hsueh-ju, Taipei Times
His father, Hsiao Hsiang-an (蕭祥安), trained to become a teacher, although his true interest was law. Ling Chun-yu (凌春玉), who has done much research on the family, writes that the elder Hsiao continued to study in his free time, and in 1919 passed the high-level civil servant examinations to become a translator for the Taipei High Court and the Governor-General's Advisory Council.
This was already a rare accomplishment, Ling writes; only about 50 Taiwanese passed the high-level examinations during the half century of Japanese rule, and even fewer were hired on. In 1923, the elder Hsiao reportedly served as crown prince Hirohito's personal translator for his 12-day tour of Taiwan, and played shogi, also known as Japanese chess, with the royal during their down time.
The Great Depression in 1929 also affected Taiwan, and to provide a better living for his eight children, the elder Hsiao decided it was time to try for the legal exams. In late 1936, he became the first Taiwanese to pass the exams and started his legal practice in Taipei the following year. He served as the deputy chairman of the Taipei Attorney's Association in 1940, the only member who did not attend law school or study abroad.
FAMILY CONFLICT
Hsiao Ju-song was born in 1922 as the youngest of the eight children. His name was given to him by Wu Hung-chi (吳鴻棋), a judge and close friend of his father's.
There was an art museum near his elementary school (it's unclear which one), and he would secretly visit after class to admire the paintings. At home, he copied them on whatever paper he could get his hands on, often drawing in the attic until late at night.
One of the art teachers in Hsiao's high school was the well-known painter Shiotsuki Toho. Although Hsiao didn't learn directly from him, Shiotsuki heard of his talent and met with him a few times to look over his work. Hsiao credits this chance as a major inspiration.
At the height of the Allied attacks during World War II, Hsiao's family disguised themselves and hid in a small farmhouse in Jhudong. Hsiao joined them for a short period.
Ling writes that Hsiao was already somewhat eccentric. Sporting a beard and unorthodox clothing, he wandered the area painting the scenery and was at one point arrested by police. He was released only after they learned who his father was.
DISCIPLINED ARTIST
After the war, the Hsiaos fled Taipei again when 228 Incident broke out. Wu refused to leave, and was arrested and executed during the brutal crackdown on the anti-government uprising.
The family settled in Hsinchu, and Hsiao Ju-song taught art at various schools in Jhudong until his retirement in 1988. Jhudong High School students referred to him as one of the three "campus oddities," as he was always dressed completely in gray, carrying a huge stack of teaching materials up and down the hill from his house to class.
But Hsiao was greatly respected. He was very strict about student behavior and manners, making everyone clean their shoes before entering the classroom. But he was passionate and cared deeply about their learning. He won 11 national educator awards, and also held summer and winter vacation art programs free of charge.
Ling writes that Hsiao didn't mind whether his students went on to become artists or not; he believed that art education was crucial for one's humanistic development.
Hsiao was just as disciplined at home, waking up early to tend to the plants and clean his house. He spent almost all of his free time painting or reading about art. He was incredibly consistent as well, participating in a number of art shows every year until his death.
Hsiao kept a very low profile. He detested any attention, believing that an artist should just work hard in silence, only reluctantly holding his first solo show at the Apollo Gallery in 1988 after much persuasion.
In 1992, the gallery submitted several of Hsiao's works behind his back to the Wu San-lien Creative Arts Award, which he won.
"I don't know if I should thank you or be mad at you," an embarrassed Hsiao told the gallery owner at the awards ceremony.
He died later that year from a heart attack.
"For my whole life, I've just been an amateur artist', he once said. "But I'll always give my all."
Taiwan in Time, a column about Taiwan's history that is published every Sunday, spotlights important or interesting events around the nation that either have anniversaries this week or are tied to current events.
Comments will be moderated. Keep comments relevant to the article. Remarks containing abusive and obscene language, personal attacks of any kind or promotion will be removed and the user banned. Final decision will be at the discretion of the Taipei Times.